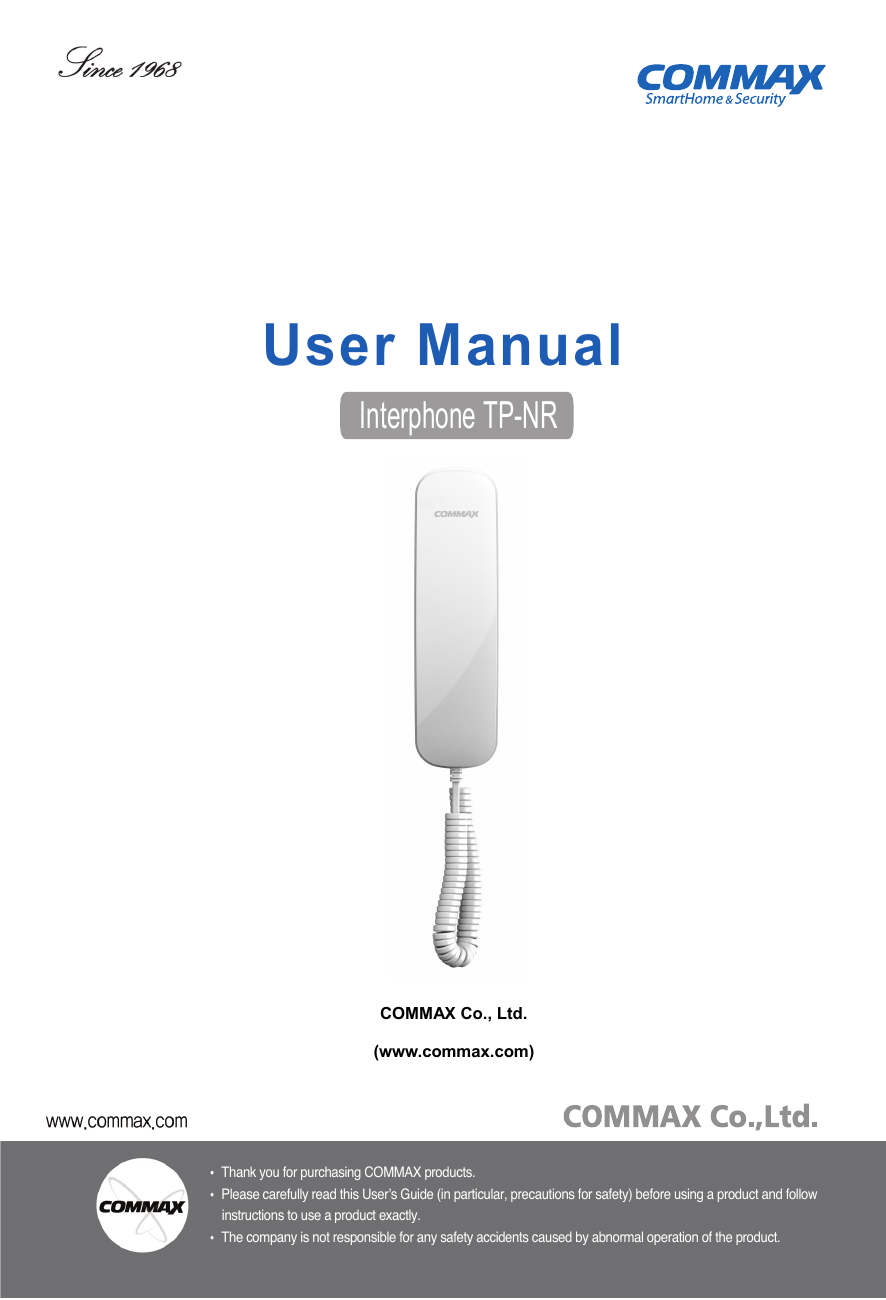 User Manual
Interphone TP-NR
COMMAX Co., Ltd.
(www.commax.com)
••Thank
Thankyou
youforforpurchasing
purchasingCOMMAX
COMMAXproducts.
products.
••Please
Pleasecarefully
carefullyread
readthis
thisUser's
User'sGuide
Guide(in(inparticular,
particular,precautions
precautionsforforsafety)
safety)before
beforeusing
usinga aproduct
productand
andfollow
follow
instructions
instructions to
to use
use aa product
product exactly.
exactly.
••The
Thecompany
companyisisnot
notresponsible
responsibleforforany
anysafety
safetyaccidents
accidentscaused
causedbybyabnormal
abnormaloperation
operationofofthe
theproduct.
product.
1. Wiring
※ Caution : When you are holding the handset while the hook switch is off and someone may push
the button of camera, you may lose your hearing because of high volume of calling sound.
2. Specification
Power Source
DC 24V (from TP-12RM)
Mount Type
Surface-mount type
Wiring
2 wires
Dimension(mm)
72(w) x 215(h) x 38(d)
Distance
1km
Warranty Period
1 year
Environment condition
Operating Temperature
0 ~ 40℃
Operating Humidity
Less than 90%
Caution
Risk of electric shock Do Not
OPEN
Caution : To reduce the risk of electric shock, do not remove cover (or back).
no user-serviceable part inside refer servicing to qualified service personnel.

* Your assessment is very important for improving the work of artificial intelligence, which forms the content of this project