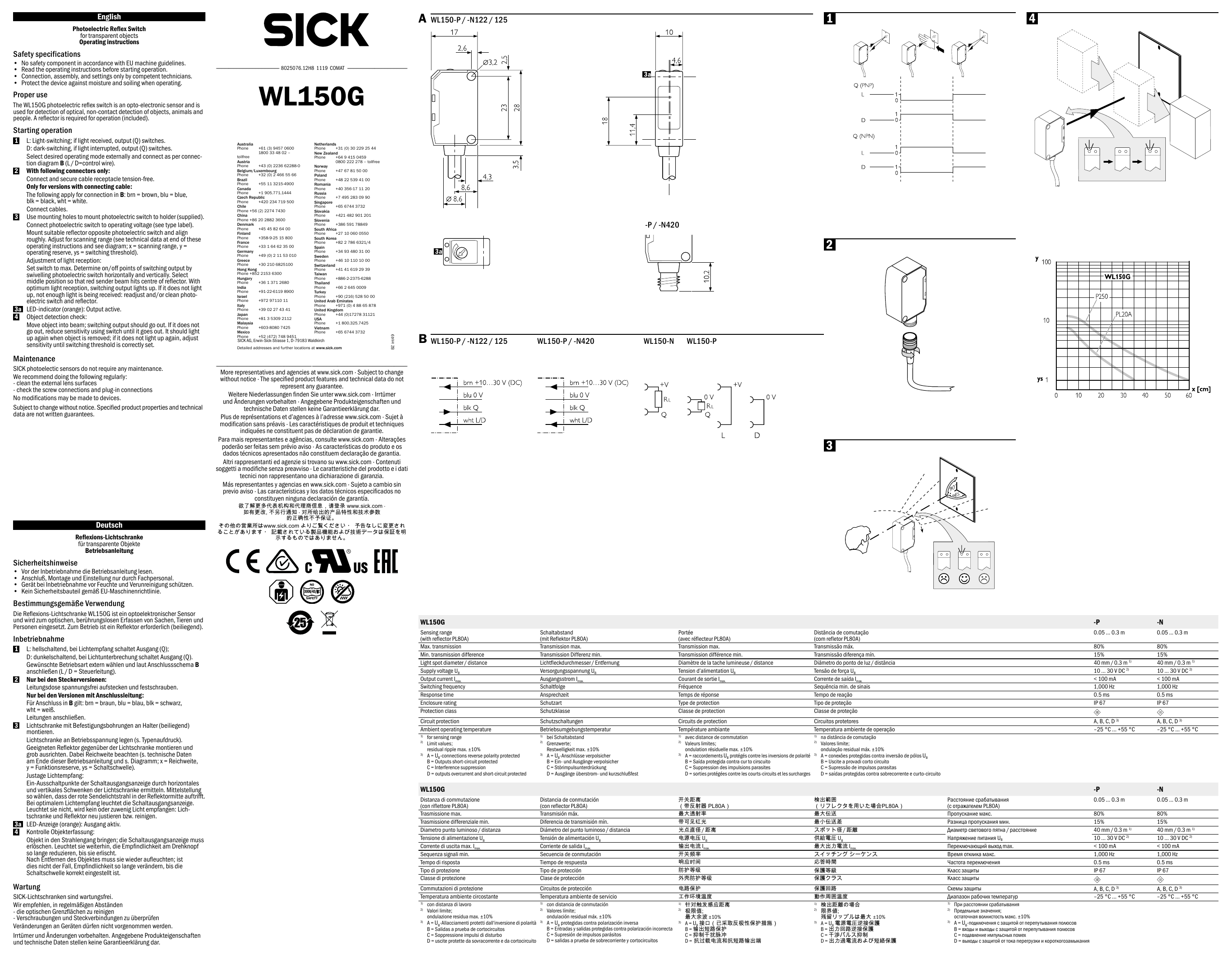 A
English
Photoelectric Reflex Switch
for transparent objects
Operating instructions
1
WL150-P / -N122 / 125
4
Safety specifications
•
•
•
•
No safety component in accordance with EU machine guidelines.
Read the operating instructions before starting operation.
Connection, assembly, and settings only by competent technicians.
Protect the device against moisture and soiling when operating.
-------------------------------------------------------------------------------- 8025076.12H8 1119 COMAT -----------------------------------------------------------------------------
3a
WL150G
Proper use
The WL150G photoelectric reflex switch is an opto-electronic sensor and is
used for detection of optical, non-contact detection of objects, animals and
people. A reflector is required for operation (included).
Starting operation
Maintenance
SICK photoelectic sensors do not require any maintenance.
We recommend doing the following regularly:
- clean the external lens surfaces
- check the screw connections and plug-in connections
No modifications may be made to devices.
Subject to change without notice. Specified product properties and technical
data are not written guarantees.
Deutsch
Reflexions-Lichtschranke
für transparente Objekte
Betriebsanleitung
Australia
Phone
Netherlands
Phone
+31 (0) 30 229 25 44
New Zealand
Phone
+64 9 415 0459
0800 222 278 – tollfree
Norway
Phone
+47 67 81 50 00
Poland
Phone
+48 22 539 41 00
Romania
Phone
+40 356-17 11 20
Russia
Phone
+7 495 283 09 90
Singapore
Phone
+65 6744 3732
Slovakia
Phone
+421 482 901 201
Slovenia
Phone
+386 591 78849
South Africa
Phone
+27 10 060 0550
South Korea
Phone
+82 2 786 6321/4
Spain
Phone
+34 93 480 31 00
Sweden
Phone
+46 10 110 10 00
Switzerland
Phone
+41 41 619 29 39
Taiwan
Phone
+886-2-2375-6288
Thailand
Phone
+66 2 645 0009
Turkey
Phone
+90 (216) 528 50 00
United Arab Emirates
Phone
+971 (0) 4 88 65 878
United Kingdom
Phone
+44 (0)17278 31121
USA
Phone
+1 800.325.7425
Vietnam
Phone
+65 6744 3732
+61 (3) 9457 0600
1800 33 48 02 –
tollfree
Austria
Phone
+43 (0) 2236 62288-0
Belgium/Luxembourg
Phone
+32 (0) 2 466 55 66
Brazil
Phone
+55 11 3215-4900
Canada
Phone
+1 905.771.1444
Czech Republic
Phone
+420 234 719 500
Chile
Phone +56 (2) 2274 7430
China
Phone +86 20 2882 3600
Denmark
Phone
+45 45 82 64 00
Finland
Phone
+358-9-25 15 800
France
Phone
+33 1 64 62 35 00
Germany
Phone
+49 (0) 2 11 53 010
Greece
Phone
+30 210 6825100
Hong Kong
Phone +852 2153 6300
Hungary
Phone
+36 1 371 2680
India
Phone
+91-22-6119 8900
Israel
Phone
+972 97110 11
Italy
Phone
+39 02 27 43 41
Japan
Phone
+81 3 5309 2112
Malaysia
Phone
+603-8080 7425
Mexico
Phone
+52 (472) 748 9451
SICK AG, Erwin-Sick-Strasse 1, D-79183 Waldkirch
Detailed addresses and further locations at www.sick.com
-P / -N420
2
3a
BZ int49
1 L: Light-switching; if light received, output (Q) switches.
D: dark-switching, if light interrupted, output (Q) switches.
Select desired operating mode externally and connect as per connection diagram B (L / D=control wire).
2 With following connectors only:
Connect and secure cable receptacle tension-free.
Only for versions with connecting cable:
The following apply for connection in B: brn = brown, blu = blue,
blk = black, wht = white.
Connect cables.
3 Use mounting holes to mount photoelectric switch to holder (supplied).
Connect photoelectric switch to operating voltage (see type label).
Mount suitable reflector opposite photoelectric switch and align
roughly. Adjust for scanning range (see technical data at end of these
operating instructions and see diagram; x = scanning range, y =
operating reserve, ys = switching threshold).
Adjustment of light reception:
Set switch to max. Determine on/off points of switching output by
swivelling photoelectric switch horizontally and vertically. Select
middle position so that red sender beam hits centre of reflector. With
optimum light reception, switching output lights up. If it does not light
up, not enough light is being received: readjust and/or clean photoelectric switch and reflector.
3a LED-indicator (orange): Output active.
4 Object detection check:
Move object into beam; switching output should go out. If it does not
go out, reduce sensitivity using switch until it goes out. It should light
up again when object is removed; if it does not light up again, adjust
sensitivity until switching threshold is correctly set.
B WL150-P / -N122 / 125
WL150-P / -N420
WL150-N
WL150-P
---------------------------------------------------------------------------------------------------------------------------------------------------------------------------------------------------------------------------------------------------
More representatives and agencies at www.sick.com ∙ Subject to change
without notice ∙ The specified product features and technical data do not
represent any guarantee.
Weitere Niederlassungen finden Sie unter www.sick.com ∙ Irrtümer
und Ä­ nderungen vorbehalten ∙ Angegebene Produkteigenschaften und
­technische Daten stellen keine Garantieerklärung dar.
Plus de représentations et d'agences à l'adresse www.sick.com ∙ Sujet à
modification sans préavis ∙ Les caractéristiques de produit et techniques
indiquées ne constituent pas de déclaration de garantie.
Para mais representantes e agências, consulte www.sick.com ∙ Alterações
poderão ser feitas sem prévio aviso ∙ As características do produto e os
dados técnicos apresentados não constituem declaração de garantia.
Altri rappresentanti ed agenzie si trovano su www.sick.com ∙ Contenuti
soggetti a modifiche senza preavviso ∙ Le caratteristiche del prodotto e i dati
tecnici non rappresentano una dichiarazione di garanzia.
Más representantes y agencias en www.sick.com ∙ Sujeto a cambio sin
previo aviso ∙ Las características y los datos técnicos especificados no
constituyen ninguna declaración de garantía.
3
欲了解更多代表机构和代理商信息,请登录 www.sick.com ∙
如有更改, 不另行通知 ∙ 对所给出的产品特性和技术参数
的正确性不予保证。
その他の営業所はwww.sick.com よりご覧ください ・ 予告なしに変更され
ることがあります ・ 記載されている製品機能および技術データは保証を明
示するものではありません。
Sicherheitshinweise
•
•
•
•
Vor der Inbetriebnahme die Betriebsanleitung lesen.
Anschluß, Montage und Einstellung nur durch Fachpersonal.
Gerät bei Inbetriebnahme vor Feuchte und Verunreinigung schützen.
Kein Sicherheitsbauteil gemäß EU-Maschinenrichtlinie.
Bestimmungsgemäße Verwendung
Die Reflexions-Lichtschranke WL150G ist ein optoelektronischer Sensor
und wird zum optischen, berührungslosen Erfassen von Sachen, Tieren und
Personen eingesetzt. Zum Betrieb ist ein Reflektor erforderlich (beiliegend).
Inbetriebnahme
1 L: hellschaltend, bei Lichtempfang schaltet Ausgang (Q);
D: dunkelschaltend, bei Lichtunterbrechung schaltet Ausgang (Q).
Gewünschte Betriebsart extern wählen und laut Anschlussschema B
anschließen (L / D = Steuerleitung).
2 Nur bei den Steckerversionen:
Leitungsdose spannungsfrei aufstecken und festschrauben.
Nur bei den Versionen mit Anschlussleitung:
Für Anschluss in B gilt: brn = braun, blu = blau, blk = schwarz,
wht = weiß.
Leitungen anschließen.
3 Lichtschranke mit Befestigungsbohrungen an Halter (beiliegend)
montieren.
Lichtschranke an Betriebsspannung legen (s. Typenaufdruck).
Geeigneten Reflektor gegenüber der Lichtschranke montieren und
grob ausrichten. Dabei Reichweite beachten (s. technische Daten
am Ende dieser Betriebsanleitung und s. Diagramm; x = Reichweite,
y = Funktionsreserve, ys = Schaltschwelle).
Justage Lichtempfang:
Ein-Ausschaltpunkte der Schaltausgangsanzeige durch horizontales
und vertikales Schwenken der Lichtschranke ermitteln. Mittelstellung
so wählen, dass der rote Sendelichtstrahl in der Reflektormitte auftrifft.
Bei optimalem Lichtempfang leuchtet die Schaltausgangsanzeige.
Leuchtet sie nicht, wird kein oder zuwenig Licht empfangen: Lichtschranke und Reflektor neu justieren bzw. reinigen.
3a LED-Anzeige (orange): Ausgang aktiv.
4 Kontrolle Objekterfassung:
Objekt in den Strahlengang bringen; die Schaltausgangsanzeige muss
erlöschen. Leuchtet sie weiterhin, die Empfindlichkeit am Drehknopf
so lange reduzieren, bis sie erlischt.
Nach Entfernen des Objektes muss sie wieder aufleuchten; ist
dies nicht der Fall, Empfindlichkeit so lange verändern, bis die
Schaltschwelle korrekt eingestellt ist.
Wartung
SICK-Lichtschranken sind wartungsfrei.
Wir empfehlen, in regelmäßigen Abständen
- die optischen Grenzflächen zu reinigen
- Verschraubungen und Steckverbindungen zu überprüfen
Veränderungen an Geräten dürfen nicht vorgenommen werden.
Irrtümer und Ä­ nderungen vorbehalten. Angegebene Produkteigenschaften
und t­ echnische Daten stellen keine Garantieerklärung dar.
NO
2006/42/EC
SAFETY
WL150G
Sensing range
(with reflector PL80A)
Max. transmission
Min. transmission difference
Light spot diameter / distance
Supply voltage UB
Output current Imax.
Switching frequency
Response time
Enclosure rating
Protection class
Schaltabstand
(mit Reflektor PL80A)
Transmission max.
Transmission Differenz min.
Lichtfleckdurchmesser / Entfernung
Versorgungsspannung UB
Ausgangsstrom Imax.
Schaltfolge
Ansprechzeit
Schutzart
Schutzklasse
Portée
(avec réflecteur PL80A)
Transmission max.
Transmission différence min.
Diamètre de la tache lumineuse / distance
Tension d'alimentation UB
Courant de sortie Imax.
Fréquence
Temps de réponse
Type de protection
Classe de protection
Distância de comutação
(com refletor PL80A)
Transmissão máx.
Transmissão diferença mín.
Diâmetro do ponto de luz / distância
Tensão de força UB
Corrente de saída Imax.
Sequência min. de sinais
Tempo de reação
Tipo de proteção
Classe de proteção
Circuit protection
Ambient operating temperature
Schutzschaltungen
Betriebsumgebungstemperatur
Circuits de protection
Température ambiante
Circuitos protetores
Temperatura ambiente de operação
1)
2)
3)
for sensing range
Limit values;
residual ripple max. ±10%
A = UB-connections reverse polarity protected
B = Outputs short-circuit protected
C = Interference suppression
D = outputs overcurrent and short-circuit protected
1)
2)
3)
bei Schaltabstand
Grenzwerte;
Restwelligkeit max. ±10%
A = UB-Anschlüsse verpolsicher
B = Ein- und Ausgänge verpolsicher
C = Störimpulsunterdrückung
D = Ausgänge überstrom- und kurzschlußfest
1)
2)
3)
avec distance de commutation
Valeurs limites;
ondulation résiduelle max. ±10%
A = raccordements UB protégés contre les inversions de polarité
B = Saída protegida contra cur to cirscuito
C = Suppression des impulsions parasites
D = sorties protégées contre les courts-circuits et les surcharges
1)
2)
3)
-P
-N
0.05 ... 0.3 m
0.05 ... 0.3 m
80%
15%
40 mm / 0.3 m 1)
10 ... 30 V DC 2)
< 100 mA
1,000 Hz
0.5 ms
IP 67
80%
15%
40 mm / 0.3 m 1)
10 ... 30 V DC 2)
< 100 mA
1,000 Hz
0.5 ms
IP 67
A, B, C, D 3)
–25 °C … +55 °C
A, B, C, D 3)
–25 °C … +55 °C
na distância de comutação
Valores limite;
ondulação residual máx. ±10%
A = conexões protegidas contra inversão de pólos UB
B = Uscite a provadi corto circuito
C = Supressão de impulsos parasitas
D = saídas protegidas contra sobrecorrente e curto-circuito
-P
-N
Distanza di commutazione
(con riflettore PL80A)
Trasmissione max.
Trasmissione differenziale min.
Diametro punto luminoso / distanza
Tensione di alimentazione UB
Corrente di uscita max. Imax.
Sequenza signali min.
Tempo di risposta
Tipo di protezione
Classe di protezione
Distancia de conmutación
(con reflector PL80A)
Transmisión máx.
Diferencia de transmisión mín.
Diámetro del punto luminoso / distancia
Tensión de alimentación UB
Corriente de salida Imax.
Secuencia de conmutación
Tiempo de respuesta
Tipo de protección
Clase de protección
开关距离
(带反射器 PL80A)
最大透射率
带可见红光
光点直径 / 距离
电源电压 UB
输出电流 Imax.
开关频率
响应时间
防护等级
外壳防护等级
検出範囲
(リフレクタを用いた場合PL80A)
最大伝送
最小伝送差
スポット径 / 距離
供給電圧 UB
最大出力電流 Imax.
スイッチング シーケンス
応答時間
保護等級
保護クラス
Расстояние срабатывания
(с отражателем PL80A)
Пропускание макс.
Разница пропускания мин.
Диаметр светового пятна / расстояние
Напряжение питания UB
Переключающий выход max.
Время отклика макс.
Частота переключения
Класс защиты
Класс защиты
0.05 ... 0.3 m
0.05 ... 0.3 m
80%
15%
40 mm / 0.3 m 1)
10 ... 30 V DC 2)
< 100 mA
1,000 Hz
0.5 ms
IP 67
80%
15%
40 mm / 0.3 m 1)
10 ... 30 V DC 2)
< 100 mA
1,000 Hz
0.5 ms
IP 67
Commutazioni di protezione
Temperatura ambiente circostante
Circuitos de protección
Temperatura ambiente de servicio
电路保护
工作环境温度
1)
针对触发感应距离
2)
极限值;
最大余波 ±10%
3)
A = UB 接口(已采取反极性保护措施)
B = 输出短路保护
C = 抑制干扰脉冲
D = 抗过载电流和抗短路输出端
保護回路
動作周囲温度
1)
検出距離の場合
2)
限界値;
残留リップルは最大 ±10%
3)
A = UB 電源電圧逆接保護
B = 出力回路逆接保護
C = 干渉パルス抑制
D = 出力過電流および短絡保護
Схемы защиты
Диапазон рабочих температур
A, B, C, D 3)
–25 °C … +55 °C
A, B, C, D 3)
–25 °C … +55 °C
WL150G
1)
2)
3)
con distanza di lavoro
Valori limite;
ondulazione residua max. ±10%
A = UB-Allacciamenti protetti dall'inversione di polarità
B = Salidas a prueba de cortocircuitos
C = Soppressione impulsi di disturbo
D = uscite protette da sovracorrente e da cortocircuito
1)
2)
3)
con distancia de conmutación
Valores límite;
ondulación residual máx. ±10%
A = UB protegidas contra polarización inversa
B = Entradas y salidas protegidas contra polarización incorrecta
C = Supresión de impulsos parásitos
D = salidas a prueba de sobrecorriente y cortocircuitos
1)
2)
3)
При расстоянии срабатывания
Предельные значения;
остаточная волнистость макс. ±10%
A = UB-подключения с защитой от перепутывания полюсов
B = входы и выходы с защитой от перепутывания полюсов
C = подавление импульсных помех
D = выходы с защитой от тока перегрузки и короткогозамыкания
Français
Italiano
Español
中文
日本語
Русский язык
Barrière réflex
pour objets transparents
Instructions de Service
Sensore luminoso a riflessione
per oggetti trasparenti
Instruzioni per l'uso
Barrera de luz de reflexión
para objetos transparentes
Manual de Servicio
反射式光电传感器
对于透明对象
操作规程
リフレクタ形光電センサ
透明体用
取扱説明書
Отражательный фотоэлектрический датчик
для прозрачных объектов
Руководство по эксплуатации
Conseils de sécurité
• N
'est pas un composant de sécurité au sens de la directive e­ uropéenne
concernant les machines.
• Lire la notice d'instructions avant la mise en marche.
• Installation, raccordement et réglage ne doivent être effectués que par
du personnel qualifié.
• Lors de la mise en service, protéger l'appareil de l'humidité et des
saletés.
Utilisation correcte
La barrière réflex WL150G est un capteur optoélectronique qui s'utilise
pour la saisie optique de choses, d'animaux et de personnes sans aucun
contact. Pour son fonctionnement, il est nécessaire de disposer d'un
réflecteur (joint).
Mise en service
1 L : commutation claire, la sortie (Q) connecte à la réception de
lumière.
D : commutation sombre, la sortie (Q) connecte lorsque le trajet
lumineux est interrompu.
Sélectionner de façon externe le mode souhaité et effectuer le raccordement conformément au schéma de circuit B (L / D = Conducteur
de commande).
2 Seulement pour les versions à connecteur :
Enficher la boîte à conducteurs sans aucune tension et la visser.
Seulement pour les versions à conducteur de raccordement :
Pour le raccordement dans B on a : brn = brun, blu = bleu, blk = noir,
wht = blanc.
Raccorder les fils.
3 Installer la barrière optoélectronique munie de trous de fixation sur
son support (joint).
Appliquer la tension de service à la barrière (voir inscription indiquant
le modèle).
Installer un réflecteur approprié en face de la barrière et l'aligner de
façon grossière. Ce faisant, tenir compte de la portée (voir les caractéristiques techniques à la fin des présentes Instructions de Service
ainsi que le diagramme ; x = portée, y = lumière suffisante, ys = seuil
de commutation).
Ajustement Réception de la lumière :
Déterminer les points d'allumage et d'extinction du témoin de sortie
logique en pivotant horizontalement et verticalement la barrière optoélectronique. Choisir une position intermédiaire telle que le rayon de
lumière rouge émis tombe au milieu du réflecteur. Lorsque la réception
de la lumière est optimale, le témoin de sortie logique est allumé. S'il
n'est pas allumé, c'est que la barrière ne reçoit aucune ou trop peu de
lumière : nettoyer ou ajuster à nouveau la barrière et le réflecteur.
3a Le témoin de fonctionnement orange LED : Sortie active.
4 Contrôle Saisie de l'objet :
Placer l'objet sur la trajectoire du rayon ; le témoin de sor tie logique
doit s'éteindre. S'il reste allumé, réduire la sensibilité au bouton rotatif
jusqu'à ce que le témoin s'éteigne.
Lorsqu'on enlève l'objet, le témoin doit à nouveau s'allumer ; si ce
n'est pas le cas, modifier la sensibilité jusqu'à ce que le seuil de
détection soit correctement réglé.
Maintenance
Les capteurs SICK ne nécessitent aucune maintenance.
Nous vous recommandons de procéder régulièrement
- au nettoyage des surfaces optiques
- au contrôle des vissages et des connexions enfichables
Ne procéder à aucune modification sur les appareils.
Sujet à modification sans préavis. Les caractéristiques du produit et techniques fournies ne sont pas une déclaration de garantie.
Português
Barreira de luz com reflexão por espelho
para objectos transparentes
Instruções de operação
Instruções de segurança
• N
ão se trata de elemento de segurança segundo a Diretiva M
­ áquinas da
União Europêa.
• Antes do comissionamento dev ler as instruções de operação.
• Conexões, montagem e ajuste devem ser executados e­ xclusivamente
por pessoal devidamente qualificado.
• Guardar o aparelho ao abrigo de umidade e sujidade.
Utilização devida
A barreira de luz com reflexão por espelho WL150G é um sensor optoeletrônico que é utilizado para a análise ótica, sem contato, de objetos,
animais e pessoas. O seu funcionamento requer um refletor (adjunto).
Comissionamento
1 L: Ativado com luz, a saída (Q) está ativada quando recebe luz.
D: Ativado quando escuro, a saída (Q) é ativada quando a luz está
interrompida.
Selecionar o modo de operação desejado por via externa e fazer a
cablagem conforme o esquema de ligação B (L / D = cabo de comando).
2 Vale somente para as versões com conetores:
Enfiar a caixa de cabos sem torções e aparafusá-la.
Só para os tipos com cabo de força:
Para a ligação elétrica em B é: brn = marron, blu = azul, blk = preto,
wht = branco.
Fazer a cablagem elétrica dos cabos.
3 Montar a barreira de luz mediante os furos dorespectivo suporte de
fixação (adjunto).
Ligar a barreira de luz à tensão operacional (ver identificação de tipo).
Montar um refletor apropriado oposto à barreira de luz e ajustá-lo
mais ou menos. Atender ao alcance da luz (ver dados técnicos no final
destas instruções de operação e ver diagrama; x = alcance da luz,
y = reserva de funcionamento, ys = limiar de reação).
Ajuste da recepção de luz:
Averiguar os limiares de ativação / desativação do indicação de saída
ligação girando a barreira de luz em sentido horizontal e vertical.
Selecionar a posição central de modo que o raio vermelho emitido
incida no centro do refletor. Se a recepção da luz for ideal o indicação
de saída ligação acende. Se não acender, ou não recebe luz ou a luz é
insuficiente: ajustar a barreira de luz e o refletor de novo, ou limpá-los.
3a Indicação de funcionamento laranja LED: Saída activa.
4 Controle de captação do objeto:
Introduzir o objeto no raio da luz; o indicação de saída ligação da luz
deve apagar. Caso continuar acesa reduza a sensibilidade pelo botão
até que apague.
Depois de retirar o objeto o sinal deve reacender; se assim não acontecer modifique a sensibilidade até que o limiar de ativação esteja
ajustado corretamente.
Manutenção
Os sensores SICK não requerem manutenção.
Recomendamos que se efetue em intervalos regulares
- uma limpeza das superfícies ópticas
- uma verificação das conexões roscadas e dos conectores
Não são permitidas modificações no aparelho.
Sujeito a alterações sem aviso prévio. As propriedades do produto e os dados
técnicos especificados não constituem nenhum certificado de garantia.
Avvertimenti di sicurezza
Observaciones sobre seguridad
• N
on componente di sicurezza secondo la Direttiva macchine EN.
• Leggere prima della messa in esercizio.
• Allacciamento, montaggio e regolazione solo da parte di personale
qualificato.
• Durante la messa in esercizio proteggere da umidità e sporcizia.
• No es elemento constructivo de seguridad según la Directiva UE sobre
maquinaria.
• Leer el Manual de Servicio antes de la puesta en marcha.
• Conexión, montaje y ajuste solo por personal técnico.
• A la puesta en marcha proteger el aparato contra humedad y suciedad.
Impiego conforme allo scopo
Empleo para usos debidos
La barriera luminosa a riflessione WL150G è un sensore optoelettronico
che viene impiegato per il rilevamento ottico a distanza di oggetti, animali e
persone. Per l'esercizio è necessario un riflettore (a corredo).
La barrera fotoelectrica de reflexión WL150G es un sensor opto-electrónico
para la detección óptica y sin contacto de objetos, animales y personas.
Para el servicio es necesario un reflector (adjunto).
Messa in esercizio
Puesta en marcha
1 L: commutazione a chiaro, con ricezione di luce commuta l'uscita (Q).
D: commutazione a scuro, con cessazione di luce commuta l'uscita (Q).
Scegliere esternamente il modo di esercizio e collegare secondo lo
schema B (L / D = linea di controllo).
2 Solo con spine:
Inserire scatola esente da tensione e avvitare stringendo.
Solo versioni con cavo di collegamento:
Per collegamento B osservare: brn = marrone, blu = blu, blk = nero,
wht = bianco.
Collegare i cavi.
3 Montare la barriera luminosa sul supporto (a corredo) con i fori
di fissaggio.
Allacciare a tensione di esercizio (cf. stampigliatura).
Montare un riflettore adatto di fronte alla barriera luminosa e orientare
approssimativamente. Tenere conto della portata di ricezione (cf.
Scheda tecnica alla fine di queste Istruzioni e Diagramma; x = portata
di ricezione, y = riserva funzione, ys = limite di commutazione).
Aggiustare la ricezione luce:
Individuare i punti di inserimento e disinserimento dell'indicatore di
uscita di commutazione orientando la barriera luminosa in verticale
ed in orizzontale. Scegliere la posizione mediana in modo che il raggio
di luce colpisca il centro del riflettore. quando la posizione è ottimale
l'indicatore resta acceso permanentemente. Se resta spento oppure
lampeggia, l' indicatore di uscita di commutazione è insufficiente. In
questo caso riaggiustare la barriera luminosa e il riflettore, risp. pulire.
3a L' indicatore di funzionamento arancione il LED: Uscita attiva.
4 Verifica rilevamento oggetto:
Portare l'oggetto nel raggio di luce; l'indicatore di uscita di commutazione deve spegnersi. Se continua a restare acceso, ridurre la sensibilità
con la manopola finché si spegne. Dopo la rimozione dell'oggetto deve
riaccendersi; se resta spento, tarare la sensibilità finché il limite di
commutazione è corretto.
Manutenzione
I sensori SICK sono esenti da manutenzione.
A intervalli regolari si consiglia di
- pulire le superfici limite ottiche
- Verificare i collegamenti a vite e gli innesti a spina
Non è consentito effettuare modifiche agli apparecchi.
Contenuti soggetti a modifiche senza preavviso. Le proprietà del prodotto e
le schede tecniche indicate non costituiscono una dichiarazione di garanzia.
1 L: conexión en claro, con recepción de luz conecta salida (Q).
D: conexión en oscuro, con interrupción de luz conecta salida (Q).
Seleccionar externamente el modo de servicio deseado y conectar de
acuerdo al esquema B (L / D = cable de conexion).
2 Solo en conectores:
Insertar y atornillar bien la caja de conexiones sin tensión.
Solo en la versión con conductor de conexión:
Para conectar B: brn = marrón, blu = azul, blk = negro, wht = blanco.
Conectar los conductores.
3 Montar la barrera luminosa en el soporte con taladros de fijación
(incluído).
Poner la barrera luminosa en tensión de servicio (ver impresión
tipográfica).
Montar el reflector adecuado frente a la barrera fotoelectrica y
ajustarlo superficialmente. Al hacerlo, téngase en cuenta el alcance
(ver características técnicas al final del presente Manual de Servicio y
el diagrama; x = alcance, y = reserva de funcionamiento, ys = umbral
de conexión).
Ajuste de recepción de luz:
Determinar el punto de CON.-DES. de la indicación de salida de
conexión mediante giro horizontal y vertical de la barrera fotoelectrica.
Elegir la posición central de forma que el haz luminoso rojo emitido
caiga en el centro del reflector. Con recepción óptima de luz se enciende la indicación de salida de conexión. Si no se enciende es señal
de que no se recibe o se recibe puca luz: Ajustar de nuevo la barrera
luminosa y el reflector o limpiarlos.
3a Indicación de funcionamiento naranja LED: Salida activa.
4 Control de detección de objeto:
Colocar el objeto en la trayectoria de los rayos; debe extinguirse la
indicación de salida de conexión. Si continúa encendida, reducir la
sensibilidad por medio del botón giratorio hasta que se extinga. Al
quitar el objeto debe encenderse de nuevo; si no fuera así, modificar
la sensibilidad hasta que el umbral de conexión quede correctamente
ajustado.
Mantenimiento
Los sensores SICK no precisan mantenimiento.
A intervalos regulares, recomendamos:
- limpiar las superficies ópticas externas
- comprobar las uniones roscadas y las conexiones.
No se permite realizar modificaciones en los aparatos.
Sujeto a cambio sin previo aviso. Las propiedades y los datos técnicos del
producto no suponen ninguna declaración de garantía.
安全使用说明
按照EU-机器规程无保护元件。
使用前阅读操作规程。
只允许专业人员进行接线,安装及调整。
使用时应防潮湿防污染。
•
•
•
•
拟定用途
反射式光电传感器 WL150G 是一种光电传感器,用于对物体、
动物和人体进行非接触式光学检测。运行时需要一个反射器(随附)。
投入使用
1 L: 亮通,接收光线时输出端 (Q) 切换。
D: 暗通,中断光线时输出端 (Q) 切换。
选择所需的外部运行模式并根据接线图 B 进行连接(L / D = 控制电缆)。
2 仅针对带插头的型号:
不通电的情况下插上并拧紧电缆插口。
在
仅限带端子室的版本:
针对 B 接口:brn = 棕色,blk = 黑色,blu = 蓝色,wht = 白色。
连接电缆。
3 使用固定孔将光电传感器安装在支架(随附)上。
接通光电传感器的工作电压(参见型号铭牌标识)。
与光电传感器面对面安装合适的反射器并粗略对准。同时注意触发感
应距离(参见本操作指南结尾的技术数据和图表;x = 触发感应距离,
y = 运行备用,ys = 开关阈值)。
校准受光:
通过水平和竖直摆动光电传感器确定接收显示的接通 / 关 断点。调整中
间位置,确保红色发射光束落在反射器中央。光线接收为最佳状态时,
接收指示灯恒亮。指示灯不亮或闪烁,说明无受光或受光过少:此时应
重新调整传感器和反射器或对其进行清洁。
3a LED 指示灯(橙色):输出激活。
4 物体识别检查:
将物体置于光路中;开关量输出指示灯应熄灭。如指示灯继续恒亮,
应将灵敏度旋钮调低,直至指示灯熄灭。将物体移开时指示灯应重新亮起,
否则须更改灵敏度,直到开关阈值正确设置。
保养
SICK 传感器无需保养。
我们建议,定期:
- 清洁镜头检测面
- 检查螺栓连接和插头连接
不得对设备进行任何改装。
如有更改,不另行通知。所给出的产品特性和技术参数并非质保声明。
安全上の注意事項
本製品は EU 機械指令の要件を満たす安全コンポーネントではありま
せん。
• 使用を開始する前に取扱説明書をお読みください。
• 接続、取付けおよび設定できるのは専門技術者に限ります。
• 装置を使用開始する際には、濡れたり汚れたりしないように保護してく
ださい。
•
用途
WL150Gリフレクタ形光電センサとは、物体、動物および人物を光学技術に
より非接触で検知するための光電センサです。動作させるにはリフレクタが
必要となります (同梱)。
使用開始
1 L: ライトオン、受光時に出力 (Q) が切り替わます。
D: ダークオン、受光していない時に出力 (Q) が切り替わります。
任
意の動作モードを外部で選択し、配線図 B に従って接続します
(L / D = 制御ライン)。
2 以下のコネクタバージョンの場合のみ:
スケーブルコネクタを無電圧で差し込み、ネジ止めします
メ
端子接続スペースのあるバージョンのみ:
B での接続の場合: brn = 茶色、blk = 黒、blu = 青、wht = 白。
ケーブルを接続します。
3 固定穴を使用して光電センサをブラケット (同梱) に取り付けます。
光電センサに動作電圧を供給します (型式ラベル参照)。
適
切なリフレクタを光電センサと向かい合うように取り付け、大まか
に方向調整します。その際、検出距離にご注意ください (本取扱説
明書の終わりの技術仕様および図を参照; x = 検出距離、y = 予備能、
ys = スイッチング閾値)。
受光調整:
光電センサを左右および上下に振って、受光表示灯のオンとオフが切
り替わるスイッチングポイントを検出します。赤色の投光軸がリフレ
クタ中央にあたるように中央位置を選択します。受光が最適である場
合は、受信表示灯が恒久的に点灯します。表示灯が点灯しない、また
は点滅している場合は、受光が全くない、もしくは受光が不十分です:
光電センサとリフレクタを再調整するか、汚れを除去します。
3a LED表示 (オレンジ色): 出力アクティブ。
4 対象物検出の点検:
対象物を光軸に移動させます。スイッチング出力表示灯が消えるはず
です。点灯し続ける場合は、消灯するまでロータリースイッチで感度
を下げていきます。
対象物を除去した後、表示灯が再び点灯するはずです。そうでない
場合は、スイッチング閾値が正しく調整されるまで、感度を変更し
ます。
メンテナンス
SICK センサはメンテナンスフリーです。
定期的に以下を行うことをお勧めしています:
- レンズ境界面の清掃
- ネジ締結と差込み締結の点検
機器を改造することは禁止されています。
記載内容につきましては予告なしに変更する場合がございますのであらか
じめご了承ください。指定された製品特性および技術データは保証書では
ありません。
Указания по безопасности
• Не является оборудованием для обеспечения безопасности
в соответствии с Директивой ЕС по работе с машинным
оборудованием.
• Перед вводом в эксплуатацию изучите руководство по эксплуатации.
• Подключение, монтаж и установку поручать только специалистам.
• При вводе в эксплуатацию защищать устройство от попадания грязи
и влаги.
Использование по назначению
Отражательный фотоэлектрический датчик WL150G представляет собой
оптоэлектронный датчик и используется для оптического бесконтактного
обнаружения предметов, животных и людей. Для эксплуатации необходим
отражатель (входит в комплект).
Ввод в эксплуатацию
1 L: активация при наличии отражённого света, при приёме светового
луча переключает выход (Q);
D: активация при отсутствии отражённого света, при приёме
светового луча переключает выход (Q).
Выбрать желаемый режим работы извне и подключить в соответствии
со схемой подключения B (L / D = управляющий кабель).
2 Только для версий со штекерным подключением:
Вставить в обесточенном состоянии розетку кабеля и закрепить
винтами.
Только для версий с отсеком соединительных клемм:
Для гнезда на B применяются следующие обозначения:
brn = коричневый, blk = черный, blu = синий, wht = белый.
Подключить кабели.
3 Смонтировать фотоэлектрический датчик с крепёжными
отверстиями на креплении (входит в комплект).
Подать на фотоэлектрический датчик напряжение питания (см.
заводской штамп).
Установить и примерно выровнять напротив фотоэлектрического
датчика подходящий отражатель. При этом учесть дальность
сканирования (см. технические характеристики в конце данного
руководства по эксплуатации и диаграмму, x = дальность
сканирования, y = функциональный резерв, ys = порог
переключения).
Юстировка приема света:
Определить точки включения / выключения индикатора приёма
путём поворачивания светового барьера в горизонтальной
и вертикальной плоскостях. Выбрать среднее положение, так
чтобы красный луч передатчика попадал в центр отражателя. При
оптимальном приеме света индикатор приема должен гореть
непрерывно. Если индикатор не горит или мигает, это значит, что
прием света отсутствует или недостаточен: необходимо заново
отрегулировать световой барьер и отражатель или очистить их при
наличии загрязнения.
3a Светодиодный индикатор (оранжевый): выход активен.
4 Контроль определения объекта:
Поместить объект на траекторию луча; индикатор переключающего
выхода должен погаснуть. Если индикатор продолжает гореть, с
помощью ручки регулировки понизить чувствительность до уровня,
пока он не погаснет полностью.
После удаления объекта с траектории индикатор должен снова
загореться; если этого не случилось — постепенно увеличивать
чувствительность до корректной настройки порога срабатывания.
Техобслуживание
Датчики SICK не нуждаются в техобслуживании.
Рекомендуется регулярно
- очищать оптические ограничивающие поверхности
- проверять прочность резьбовых и штекерных соединений
Запрещается вносить изменения в устройства.
Право на ошибки и внесение изменений сохранено. Указанные
свойства изделия и технические характеристики не являются гарантией.