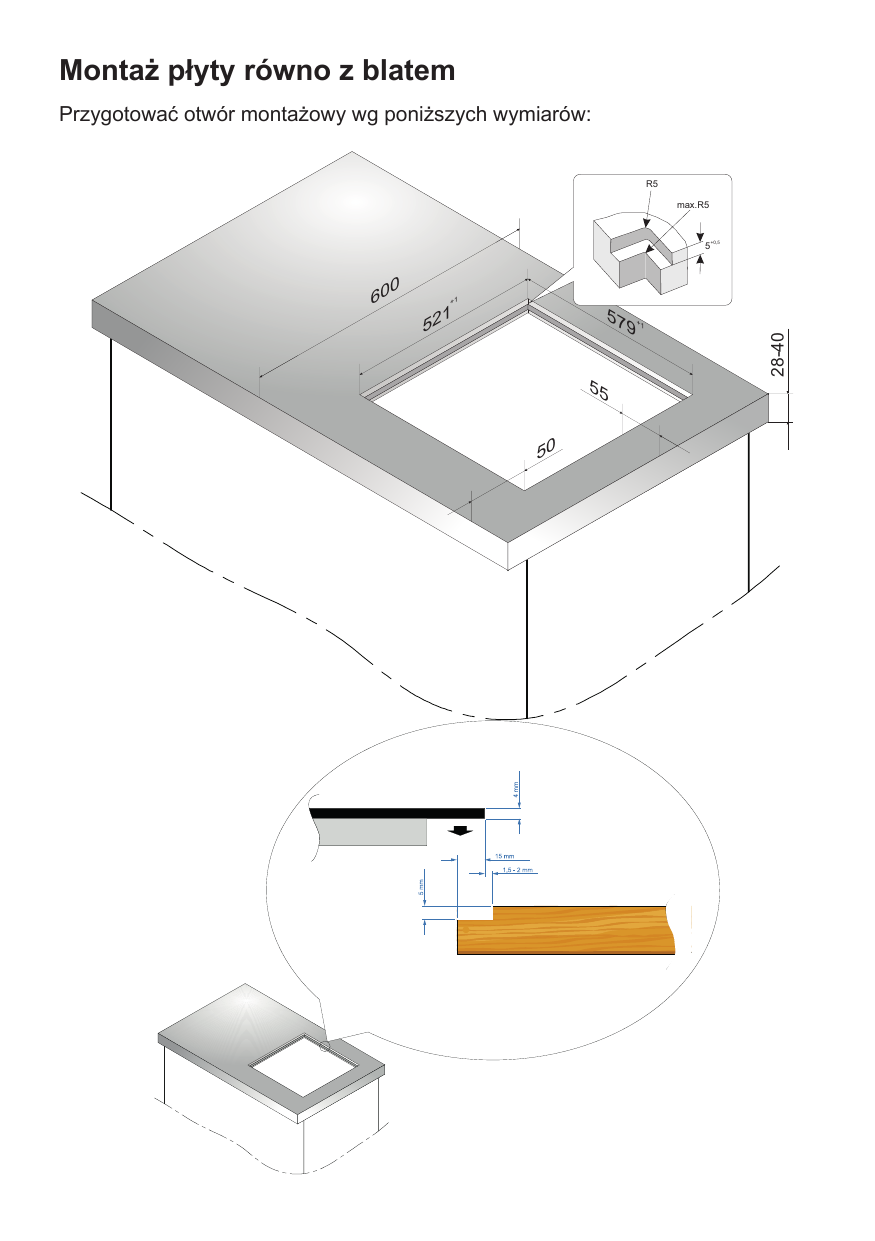 Montaż płyty równo z blatem
Przygotować otwór montażowy wg poniższych wymiarów:
R5
max.R5
5
+0,5
0
+1
57
1
52
9
55
50
+1
28-40
60
Umieść uszczelkę na spodzie płyty na gładkiej powierzchni szyby, najbliżej krawędzi zewnętrznej.
USZ
CZE
LKA
KLE
J
Uwaga: Uszczelkę należy nabyć we własnym zakresie w placówce handlowej.
Grubość uszczelki pod wpływem ciężaru płyty powinna wynosić 1mm. Jeżeli
uszczelka będzie miała inną grubość należy uwzględnić głębokość frezowania
blatu kuchennego.
Umieść płytę w otworze meblowym, ustaw ją symetrycznie w otworze w taki
sposób, by szczeliny pomiędzy płytą a krawędzią blatu kuchennego były równe z
każdej strony.
Szczelinę pomiędzy blatem a płytą wypełnij slikonem. Upewnij się, że slikon nie
dostaje się pod płytę. Grozi to mechanicznym uszkodzeniem szyby w razie konieczności demontażu urządzenia w przyszłości.
ON
IK
SL
PŁYTA GRZEJNA
USZCZELKA
BLAT
N
KO
I
SL
PŁYTA GRZEJNA
USZCZELKA
BLAT
Uwaga: Producent nie ponosi odpowiedzialności za szkody związane z niepoprawnym montażem płyty w blacie, w szczególności przyklejenie płyty na stałe do
blatu od spodu.
Wskazówki dla instalatora urządzenia
•
•
•
•
•
•
•
Płytę najlepiej zabudować na równo z blatem kuchennym wykonanym z kamienia lub płytek ceramicznych.
Uszczelka naniesiona na spód płyty nie powinna powodować dostawania się
slikonu wykończeniowego pod spód płyty. W razie konieczności demontażu urządzenia należy wyciąć ostrym nożem slikon dookoła płyty, gdy slikon
dostanie się pod płytę, wycięcie slikonu nie będzie możliwe a demontaż płyty
może spowodować pęknięcie szyby ceramicznej.
Slikon użyty do uszczelnienia krawędzi powinien być odporny na temperaturę
min. 160OC.
Powierzchnie blatu powstałe po wycięciu zaleca się pokryć odpowiednim
lakierem (przykładowo slikonowym), zabezpieczy to blat przed przenikaniem
wilgoci.
Nieodpowiedni slikon może powodować przebarwienia kamienia naturalnego.
Bezwzględnie należy przestrzegać wymiarów z rysunku montażowego, w
szczególności szerokości frezowania, na której będzie opierać się płyta.
W przypadku awarii płyty zaleca się kontakt z osobą odpowiedzialną za zabudowę płyty w celu jej zdemontowania przez wizytą pracownika serwisu w celu
wykonania zgłaszanej naprawy.

* Your assessment is very important for improving the work of artificial intelligence, which forms the content of this project