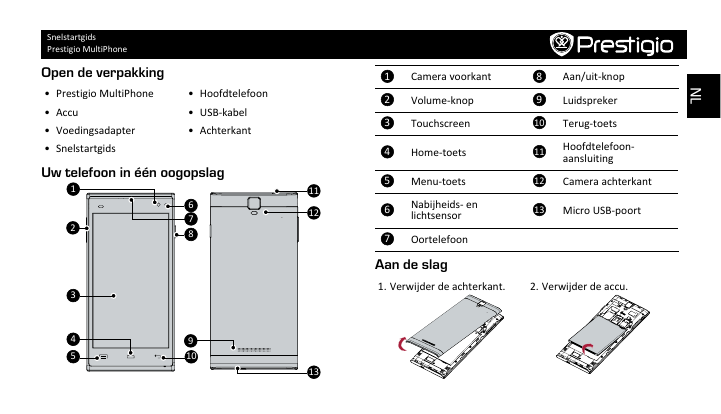 Snelstartgids
Prestigio MultiPhone
Open de verpakking
• Hoofdtelefoon
• Accu
• USB-kabel
• Voedingsadapter
• Achterkant
• Snelstartgids
Uw telefoon in één oogopslag
1
2
11
6
7
8
12
1
Camera voorkant
8
Aan/uit-knop
2
Volume-knop
9
Luidspreker
3
Touchscreen
10
Terug-toets
4
Home-toets
11
Hoofdtelefoonaansluiting
5
Menu-toets
12
Camera achterkant
6
Nabijheids- en
lichtsensor
13
Micro USB-poort
7
Oortelefoon
Aan de slag
1. Verwijder de achterkant.
3
4
9
5
10
13
2. Verwijder de accu.
NL
• Prestigio MultiPhone
Snelstartgids
Prestigio MultiPhone
3. Plaats uw SIM-kaart.
NL
Micro SIM
Standard SIM
Nano SIM
in het netwerk van de mobiele aanbieder, dit betekend dat
het geen inkomende gesprekken kan ontvangen of gegevens
kan overdragen). Na het beëindigen van het gesprek of de
gegevensoverdracht sessie worden beide SIM-kaarten weer
actief en registreren ze in het netwerk van de mobiele aanbieder.
Uw telefoon opladen
4. Plaats een geheugenkaart.
5. Breng de accu en de
achterkant weer aan.
Sluit uw telefoon aan op een stopcontact
met behulp van de meegeleverde USB-kabel
en reislader
Vingerbewegingen
• Aantikken
6. Druk op de aan/uit-knop en houd deze ingedrukt om uw
telefoon in te schakelen.
Het apparaat ondersteunt twee (2) SIM-kaarten voor
gesprekken en gegevensoverdracht. Tijdens een gesprek of
mobiele gegevensoverdracht sessie via één van de SIM-kaarten
wordt de tweede SIM-kaart uitgeschakeld (niet geregistreerd
• Vasthouden
• Vegen
• Schuiven
Snelstartgids
Prestigio MultiPhone
• Inzoomen
• Uitzoomen
• Bladeren
• Wegknippen
Een app-icoon aan het startscherm toevoegen
om het lijstmenu te openen, tik op
een toepassings-icoon houd deze vast en sleep deze vervolgens
naar een venster-preview.
Achtergrond instellen
Bellen
1. Gebruik een van de volgende methoden:
• Tik op
om het toetsenbord te openen, voer het
telefoonnummer in.
• Tik op
om de lijst met contacten te openen, selecteer
een contact.
2. Tik op Oproep.
1. Tik in het startscherm op
> Achtergrond.
2. Selecteer een afbeelding en tik op Achtergrond instellen.
Uw apps gebruiken
Een app openen
• S electeer in het startscherm of het hoofdmenu een app-icoon
om deze te openen.
Technische specificaties
Startscherm
Item
Specificatie
Het startscherm is het beginpunt voor de toegang tot alle
functies van uw telefoon. Het startscherm kan meerdere vensters
hebben. Veeg naar links of rechts om de andere vensters te
bekijken.
Processor
Hoge prestaties Duad core 1.3GHz
Geheugen
RAM 1GB + 8GB eMMC, Micro SD-sleuf met
ondersteuning tot 32GB
NL
Tik in het startscherm op
Snelstartgids
Prestigio MultiPhone
NL
OS
Android 4.4
Beeldscherm
5.0" HD IPS Gorilla Glass
Camera
Voorkant 2MP / achterkant 13MP AF met
flitser
Band
UMTS: 900/2100MHz;
GSM: 850/900/1800/1900MHz
Interfaces
Micro USB 2.0, Micro SD (micro SDHC/SDXC
compatibel)
Communicatie
WiFi (802.11 b/g/n), 3G, Bluetooth 4.0
Accu
2000 mAh
Afmetingen
147.1*72.5*8mm (H*B*D)
Gewicht
160 gram
Informatie over de 'Specific Absorption Rate'
Bij het testen van het apparaat was de hoogste SAR-waarde
onder de ICNIRP richtlijnen voor dit PSP5505 DUO model 1.6 W/
kg (10g).
Omdat de Prestigio producten voortdurend worden
geüpdatet en verbeterd, kan de software en
hardware van uw apparaat er anders uitzien of een
gemodificeerde functionaliteit hebben dan
aangegeven in deze snelstartgids.
Prestigio verklaart hierbij dat deze Smartphone voldoet aan de
fundamentele eisen en andere relevante voorschriften zoals
gepubliceerd in EU-richtlijn 1999/5/EC. De volledige versie van
de conformiteitsverklaring is beschikbaar op:
http://www.prestigio.com/compliance.
Voorkom mogelijke gehoorschade: luister niet
langdurig naar geluiden met een hoog volume.

* Your assessment is very important for improving the work of artificial intelligence, which forms the content of this project