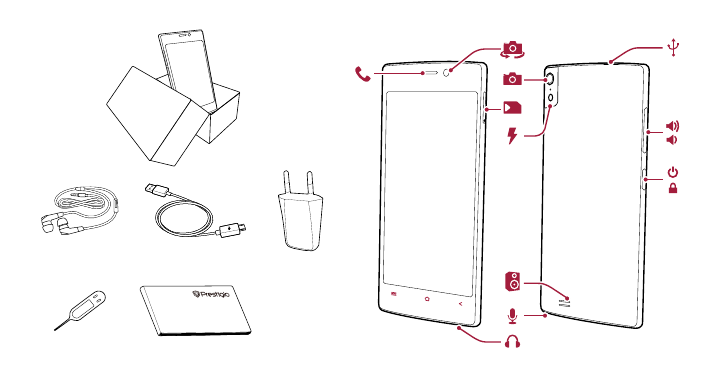 1
3
Micro SIM
Standard SIM
Nano SIM
2
4
Octa core
1.7GHz
5MP FF +
13MP BSI AF
2300 mAh
RAM 2GB +
16GB eMMC
UMTS: 900/1900/2100 MHz
GSM: 850/900/1800
/1900 MHz
145.1*70.2*5.55 mm
(H*W*D)
Android 4.4
Wi-Fi (802.11 a/b/g/n)
3G, Bluetooth 4.0
133 g
5" FHD Super AMOLED
Gorilla Glass 3
1920*1080
GPS, A-GPS
Hurtigstartvejledning til
Prestigio MultiPhone
På startskærmen eller i listemenuen, tryk på et appikon for at
åbne det. Du kan finde alle de apps, der er installeret i din telefon
i listemenuen.
Finde dine widgets
Foretag et opkald
1. På startskærmen eller listemenuen, tryk på
.
2. Tryk at åbne det numeriske tastatur.
3. Indtast telefonnummeret og tryk derefter på
.
Startskærm
Dit startskærmbillede er udgangspunktet for at få adgang til
alle telefonens funktioner. Home skærmbilledet kan have flere
paneler. Stryg til venstre eller højre for at se andre paneler.
Tilføj et appikon til startskærmen
På startskærmen tryk på
Bruge dine apps
for at åbne listemenuen, tryk
og hold på et programsymbol og træk det derefter ind i en
panelforhåndsvisning.
1. På startskærmen tryk på .
2. Tryk
for at åbne listen over widgets.
3. Svirp til venstre eller højre på widgetpanelet.
4. Tryk på og hold den ønskede widget, der skal tilføjes til
startskærmen.
Bruge hurtige indstillinger
Med fanen hurtige indstillinger kan du let slå flytilstand, Wi-Fi
og Bluetooth og andre funktioner til og fra. Den giver også en
genvej til at skifte mellem funktionerne, indstille lysstyrken og
skærmretningen.
1. På startskærmen eller i listemenuen, glid ned fra det øverste
af skærmen.
2. Tryk
for at åbne listen over hurtige indstillinger.
DK
Tillykke med dit køb og velkommen til Prestigio. Nyd
din PSP7557 med den seneste Android 4.4 KitKat.
Du kan besøge www.prestigio.com/support for
at downloade hele vejledningen komplet vejledning for for
PSP7557.
Hurtigstartvejledning til
Prestigio MultiPhone
SIM kortet
DK
Din enhed bruger et micro-SIM-kort.
Brugen af ikke kompatible SIM kort, manuelt skårne
SIM kort eller SIM kort adaptere kan beskadige kort
eller telefonen, og det kan beskadige de data, der er
gemt på kortene.
Ridsning eller bøjning af SIM kort kan medføre
tab af kontakter og informationer, vær derfor forsigtig
ved håndtering, indsætning og udtagning af kortene.
Brug det medfølgende SIM-udskubningsværktøj til at
installere SIM-kortet.
Da Prestigio hele tiden opdaterer og forbedrer sine
produkter, kan softwaren og hardwaren til din
telefon se lidt anderledes ud eller have ændrede
funktionaliteter end dem, der vises i denne hurtigstartvejledning.
Prestigio bekræfter hermed, at denne telefon er i
overensstemmelse med de grundlæggende krav og andre
relevante forskrifter givet af EU-direktivet 1999/5/EF. Den
komplette version af overensstemmelseserklæringen findes på:
www.prestigio.com/certificates.
For at forhindre mulige høreskader, lyt ikke til høje
lydstyrker i længere tid.
Hvis du ønsker information om SAR (specifik
absorptionshastighed), bedes du gå ind på:
www.prestigio.com/catalogue/MultiPhones/MultiPhone_7557.

* Your assessment is very important for improving the work of artificial intelligence, which forms the content of this project