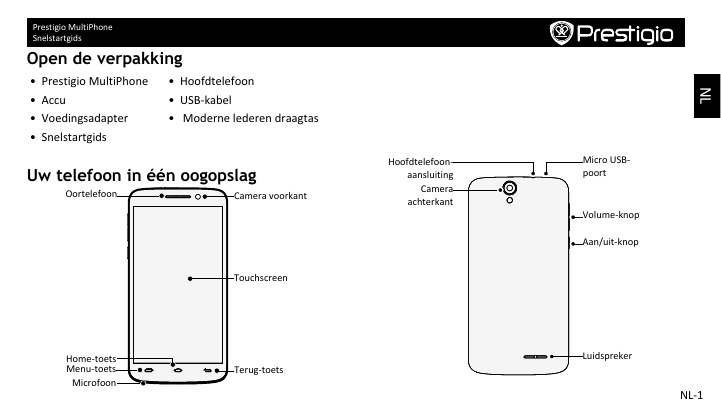 Prestigio MultiPhone
Snelstartgids
Open de verpakking
Prestigio MultiPhone
Accu
Voedingsadapter
Snelstartgids
• Hoofdtelefoon
• USB-kabel
• Moderne lederen draagtas
Uw telefoon in één oogopslag
Oortelefoon
Camera voorkant
NL
•
•
•
•
Hoofdtelefoonaansluiting
Camera
achterkant
Micro USBpoort
Volume-knop
Aan/uit-knop
Touchscreen
Home-toets
Menu-toets
Microfoon
Luidspreker
Terug-toets
NL-1
Prestigio MultiPhone
Snelstartgids
Knoppen
NL
Knop
Functie
Power
• Ingedrukt houden om uw telefoon in en
uit te schakelen.
• Indrukken om het scherm te
vergrendelen of ontgrendelen.
Volume
• Indrukken om het volume aan te passen.
Menu
• A
antikken om een lijst met beschikbare
opties in het huidige scherm te openen.
Home
• A
antikken om terug te keren naar het
startscherm.
• Aantikken en vasthouden om de lijst met
recente apps te openen.
Terug
NL-2
Aan de slag
Naam
• A
antikken om terug te gaan naar het
vorige scherm.
• Aantikken om het schermtoetsenbord te
verbergen wanneer dit geopend is.
1. Verwijder de achterkant.
2. Verwijder de accu.
3. Plaats uw SIM-kaart.
4. Plaats een geheugenkaart.
5. Breng de accu en de achterkant 6. Druk op de aan/uit-knop en
weer aan.
houd deze ingedrukt om uw
telefoon in te schakelen.
Prestigio MultiPhone
Snelstartgids
Uw telefoon opladen
• Vegen
• Schuiven
• Inzoomen
• Uitzoomen
NL
Sluit uw telefoon aan op een stopcontact met behulp van de
meegeleverde USB-kabel en reislader.
Vingerbewegingen
• Aantikken
• Vasthouden
NL-3
Prestigio MultiPhone
Snelstartgids
• Bladeren
• Wegknippen
Startscherm
NL
Het startscherm is het beginpunt voor de toegang tot alle
functies van uw telefoon. Het startscherm kan meerdere
vensters hebben. Veeg naar links of rechts om de andere
vensters te bekijken.
Een app-icoon aan het startscherm toevoegen
Tik in het startscherm op
Bellen
1. Gebruik een van de volgende methoden:
»» Tik op
om het toetsenbord te openen, voer het
telefoonnummer in.
»» Tik op
om de lijst met contacten te openen,
selecteer een contact.
2. Tik op Oproep.
NL-4
om het lijstmenu te openen,
tik op een toepassings-icoon houd deze vast en sleep deze
vervolgens naar een venster-preview.
Achtergrond instellen
1. Tik in het startscherm op
> Achtergrond.
2. Selecteer een van de volgende: Galerie, Live achtergrond of
Achtergronden.
3. Selecteer een afbeelding en tik op Achtergrond instellen.
Of, selecteer een afbeelding, wijzig het formaat door het
kader te slepen, en tik dan op OK.
Uw apps gebruiken
Een app openen
• Selecteer in het startscherm of het hoofdmenu een appicoon om deze te openen.
Prestigio MultiPhone
Snelstartgids
NFC
Uw NFC inschakelen
1. Tik in het apps scherm op
> Meer... > NFC. Aantikken
om NFC in te schakelen.
2. Het lezen van informatie van een NFC-tag.
3. Plaats het apparaat dicht bij een NFC-tag. De informatie van
de tag wordt weergegeven.
Betalingen doen
Voordat u de NFC-functie kunt gebruiken om betalingen te
doen, moet u zich registreren voor de mobiele betaaldienst.
Om u te registreren of voor meer informatie over deze dienst,
dient u contact op te nemen met uw serviceprovider.
• Houd de achterkant van uw smartphone tegen het NFCbetaalapparaat.
NL
Near Field Communication (NFC) is een draadloze technologie
met een beperkt bereik, die bedoeld is voor een snelle
gegevensoverdracht. U kunt de NFC-technologie gebruiken
om gegevens tussen uw telefoon en andere NFC-apparaten uit
te wisselen door de achterkant van uw smartphone tegen het
NFC-apparaat te houden.
Na het downloaden van de benodigde toepassingen kunt
u met NFC uw smartphone bijvoorbeeld ook gebruiken als
betaalkaart, vervoersbewijs of toegangskaartje.
De achterkant van uw smartphone heeft een ingebouwde
NFC-antenne. Ga voorzichtig om met de achterkant, om
beschadiging van de NFC-antenne te voorkomen.
Gegevens verzenden via Android Beam
Gebruik de Android Beam functie om gegevens, zoals
webpagina's en contacten, te versturen naar NFC-apparaten.
1. Tik in het apps scherm op
> Meer... > Android Beam.
Aantikken om de Android Beam in te schakelen.
2. Selecteer een item, houd de achterkant van uw apparaat
tegen de achterkant van het andere apparaat en tik
vervolgens op het scherm van uw apparaat.
NL-5
Prestigio MultiPhone
Snelstartgids
Technische specificaties
NL
NL-6
Item
Specificatie
Processor
High Performance Quad Core 1.5GHz
Geheugen
4GB eMMC +1GB RAM, Micro SD-sleuf
met ondersteuning tot 32GB
OS
Android 4.2
Beeldscherm
1280*720 pixels, 6-inch, Capacitive touch
Camera
Voorkant 8MP AF, Achterkant 13MP AF
Band
UMTS:900/2100; GSM:900/1800
Interfaces
Micro USB 2.0, Micro SD (micro SDHC
compatibel)
Communicatie
WiFi (802.11 b/g/n), 3G, Bluetooth, NFC
Accu
2600mAh Li-ion accu
Afmetingen
166.5*84.4*8.4mm (H*B*D)
Gewicht
128 gram (zonder accu)
Informatie over de 'Specific Absorption Rate'
Bij het testen van het apparaat was de hoogste SAR-waarde
onder de ICNIRP richtlijnen voor dit PAP7600 DUO model 0.186
W/kg (10g).
Omdat de Prestigio producten voortdurend worden
geüpdatet en verbeterd, kan de software en
hardware van uw apparaat er anders uitzien of een
gemodificeerde functionaliteit hebben dan aangegeven in
deze snelstartgids.
Prestigio verklaart hierbij dat deze Smartphone voldoet aan de
fundamentele eisen en andere relevante voorschriften zoals
gepubliceerd in EU-richtlijn 1999/5/EC. De volledige versie van
de conformiteitsverklaring is beschikbaar op:
http://www.prestigio.com/compliance.
Voorkom mogelijke gehoorschade: luister niet
langdurig naar geluiden met een hoog volume.

* Your assessment is very important for improving the work of artificial intelligence, which forms the content of this project