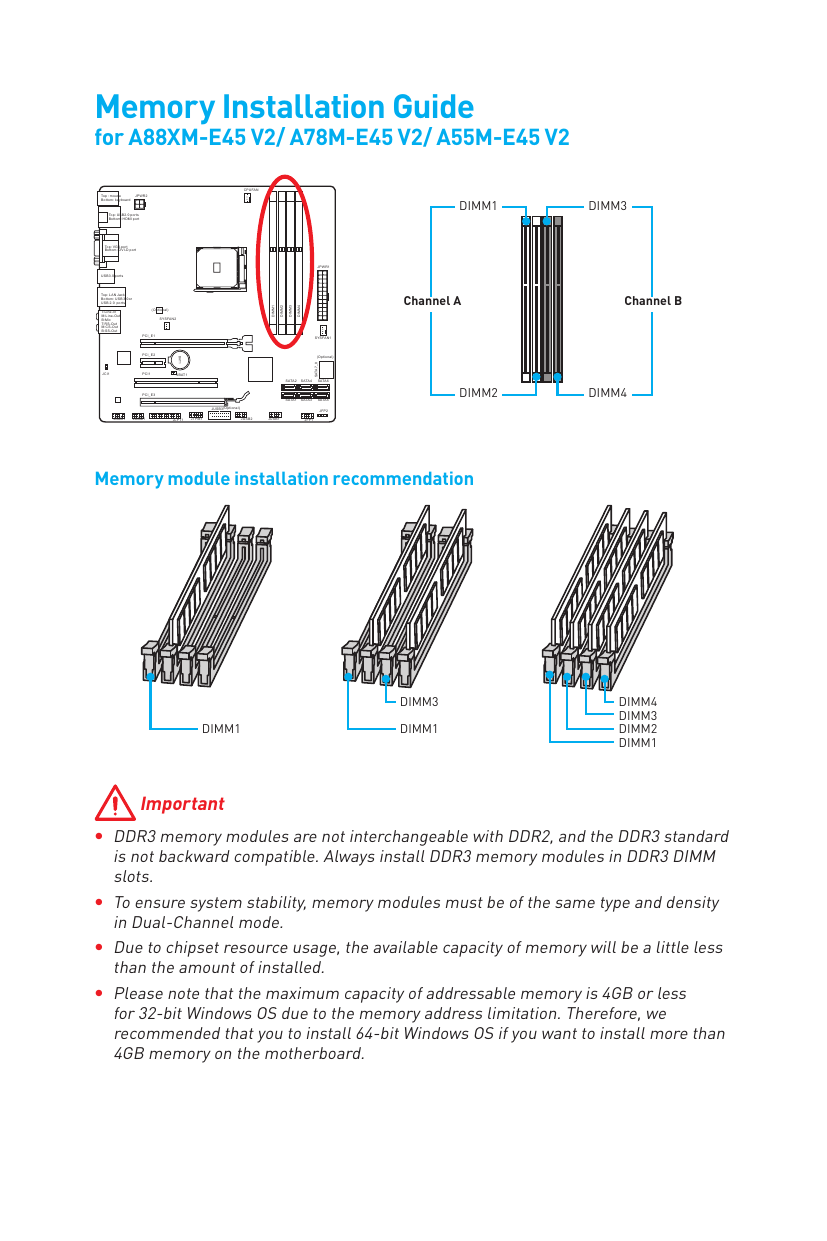 Memory Installation Guide
for A88XM-E45 V2/ A78M-E45 V2/ A55M-E45 V2
CPUFAN
Top : mouse
Bottom: keyboard
JPWR2
DIMM1
DIMM3
Top: USB2.0 ports
Bottom: HDMI port
Top: VGA port
Bottom: DVI-D port
JPWR1
USB3.0 ports
Channel A
DIMM4
DIMM1
DIMM2
(Optional)
T: Line-In
M: Line-Out
B: Mic
T:RS-Out
M:CS-Out
B:SS-Out
DIMM3
Top: LAN Jack
Bottom: USB 3.0or
USB 2.0 ports
PCI_E1
(Optional)
SATA7_8
PCI1
SYSFAN1
BAT1
PCI_E2
JCI1
JBAT1
SATA2
SATA4
SATA6
SATA1
SATA3
SATA5
DIMM2
PCI_E3
JUSB3 (Optional)
JAUD1
Channel B
SYSFAN2
JCOM1
JLPT1
JTPM1
DIMM4
JFP2
JUSB2
JUSB1
JFP1
Memory module installation recommendation
DIMM3
DIMM1
DIMM1
DIMM4
DIMM3
DIMM2
DIMM1
Important
y DDR3 memory modules are not interchangeable with DDR2, and the DDR3 standard
is not backward compatible. Always install DDR3 memory modules in DDR3 DIMM
slots.
y To ensure system stability, memory modules must be of the same type and density
in Dual-Channel mode.
y Due to chipset resource usage, the available capacity of memory will be a little less
than the amount of installed.
y Please note that the maximum capacity of addressable memory is 4GB or less
for 32-bit Windows OS due to the memory address limitation. Therefore, we
recommended that you to install 64-bit Windows OS if you want to install more than
4GB memory on the motherboard.

* Your assessment is very important for improving the work of artificial intelligence, which forms the content of this project