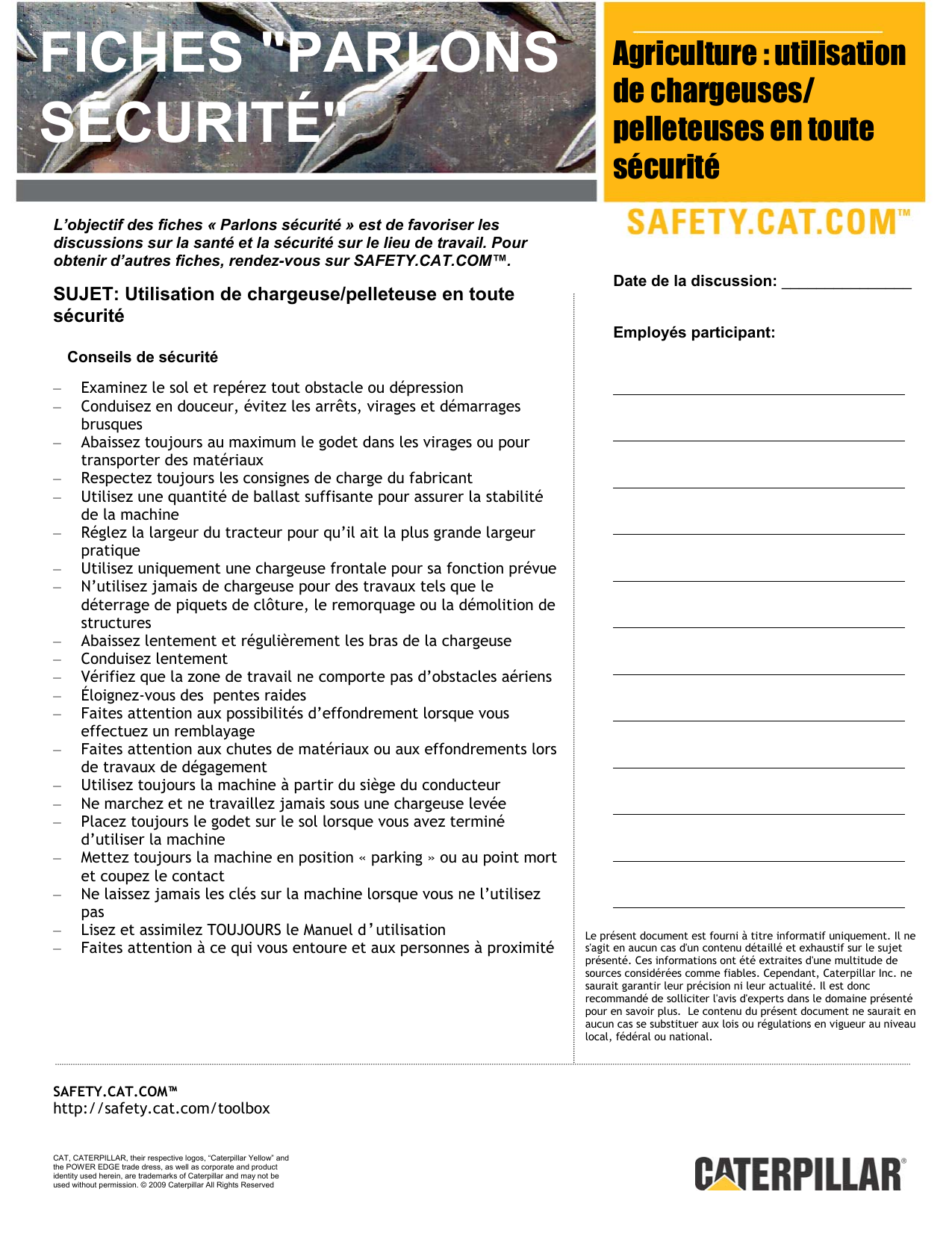 FICHES "PARLONS
SÉCURITÉ"
Agriculture : utilisation
de chargeuses/
pelleteuses en toute
sécurité
L'objectif des fiches « Parlons sécurité » est de favoriser les
discussions sur la santé et la sécurité sur le lieu de travail. Pour
obtenir d'autres fiches, rendez-vous sur SAFETY.CAT.COM™.
SUJET: Utilisation de chargeuse/pelleteuse en toute
sécurité
Date de la discussion: _______________
Employés participant:
Conseils de sécurité
–
–
–
–
–
–
–
–
–
–
–
–
–
–
–
–
–
–
–
–
–
Examinez le sol et repérez tout obstacle ou dépression
Conduisez en douceur, évitez les arrêts, virages et démarrages
brusques
Abaissez toujours au maximum le godet dans les virages ou pour
transporter des matériaux
Respectez toujours les consignes de charge du fabricant
Utilisez une quantité de ballast suffisante pour assurer la stabilité
de la machine
Réglez la largeur du tracteur pour qu'il ait la plus grande largeur
pratique
Utilisez uniquement une chargeuse frontale pour sa fonction prévue
N'utilisez jamais de chargeuse pour des travaux tels que le
déterrage de piquets de clôture, le remorquage ou la démolition de
structures
Abaissez lentement et régulièrement les bras de la chargeuse
Conduisez lentement
Vérifiez que la zone de travail ne comporte pas d'obstacles aériens
Éloignez-vous des pentes raides
Faites attention aux possibilités d'effondrement lorsque vous
effectuez un remblayage
Faites attention aux chutes de matériaux ou aux effondrements lors
de travaux de dégagement
Utilisez toujours la machine à partir du siège du conducteur
Ne marchez et ne travaillez jamais sous une chargeuse levée
Placez toujours le godet sur le sol lorsque vous avez terminé
d'utiliser la machine
Mettez toujours la machine en position « parking » ou au point mort
et coupez le contact
Ne laissez jamais les clés sur la machine lorsque vous ne l'utilisez
pas
Lisez et assimilez TOUJOURS le Manuel d'utilisation
Faites attention à ce qui vous entoure et aux personnes à proximité
SAFETY.CAT.COM™
http://safety.cat.com/toolbox
CAT, CATERPILLAR, their respective logos, "Caterpillar Yellow" and
the POWER EDGE trade dress, as well as corporate and product
identity used herein, are trademarks of Caterpillar and may not be
used without permission. © 2009 Caterpillar All Rights Reserved
Le présent document est fourni à titre informatif uniquement. Il ne
s'agit en aucun cas d'un contenu détaillé et exhaustif sur le sujet
présenté. Ces informations ont été extraites d'une multitude de
sources considérées comme fiables. Cependant, Caterpillar Inc. ne
saurait garantir leur précision ni leur actualité. Il est donc
recommandé de solliciter l'avis d'experts dans le domaine présenté
pour en savoir plus. Le contenu du présent document ne saurait en
aucun cas se substituer aux lois ou régulations en vigueur au niveau
local, fédéral ou national.

* Your assessment is very important for improving the work of artificial intelligence, which forms the content of this project