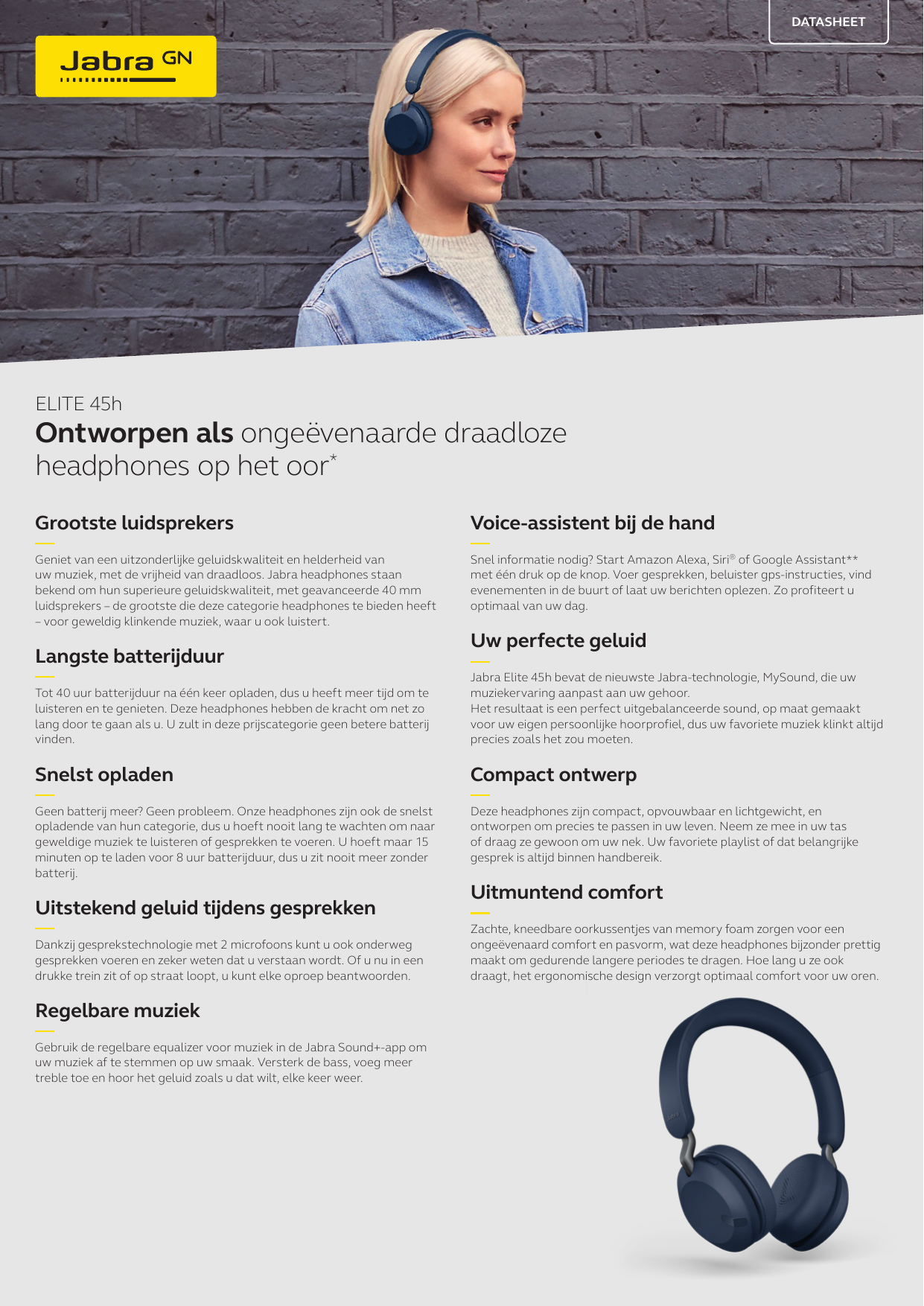 DATASHEET
ELITE 45h
Ontworpen als ongeëvenaarde draadloze
headphones op het oor*
Grootste luidsprekers
Voice-assistent bij de hand
Geniet van een uitzonderlijke geluidskwaliteit en helderheid van
uw muziek, met de vrijheid van draadloos. Jabra headphones staan
bekend om hun superieure geluidskwaliteit, met geavanceerde 40 mm
luidsprekers – de grootste die deze categorie headphones te bieden heeft
– voor geweldig klinkende muziek, waar u ook luistert.
Snel informatie nodig? Start Amazon Alexa, Siri® of Google Assistant**
met één druk op de knop. Voer gesprekken, beluister gps-instructies, vind
evenementen in de buurt of laat uw berichten oplezen. Zo profiteert u
optimaal van uw dag.
Langste batterijduur
Uw perfecte geluid
Tot 40 uur batterijduur na één keer opladen, dus u heeft meer tijd om te
luisteren en te genieten. Deze headphones hebben de kracht om net zo
lang door te gaan als u. U zult in deze prijscategorie geen betere batterij
vinden.
Jabra Elite 45h bevat de nieuwste Jabra-technologie, MySound, die uw
muziekervaring aanpast aan uw gehoor.
Het resultaat is een perfect uitgebalanceerde sound, op maat gemaakt
voor uw eigen persoonlijke hoorprofiel, dus uw favoriete muziek klinkt altijd
precies zoals het zou moeten.
Snelst opladen
Compact ontwerp
Geen batterij meer? Geen probleem. Onze headphones zijn ook de snelst
opladende van hun categorie, dus u hoeft nooit lang te wachten om naar
geweldige muziek te luisteren of gesprekken te voeren. U hoeft maar 15
minuten op te laden voor 8 uur batterijduur, dus u zit nooit meer zonder
batterij.
Deze headphones zijn compact, opvouwbaar en lichtgewicht, en
ontworpen om precies te passen in uw leven. Neem ze mee in uw tas
of draag ze gewoon om uw nek. Uw favoriete playlist of dat belangrijke
gesprek is altijd binnen handbereik.
Uitstekend geluid tijdens gesprekken
Dankzij gesprekstechnologie met 2 microfoons kunt u ook onderweg
gesprekken voeren en zeker weten dat u verstaan wordt. Of u nu in een
drukke trein zit of op straat loopt, u kunt elke oproep beantwoorden.
Regelbare muziek
Gebruik de regelbare equalizer voor muziek in de Jabra Sound+-app om
uw muziek af te stemmen op uw smaak. Versterk de bass, voeg meer
treble toe en hoor het geluid zoals u dat wilt, elke keer weer.
Uitmuntend comfort
Zachte, kneedbare oorkussentjes van memory foam zorgen voor een
ongeëvenaard comfort en pasvorm, wat deze headphones bijzonder prettig
maakt om gedurende langere periodes te dragen. Hoe lang u ze ook
draagt, het ergonomische design verzorgt optimaal comfort voor uw oren.
STARTEN EN KOPPELEN
1.
OPLADEN
1,5
Tijd tot volledig opladen
Druk omhoog om de headphones aan te zetten
uur
Tot 40 uur batterijduur
2.
3.
Houd de schuifregelaar vast in de Bluetoothstand tot het lampje blauw knippert
15
Volg de gesproken instructies in de
headphones om te koppelen met uw
smartphone.
Snel opladen in
minuten
Tot 8 uur batterijduur
GEBRUIKSINSTRUCTIES - GESPREKKEN
GEBRUIKSINSTRUCTIES - MUZIEK
Druk x1
Druk x1
Druk x1
Druk x1
Druk x2
Druk x1
Druk x1
Druk x1
(voice-assistent)
Druk x1
Connectiviteit
Audio
Gebruiksgemak
Compatibiliteit
KENMERKEN
VOORDELEN
Draadloos met Bluetooth 5.0
Geen geluidsuitval, geen onderbrekingen
Multi-verbinding
Koppel tot 8 apparaten, maak verbinding met 2 tegelijk
Snel opladen
Krijg tot 8 uur batterijduur met 15 minuten opladen van de headphones
Gesprekstechnologie met 2-microfoons
Vermindert achtergrondgeluid voor helderdere gesprekken
Regelbare equalizer
Hoor uw muziek op uw manier met een regelbare equalizer, beschikbaar in Jabra Sound+
Passieve geluidsonderdrukking
Vermindert achtergrondgeluid zodat u beter van uw muziek kunt genieten
Reductie windgeluid
Geniet overal van een geweldig geluid, zelfs in rumoerige of winderige omgevingen
MySound
Pas uw muziek aan aan uw luisterprofiel, beschikbaar in de Jabra Sound+-app
Batterij
Tot 40 uur
Regeling geluid
Oproep beantwoorden/beëindigen - oproep weigeren - volumeregeling - bediening muziek - muziek
afspelen/pauzeren
Ondersteuning voor Voice-assistenten
Directe toegang tot Amazon Alexa, Siri® en Google Assistant™
Meer comfort
Zachte oorkussentjes passen zich aan aan uw oor voor meer comfort
Compact ontwerp
Opvouwbaar en lichtgewicht
Accessoires
Draagetui, USB-C-kabel
Apps
Kijk voor compatibiliteitsinformatie in de Jabra Sound+ App
Geverifieerd door FORCE Technology, 03.02.2020. Zie feiten op Jabra.com/commercial-claims
NL_Jabra Elite 45h datasheet A4 030220
© 2019 GN Audio A/S. Alle rechten voorbehouden.
Jabra is een geregistreerd handelsmerk van GN Audio A/S.
Bluetooth®-woordmerk en -logos zijn gedeponeerde handelsmerken van
Bluetooth SIG, Inc. en enig gebruik van dergelijke merken door GN Audio A/S geschiedt onder licentie.

* Your assessment is very important for improving the work of artificial intelligence, which forms the content of this project