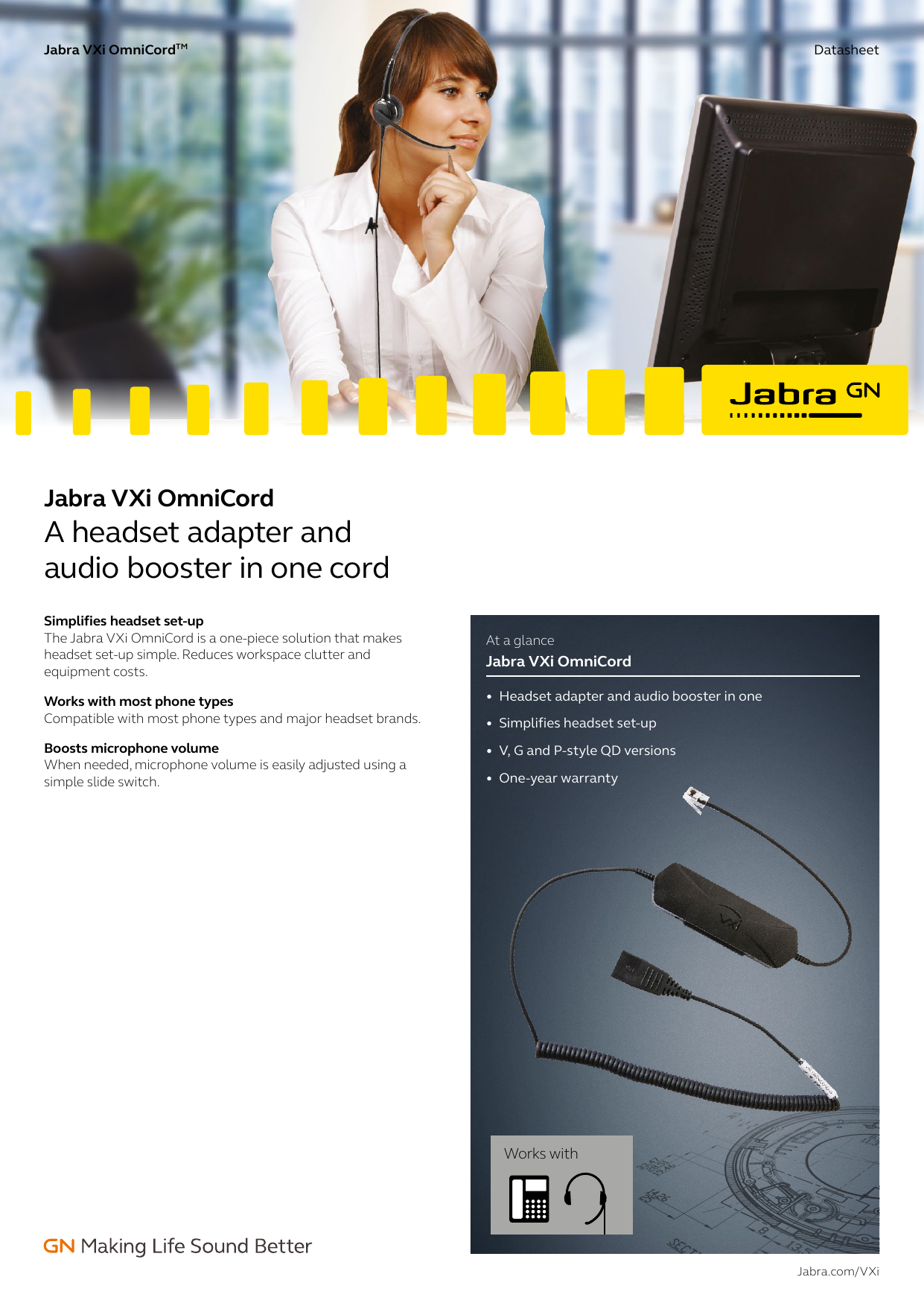 Jabra VXi OmniCordTM
Datasheet
Jabra VXi OmniCord
A headset adapter and
audio booster in one cord
Simplifies headset set-up
The Jabra VXi OmniCord is a one-piece solution that makes
headset set-up simple. Reduces workspace clutter and
equipment costs.
At a glance
Jabra VXi OmniCord
Works with most phone types
Compatible with most phone types and major headset brands.
• Headset adapter and audio booster in one
Boosts microphone volume
When needed, microphone volume is easily adjusted using a
simple slide switch.
• V, G and P-style QD versions
• Simplifies headset set-up
• One-year warranty
Works with
Jabra.com/VXi
Jabra VXi OmniCordTM
Datasheet
Getting started
Compatibility switch
Three-position slide switch for selecting
the three common headset/handset port
wiring configurations.
Audio Booster
Eight-position slide switch
for selecting headset
microphone gain.
RJ9 Connector
Plugs into the headset/
handset port on the
phone.
Quick Disconnect (QD)
Three styles for use with
VXi, GN Netcom/Jabra
and Plantronics® headsets.
Jabra VXi OmniCord
Dimension
9.1 x 2.8 cm/3.6" x 1.1" – Telephone interface cord: 17.5 cm/6.9" – Headset coil cord: 47 cm/18.5"
Weight
38 g/1.34 oz
Connectivity
Desk phones and QD headsets
What's in the box
1. Adapter cord
2. Quick Start Guide
3. Warranty card
Certifications
CE, FCC, RoHS
Warranty
SKU number
One-year warranty
Description
UPC
EAN
203365
OmniCord-V
For use with Jabra VXi "V" QD headsets
607972033656
0607972033656
203366
OmniCord-G
For use with Jabra VXi "G" QD
and other Jabra QD headsets
607972033663
0607972033663
203367
OmniCord-P
For use with Jabra VXi "P" QD
and Plantronics® QD headsets
607972033670
0607972033670
Compatibility
With most phone systems and most major headset brands.
© 2018 GN Audio A/S. All rights reserved.® Jabra is a registered trademark of GN Audio A/S.
All other company and product names may be trademarks of their respective companies.
Jabra VXi Omnicord Datasheet –10/07/2018
Specifications
Headset coil cord
for more flexibility.

* Your assessment is very important for improving the work of artificial intelligence, which forms the content of this project