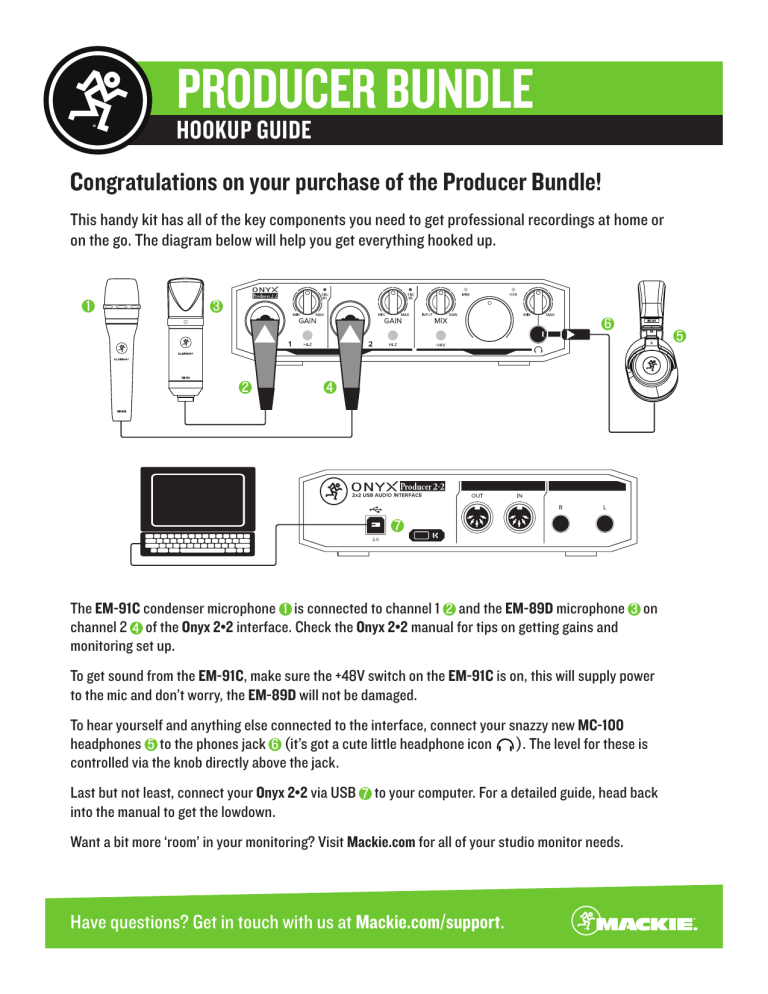 1
PRODUCER BUNDLE
HOOKUP GUIDE Congratulations on your purchase of the Producer Bundle!
This handy kit has all of the key components you need to get professional recordings at home or on the go. The diagram below will help you get everything hooked up.
3 6 5 2 4 7 The EM-91C condenser microphone is connected to channel 1 and the EM-89D microphone on channel 2 of the Onyx 2•2 interface. Check the Onyx 2•2 manual for tips on getting gains and monitoring set up. To get sound from the EM-91C , make sure the +48V switch on the EM-91C is on, this will supply power to the mic and don't worry, the EM-89D will not be damaged.
To hear yourself and anything else connected to the interface, connect your snazzy new headphones to the phones jack (it's got a cute little headphone icon ). The level for these is controlled via the knob directly above the jack.
MC-100 Last but not least, connect your Onyx 2•2 into the manual to get the lowdown.
via USB to your computer. For a detailed guide, head back Want a bit more 'room' in your monitoring? Visit Mackie.com
for all of your studio monitor needs. Have questions? Get in touch with us at Mackie.com/support .
* Your assessment is very important for improving the work of artificial intelligence, which forms the content of this project