Simplicity 021023-00 Setup Guide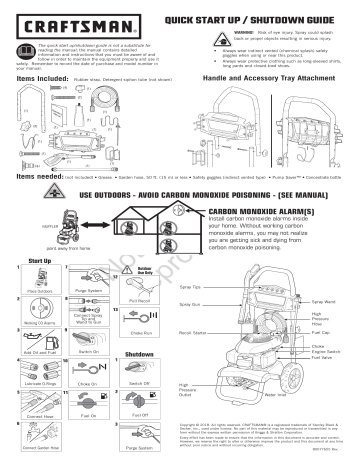 QUICK START UP / SHUTDOWN GUIDE
WARNING! Risk of eye injury. Spray could splash
back or propel objects resulting in serious injury.
The quick start up/shutdown guide is not a substitute for
reading the manual; the manual contains detailed
information and instructions that you must be aware of and
follow in order to maintain the equipment properly and use it
safely. Remember to record the date of purchase and model number in
your manual.
Items Included:
Always wear indirect vented (chemical splash) safety
goggles when using or near this product.
•
Always wear protective clothing such as long-sleeved shirts,
long pants and closed-toed shoes.
Handle and Accessory Tray Attachment
Rubber strap, Detergent siphon tube (not shown)
Items needed: (not included) • Grease
•
• Garden hose, 50 ft. (15 m) or less • Safety goggles (indirect vented type) • Pump Saver™ • Concentrate bottle
n
USE OUTDOORS - AVOID CARBON MONOXIDE POISONING - (SEE MANUAL)
io
CARBON MONOXIDE ALARM(S)
N
o
R tf
ep o
r
ro
du
ct
MUFFLER
Install carbon monoxide alarms inside
your home. Without working carbon
monoxide alarms, you may not realize
you are getting sick and dying from
carbon monoxide poisoning.
point away from home
1
Start Up
7
12
Spray Tips
Purge System
Place Outdoors
8
2
Outdoor
Use Only
Pull Recoil
13
9
Choke Run
Switch On
Add Oil and Fuel
4
1
10
Lubricate O-Rings
5
6
2
Choke
Engine Switch
Fuel Valve
High
Pressure
Outlet
Water Inlet
Fuel Off
Fuel On
3
Connect Garden Hose
Fuel Cap
Recoil Starter
Shutdown
Switch Off
Choke On
11
Connect Hose
High
Pressure
Hose
Connect Spray
Tip and
Wand to Gun
Working CO Alarms
3
Spray Wand
Spray Gun
Copyright © 2018. All rights reserved. CRAFTSMAN® is a registered trademark of Stanley Black &
Decker, Inc., used under license. No part of this material may be reproduced or transmitted in any
form without the express written permission of Briggs & Stratton Corporation.
Purge System
Every effort has been made to ensure that the information in this document is accurate and correct.
However, we reserve the right to alter or otherwise improve the product and this document at any time
without prior notice and without incurring obligation.
80077655 Rev. -
GUÍA RÁPIDA DE ARRANQUE/APAGADO
¡ADVERTENCIA! Riesgo de lesión ocular. El agua rociada podría
salpicar o expulsar objetos, lo que puede resultar en lesiones
graves.
La guía rápida de arranque/apagado no sustituye la lectura del
manual; el manual contiene información detallada e
instrucciones que debe conocer y seguir para mantener el equipo
en condiciones apropiadas y usarlo de manera segura. Recuerde
registrar la fecha de compra y el número de modelo en su manual.
Elementos incluidos:
•
Siempre use gafas de seguridad con ventilación indirecta (salpicaduras
de sustancias químicas) cuando utilice este producto o esté cerca del
mismo. (Las gafas de seguridad no brindan una protección total).
•
Siempre use ropa protectora como camisa de manga larga, pantalones
largos y calzado cerrado.
Aditamento de mango y bandeja para accesorios
Correa de caucho,
Tubo del sifón para detergente (no se muestra)
5
Elementos necesarios: (no incluidos) • Grasa
• Manguera de jardín, 50 pies (15 m) o menos • Gafas de seguridad (tipo de ventilación indirecta)
n
• Pump Saver™ • Botella con concentrado
io
ALARMA(S) DE MONÓXIDO DE CARBONO
MOFLE
1
Arranque
7
N
o
R tf
ep o
r
ro
du
ct
Instale alarmas de monóxido de carbono en el
interior de su casa. Sin alarmas de monóxido
de carbono en funcionamiento, es posible que
no se dé cuenta de que se está intoxicando y
muriendo debido a una intoxicación por
monóxido de carbono.
12
Coloque en
exteriores
Pistola rociadora
Boquillas
rociadoras
Purgue el Sistema
8
2
Sólo para uso
en exteriores
Jalar arrancador
de retroceso
Vara rociadora
13
Manguera para
alta presión
Conecte la vara y
boquillas rociadoras
Alarmas de
CO funcionales
9
3
Ahogador activado
Arrancador
retráctil
Tapa del
combustible
Ahogador
Agregue aceite y
combustible
4
Interruptor encendido
1
10
Lubrique las
juntas tóricas
5
Interruptor Apagado
Ahogador enendido
2
11
Llave del motor
Válvula de
combustible
Apagado
Toma de
alta presión
Entrada de agua
Conectar manguera
6
Combustible
encendido
Cortar el combustible
3
Conecte la
manguera de jardin
Copyright © 2018. Reservados todos los derechos. CRAFTSMAN® es una marca registrada de
Stanley Black & Decker, Inc., usa abajo licencia. Queda prohibida la reproducción o transmisión
total o parcial de este material, sin el permiso previo y por escrito de Briggs & Stratton Corporation.
Purgue el Sistema
Se ha realizado el máximo esfuerzo para reunir en este manual la información más precisa y
actualizada. No obstante, nos reservamos el derecho de modificar o mejorar de cualquier otra forma
el producto y este documento en cualquier momento y sin previo aviso, y sin incurrir en ninguna
obligación.

* Your assessment is very important for improving the workof artificial intelligence, which forms the content of this project