Simplicity 030679-00 Setup Guide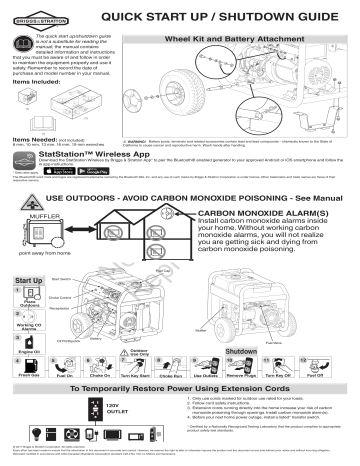 QUICK START UP / SHUTDOWN GUIDE
The quick start up/shutdown guide
is not a substitute for reading the
manual; the manual contains
detailed information and instructions
that you must be aware of and follow in order
to maintain the equipment properly and use it
safely. Remember to record the date of
purchase and model number in your manual.
Wheel Kit and Battery Attachment
Items Included:
Items Needed: (not included)
8 mm, 10 mm, 13 mm. 16 mm, 19 mm wrenches
WARNING! Battery posts, terminals and related accessories contain lead and lead compounds - chemicals known to the State of
California to cause cancer and reproductive harm. Wash hands after handling.
StatStation™ Wireless App
Download the StatStation Wireless by Briggs & Stratton App* to pair the Bluetooth® enabled generator to your approved Android or iOS smartphone and follow the
in app instructions.
* Data rates apply
The Bluetooth® word mark and logos are registered trademarks owned by the Bluetooth SIG, Inc. and any use of such marks by Briggs & Stratton Corporation is under license. Other trademarks and trade names are those of their
respective owners.
n
USEOUTDOORS
OUTDOORS
- AVOID
CARBON
MONOXIDE
POISONING - See Manual
USE
- AVOID
CARBON
MONOXIDE
POISONING
io
CARBON
MONOXIDEALARM(S)
ALARM(S)
CARBON MONOXIDE
MUFFLER
MUFFLER
N
o
R tf
ep o
r
ro
du
ct
Install
carbonmonoxide
monoxide
alarms
inside
Install carbon
alarms
inside
your
Withoutworking
working
carbon
your home.
home. Without
carbon
monoxide
alarms,you
you
realize
monoxide alarms,
willwill
notnot
realize
you are getting sick and dying from
you are getting sick and dying from
carbon monoxide poisoning.
carbon monoxide poisoning.
point away
from home
point away from home
Fuel Cap
Start Up
Start Switch
1
Place
Outdoors s
2
Choke Control
Receptacles
Working CO
Alarms
Muffler
3
Battery
Oil Fill/Dipstick
Engine Oil
4
Fresh Gas
7
6
5
Fuel On
Choke On
Outdoor
Use Only
Turn Key Start
8
Choke Run
9
Use Outlets
Shutdown
10
Remove Plugs
Fuel Valve
11
Turn Key Off
12
Fuel Off
To Temporarily Restore Power Using Extension Cords
120V
OUTLET
1. Only use cords marked for outdoor use rated for your loads.
2. Follow cord safety instructions.
3. Extension cords running directly into the home increase your risk of carbon
monoxide poisoning through openings. Install carbon monoxide alarm(s).
4. Before your next home power outage, install a listed* transfer switch.
* Certified by a Nationally Recognized Testing Laboratory that the product complies to appropriate
product safety test standards.
© 2017 Briggs & Stratton Corporation. All rights reserved.
Every effort has been made to ensure that the information in this document is accurate and correct. However, we reserve the right to alter or otherwise improve the product and this document at any time without prior notice and without incurring obligation.
Generator certified in accordance with CSA (Canadian Standards Association) standard C22.2 No. 100-14, Motors and Generators.
GUÍA RÁPIDA DE ARRANQUE/APAGADO
La guía rápida de arranque/apagado
no sustituye la lectura del manual; el
manual contiene información
detallada e instrucciones que debe
conocer y seguir para mantener el equipo en
condiciones apropiadas y usarlo de manera
segura. Recuerde registrar la fecha de compra y
el número de modelo en su manual.
Accesorio de la ruedas y batería
Elementos incluidos:
Elementos necesarios: (no incluidos)
llaves de 8 mm, 10 mm, 13 mm, 16 mm, 19 mm
¡ADVERTENCIA! Las patillas de las baterías, los terminales y los accesorios relacionados contienen plomo y compuestos de plomo - sustancias
químicas declaradas cancerígenas y causantes de malformaciones congénitas por el Estado de California. Lávese las manos después de manipular
estos elementos.
Aplicación inalámbrica StatStation™
Descargue la aplicación inalámbrica StatStation de Briggs & Stratton* para habilitar el sistema de Bluetooth® en su teléfono inteligente Android o iOS autorizado y
siga las instrucciones de la aplicación.
* Se aplican tarifas de datos
La palabra y logos Bluetooth® son marcas registradas propiedad de Bluetooth SIG, Inc., y cualquier uso de tales marcas por parte de Briggs & Stratton Corporation está sometido a un acuerdo de licencias. Otras marcas y nombres
comerciales son propiedad de sus respectivos dueños.
io
n
UTILICE AL AIRE LIBRE. EVITE EL ENVENENAMIENTO POR MONÓXIDO DE
CARBONO.
Consulte
el manual.
USE OUTDOORS
- AVOID
CARBON MONOXIDE POISONING
ALARMA(S) DE MONÓXIDO DE CARBONO
CARBON MONOXIDE ALARM(S)
MUFFLER
SILENCIADOR
N
o
R tf
ep o
r
ro
du
ct
Instale
alarmas
de monóxido
Install carbon
monoxide
alarms de
inside
carbono en el interior de su casa. Sin
your home. Without working carbon
alarmas de monóxido de carbono en
monoxide alarms,no
yousewill
not cuenta
realize de
funcionamiento,
dará
you are
getting
sick and dying
from
que
se está
enfermando
y muriendo
por
carbon monoxide poisoning.
envenenamiento
con monóxido de carbono.
apúntelo
dirección
pointenaway
opuesta
la casa.
from ahome
Tapa de combustible
Arranque
Interruptor
de arranque
1
Palanca del
ahogador
Coloque en
exteriores
Tomacorrientes
2
Alarmas de CO
funcionales
Silenciador
3
Tapón/varilla indicadora
de nivel de aceite
Aceite del
motor
5
4
Gasolina
fresca
Combustible
encendido
Batería
7
6
Ahogador
activado
Sólo para uso
en exteriores
Gire la llave
a START
8
Apagado
10
9
Usar el
ahogador
Usar
tomacorrientes
Retirar
enchufes
Válvula de
combustible
11
Gire la llave
a OFF
12
Cortar el
combustible
Para restablecer la energía temporalmente usando cables de extensión
TOMACORRIENTE
120V
DE 120V
OUTLET
1. Solo use cables identificados para el uso en exteriores y con la
clasificación adecuada para sus cargas.
2. Siga las instrucciones de seguridad de los cables.
3. Los cables de extensión que se conectan directamente a la casa
aumentan el riesgo de intoxicación por monóxido de carbono a través
de orificios. Instale alarmas de monóxido de carbono.
4. Antes del próximo corte de energía de su hogar, instale uno de los
interruptores de transferencia que aparezca en la lista*.
*Certificado por un laboratorio de pruebas reconocido a nivel nacional que indique que el
producto cumple con los estándares adecuados de prueba de seguridad de productos.
© 2017 Briggs & Stratton Corporation. Todos los derechos reservados.
Se ha realizado el máximo esfuerzo para reunir en este manual la información más precisa y actualizada. No obstante, nos reservamos el derecho de modificar o mejorar de cualquier otra forma el producto y este documento en cualquier momento y sin previo aviso,
y sin incurrir en ninguna obligación.
80020977 Rev. B
Este generador está certificado conforme a la norma C22.2 N.º 100-04 (motores y generadores) de la Asociación Canadiense de Normas (Canadian Standards Association, CSA)..

* Your assessment is very important for improving the workof artificial intelligence, which forms the content of this project