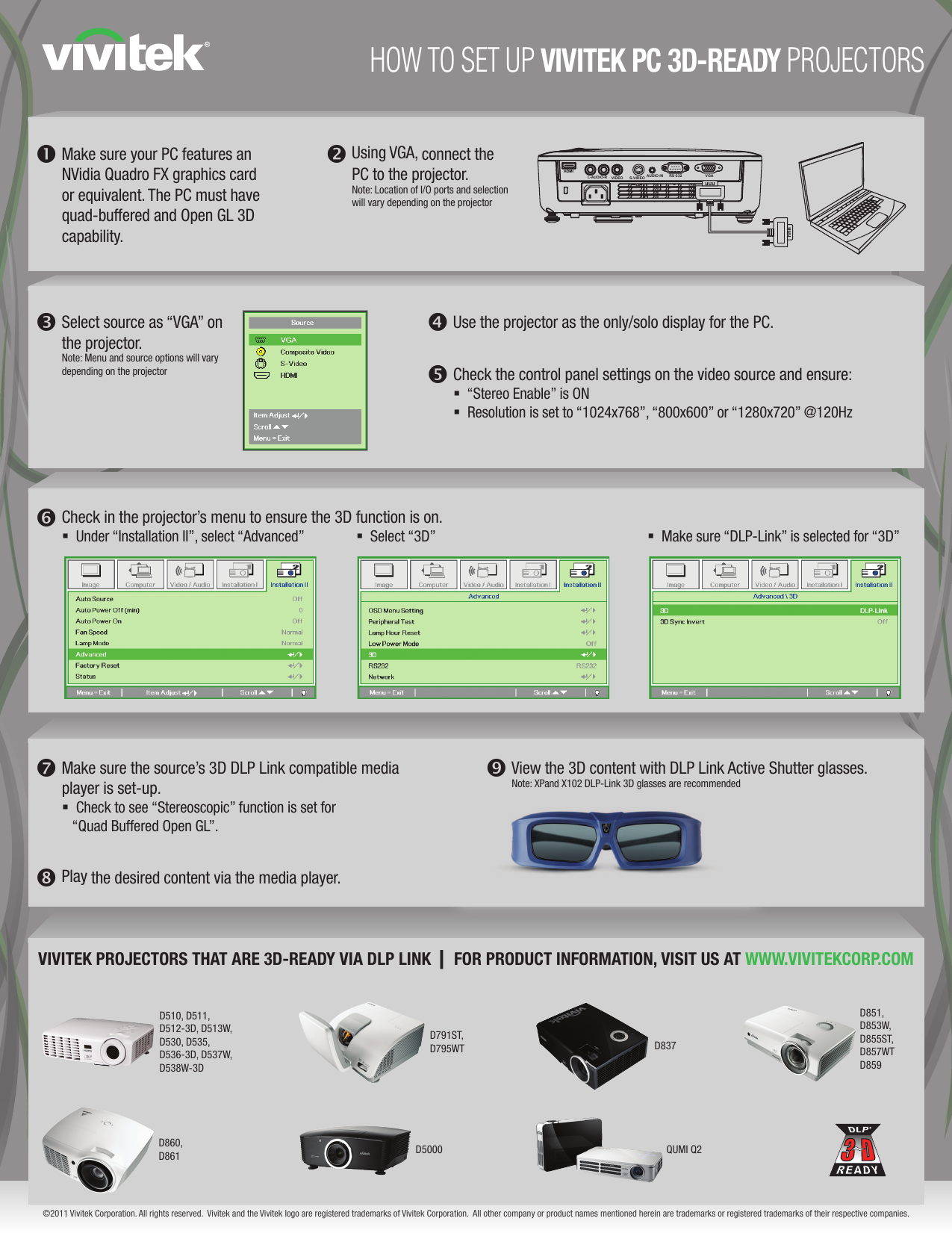 HOW TO SET UP VIVITEK PC 3D-READY PROJECTORS
 Make sure your PC features an
NVidia Quadro FX graphics card
or equivalent. The PC must have
quad-buffered and Open GL 3D
capability.
 Using VGA, connect the
PC to the projector.
HDMI
L-AUDIO-R
VIDEO
S-VIDEO
AUDIO IN
RS-232
VGA
Note: Location of I/O ports and selection
will vary depending on the projector
 Select source as "VGA" on
 Use the projector as the only/solo display for the PC.
the projector.
Note: Menu and source options will vary
depending on the projector
 Check the control panel settings on the video source and ensure:
 "Stereo Enable" is ON
 Resolution is set to "1024x768", "800x600" or "1280x720" @120Hz
 Check in the projector's menu to ensure the 3D function is on.
 Under "Installation II", select "Advanced"
 Select "3D"
 Make sure "DLP-Link" is selected for "3D"
 Make sure the source's 3D DLP Link compatible media
the 3D content with DLP Link Active Shutter glasses.
 View
Note: XPand X102 DLP-Link 3D glasses are recommended
player is set-up.
 Check to see "Stereoscopic" function is set for
"Quad Buffered Open GL".
 Play the desired content via the media player.
VIVITEK PROJECTORS THAT ARE 3D-READY VIA DLP LINK
D510, D511,
D512-3D, D513W,
D530, D535,
D536-3D, D537W,
D538W-3D
D860,
D861
|
FOR PRODUCT INFORMATION, VISIT US AT WWW.VIVITEKCORP.COM
D791ST,
D795WT
D5000
D837
D851,
D853W,
D855ST,
D857WT
D859
QUMI Q2
©2011 Vivitek Corporation. All rights reserved. Vivitek and the Vivitek logo are registered trademarks of Vivitek Corporation. All other company or product names mentioned herein are trademarks or registered trademarks of their respective companies.

* Your assessment is very important for improving the work of artificial intelligence, which forms the content of this project