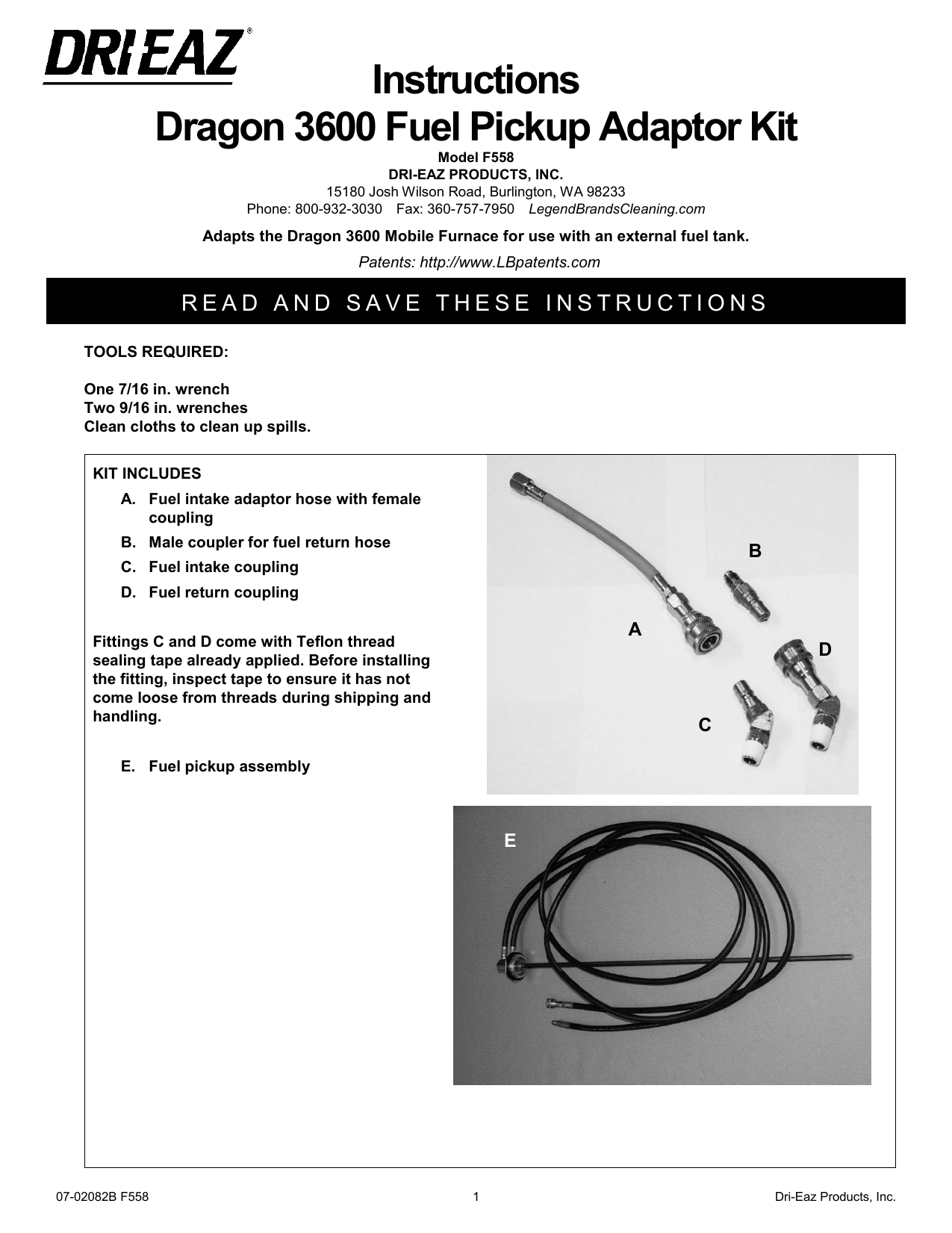 Instructions
Dragon 3600 Fuel Pickup Adaptor Kit
Model F558
DRI-EAZ PRODUCTS, INC.
15180 Josh Wilson Road, Burlington, WA 98233
Phone: 800-932-3030 Fax: 360-757-7950 LegendBrandsCleaning.com
Adapts the Dragon 3600 Mobile Furnace for use with an external fuel tank.
Patents: http://www.LBpatents.com
READ AND SAVE THESE INSTRUCTIONS
TOOLS REQUIRED:
One 7/16 in. wrench
Two 9/16 in. wrenches
Clean cloths to clean up spills.
KIT INCLUDES
A. Fuel intake adaptor hose with female
coupling
B. Male coupler for fuel return hose
B
C. Fuel intake coupling
D. Fuel return coupling
A
Fittings C and D come with Teflon thread
sealing tape already applied. Before installing
the fitting, inspect tape to ensure it has not
come loose from threads during shipping and
handling.
D
C
E. Fuel pickup assembly
E
07-02082B F558
1
Dri-Eaz Products, Inc.
INSTALLATION
Place cloths (not shown) under hoses and
fittings to absorb any accidental spills.
IMPORTANT: Loosen or remove fuel cap to
release any pressure in the fuel line or tank.
Remove fuel intake hose assembly from fuel
filter bracket.
Note: Do not remove fitting on fuel filter
bracket. Use two 9/16 in. wrenches to keep
fitting on bracket in place.
Remove fuel hose and discard.
Using two 9/16 in. wrenches, remove fuel
intake hose (E) and fuel return hose (F) from
tank fittings.
E
F
Attach new fuel hose assembly (A) to fuel filter
bracket. Do not overtighten.
07-02082B F558
2
Dri-Eaz Products, Inc.
Remove the two fuel hose fittings from tank.
Discard fittings.
Ensure fittings are properly threaded before
tightening. Install fuel intake side/female
coupling (C) assembly first, then install the fuel
return side/male coupling assembly (D).
TIGHTEN APPROXIMATELY TWO FULL TURNS
ONLY. DO NOT OVERTIGHTEN. Orient the
couplings to point outward, away from fuel
tank body.
.
Use 7/16 in. and 9/16 in. wrenches to install the
female coupling (B) to the fuel return hose. Do
not overtighten.
Reinstall fuel cap
07-02082B F558
3
Dri-Eaz Products, Inc.
To install fuel pickup on external fuel tank,
remove tank cap and insert fuel pickup tube.
Use a large adjustable-end wrench to tighten
pickup into threaded tank cap opening. Do not
overtighten.
Install fuel pickup fuel hoses to the appropriate
couplings at the furnace.
Hold the grommet in place when positioning
the fuel return hose (see arrow).
Be sure external fuel hoses are laid out flat and
do not twist or pull on the fittings on either
end.
The Dragon 3600 is now ready for use with the
external fuel tank.
To restore the Dragon for onboard tank use,
uncouple the fuel pickup from the Dragon and
attach the fuel hoses to the appropriate fittings
on the tank as shown.
WARNING: This product and other substances that may become airborne from its use contain chemicals,
including lead, known to the State of California to cause cancer, birth defects, or other reproductive harm. For
more information, go to P65Warnings.ca.gov
07-02082B F558
4
Dri-Eaz Products, Inc.

* Your assessment is very important for improving the work of artificial intelligence, which forms the content of this project