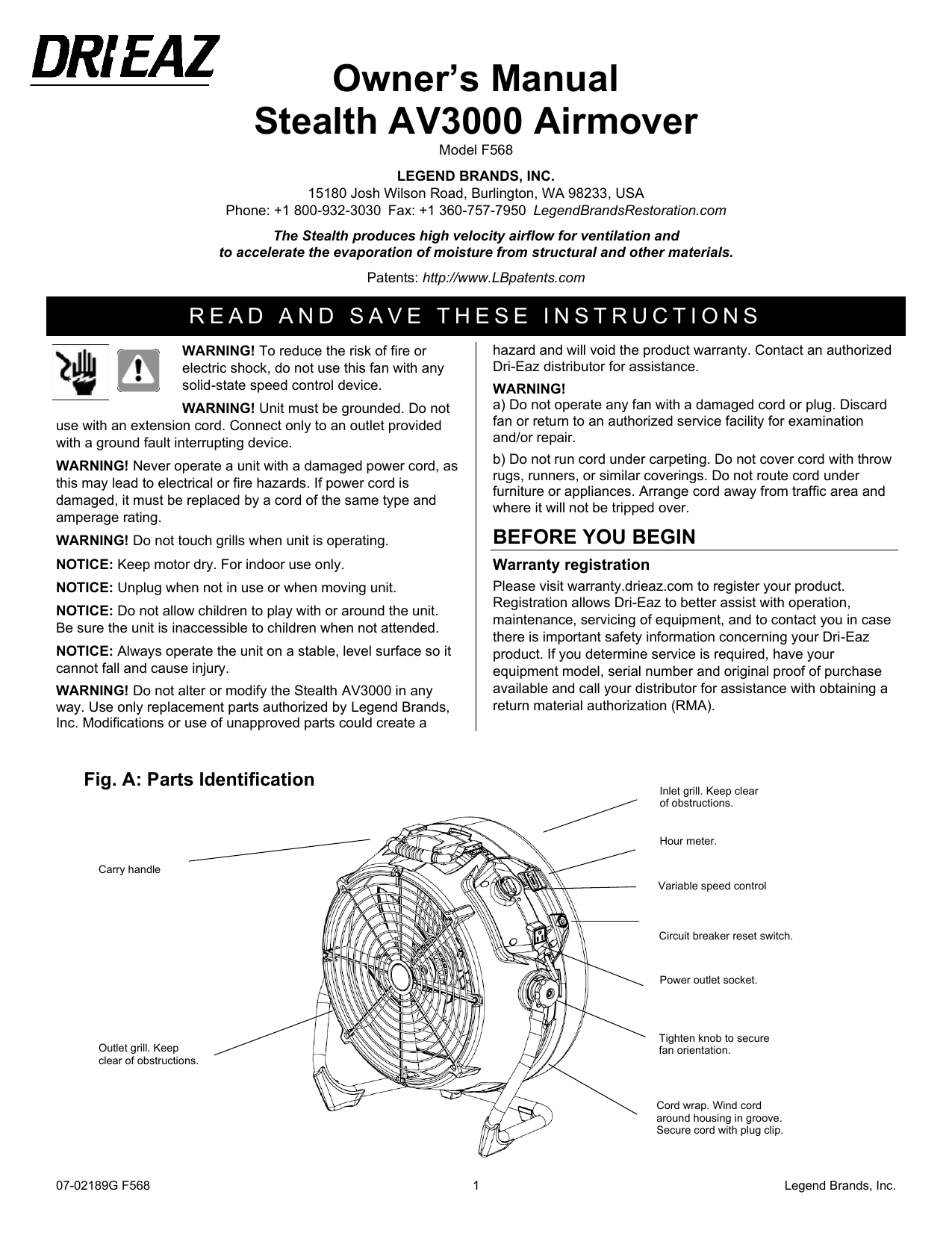 Owner's Manual
Stealth AV3000 Airmover
Model F568
LEGEND BRANDS, INC.
15180 Josh Wilson Road, Burlington, WA 98233, USA
Phone: +1 800-932-3030 Fax: +1 360-757-7950 LegendBrandsRestoration.com
The Stealth produces high velocity airflow for ventilation and
to accelerate the evaporation of moisture from structural and other materials.
Patents: http://www.LBpatents.com
READ AND SAVE THESE INSTRUCTIONS
hazard and will void the product warranty. Contact an authorized
Dri-Eaz distributor for assistance.
WARNING! To reduce the risk of fire or
electric shock, do not use this fan with any
solid-state speed control device.
WARNING!
a) Do not operate any fan with a damaged cord or plug. Discard
fan or return to an authorized service facility for examination
and/or repair.
WARNING! Unit must be grounded. Do not
use with an extension cord. Connect only to an outlet provided
with a ground fault interrupting device.
WARNING! Never operate a unit with a damaged power cord, as
this may lead to electrical or fire hazards. If power cord is
damaged, it must be replaced by a cord of the same type and
amperage rating.
b) Do not run cord under carpeting. Do not cover cord with throw
rugs, runners, or similar coverings. Do not route cord under
furniture or appliances. Arrange cord away from traffic area and
where it will not be tripped over.
WARNING! Do not touch grills when unit is operating.
BEFORE YOU BEGIN
NOTICE: Keep motor dry. For indoor use only.
Warranty registration
NOTICE: Unplug when not in use or when moving unit.
Please visit warranty.drieaz.com to register your product.
Registration allows Dri-Eaz to better assist with operation,
maintenance, servicing of equipment, and to contact you in case
there is important safety information concerning your Dri-Eaz
product. If you determine service is required, have your
equipment model, serial number and original proof of purchase
available and call your distributor for assistance with obtaining a
return material authorization (RMA).
NOTICE: Do not allow children to play with or around the unit.
Be sure the unit is inaccessible to children when not attended.
NOTICE: Always operate the unit on a stable, level surface so it
cannot fall and cause injury.
WARNING! Do not alter or modify the Stealth AV3000 in any
way. Use only replacement parts authorized by Legend Brands,
Inc. Modifications or use of unapproved parts could create a
Fig. A: Parts Identification
Inlet grill. Keep clear
of obstructions.
Hour meter.
Carry handle
Variable speed control
Circuit breaker reset switch.
Power outlet socket.
Tighten knob to secure
fan orientation.
Outlet grill. Keep
clear of obstructions.
Cord wrap. Wind cord
around housing in groove.
Secure cord with plug clip.
07-02189G F568
1
Legend Brands, Inc.
electrical supply. If this should occur, check the power cable
carefully for any damage and ensure it is plugged into a properly
grounded outlet. Press the Circuit Breaker Reset Switch (Fig. A)
to reestablish the electrical supply.
OPERATING INSTRUCTIONS
1.
Unwrap the cord and plug the unit into a standard 115V
GFCI-protected outlet. CAUTION: Be sure switch is in the
off position before connecting unit to power outlet.
2.
For ventilation, direct the Stealth outlet where desired. For
drying, direct the outlet toward the surface to be dried.
Secure the airmover orientation by tightening the knobs on
either side of the unit.
3.
TRANSPORT AND STORAGE
Always use the handle to load or carry the unit.
For cord storage, wrap cord around housing in groove. Pull cord
snug and secure with plug clip (Fig. A).
When finished, unplug the unit and re-wrap the cord in the
cord wrap.
Electrical safety devices
Units may be stacked up to five high for transport and storage
(Fig. C). To stack, tip first unit back onto its outlet side and nest
additional units on top (Fig. A).
Circuit breaker: If the circuit breaker detects overload or short
circuit conditions, the breaker will automatically shut off the
When transporting, secure the unit(s) carefully to prevent sliding
and damage to the unit and/or injury to vehicle occupants.
Keep unit dry. Do not expose the unit to rain or snow.
Fig. B: Disassembly for cleaning
MAINTENANCE
Remove the four screws as shown and lift off the front assembly.
Retain screws for reassembly. Do not overtighten screws.
WARNING: Unplug unit before performing any maintenance.
Before each use
Inspect the power cord. If cord is damaged, do not use. Always
grasp the plug (not the cord) to unplug.
As needed
Clean housing and impeller. If dust accumulation is visible in the
interior, remove the four screws from the outlet grill as shown
(Fig. B). Clean impeller assembly and all surfaces with
pressurized air and/or with a soft cloth. Do not apply liquids to
the impeller assembly. The housing may be cleaned with a mild
solution of detergent and warm water. Ensure housing is
completely dry before reassembling.
FOR SERVICE CALL YOUR LOCAL DISTRIBUTOR or the
Dri-Eaz Service Department at 800-932-3030.
SPECIFICATIONS
Fig. C: Stacking for
storage or transport
Model
Stealth AV3000 (F568)
Volts
115
Frequency
60 Hz
Amp draw
2.7
Power (motor rating)
0.46 hp / 340W
Weight
Dimensions
(D × W × H)
Units per 15 amp
circuit
27.5 lbs. | 12.5 kg
10.8 × 24.3 × 24.0 in.
27.4 × 61.7 × 61.0 cm
Air movement
2600 CFM | 4417 CMH
Static pressure (H2O)
0.40 in. | 99 Pa
Sound level (avg.)
58–72 dB
Control
Variable speed rotary switch
Cord length
16 ft. | 4.9 m
Construction
Rotomolded polyethylene and injection
molded ABS housing components; steel
wire inlet and outlet grills.
Up to 4
Safety
ETL listed to UL/ULc and CSA standards
Specifications are subject to change without notice. Some values
may be approximate.
07-02189G F568
2
Legend Brands, Inc.
Manual de Uso
Stealth AV3000 Airmover
Modelo F568
LEGEND BRANDS, INC.
15180 Josh Wilson Road, Burlington, WA 98233, EEUU
Tel: +1 800-932-3030 Fax: +1 360-757-7950 LegendBrandsRestoration.com
El sigilo produce flujo de aire de alta velocidad para la ventilación y de enfriamiento y para acelerar la evaporación de la
humedad de los materiales estructurales y otros.
Patentes: http://www.LBpatents.com
LEA Y CONSERVE ESTAS INSTRUCCIONES
¡ADVERTENCIA! Para reducir el riesgo de
incendio o descarga eléctrica, no use este
ventilador con ningún dispositivo sólido de
control de velocidad.
¡ADVERTENCIA! No altere ni modifique de manera alguna el
Stealth. Utilice sólo piezas de repuesto autorizadas por Legend
Brands, Inc. Cualquier modificación o el uso de piezas no
autorizadas podrían provocar un accidente y anularán la
garantía. Póngase en contacto con su distribuidor autorizado de
Dri-Eaz para obtener ayuda.
¡ADVERTENCIA! La unidad debe tener
puesta a tierra. No utilizar con un cable de extensión. Conectar
solamente a un toma provisto de interruptor por fallo con puesta
a tierra.
¡ADVERTENCIA!
a) No opere ningún ventilador que tenga el cable o enchufe
dañados. Saque de uso el ventilador o devuélvalo a un centro de
servicio autorizado para su revisión y/o reparación.
¡ADVERTENCIA! Nunca haga funcionar una unidad con un
cable de alimentación dañado, ya que puede generar riesgos
eléctricos o de incendio. Si el cable de alimentación está
dañado, debe ser sustituido por un cable del mismo tipo y
amperaje.
b) No coloque el cable debajo de alfombras. No cubra el cable
con tapetes o cubiertas similares. No haga pasar el cable por
debajo de muebles o electrodomésticos. Coloque el cable lejos
del área de tránsito, donde nadie pueda tropezar con el mismo.
¡ADVERTENCIA! No toque las parrillas cuando la unidad esté
en funcionamiento.
ANTES DE EMPEZAR
ATENCIÓN: Mantenga el motor seco. Sólo para uso en
interiores.
Registro de la Garantía
ATENCIÓN: Desenchufar cuando no se halle en uso o cuando
se esté desplazando la unidad.
Por favor visite warranty.drieaz.com para registrar el compra. El
registro nos permite ofrecerle ayuda para el uso, mantenimiento
o servicio de su equipo, y contactarle en caso de que tengamos
información de seguridad importante con respecto a producto
Dri-Eaz. Si considera que se necesita una reparación, tenga a
mano la información del modelo de su equipo, número de serie y
comprobante original de compra, y llame a su distribuidor para
que lo ayude a obtener una autorización de devolución de
material (RMA).
ATENCIÓN: No permita que los niños jueguen con la unidad o
cerca de ella. Asegúrese de que la unidad no quede accesible a
los niños cuando no se la esté controlando.
Siempre opere la unidad sobre una superficie estable y nivelada
para que no pueda caerse y causar lesiones.
Fig. A: Identificación de las partes
Parrilla de entrada.
Mantener libre de
obstrucciones
Medido de tiempo.
Manija para
acarreo
Control de velocidad
variable
Perilla del Interruptor de
Circuito
Enchufe de energía
Ajustar la perilla para
asegurar el ventilador en
una orientación
Parrilla de salida.
Mantener libre de
obstrucciones
Enrollar cable. Enrolle el cable
alrededor de la carcasa. Asegúrelo
con el clip para el cable.
07-02189G F568
3
Legend Brands, Inc.
interruptor de reinicio del interruptor de circuito (fig. A) para
restablecer la alimentación eléctrica.
INSTRUCCIONES DE USO
1.
2.
3.
Desenvolver el cable y enchufar la unidad a una toma de
115V con protección norma GFCI. PRECAUCIÓN:
Asegúrese de que el interruptor esté en la posición de
apagado antes de conectar la unidad a la toma de corriente.
TRANSPORTE Y ALMACENAMIENTO
Para cargar o transportar la unidad utilice siempre el mango.
Para guardar el cable, enrolle alrededor del exterior.. Tire del
cordón hasta el final y asegúrelo con el clip de enchufe (Fig. A).
Para la ventilación, oriente la salida del Stealth hacia donde
se desee. Para el secado, oriente la salida hacia la
superficie a ser secada. Asegure la orientación el airmover
apretando los botones en cada lado de la unidad.
Las unidades pueden ser apiladas para su transporte alta hasta
5 y almacenamiento (Fig. C). Para apilar, coloque la primera
unidad sobre el lado toma de corriented y luego las siguientes
unidades adicionales en la parte superior (Fig. A).
Cuando haya terminado, desconecte la unidad y vuelva a
colocar el cable en el enrollador.
Durante su transporte, asegure la unidad cuidadosamente para
evitar daños o desplazamientos, así como lesiones a los
ocupantes del vehículo.
Dispositivos de seguridad eléctrica
Interruptor de circuitos: Si el interruptor de circuito detecta una
sobrecarga o condiciones de cortocircuito, cortará automáticamente
el suministro eléctrico. Si esto ocurre, compruebe cuidadosamente
el cable de alimentación para ver si presenta daños y asegúrese de
que esté enchufado a una adecuad puesta a tierra. Pulse el
Mantenga la unidad seca. No la exponga a la lluvia o la nieve.
MANTENIMIENTO
ADVERTENCIA: Desenchufe la unidad antes de realizar
cualquier tarea de mantenimiento.
Antes de cada uso
Verifique el cable de alimentación. Si el cable está dañado, no lo
use. Siempre tome del enchufe (no del cable) para desenchufar.
Fig. B: Desarmado para su limpieza
Retire los cuatro tornillos tal como se muestra y levante el conjunto
frontal. Guarde os parafusos para remontagem. Não aperte
demasiado os parafusos.
Según sea necesario
Limpiar la carcasa y el impulsor. Si es visible acumulación de
polvo en el interior, retire los cuatro sujetadores de la parrilla de
salida, tal como se muestra (Fig. B). Limpie con aire a presión o
con un paño suave el montaje del motor y todas las superficies.
No aplique líquidos sobre el montaje del motor. La carcasa
puede limpiarse con una solución suave de detergente y agua
caliente. Asegúrese de que la carcasa esté completamente seca
antes de volver a montar.
PARA SOLICITAR UN SERVICIO, LLAME A SU
DISTRIBUIDOR LOCAL o al Departamento de Servicio de
Dri-Eaz, al 800-932-3030.
ESPECIFICACIONES
Fig. C: Apilado
para almacenamiento o transporte
Modelo
Stealth AV3000 (F568)
Voltios
115
Frecuencia
60 Hz
Amperios
2,7
Energía (motor)
0,46 hp / 340W
Peso
27,5 lbs. | 12,5 kg
Dimensiones
(Prof × Ancho × Alto)
10,8 × 24,3 × 24,0 pulg.
27,4 × 61,7 × 61,0 cm
Unidades por circuito
de 15 amperios
Hasta 4
Movimiento del aire
2600 CFM | 4417 CMH
Presión estática (H2O)
0,40 pulg. | 99 Pa
Nivel de sonido (prom.)
58–72 dB
Control
Interruptor giratorio de velocidad variable
Longitud del cable
16 pies | 4,9 m
Construcción
Componentes de la carcasa ABS de
polietileno rotomoldeado y moldeado por
inyección; cable de acero de entrada y
salida de las parrillas.
Seguridad
ETL probado según las normas UL/ULc,
CSA
Las especificaciones están sujetas a cambios sin previo aviso.
Algunos valorespueden ser aproximados.
07-02189G F568
4
Legend Brands, Inc.
Guide de l'utilisateur
Ventilateur Stealth AV3000
Modèle F568
LEGEND BRANDS, INC.
15180 Josh Wilson Road, Burlington, WA 98233, ÉTATS-UNIS
Téléphone: +1 800-932-3030 Fax: +1 360-757-7950 LegendBrandsRestoration.com
Le Stealth produit haute vitesse d'air de ventilation et de refroidissement et
d'accélérer l'évaporation de l'humidité des matériaux structurels et autres.
Brevets: http://www.LBpatents.com
INSTRUCTIONS À LIRE ET CONSERVER
REMARQUE: Toujours faire fonctionner l'appareil sur une surface
plane et stable afin qu'il ne tombe pas et ne provoque pas de
blessures.
ATTENTION! Pour réduire les risques
d'incendie ou d'électrocution, n'utilisez pas ce
ventilateur avec un dispositif de commande de
la vitesse à semi-conducteur.
ATTENTION! N'altérer ou ne modifier le Stealth en aucune façon.
N'utiliser que les pièces de rechange autorisées par Legend
Brands, Inc. La modification ou l'utilisation de pièces non
approuvées pourrait être source de danger et annulera votre
garantie. Pour toute assistance, contactez votre distributeur DriEaz agréé.
ATTENTION! L'appareil doit être raccordé à la terre. Ne pas
utiliser avec une rallonge. Ne brancher qu'à une prise fournie avec
un dispositif d'arrêt en cas de défaut de terre.
ATTENTION! Ne jamais utiliser un appareil présentant un cordon
électrique endommagé, en effet cela peut entraîner des risques
électriques ou d'incendie. Si le cordon électrique est endommagé,
il doit être remplacé par un cordon du même type et du même
ampérage.
ATTENTION!
a) Ne pas faire fonctionner un ventilateur avec un cordon ou une
prise endommagés. Jeter le ventilateur ou le retourner à un centre
de réparation agréé pour examen et/ou réparation.
ATTENTION! Ne pas toucher les grilles lorsque l'appareil est en
fonctionnement.
b) Ne pas faire courir le cordon sous une moquette. Ne pas
recouvrir le cordon avec des tapis ou autres revêtements de ce
genre. Ne pas faire passer le cordon sous les meubles ou
appareils. Disposer le cordon à l'écart de la zone de passage et là
où on ne lui passera pas dessus.
REMARQUE: Garder le moteur sec. Pour utilisation à l'intérieur
seulement.
REMARQUE: Débrancher lorsque l'appareil n'est pas utilisé ou est
déplacé.
AVANT DE COMMENCER
REMARQUE: Ne pas laisser les enfants jouer avec l'appareil ou
autour de celui-ci. S'assurer que les enfants ne peuvent pas
accéder à l'appareil lorsqu'il est sans surveillance.
Enregistrement de la garantie
Veuillez vous rendre sur warranty.drieaz.com pour enregistrer
votre produit. L'enregistrement nous permet de mieux vous aider
Fig. A: Identification des pièces
Grille d'entrée.
Maintenir libre de
toute obstruction.
Compteur d'heures.
Poignée de
transport
Commande de
variation de la vitesse.
Interrupteur de réinitialisation
du coupe-circuit.
Prise de courant.
Bouton de serrage pour
sécuriser le ventilateur
dans n'importe quelle
orientation.
Grille de sortie.
Maintenir libre de
toute obstruction.
Rangement du cordon.
Enrouler le cordon autour du
logement dans une rainure.
Sécuriser le cordon grâce à une
attache.
07-02189G F568
5
Legend Brands, Inc.
dans l'utilisation, l'entretien ou la révision de l'équipement ou de
vous contactez si nous disposons d'informations de sécurité
importantes concernant votre produit Dri-Eaz. Si vous estimez
qu'une révision est nécessaire, munissez-vous du modèle et du
numéro de série de l'équipement ainsi que de l'original de la
preuve d'achat et appelez votre distributeur afin d'obtenir de l'aide
pour l'obtention d'une autorisation de retour du matériel (RMA).
Coupe-circuit: Si le coupe-circuit détecte des situations de
surcharge ou de court-circuit, il coupera automatiquement
l'alimentation électrique. Si ceci se produit, vérifiez avec attention
le câble électrique pour déceler tout endommagement et assurezvous qu'il est branché dans une prise correctement raccordée à la
terre. Appuyez sur l'interrupteur de réinitialisation du coupe-circuit
(Fig. A) pour rétablir l'alimentation électrique.
INSTRUCTIONS D'UTILISATION
TRANSPORT ET STOCKAGE
1.
Dérouler le cordon et brancher l'appareil dans une prise
standard de 115V protégée par un disjoncteur de fuite à la
terre. ATTENTION: Assurez-vous que l'interrupteur est en
position Off (arrêt) avant de brancher l'appareil dans la prise
électrique.
2.
Pour la ventilation, dirigez la sortie du Stealth là où souhaité.
Pour le séchage, dirigez la sortie vers la surface à sécher.
Sécurisez la orientation du ventilateur en resserrant les
boutons des deux côtés de l'appareil.
3.
Après utilisation, débranchez l'appareil et replacez le cordon
dans le rangement.
Toujours utiliser la poignée de charger ou de transporter l'appareil.
Stockage en velours côtelé, enroulez le cordon autour du bord
extérieur entrée (Fig. A).
Tirez le cordon jusqu'à la fin et le fixer avec le clip de fiche (Fig. A).
Les unités peuvent être empilées jusqu'à 5 haute pour son
transport et le stockage (Fig. C). pour le gerbage, placez la
première unité sur la prise d'entrée de corrientedde de côté, puis
les unités supplémentaires suivantes dans la partie supérieure
(Fig. A). au cours du transport, fixez l'appareil avec précaution
pour éviter des blessures ou de déplacement, ainsi que des
blessures aux occupants du véhicule. Gardez l'appareil au sec. Ne
l'exposez pas à la pluie ou la neige.
Dispositifs de sécurité électriques
ENTRETIEN
ATTENTION: Débrancher l'unité avant la réalisation de tout
entretien.
Fig. B: Démontage pour nettoyage
Avant chaque utilisation: Inspecter le cordon électrique. Si le
cordon est endommagé, ne pas utiliser. Toujours se saisir de la
prise (pas du cordon) pour débrancher.
En fonction des besoins: Nettoyer le boîtier et le rotor. Si une
accumulation de poussière est visible à l'intérieur, enlever les
quatre fixations à vis de la grille de sortie tel que montré (Fig. B).
Nettoyer l'ensemble du rotor et toutes les surfaces avec de l'air
sous pression et/ou avec un chiffon doux. Ne pas utiliser de liquide
sur l'ensemble du rotor. Le boîtier peut être nettoyé avec une
solution douce à base de détergent et d'eau chaude. S'assurer
que le boîtier est complètement sec avant de remonter.
Enlever les quatre vis comme montré et retirer l'ensemble avant.
Conserver les vis pour le remontage. Ne pas trop serrer les vis.
POUR LA RÉVISION APPELEZ VOTRE DISTRIBUTEUR LOCAL
ou le département de service Dri-Eaz au 800-932-3030.
CARACTÉRISTIQUES
Fig. C: Superposition pour le stockage ou le
transport
Modèle
Stealth AV3000 (F568)
Volts
115
Fréquence
60 Hz
Ampérage
2,7
Alimentation
0,46 / 340W
Poids
27,5 lbs. | 12,5 kg
Dimensions (P × L × H)
10,8 × 24,3 × 24,0 in. 27,4 × 61,7 × 61,0 cm
Appareils par circuit de 15A
Jusqu'à 4
Circulation d'air
2600 CFM | 4417 CMH
Pression statique (H2O)
0,40 in. | 99 Pa
Niveau sonore (moy.)
58–72 dB
Commande
Interrupteur rotatif de vitesse variable
Longueur du cordon
16 ft. | 4,9 m
Construction
Pièces du boîtier en polyéthylène rotomoulé et
ABS moulé par injection; grilles d'entrée et de
sortie en fil d'acier.
Sécurité
ETL liste pour les normes UL/ULc et CSA
Les caractéristiques peuvent être soumises à des modifications sans notification.
Certaines valeurs peuvent être approximatives.
07-02189G F568
6
Legend Brands, Inc.