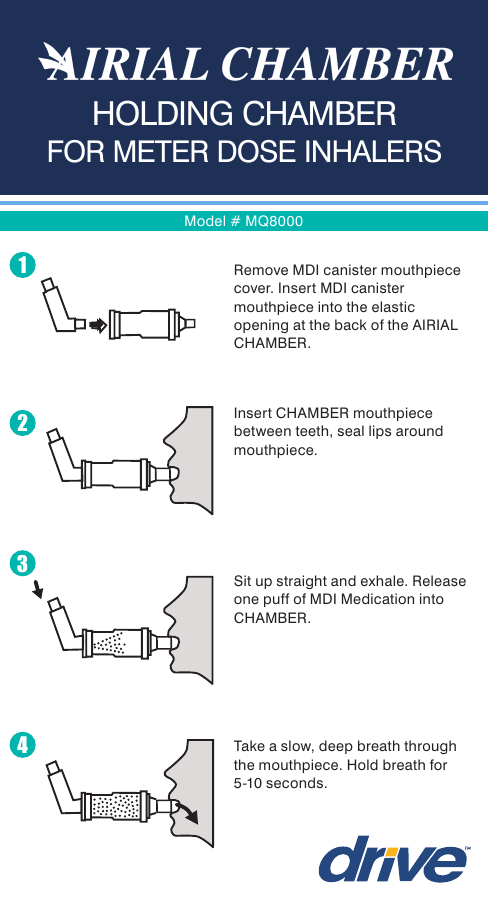 HOLDING CHAMBER
FOR METER DOSE INHALERS
Model # MQ8000
1
2
3
4
Remove MDI canister mouthpiece
cover. Insert MDI canister
mouthpiece into the elastic
opening at the back of the AIRIAL
CHAMBER.
Insert CHAMBER mouthpiece
between teeth, seal lips around
mouthpiece.
Sit up straight and exhale. Release
one puff of MDI Medication into
CHAMBER.
Take a slow, deep breath through
the mouthpiece. Hold breath for
5-10 seconds.
AEROCÁMARA PARA
INHALADORES DE MEDICAMENTO
Artículo # MQ8000
1
2
3
4
REV2.7.12.18
Retire MDI cubierta de la boquilla
bote. Inserte MDI bote boquilla
en la abertura elástica en la parte
posterior de la AIRIAL CÁMARA.
Inserte la boquilla CÁMARA entre
los dientes, cerrar los labios
alrededor de la boquilla.
Siéntese derecho y exhala. Suelte
una bocanada de MDI medicación
dentro de la cámara.
Tome una respiración lenta y
profunda a través de la boquilla.
Mantenga la respiración durante 5
a 10 segundos.

* Your assessment is very important for improving the work of artificial intelligence, which forms the content of this project