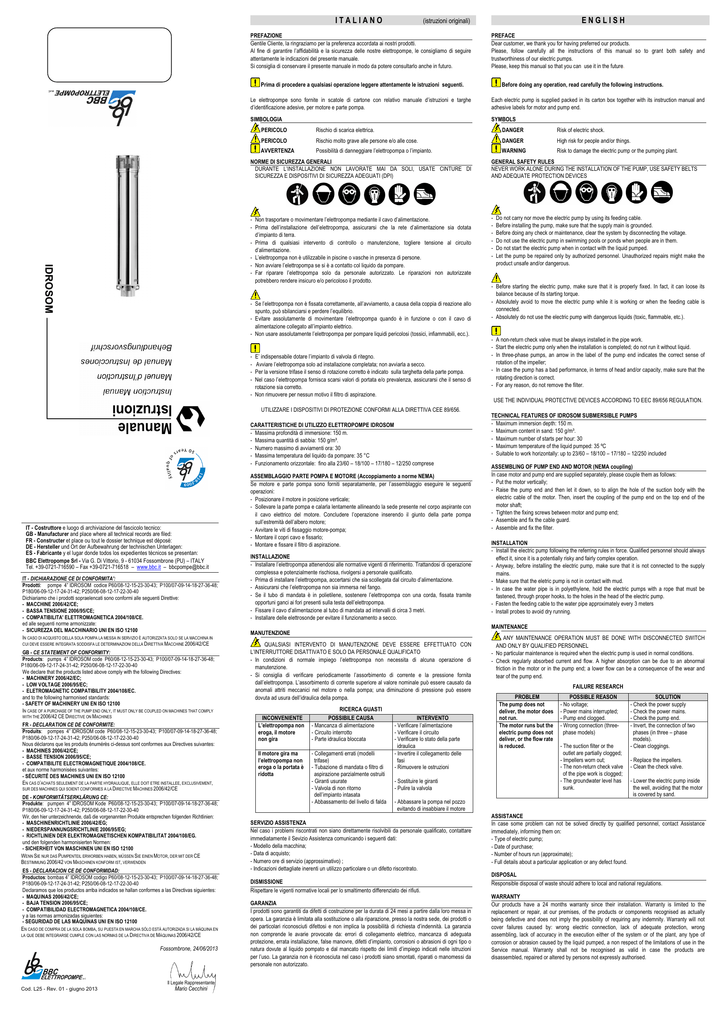 ITALIANO
ENGLISH
(istruzioni originali)
PREFAZIONE
Gentile Cliente, la ringraziamo per la preferenza accordata ai nostri prodotti.
Al fine di garantire l'affidabilità e la sicurezza delle nostre elettropompe, le consigliamo di seguire
attentamente le indicazioni del presente manuale.
Si consiglia di conservare il presente manuale in modo da potere consultarlo anche in futuro.
PREFACE
Dear customer, we thank you for having preferred our products.
Please, follow carefully all the instructions of this manual so to grant both safety and
trustworthiness of our electric pumps.
Please, keep this manual so that you can use it in the future.
Prima di procedere a qualsiasi operazione leggere attentamente le istruzioni seguenti.
Before doing any operation, read carefully the following instructions.
Le elettropompe sono fornite in scatole di cartone con relativo manuale d'istruzioni e targhe
d'identificazione adesive, per motore e parte pompa.
Each electric pump is supplied packed in its carton box together with its instruction manual and
adhesive labels for motor and pump end.
SIMBOLOGIA
SYMBOLS
PERICOLO
Rischio di scarica elettrica.
DANGER
PERICOLO
Rischio molto grave alle persone e/o alle cose.
DANGER
Risk of electric shock.
High risk for people and/or things.
AVVERTENZA
Possibilità di danneggiare l'elettropompa o l'impianto.
WARNING
Risk to damage the electric pump or the pumping plant.
IDROSOM
NORME DI SICUREZZA GENERALI
DURANTE L'INSTALLAZIONE NON LAVORATE MAI DA SOLI, USATE CINTURE DI
SICUREZZA E DISPOSITIVI DI SICUREZZA ADEGUATI (DPI)
GENERAL SAFETY RULES
NEVER WORK ALONE DURING THE INSTALLATION OF THE PUMP, USE SAFETY BELTS
AND ADEQUATE PROTECTION DEVICES
- Non trasportare o movimentare l'elettropompa mediante il cavo d'alimentazione.
- Prima dell'installazione dell'elettropompa, assicurarsi che la rete d'alimentazione sia dotata
d'impianto di terra.
- Prima di qualsiasi intervento di controllo o manutenzione, togliere tensione al circuito
d'alimentazione.
- L'elettropompa non è utilizzabile in piscine o vasche in presenza di persone.
- Non avviare l'elettropompa se si è a contatto col liquido da pompare.
- Far riparare l'elettropompa solo da personale autorizzato. Le riparazioni non autorizzate
potrebbero rendere insicuro e/o pericoloso il prodotto.
-
- Se l'elettropompa non è fissata correttamente, all'avviamento, a causa della coppia di reazione allo
spunto, può sbilanciarsi e perdere l'equilibrio.
- Evitare assolutamente di movimentare l'elettropompa quando è in funzione o con il cavo di
alimentazione collegato all'impianto elettrico.
- Non usare assolutamente l'elettropompa per pompare liquidi pericolosi (tossici, infiammabili, ecc.).
-
E' indispensabile dotare l'impianto di valvola di ritegno.
Avviare l'elettropompa solo ad installazione completata; non avviarla a secco.
Per la versione trifase il senso di rotazione corretto è indicato sulla targhetta della parte pompa.
Nel caso l'elettropompa fornisca scarsi valori di portata e/o prevalenza, assicurarsi che il senso di
rotazione sia corretto.
- Non rimuovere per nessun motivo il filtro di aspirazione.
Do not carry nor move the electric pump by using its feeding cable.
Before installing the pump, make sure that the supply main is grounded.
Before doing any check or maintenance, clear the system by disconnecting the voltage.
Do not use the electric pump in swimming pools or ponds when people are in them.
Do not start the electric pump when in contact with the liquid pumped.
Let the pump be repaired only by authorized personnel. Unauthorized repairs might make the
product unsafe and/or dangerous.
- Before starting the electric pump, make sure that it is properly fixed. In fact, it can loose its
balance because of its starting torque.
- Absolutely avoid to move the electric pump while it is working or when the feeding cable is
connected.
- Absolutely do not use the electric pump with dangerous liquids (toxic, flammable, etc.).
- A non-return check valve must be always installed in the pipe work.
- Start the electric pump only when the installation is completed; do not run it without liquid.
- In three-phase pumps, an arrow in the label of the pump end indicates the correct sense of
rotation of the impeller;
- In case the pump has a bad performance, in terms of head and/or capacity, make sure that the
rotating direction is correct.
- For any reason, do not remove the filter.
USE THE INDIVIDUAL PROTECTIVE DEVICES ACCORDING TO EEC 89/656 REGULATION.
UTILIZZARE I DISPOSITIVI DI PROTEZIONE CONFORMI ALLA DIRETTIVA CEE 89/656.
CARATTERISTICHE DI UTILIZZO ELETTROPOMPE IDROSOM
- Massima profondità di immersione: 150 m.
- Massima quantità di sabbia: 150 g/m³.
- Numero massimo di avviamenti ora: 30
- Massima temperatura del liquido da pompare: 35 °C
- Funzionamento orizzontale: fino alla 23/60 – 18/100 – 17/180 – 12/250 comprese
IT - Costruttore e luogo di archiviazione del fascicolo tecnico:
GB - Manufacturer and place where all technical records are filed:
FR - Constructer et place ou tout le dossier technique est déposé:
DE - Hersteller und Ort der Aufbewahrung der technischen Unterlagen:
ES - Fabricante y el lugar donde todos los expedientes técnicos se presentan:
BBC Elettropompe Srl - Via G. Di Vittorio, 9 - 61034 Fossombrone (PU) – ITALY
Tel. +39-0721-716590 – Fax +39-0721-716518 – www.bbc.it – [email protected]
IT - DICHIARAZIONE CE DI CONFORMITA':
Prodotti: pompe 4" IDROSOM codice P60/08-12-15-23-30-43; P100/07-09-14-18-27-36-48;
P180/06-09-12-17-24-31-42; P250/06-08-12-17-22-30-40
Dichiariamo che i prodotti sopraelencati sono conformi alle seguenti Direttive:
- MACCHINE 2006/42/CE;
- BASSA TENSIONE 2006/95/CE;
- COMPATIBILITA' ELETTROMAGNETICA 2004/108/CE.
ed alle seguenti norme armonizzate:
- SICUREZZA DEL MACCHINARIO UNI EN ISO 12100
IN CASO DI ACQUISTO DELLA SOLA POMPA LA MESSA IN SERVIZIO È AUTORIZZATA SOLO SE LA MACCHINA IN
CUI DEVE ESSERE INTEGRATA SODDISFA LE DETERMINAZIONI DELLA DIRETTIVA MACCHINE 2006/42/CE
GB - CE STATEMENT OF CONFORMITY:
Products: pumps 4" IDROSOM code P60/08-12-15-23-30-43; P100/07-09-14-18-27-36-48;
P180/06-09-12-17-24-31-42; P250/06-08-12-17-22-30-40
We declare that the products listed above comply with the following Directives:
- MACHINERY 2006/42/EC;
- LOW VOLTAGE 2006/95/EC;
- ELETROMAGNETIC COMPATIBILITY 2004/108/EC.
and to the following harmonised standards:
- SAFETY OF MACHINERY UNI EN ISO 12100
IN CASE OF A PURCHASE OF THE PUMP END ONLY, IT MUST ONLY BE COUPLED ON MACHINES THAT COMPLY
WITH THE 2006/42 CE DIRECTIVE ON MACHINES
FR - DECLARATION CE DE CONFORMITE:
Produits: pompes 4" IDROSOM code P60/08-12-15-23-30-43; P100/07-09-14-18-27-36-48;
P180/06-09-12-17-24-31-42; P250/06-08-12-17-22-30-40
Nous déclarons que les produits énumérès ci-dessus sont conformes aux Directives suivantes:
- MACHINES 2006/42/CE;
- BASSE TENSION 2006/95/CE;
- COMPATIBILITE ELECTROMAGNETIQUE 2004/108/CE.
et aux norme harmonisées suivantes:
- SÉCURITÉ DES MACHINES UNI EN ISO 12100
EN CAS D'ACHATS SEULEMENT DE LA PARTIE HYDRAULIQUE, ELLE DOIT ETRE INSTALLEE, EXCLUSIVEMENT,
SUR DES MACHINES QUI SOIENT CONFORMES A LA DIRECTIVE MACHINES 2006/42/CE
DE - KONFORMITÄTSERKLÄRUNG CE:
Produkte: pumpen 4" IDROSOM Kode P60/08-12-15-23-30-43; P100/07-09-14-18-27-36-48;
P180/06-09-12-17-24-31-42; P250/06-08-12-17-22-30-40
Wir, den hier unterzeichnende, daß die vorgenannten Produkte entsprechen folgenden Richtlinien:
- MASCHINENRICHTLINIE 2006/42/EG;
- NIEDERSPANNUNGSRICHTLINIE 2006/95/EG;
- RICHTLINIEN DER ELEKTROMAGNETISCHEN KOMPATIBILITAT 2004/108/EG.
und den folgenden harmonisierten Normen:
- SICHERHEIT VON MASCHINEN UNI EN ISO 12100
WENN SIE NUR DAS PUMPENTEIL ERWORBEN HABEN, MÜSSEN SIE EINEN MOTOR, DER MIT DER CE
BESTIMMUNG 2006/42 VON MASCHINEN KONFORM IST, VERWENDEN
ES - DECLARACION CE DE CONFORMIDAD:
Productos: bombas 4" IDROSOM codigo P60/08-12-15-23-30-43; P100/07-09-14-18-27-36-48;
P180/06-09-12-17-24-31-42; P250/06-08-12-17-22-30-40
Declaramos que los productos arriba indicados se hallan conformes a las Directivas siguientes:
- MAQUINAS 2006/42/CE;
- BAJA TENSION 2006/95/CE;
- COMPATIBILIDAD ELECTROMAGNETICA 2004/108/CE.
y a las normas armonizadas siguientes:
- SEGURIDAD DE LAS MÁQUINAS UNI EN ISO 12100
EN CASO DE COMPRA DE LA SOLA BOMBA, SU PUESTA EN MARCHA SÓLO ESTÁ AUTORIZADA SI LA MÁQUINA EN
LA QUE DEBE INTEGRARSE CUMPLE CON LAS NORMAS DE LA DIRECTIVA DE MÁQUINAS 2006/42/CE
Fossombrone, 24/06/2013
Il Legale Rappresentante
Cod. L25 - Rev. 01 - giugno 2013
Mario Cecchini
ASSEMBLAGGIO PARTE POMPA E MOTORE (Accoppiamento a norme NEMA)
Se motore e parte pompa sono forniti separatamente, per l'assemblaggio eseguire le seguenti
operazioni:
- Posizionare il motore in posizione verticale;
- Sollevare la parte pompa e calarla lentamente allineando la sede presente nel corpo aspirante con
il cavo elettrico del motore. Concludere l'operazione inserendo il giunto della parte pompa
sull'estremità dell'albero motore;
- Avvitare le viti di fissaggio motore-pompa;
- Montare il copri cavo e fissarlo;
- Montare e fissare il filtro di aspirazione.
INSTALLAZIONE
- Installare l'elettropompa attenendosi alle normative vigenti di riferimento. Trattandosi di operazione
complessa e potenzialmente rischiosa, rivolgersi a personale qualificato.
- Prima di installare l'elettropompa, accertarsi che sia scollegata dal circuito d'alimentazione.
- Assicurarsi che l'elettropompa non sia immersa nel fango.
- Se il tubo di mandata è in polietilene, sostenere l'elettropompa con una corda, fissata tramite
opportuni ganci ai fori presenti sulla testa dell'elettropompa.
- Fissare il cavo d'alimentazione al tubo di mandata ad intervalli di circa 3 metri.
- Installare delle elettrosonde per evitare il funzionamento a secco.
TECHNICAL FEATURES OF IDROSOM SUBMERSIBLE PUMPS
- Maximum immersion depth: 150 m.
- Maximum content in sand: 150 g/m³.
- Maximum number of starts per hour: 30
- Maximum temperature of the liquid pumped: 35 ºC
- Suitable to work horizontally: up to 23/60 – 18/100 – 17/180 – 12/250 included
ASSEMBLING OF PUMP END AND MOTOR (NEMA coupling)
In case motor and pump end are supplied separately, please couple them as follows:
- Put the motor vertically;
- Raise the pump end and then let it down, so to align the hole of the suction body with the
electric cable of the motor. Then, insert the coupling of the pump end on the top end of the
motor shaft;
- Tighten the fixing screws between motor and pump end;
- Assemble and fix the cable guard.
- Assemble and fix the filter.
INSTALLATION
- Install the electric pump following the referring rules in force. Qualified personnel should always
effect it, since it is a potentially risky and fairly complex operation.
- Anyway, before installing the electric pump, make sure that it is not connected to the supply
mains.
- Make sure that the eletric pump is not in contact with mud.
- In case the water pipe is in polyethylene, hold the electric pumps with a rope that must be
fastened, through proper hooks, to the holes in the head of the electric pump.
- Fasten the feeding cable to the water pipe approximately every 3 meters
- Install probes to avoid dry running.
MAINTENANCE
MANUTENZIONE
QUALSIASI INTERVENTO DI MANUTENZIONE DEVE ESSERE EFFETTUATO CON
L'INTERRUTTORE DISATTIVATO E SOLO DA PERSONALE QUALIFICATO
- In condizioni di normale impiego l'elettropompa non necessita di alcuna operazione di
manutenzione.
- Si consiglia di verificare periodicamente l'assorbimento di corrente e la pressione fornita
dall'elettropompa. L'assorbimento di corrente superiore al valore nominale può essere causato da
anomali attriti meccanici nel motore o nella pompa; una diminuzione di pressione può essere
dovuta ad usura dell'idraulica della pompa.
INCONVENIENTE
L'elettropompa non
eroga, il motore
non gira
Il motore gira ma
l'elettropompa non
eroga o la portata è
ridotta
RICERCA GUASTI
POSSIBILE CAUSA
- Mancanza di alimentazione
- Circuito interrotto
- Parte idraulica bloccata
- Collegamenti errati (modelli
trifase)
- Tubazione di mandata o filtro di
aspirazione parzialmente ostruiti
- Giranti usurate
- Valvola di non ritorno
dell'impianto intasata
- Abbassamento del livello di falda
INTERVENTO
- Verificare l'alimentazione
- Verificare il circuito
- Verificare lo stato della parte
idraulica
- Invertire il collegamento delle
fasi
- Rimuovere le ostruzioni
- Sostituire le giranti
- Pulire la valvola
ANY MAINTENANCE OPERATION MUST BE DONE WITH DISCONNECTED SWITCH
AND ONLY BY QUALIFIED PERSONNEL
- No particular maintenance is required when the electric pump is used in normal conditions.
- Check regularly absorbed current and flow. A higher absorption can be due to an abnormal
friction in the motor or in the pump end; a lower flow can be a consequence of the wear and
tear of the pump end.
FAILURE RESEARCH
PROBLEM
The pump does not
deliver, the motor does
not run.
The motor runs but the
electric pump does not
deliver, or the flow rate
is reduced.
POSSIBLE REASON
- No voltage;
- Power mains interrupted;
- Pump end clogged.
- Wrong connection (threephase models)
- The suction filter or the
outlet are partially clogged;
- Impellers worn out;
- The non-return check valve
of the pipe work is clogged;
- The groundwater level has
sunk.
SOLUTION
- Check the power supply
- Check the power mains.
- Check the pump end.
- Invert, the connection of two
phases (in three – phase
models).
- Clean cloggings.
- Replace the impellers.
- Clean the check valve.
- Lower the electric pump inside
the well, avoiding that the motor
is covered by sand.
- Abbassare la pompa nel pozzo
evitando di insabbiare il motore
SERVIZIO ASSISTENZA
Nel caso i problemi riscontrati non siano direttamente risolvibili da personale qualificato, contattare
immediatamente il Sevizio Assistenza comunicando i seguenti dati:
- Modello della macchina;
- Data di acquisto;
- Numero ore di servizio (approssimativo) ;
- Indicazioni dettagliate inerenti un utilizzo particolare o un difetto riscontrato.
DISMISSIONE
Rispettare le vigenti normative locali per lo smaltimento differenziato dei rifiuti.
GARANZIA
I prodotti sono garantiti da difetti di costruzione per la durata di 24 mesi a partire dalla loro messa in
opera. La garanzia è limitata alla sostituzione o alla riparazione, presso la nostra sede, dei prodotti o
dei particolari riconosciuti difettosi e non implica la possibilità di richiesta d'indennità. La garanzia
non comprende le avarie provocate da: errori di collegamento elettrico, mancanza di adeguata
protezione, errata installazione, false manovre, difetti d'impianto, corrosioni o abrasioni di ogni tipo o
natura dovute al liquido pompato e dal mancato rispetto dei limiti d'impiego indicati nelle istruzioni
per l'uso. La garanzia non è riconosciuta nel caso i prodotti siano smontati, riparati o manomessi da
personale non autorizzato.
ASSISTANCE
In case some problem can not be solved directly by qualified personnel, contact Assistance
immediately, informing them on:
- Type of electric pump;
- Date of purchase;
- Number of hours run (approximate);
- Full details about a particular application or any defect found.
DISPOSAL
Responsible disposal of waste should adhere to local and national regulations.
WARRANTY
Our products have a 24 months warranty since their installation. Warranty is limited to the
replacement or repair, at our premises, of the products or components recognised as actually
being defective and does not imply the possibility of requiring any indemnity. Warranty will not
cover failures caused by: wrong electric connection, lack of adequate protection, wrong
assembling, lack of accuracy in the execution either of the system or of the plant, any type of
corrosion or abrasion caused by the liquid pumped, a non respect of the limitations of use in the
Service manual. Warranty shall not be recognised as valid in case the products are
disassembled, repaired or altered by persons not expressly authorised.
FRANCAIS
ESPAÑOL
PREFACE
Cher Client, nous vous remercions de la préférence que vous avez bien voulu accorder à nos
produits.
Pour garantir la fiabilité et la sécurité de nos électropompes, nous vous recommandons de suivre,
attentivement, toutes les indications de ce manuel.
Veuillez conserver ce manuel afin que vous puissiez le consulter à l'avenir.
PRÓLOGO
Estimado cliente, le expresamos nuestro agradecimiento por haber confiado en nuestros productos.
Con el fin de garantizar la fiabilidad y la seguridad de nuestras electrobombas, le aconsejamos
seguir atentamente las indicaciones del presente manual.
Conserve este manual para consultarlo en futuro.
DEUTSCH
Avant d'effectuer une opération quelconque, lire attentivement les instructions
suivantes.
Toutes les électropompes sont fournies emballèes en carton avec manuel d'instructions relatif et
plaquettes d'identification adhésives pour moteur et partie hydraulique.
Las electrobombas se suministran en cajas de cartón con el manual técnico y pegatinas adhesivas
de identificación del motor y de la bomba.
SYMBOLES
SÍMBOLOS
DANGER
DANGER
PRECAUTION
Antes de empezar cualquier trabajo, leer atentamente las siguientes instrucciones.
Risque de décharge électrique.
PELIGRO
Risque très grave aux personnes et/ou aux choses.
PELIGRO
Risque d'endommager l'électropompe ou l'installation.
ADVERTENCIA
Riesgo de descarga electrica
Riesgo muy alto para personas y/o cosas.
Riesgo de dañar la electrobomba o la instalación.
NORMAS GENERALES DE SEGURIDAD
REALIZAR LA INSTALACION EN GRUPOS DE MAS DE DOS PERSONAS, USANDO SOGAS DE
SEGURIDAD Y DISPOSITIVOS DE SEGURIDAD ADECUADOS (DPI)
- Ne pas transporter ni mouvementer l'électropompe en utilisant son câble d'alimentation.
- Avant d'installer l'électropompe, s'assurer que la ligne électrique est fournie de mise à la terre.
- Avant d'effectuer une quelconque opération de contròle ou de manutention, s'assurer que la
ligne électrique n'est pas sous tension.
- L'électropompe ne doit pas être utilisée dans des piscines ou des cuves si des personnes y sont
immergées.
- Ne démarrer pas l'électropompe si l'on est en contact avec le liquide à pomper.
- Les réparations doivent être effectuées seulement par des personnes autorisées. Toutes les
réparations pas autorisées pourraient rendre le produit pas sûr et/ou dangereux.
- No transportar o mover la electrobomba cogiéndola por el cable eléctrico.
- Antes de instalar la electrobomba, asegúrese que la red eléctrica esté dotada de conexión a tierra.
- Antes de cualquier intervención de control o mantenimiento, quitar la tensión al circuito de
alimentación eléctrica.
- La electrobomba no se puede utilizar en piscinas o cubas en presencia de personas.
- No encender la electrobomba si usted está en contacto con el líquido a bombear.
- Hacer reparar la electrobomba solamente por personal autorizado.
- Las reparaciones no autorizadas podrían dejar inseguro y/o peligroso el producto.
- Prévoir toujours un clapet anti-retour dans le système
- Démarrer l'électropompe uniquement lorsque l'installation est terminée. Ne la démarrer jamais à
sec.
- Pour la version triphasée, le sens de rotation correct est indiqué par la flèche imprimée sur la
plaquette d'identification de la partie hydraulique.
- En cas d'un faible débit et/ou pression, s'assurer que le sens de rotation est correct.
- Ne jamais enlever le filtre d'aspiration de l'électropompe.
UTILISER LES DISPOSITIFS DE PROTECTION INDIVIDUELS SELON LA DIRECTIVE CEE
89/656.
CARACTERISTIQUES D'USAGE DES ELECTROPOMPES IDROSOM
- Profondeur maxi d'immersion: 150 m.
- Quantité maxi de sable: 150 g/m³.
- Nombre maxi de démarrages par heure: 30
- Température maxi du liquide à pomper: 35 °C
- Fonctionnement horizontal: jusqu'à 23/60 – 18/100 – 17/180 – 12/250 comprises
ASSEMBLAGE PARTIE HYDRAULIQUE ET MOTEUR (Accouplement selon norme NEMA)
Si le moteur et la partie hydraulique sont fournis séparés, veuillez les accoupler comme suit:
- Positionner le moteur en position verticale;
- Soulever la partie hydraulique et la baisser lentement en alignant le siège du corps d'aspiration
avec le câble électrique du moteur. Pour conclure l'opération, introduire le joint de la partie
hydraulique sur l'extrémité de l'arbre moteur;
- Serrer les vis de fixation moteur – partie hydraulique;
- Monter et fixer le couvre câble;
- Monter et fixer le filtre d'aspiration.
MISE EN SERVICE
- Installer l'électropompe suivant les normes de référence en vigueur. Comme l'installation est une
opération qui peut se relever relativement complexe et potentiellement dangereuse, elle doit être
effectuée par des installateurs compétents et autorisés.
- De toute façon, avant d'installer l'électropompe, vérifier qu'elle n'est pas branchée à la ligne
d'alimentation.
- S'assurer que l'electropompe n'est pas en contact avec la vase.
- Si la conduite de refoulement est en polyéthylène, soutenir l'électropompe par une corde fixée
aux trous sur la tête de l'électropompe.
- Fixer le câble d'alimentation à la tuyauterie de refoulement tous les 3 mètres.
- Installer d'électrodes pour éviter la marche en sec.
MAINTENANCE
TOUTES LES OPERATIONS DE MAINTENANCE DOIVENT ETRE EFFECTUEES AVEC
L'INTERRUPTEUR DEBRANCHE ET SEULEMENT PAR DU PERSONNEL QUALIFIE
- Un fonctionnement normal ne requiert aucune opération de maintenance particulière.
- Vérifier l'absorption et le débit de la pompe périodiquement. Une absorption supérieure à la
valeur nominale peut être une conséquence des frictions anomales dans le moteur ou dans la
partie hydraulique; un débit faible peut être une conséquence d'une détérioration de la partie
hydraulique.
RECHERCHE DE PANNES
PROBLEME
L'électropompe ne
fonctionne pas, le
moteur ne démarre pas
Le moteur démarre,
mais l'électropompe
ne donne pas d' eau
ou fonctionne,
avec un débit réduit
CAUSE POSSIBLE
- Absence de courant électrique
- Circuit coupé
- Partie hydraulique bloquée
- Connexion erronée, (dans les
modèles triphasés)
- Tube de refoulement ou filtre
d'aspiration partiellement obstrué
- Turbines détériorées
- Clapet anti-retour du système
obstrué
- La nappe phréatique a baissé
REMEDE
- Vérifier l'alimentation
- Vérifier le circuit
- Vérifier la partie hydraulique
- Invertir la connexion de
deux phases (moteurs
triphasés)
- Nettoyer l'électropompe des
obstructions
- Remplacer les turbines
- Nettoyer le clapet
- Baisser la pompe dans le
puits, en évitant d'ensabler
le moteur
SERVICE D'ASSISTANCE
Au cas où les problèmes vérifiés ne sont pas résolus directement par personnel qualifié, veuillez
contacter immédiatement notre Centre d'Assistance en communiquant les données suivantes:
- Modèle de la machine;
- Date d'achat;
- Nombre d'heures de service (approximatif);
- Indications détaillées, concernant une utilisation particulière ou un défaut relevé.
ELIMINATION
Respecter toutes les normes locales et nationales pour une èlimination responsable.
GARANTÍE
La garantie sur nos produits est de 24 mois à partir de leur mise en service. La garantie se limite
au remplacement ou à la réparation, auprès de notre Siège, des produits ou composants reconnus
défectueux. La garantie n'implique la possibilité de requête d'indemnité et ne s'applique pas dans
les cas de: erreurs de connexion électrique, absence de protection appropriée, montage
défectueux, fausses manœuvres, défauts dans l'installation, corrosions ou abrasions de tout type
et nature en raison du liquide pompé et en cas ou les limitations d'emploi de ce manuel ne sont
pas respectées. Le matériel qui sera démonté, réparé ou, quoi qu'il en soit, altéré par d'autres tiers
non autorisés à intervenir, est exclu de la garantie.
Beachten Sie bitte vor jedem Schritt die Gebrauchsanleitung.
Die Elektropumpen werden komplett verpackt in einem Karton inkl. Gebrauchsanleitung und
angebrachtem Typenschild ausgeliefert.
SYMBOLE
NORMES DE SURETE GENERALES
NE JAMAIS TRAVAILLEZ SEULS PENDANT L'INSTALLATION. UTILISEZ LES CEINTURES DE
SECURITE ET DES MOYENS DE PROTECTION INDIVIDUELLE CONVENABLES (DPI)
- Au moment du démarrage, en raison du couple de réaction ou démarrage, la pompe produit un
brusque sursaut, avec danger de perte de stabilité. S'assurer, donc, qu'elle a été fixée
correctement.
- Eviter absolument de déplacer la pompe quand elle marche ou avec le câble d'alimentation
connecté à la ligne électrique.
- N'utiliser jamais l'électropompe pour pomper des liquides dangereux (toxiques, inflammables,
etc.)
VORWORT
Wir bedanken uns, dass Sie unseren Produkten den Vorzug gegeben haben.
Um die Zuverlässigkeit und Sicherheit unserer Elektropumpen zu garantieren, empfehlen wir
Ihnen diese Gebrauchsanleitung aufmerksam durchzulesen.
Bewahren Sie dieses Handbuch gut auf, um es auch in der Zukunft nutzen zu können.
- Si la electrobomba no está sujetada correctamente, a causa de la fuerza del arranque, la bomba
podría perder el equilibrio durante el encendido.
- Evitar absolutamente mover la electrobomba cuando está trabajando o con el cable de
alimentación conectado a la instalación eléctrica.
- No utilizar en absoluto la electrobomba para bombear líquidos peligrosos (tóxicos, inflamables,
etc.).
-
Es esencial dotar a la planta con válvula de retención
Encender la electrobomba solo cuando la instalación está completada; no encenderla en seco.
Para la versión trifásica el sentido de rotación correcto está indicado en la placa de la bomba.
En el caso que la electrobomba no tenga buenos rendimientos de caudal y/o altura, asegurarse
que el sentido de rotación sea correcto.
- No quitar por ningún motivo el filtro de aspiración.
UTILIZAR LOS DISPOSITIVOS DE PROTECCIÓN INDIVIDUALES SEGÚN LA NORMA CEE
89/656.
CARACTERÍSTICAS DE UTILIZACIÓN ELECTROBOMBAS IDROSOM
- Máxima profundidad de inmersión: 150 m.
- Máxima cantidad de arena: 150 g/m³.
- Número máximo de arranques por hora: 30
- Máxima temperatura del líquido a bombear: 35 °C
- Funcionamiento horizontal hasta el modelo: 23/60 – 18/100 – 17/180 – 12/250 incluidas
GEFAHR
Stromschlag..
GEFAHR
Sehr Große Gefahr für Personen und/oder Geräte.
ANWEISUNG
Beschädigungsgefahr der Elektropumpe oder der Anlage.
ALLGEMEINE SICHERHEITSNORMEN
ARBEITEN SIE NIE ALLEINE WÄHREND DER INSTALLATION DER PUMPE. VERWENDEN
SIE EINEN SICHERHEITSGÜRTEL UND GEEIGNETE SCHUTZVORRICHTUNGEN
- Die Elektropumpe darf auf keinen Fall am Kabel gehoben werden.
- Vor der Inbetriebnahme ist sicherzustellen, dass eine der notwendigen Schutzmassnahmen
wie z.B. eine Fehlerstromschutzschaltung vorhanden ist.
- Vor jeder Kontrolle oder Wartung trennen Sie unbedingt die Elektropumpe vom Netz.
- Die Elektropumpe darf nicht in Schwimmbecken, Badeteichen usw. verwendet werden.
- Wenden Sie sich bei Reparaturen ausschließlich an geschultes Fachpersonal.
- Eine unsachgemäße Instandsetzung könnte das Produkt unsicher und/oder gefährlich machen.
- Wenn die Elektropumpe nicht richtig befestigt wird, kann sie beim Starten, wegen des
Anlaufdrehmoments, aus der Verbindung gelöst werden.
- Bewegen Sie die Elektropumpe nicht, wenn sie in Betrieb ist oder mit der Anlage elektrisch
verbunden ist.
- Die Elektropumpe ist nicht geeignet um gefährliche Flüssigkeiten (giftige, entzündbare
Flüssigkeiten, usw.) zu pumpen.
- Es muss immer ein Rückschlagventil in der Rohrleitung installiert warden.
- Nehmen Sie die Elektropumpe nur in der fertigen Anlage in Betrieb. Auf keinen Fall darf die
Pumpe trocken in Betrieb genommen werden.
- Die richtige Drehrichtung der Elektropumpe wird mit einem Pfeil auf dem Typenschild des
Pumpenteiles angezeigt. Dies ist vor allem wichtig bei der Drehstrom Ausführung.
- Wenn die Elektropumpe ihre angegebene Leistung nicht erreicht, kontrollieren Sie die
Drehrichtung der Pumpe.
- Schalten Sie unbedingt, bevor Sie irgendwelche Arbeiten an der Pumpe oder Anlage
ausführen, den Schutzschalter aus.
BENUTZEN SIE DIE SCHUTZVORRICHTUNGEN GEMÄSS DER EUROPÄISCHEN NORMEN
89/656.
BETRIEBSLEISTUNG VON ELEKTROPUMPEN IDROSOM
- max. Eintauchtiefe:150 m.
- max. Sandkörnung: 150 g/m³.
- max. Starts pro Stunde: 30
- max. Temperatur der zu pumpenden Flüssigkeit: 35 °C
- horizontaler Einbau: bis 23/60 – 18/100 – 17/180 – 12/250 einschließlich
ENSAMBLAJE MOTOR Y BOMBA (Acoplamiento segun norma NEMA)
Si el motor y la bomba se suministran separadamente, efectuar el ensamblaje como se indica a
continuación:
- Posicionar el motor en posición vertical;
- Levantar la bomba y bajarla despacio, poniendo en línea el asiento del cuerpo de aspiracion con el
cable eléctrico del motor. Terminar la operación insertando el casquillo de la bomba en el eje del
motor;
- Atornillar los tornillos de fijación motor-bomba;
- Montar el cubre cable y fijarlo;
- Montar y fijar el filtro de aspiración
ZUSAMMENSTELLUNG DES PUMPENTEILES UND DES MOTORS (NEMA FLANSCH)
Wenn der Motor und der Pumpenteil getrennt geliefert werden, muss folgende Anleitung befolgt
warden:
- Bringen Sie den Motor in vertikale Stellung;
- Nehmen Sie das Pumpenteil , senken Sie es langsam und stecken Sie das Pumpenteil auf den
Motor. Das Kabel des Motors wird an der dafür vorgesehenen Stelle vorbeigeleitet;
- Fixieren Sie die Schrauben des Motors;
- Anschließend montieren Sie das Kabelschutzblech am Pumpenteil;
- Als Abschluss wird noch das Ansaugsieb montiert
INSTALACIÓN
- Instalar la electrobomba según las normas vigentes de referencia. Se aconseja de encargar la
instalación a personal calificado, por tratarse de una operación compleja con posibles riesgos.
- Antes de instalar la electrobomba, asegurarse que la misma no esté conectada a la red de
alimentación.
- Asegurarse de que la electrobomba no esté en contacto con el lodo.
- Si el tubo de salida es de polietileno, sujetar la electrobomba con una cuerda fijándola, por medio
de ganchos, a los agujeros situados en el cabezal de la electrobomba.
- Fijar el cable eléctrico al tubo de salida a intervalos de aproximadamente 3 metros.
- Instalar una electro sonda para evitar el funcionamiento en seco.
EINBAU
- Der Einbau der Elektropumpe muss gemäß der geltenden Normen erfolgen und darf nur von
ausgebildeten Fachkräften durchgeführt werden.
- Vor jedem Ein-bzw. Ausbau ist auf jeden Fall die Elektropumpe vom Netz zu trennen.
- Vergewissern Sie sich das die Elektropumpe keinen Kontakt mit dem Schmutz am Boden hat.
- Wenn das Druckrohr aus Kunststoff (Polyäthylen) ist, muss die Elektropumpe mit einem Seil
zusätzlich befestigt werden.
- Fixieren Sie das Pumpenkabel in einem Mindestabstand von etwa 3 Meter am Steigrohr.
- Montieren Sie einen Trockenlaufschutz um sicher zu gehen, dass die Pumpe nicht trocken
läuft.
WARTUNG
MANTENIMIENTO
CUALQUIER INTERVECIÓN DE MANTENIMIENTO DEBE SER EFECTUADA CON EL
INTERRUPTOR DESCONECTADO Y SOLO POR PERSONAL CUALIFICADO
- En condiciones de un normal empleo, la electrobomba no necesita de ningún mantenimiento.
- Se aconseja averiguar periódicamente el consumo eléctrico y la presión suministrada desde la
electrobomba. El consumo eléctrico superior al valor nominal podría ser causado por anomalías
de fricciones mecánicas en el motor o en la bomba; una caída de presión podría ser causada por
el desgaste hidráulico de la bomba.
BEI ALLEN INSTANDHALTUNGSARBEITEN MUSS DIE ELEKTROPUMPE VOM NETZ
GETRENNT WERDEN UND NUR DURCH QUALIFIZIERTES PERSONAL
- Für einen normalen Gebrauch der Elektropumpe sind keine Wartungsarbeiten notwendig.
- Es wird empfohlen, periodisch die Stromaufnahme und den Druck der Elektropumpe zu
kontrollieren. Wenn die Stromaufnahme den Nennwert überschreitet, kann dies von
unregelmäßigem Reibungsverlust im Motor oder in der Elektropumpe verursacht werden; die
Verminderung des Drucks wird wahrscheinlich von dem hydraulischen Verschleiß der
Elektropumpe verursacht.
BUSQUEDA DE AVERÍAS
ANOMALÍAS
La electrobomba
no saca agua,
el motor no arranca
POSIBLE CAUSA
- Falta de corriente
El motor arranca
pero la
electrobomba no
saca agua
y el caudal es
reducido
- Conexiones eléctricas
equivocadas (modelos trifásicos)
- Tubería de salida o filtro de
aspiración parcialmente obstruidos
- Rodetes desgastados
- Válvula de retención de la planta
tapada
- Bajo nivel de la capa acuífera
- Interrupción del circuito
- Bomba bloqueada
FEHLERSUCHE
INTERVENCIÓN
- Controlar la alimentación
eléctrica
- Controlar el circuito
- Controlar el estado de la
bomba
- Invertir las conexiones de dos
fases (motores trifásicos)
- Quitar las obstrucciones
- Sustituir los rodetes
- Limpiar la válvula
- Bajar la bomba por el pozo,
evitando de arañar el motor
PROBLEM
Die Pumpe
bringt keine
Leistung, der
Motor dreht
sich nicht
Der Motor
dreht, aber
die
Elektropump
e bringt
keine oder
zuwenig
Leistung
MÖGLICHE URSACHE
BEHEBUNG
- Netzausfall
- Unterbrechung der
Stromzufuhr
- Blockieren der Elektropumpe
- Kontrollieren Sie die Netzspannung
- Kontrollieren Sie den Schutzschalter
- Kontrollieren Sie den Zustand der
Elektropumpe
- Schlechte Verbindung,
(Dreiphasenmodelle)
- Die Druck – oder Saugleitung
ist teilweise verstopft
- Die Laufräder sind abgenutzt
- Das Rückschlagventil in der
Rohrleitung ist verstopft
- Senkung des Wasserspiegels
- Wechseln Sie die Phasen
- Beheben Sie die Verstopfung
- Ersetzen Sie die Laufräder
- Reinigen Sie das Absperrventil
- Senken Sie die Elektropumpe tiefer in
den Brunnen, vermeiden Sie dabei
aber den Bodenkontakt mit dem Motor
SERVICIO ASISTENCIA TÉCNICA
En el caso de que los problemas técnicos no se puedan resolver directamente por personal
cualificado, contactar inmediatamente con el Servicio de Asistencia Técnica, comunicando los
siguientes datos:
- Modelo de la electrobomba;
- Fecha de compra;
- Número de horas de trabajo (aproximado);
- Indicaciones detalladas de una eventual utilización o defecto averiguado.
KUNDENDIENST
Wenn die Probleme nicht lösbar sind durch qualifiziertes Personal, sollten Sie sich sofort mit dem
Kundendienst in Verbindung setzen und folgende Daten bekannt geben:
- Pumpenmodell
- Einkaufsdatum
- Betriebsstunden (annähernd)
- Eingehende Informationen über besondere Gebräuche oder bemerkte Defekte
DESMANTELAMIENTO
Eliminar de forma respetuosa con el medioambiente y en respecto de las normas vigentes.
ENTSORGUNG
Beachten Sie die örtlichen und nationalen Bestimmungen zur Entsorgung.
GARANTÍA
La garantía sobre los productos se establece por un período de 24 meses desde la puesta en
marcha de los mismos, para cualquier defecto de fabricación. La garantía sólo cubre la sustitución
o reparación, en nuestra fábrica, de los productos o componentes de los mismos que resulten
defectuosos. No se contemplará la posibilidad de indemnización. La garantía no cubre aquellos
desperfectos derivados de: errónea conexión, inadecuada protección, instalación defectuosa,
corrosiones o abrasiones de diferente naturaleza, debidas a la extracción del líquido y a no
respetar las limitaciones de uso o empleo indicadas en el manual de instrucciones que acompaña
a cada bomba. No quedará tampoco establecida la garantía en caso de que los productos sean
desmontados, reparados o manipulados por personal no autorizado.
GARANTIE
Ab dem Zeitpunkt der Installation gewähren wir auf unsere Produkte 24 Monate Garantie. Diese
ist limitiert auf Austausch oder Reparatur, unter der Voraussetzung, dass die Produkte oder
Ersatzteile tatsächlich defekt sind und dies schließt die Möglichkeit eine Entschädigung bzw.
einen Schadenersatz zu fordern nicht ein. Die Garantieleistung beinhaltet keine Defekte, die aus
folgenden Fehlbehandlungen resultieren: falsche elektrische Verbindungen, Sicherheitsmängel,
falsche Montage, Mangel an Sorgfalt in der Ausführung am System oder am Material, irgendeine
Art von Rost oder Abnutzung verursacht durch das zu pumpende Medium, oder ein
Nichtbeachten der Gebrauchsanweisung. Die Garantie ist nicht gerechtfertigt in den Fällen, wo
eine nicht autorisierte Person das Gerät auseinander nimmt, repariert oder umändert.