Toro 19" Flymo User manual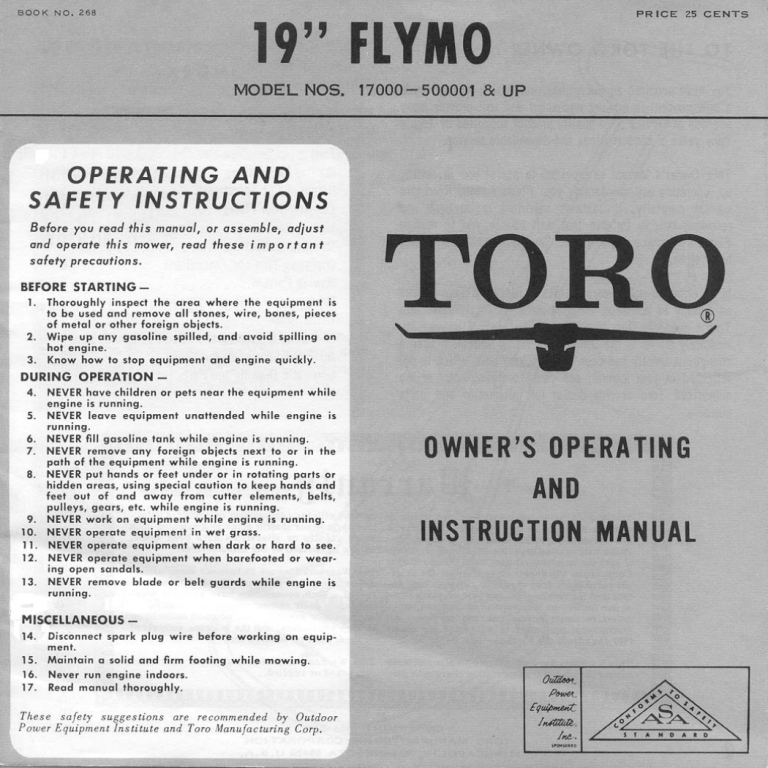 BOOK NO, 268
PRICE 25 CENTS
9" FLYMO
MODEL NOS.
17000 — 500001 & UP
OPERATING AND
SAFETY INSTRUCTIONS
Before you read this manual, or assemble, adjust
and operate this mower, read these important
safety precautions.
BEFORE STARTING —
2.
3.
Thoroughly inspect the area where the equipment is
to be used and remove all stones, wire, bones, pieces
of metal or other foreign objects.
Wipe up any gasoline spilled, and avoid spilling on
hot engine.
Know how to stop equipment and engine quickly.
DURING OPERATION —
NE нь
jee]
9.
10.
11.
12.
13.
NEVER have children or pets near the equipment while
engine 1s running.
MEVER leave equipment unattended while engine is
running.
NEVER fill gasoline tank while engine is running.
NEVER remove any foreign objects next to or in the
path of the equipment while engine is running.
NEVER put hands or feet under or in rotating parts or
hidden areas, using special caution to keep hands and
feet out of and away from cutter elements, belts,
pulleys, gears, etc. while engine is running.
NEVER work on equipment while engine is running.
NEVER operate equipment in wet grass.
NEVER operate equipment when dark or hard to see.
NEVER operate equipment when barefooted or wear-
ing open sandals.
NEVER remove blade or belt guards while engine is
running.
MISCELLANEOUS —
14.
15.
16.
17.
Disconnect spark plug wire before working on equip-
ment.
Maintain a solid and firm footing while mowing.
Never run engine indoors.
Read manual thoroughly.
These safety suggestions are recommended by Outdoor
Power Equipment Institute and Toro Manufacturing Corp.
TORO
OWNER'S OPERATING
AND
INSTRUCTION MANUAL
HGH ED
TO THE TORO OWNER...
INDEX
You have acquired an exceptional unit which will give you
a new concept in mowing equipment and will provide many ME
seasons of service ...a quality product supported by Toro's Specifications .................. Page 3
many years of conscientious and dependable service. Setting Up Instructions ............... 3
HS a ро 4
This Owner's Manual is provided to assist you in setting Startine Instuetions ess 4
up, operating and maintaining your Flymo mower. Read this Height of Cut Adjustment ............. J
manual carefully, It contains important instructions and Cayo YOU RIV MO. soe oes 5
recommendations for use that will enable you to realize OWL ns ia a A 5
Sg maximum capabilities. Save this manual and refer Stopping Instructions ........... : 6
TEST Operating Tips and Precautions ......... 6
He
In an effort to make improvements available to Toro owners ral РаЦет . o... oo eceneaao
as quickly as possible, minor changes are incorporated into Si ve ПОНИ
Toro's products from time to time that do not become im- utter Blade . . ie Repel a aE al /
mediately shown in the Owner's Operating Manual. If such a Carburetor Instructions ............... 8
change apparently has been made in your unit, which is not Air Filter Service Instructions .......... J
reflected in your manual, see your Toro distributor or his Schematic Drawing and Parts List ........ 10
authorized Toro service dealer for information and parts
numbers.
DR aes
SAA Aaa a ANNA AZ.
Tu ==
Te la x
i= =
= Warranty =
ds
= : : ==
Le The Manufacturer warrants each new piece of nection with the replacement or repair of defec- 195%
= equipment sold to be free of defects in material tive parts -- nor shall it apply to a machine upon a
== and workmanship. For one year from the pur- which repairs or alterations have been made, B=
LER chase date of consumer line equipment or 45days unless authorized by the manufacturer. cy
= if sold for commercial use, Toro Manufacturing ==
Le Corporation will repair or replacefor the origi- This Warranty does not include nor cover stand- >;
= nal purchaser, free of charge, through any Au- ard accessories produced by other manufac- >
== thorized ServiceDealer, any part or parts found turers. Such accessories have separate war- 1 E
== at our factory in Minneapolis, Minnesota, to be ranties by their respective manufacturers. . . =;
SER defective under normal use and service. All andrepair or exchange will be made onthe basis =
HER institutional equipment is warranted for ninety of such warranties, and the policies authorized =
= (90) days from the purchase date. by them shall be adhered to. =
== This Warranty does not obligate the Manufacturer This Warranty is in lieu of all other warranties =
Ts to bear the costof transportation chargesin con- expressed or implied. se
== =
; BE ; ere (== 8 8.88 TREE RRR ER RRR EEE ery
SANTINO A RAA RAA RARE KART
COPYRIGHT
1964 BY
TORO MANUFACTURING CORPORATION
2 MINNEAPOLIS,
MINNESOTA 55420 U.S.A,
SPECIFICATIONS
ENGINE: Easy starting 25 h.p., 2 cycle engine, recoil starter, 1 at. fuel
FAN: Injection molded nylon with press fitted die cast zinc hub
DIMENSIONS: Wall Storage — Length 61"; Width 24"; Heioht 12"
CUTTER BLADE: 19" long hardened and drawn alloy steel
HEIGHT OF CUT: Approx. 3/4" and 1-1/4"
HOUSING: Fiberglass-Polyester
WEIGHT: 30 pounds
WIDTH OF CUT: 19"
SETTING UP INSTRUCTIONS
Unpack your Flymo with care to avoid damaging the unit or
misplacing the loose items. Inspect the unpacked items
carefully to make sure no damage occurred during shipment.
Remove the mower and all loose items from the carton.
Attach the handle to the mower as follows:
1. Place the lower handle onto bracket pins "C'" of
the main frame and fasten with cotter pins '"D"
on each side. (See illustration)
2. Next, connect the upper and lower handle
halves together with attaching bolts and
nuts ( A" and "B") contained in the
loose parts bag.
J. Place the handle splice "E"
over the two sections as
Illustrated and secure
with screws "F"',
FUEL
Your Flymo is equipped with a two-cycle gasoline engine.
Engines of this type are lubricated by mixing oil with the
gasoline before pouring the gasoline into the fuel tank.
NOTE: NEVER FILL THE FUEL TANK WITH PURE GAS-
OLINE. The proper mixture for use in your Flymo consists
of mixing 1/2 pint of lubricating oil (S.A.E. 30, outboard or
other two-cycle engine oil) with one gallon of regular grade
gasoline. Be sure to mix the oil and gasoline in a clean
container.
WARNING!
THE WARRANTY COVERING YOUR FLYMO
IS VOID IF MULTI-VISCOSITY OILS (e.g.,
10W-30) ARE USED.
Fill the fuel tank with the specified fuel-oil mixture before
starting the engine (see above).
1. Do not overfill. Immediately wipe up any spillage.
2. Be sure the tank cap is tight.
3. Be sure to open vent on top of gas cap.
4, Avoid filling the fuel tank when the engine is hot.
5 Your Flymo is sent directly from the factory, is adjusted
properly for normal mowing conditions, and needs no
alterations.
STARTING
. Fill fuel tank with specified fuel-oil mixture (refer to
FUEL). Replace tank cap.
. Make sure Flymo is on level surface. (If in grass, tip
unit up, as shown in illustration below.)
. Push choke lever to choke position.
. Pull starter rope with quick steady strokes to start engine.
. If engine fails to start after four or five pulls, open choke
part way to avoid flooding. Pull starter rope until engine
starts.
. When engine starts, immediately push choke lever to run
position,
UT
ei ZY: it li
1 A "a | Wily Li, MEL EA
я pu Pa 1
Tia
HEIGHT OF CUT ADJUSTMENT
Your Flymo comes from the factory with the height of cutset
at 3/4" with spacer installed. When the spacer is removed,
height of cut becomes 1-1/4". BE SURE TO DISCONNECT
y BOLT
LOCKWASHER
4)
SPARK PLUG WIRE when changing height of cut.
CARRYING POSITION
co oo >=
. Shut off engine
. Lower handle to ground
. Close adjustable vent on fuel
cap
. With one hand, grasp a handle
leg just behind the pivot
bracket T
On pickingup and carrying
the unit, the engine should
be in front and the skid
flange resting lightly
against the operator's leg.
MOWING TIPS
A. To eliminate engine stalling and/or improve floatation
l.
2,
3.
4.
9,
Keep the cutter blade sharp
Reduce walking (ground) speed
Reduce pushing angle (the angle the handle makes
with respect to the ground)
Pull mower backwards; this may be a necessity for
cutting high grass.
Remove blade spacer to attain a higher height of cut
B. To minimize windrowing
1.
2.
Cut more frequently
Cut at a higher height of cut position
3. Propel in short back-and-forth amply-overlapping
swaths
4. Propel in short, side-to-side, amply-overlapping
swaths
J. Propel in counterclockwise, amply-overlapping swaths
To promote more even cut
1. Keep blade sharp
2, Reduce ground speed to maintain maximum engine
speed
3. Overlap swaths
4. Cut more frequently
STOPPING
To stop the engine, push the choke lever back to the stop
position, as indicated on the decal in photo below.
OPERATING TIPS AND
PRECAUTIONS
1. It is good practice to keep areas requiring mowing free
of stones, toys and other foreign objects.
2. Avoid spilling gasoline on the engine while it is hot.
Wipe up any spilled fuel immediately.
3. Never attempt to adjust the cutter blade while the engine
15 running.
4, Use only the fuel-oil mixture specified under "FUEL" in
this manual.
5. DISCONNECT SPARK PLUG WHEN WORKING ON CUT-
TER BAR.
MOWING PATTERN
Flymo has no wheels; therefore, it does an excellent job
under fences, around trees, under low hanging trees, shrubs
and bushes. Its ground hugging design prevents damage to
overhanging foliage.
=
EN
LV)
As a mower for slopes and terraces, Flymo is an outstanding
performer. Its floatation and light weight make it easier to
handle than conventional mowers and prevents scalping the
lawn.
Flymo is a totally new concept in lawn maintenance. It
utilizes many of the good features of ordinary rotary mowers
O
NM SIDE HILL
YY ; MOWING
ме
Ta or Rr. pa 1
E И aná aah ' Tama!
TER TH, me ML Tu
qu Ч games!
= Fo № quel ARI
and contributes a number of new ones. The unit can be
operated by pushing, pulling, side-angling up and down on
slopes. Flymo hovers 1/4 inch above the turf, nudging ob-
jects away from the housing unit rather than riding over
them. The housing is completely enclosed so that no
foreign objects can be picked up. It floats on air!
STORAGE
Flymo is lightweight and can be easily carried with one
hand. When transporting the machine, carry as shown in
the illustration on page 5. Its light weight also makes it
convenient and easy to store on a wall where it is out of
the way.
For storing, do the following:
1. Raise handle by pulling handle up when mower is on
flat surface,
2. Disconnect the spark plug wire.
3. Close vent on top of gas cap.
€ N F4 FEE |
ECM x A.
PS TE X т
т En
В #
A e
2
4 EEE
1 5 AE ERE
| o a LL 3 = я
4 pa i
+
ER E
E
SE pue =
E 3 RE
Se x cL на
Ч EE E
3 cr: i, 3 +
Tle ha, de.
ne - = Eat
a a
L = pr оли RES
7 4 Par
Ea mi
АМ
a E НЕ тт
1 ra PE Lale we к
TE
==
re
: En
e
- fis
= a
me
147 Pre
oa mle
mr a
ri,
и
100
o
ía
STO Ei
À
3
ST
-
Е E e 2.
a
я A PA
in 2
- :
CUTTER BLADE
The cutter blade is 19" long, made of hardened and drawn
alloy steel. The cutter bar is fastened to the unit in the
following order: spacer, cutter bar, lockwasher and bolt
(see illustration on page 8). Follow the instructions below
for sharpening and balancing the cutter blade.
1. To remove cutter bar:
a. Disconnect spark plug end wire
b. Turn cutter bar screw sharply counter clockwise
C. Remove screw, lockwasher, cutter bar and spacer
2. Sharpen the cutting ends of the bar with a 10 inch file
to as close to the original bevel as possible. Keep blade
ends razor sharp.
3. Balance the blade on the Toro blade balancer. The same
amount should be taken off each end of bar.
CARBURETOR
FUEL MIXTURE
Mix in a clean container, 1/2 pint of Toro 2-cycle engine oil
per gallon of regular gasoline. This mixture assures posi-
tive lubrication. Warranty void if multi-viscosity (10W-30)
oils are used.
Your Flymo is designed to operate at a constant engine
speed and therefore is not provided with a throttle control.
ADJUSTMENT
The carburetor on your Tecumseh engine has been carefully
tested and adjusted at the factory. Occasionally, it may be
necessary to readjust the carburetor in order to obtain
maximum performance from this precision-built engine.
Your engine, when running under light loads, may appear to
miss. This in no way affects the operation of the engine.
Carburetor adjustments are as follows:
A. High Speed Adjustment Screw - (Full Load) - NORMAL
Setting is one turn open from closed position.
B. Low Speed Adjustment Screw - (No Load) - NORMAL
Setting is 1/2 to 5/8 turn open from closed position.
To decrease the fuel supply, turn the "High Speed Adjust- fuel supply, turn the "High Speed Adjustment Screw (A)
ment Screw'' (A) in a clockwise direction. Close finger tight in a counterclockwise direction.
only -- forcing will cause serious damage. To increase the
AIR FILTER SERVICE INSTRUCTIONS
1. Lift up on retaining clip and remove pre-cleaner. Re-
move any dirtaccumulation by either tapping pre-cleaner
to loosen dirt or washing out with garden hose.
2. Remove air filter element by turning in a counter clock-
wise direction.
3. It is recommended that the nylon mesh type filter (next
to carburetor) and the inner felt filter be cleaned with
the 2 cycle gas-oil mixture as used in the Flymo tank.
The 2 filters should be shaken vigorously, then allowed
to dry from 5 to 10 minutes. This is necessary to in-
sure proper engine speed.
4, Quter air cleaner (Biscuit-type) filter element should
also be cleaned as outlined in step 2.
5. Be sure to replace filters as they were removed from
the air cleaner. See photo at right for proper positioning.
6. After all items have been cleaned, re-assemble in
reverse order,
Pa
[a 8я
RT: e
: MESH GRID
Ref No.
No. | Part No. Description Used
1 | 3-7708 | Handle, Upper 1
2 | 3-7707 | Plate, Cover l
3 | 32104751 Screw 2
4 | 3-2654 | Screw, Handle 4
9 | 32149-2 | Nut 4
6 | 3-/711 |Handle, Lower l
7 | 221-249 | Engine 1
8 | 3290-250 | Cotter, Hairpin 2
9 | 3-7744 | Bracket, Handle 1
10 | 3-7715 | Housing ]
11 | 3-7765 | Decal ]
12 | 3-7745 | Bracket, Handle |
13 | 5-1423 | Decal, A.S.A. 1
14 | 3-7756 | Decal ]
15 | 329-3 Screw 4
16 | 3-7752 | Plate, Locking l
17 | 322-4 Screw 4
18 | 3-7748 | Fan Assembly ]
19 | 3257-3 | Key ]
20 | 3-7753 | Spacer 1
21 | 5-1225 | Blade 1
22 | 3253-26 | Lockwasher ]
23 | 3-7754 | Screw, Special ]
24 | 3-8296 | Muffler 1
25 | 3-7763 | Decal 1
- 26 | 3-8297 | Screw 2
21 | 3256-2 | Washer 4
28 | 3296-13 | Stop Nut 4
29 | 32151-10| Ring, Retaining
(Use on machines
starting with
500001 & up) 1
29 | 32151-9 |Ring, Retaining
(Use on machines
starting with
514535 & up) 1
30 | 3-7751 [Hub 1
31 | 3-8393 | Lock Clip 1
32 | 5-1220 | Pre Cleaner Body | 1
33 | 2412-27 | Clamp 1
34 | 5-1331 | Retainer Clip 1
35 | 5-1330 | Clip, Pivot 1
10
TORO
Aa
Manufacturing
Corporation
Minneapolis, Minnesota 55420 U.S.A.
FORM NO. 268
For Local Service...
- + Dn your TORO equipment consult the
yellow business section of your telephone
directory. . .
. is available,
cut out this coupon
on the dotted line
ond paste fo a post-
cord. TORO will
send you o list of
Authorized Service
Deolers, Address
your cord fo:
TORO Manufacturing Corp. ||
300 West В па Street "|
Minneapolis 20, Minnesota "iy
GENTLEMEN:
Pleose mail me one copy of TORO
Motional Service Directory
NAME
STREET R.R. NO.
CITY. ZONE STATE
"ен п пн о НЫ НН НЫ НН lll —l ll dal dl —]]
LITHO IN U.5, A.
11
—]] — ——— —— I — —————— SE EN ENE SEE GE SE SE =1
If No Local Service...
Throws 1/2 ton of snow a minute!
LIGHTWEIGHT, MANEUVERABLE, COMPACT, EASY TO USE
SNOW PUP AND SNOW HUSKY
Use asa scoop or push type snow thrower. Clears walks TO R O MA N U FA CT U В | N G CO R P.
and drives in minutes. Ideal for hard-to-clean steps,
porches, patios and under stalled cars and trucks. MINNEAPOLIS, MINNESOTA 55420 — U.S.A.
Throws heavy snow 15 feet-in any of 7 directions with
finger tip throw adjustment. Clears all kinds of snow
— heavy or light — wet or dry. 'Exclusive mark of Toro Manufacturing Corp.

* Your assessment is very important for improving the work of artificial intelligence, which forms the content of this project