Toro 1200 Power Curve Snowthrower User manual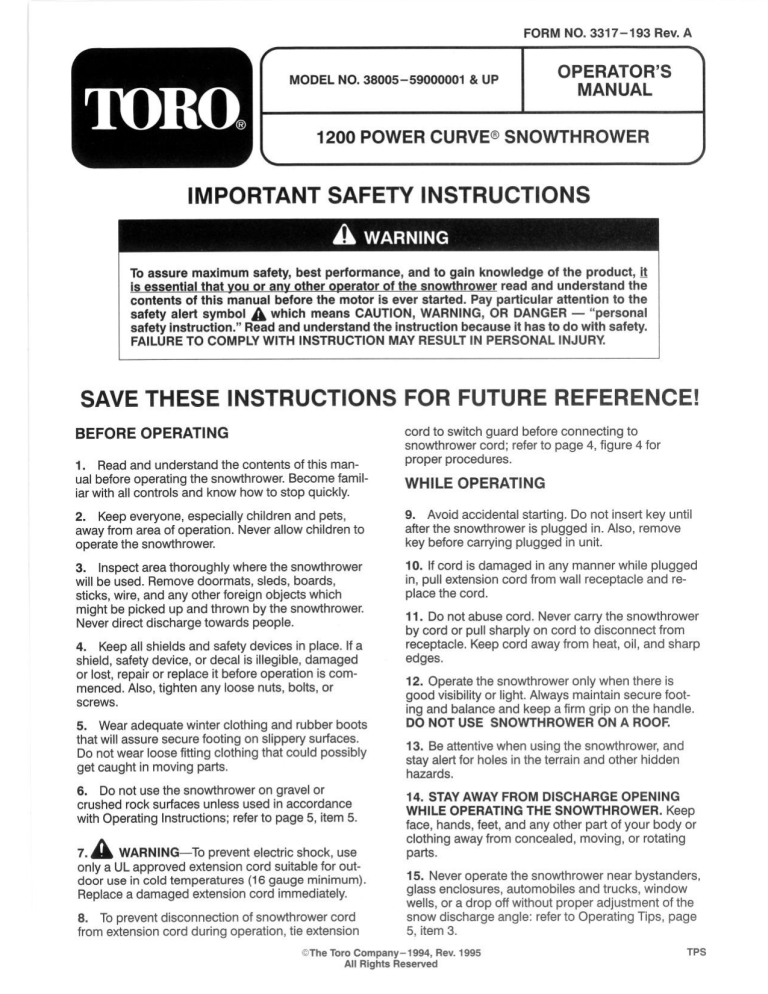 FORM NO. 3317-193 Rev. A
r
MODEL NO. 38005—59000001 8 UP
OPERATOR'S
MANUAL
1200 POWER CURVE® SNOWTHROWER
IMPORTANT SAFETY INSTRUCTIONS
To assure maximum safety, best performance, and to gain knowledge of the product, it
is essential that you or any other operator of the snowthrower read and understand the
contents of this manual before the motor is ever started. Pay particular attention to the
safety alert symbol 4 which means CAUTION, WARNING, OR DANGER — "personal
safety instruction." Read and understand the instruction because it has to do with safety.
FAILURE TO COMPLY WITH INSTRUCTION MAY RESULT IN PERSONAL INJURY.
SAVE THESE INSTRUCTIONS FOR FUTURE REFERENCE!
BEFORE OPERATING
1. Read and understand the contents of this man-
ual before operating the snowthrower. Become famil-
iar with all controls and know how to stop quickly.
2. Keep everyone, especially children and pets,
away from area of operation. Never allow children to
operate the snowthrower.
3. Inspect area thoroughly where the snowthrower
will be used. Remove doormats, sleds, boards,
sticks, wire, and any other foreign objects which
might be picked up and thrown by the snowthrower.
Never direct discharge towards people.
4. Keep all shields and safety devices in place. If a
shield, safety device, or decal is illegible, damaged
or lost, repair or replace it before operation is com-
menced. Also, tighten any loose nuts, bolts, or
SCrews.
5. Wear adequate winter clothing and rubber boots
that will assure secure footing on slippery surfaces.
Do not wear loose fitting clothing that could possibly
get caught in moving parts.
6. Do not use the snowthrower on gravel or
crushed rock surfaces unless used in accordance
with Operating Instructions; refer to page 5, item 5.
7. A WARNING—To prevent electric shock, use
only a UL approved extension cord suitable for out-
door use in cold temperatures (16 gauge minimum).
Replace a damaged extension cord immediately.
8. To prevent disconnection of snowthrower cord
from extension cord during operation, tie extension
cord to switch guard before connecting to
snowthrower cord; refer to page 4, figure 4 for
proper procedures.
WHILE OPERATING
9. Avoid accidental starting. Do not insert key until
after the snowthrower is plugged in. Also, remove
key before carrying plugged in unit.
10. If cord is damaged in any manner while plugged
in, pull extension cord from wall receptacle and re-
place the cord.
11. Do not abuse cord. Never carry the snowthrower
by cord or pull sharply on cord to disconnect from
receptacle. Keep cord away from heat, oil, and sharp
edges.
12. Operate the snowthrower only when there Is
good visibility or light. Always maintain secure foot-
ing and balance and keep a firm grip on the handle.
DO NOT USE SNOWTHROWER ON A ROOF.
13. Be attentive when using the snowthrower, and
stay alert for holes in the terrain and other hidden
hazards.
14. STAY AWAY FROM DISCHARGE OPENING
WHILE OPERATING THE SNOWTHROWER. Keep
face, hands, feet, and any other part of your body or
clothing away from concealed, moving, or rotating
parts.
15. Never operate the snowthrower near bystanders,
glass enclosures, automobiles and trucks, window
wells, or a drop off without proper adjustment of the
snow discharge angle: refer to Operating Tips, page
5, item 3.
©The Toro Сотрапу-- 1994, Вем. 1995 TPS
All Rights Reserved
AA SAFETY INSTRUCTIONS
16. Clear snow from slopes by going up and down;
never across the face. Use caution when changing
directions. Never clear snow from steep slopes.
17. Do not overload the snowthrower by clearing
snow at too fast a rate. Let the unit do the work.
18. If a solid object is hit or the snowthrower vibrates
abnormally, stop the snowthrower and wait for all
movement to stop. Disconnect extension cord and
check the snowthrower immediately for possible
damage, an obstruction, or loose parts. Vibration is
generally a warning of trouble. Repair any damage
before operating the snowthrower again.
19. if snowthrower will be left unattended, discon-
nect extension cord from receptacle and remove key
from handle.
20. Before adjusting, cleaning, repairing, or inspect-
ing the snowthrower, or before unclogging the dis-
charge chute, stop the snowthrower and wait for all
moving parts to stop. Also, disconnect extension
cord from receptacle to prevent accidental starting.
21. Let snowthrower run for a few minutes after
clearing snow so moving parts do not freeze.
MAINTAINING SNOWTHROWER
22. Perform only those maintenance instructions de-
scribed in this manual. Disconnect cord from recep-
tacle before performing maintenance procedures to
prevent the possibility of accidental starting. If major
repairs are ever needed, contact your local Author-
ized TORO Service Dealer for assistance.
23. Keep snowthrower in safe operating condition by
keeping nuts, bolts, and screws tight. Check all fas-
teners frequently to assure they are tight.
24. Store snowthrower indoors when not in use, in a
dry, locked—up place out of reach of children. Dis-
connect extension cord from snowthrower before
storing and remove key from handle. Store key in a
memorable place.
25. At the time of manufacture, the snowthrower
conformed to and exceeded safety standards in ef-
fect for snowthrowers. Therefore, to assure optimum
performance and safety, purchase genuine TORO
replacement parts and accessories to keep the Toro
all TORO. NEVER USE "WILL FIT" REPLACEMENT
PARTS AND ACCESSORIES. The TORO logo as-
sures that replacement parts are genuine.
26. This product is intended for residential house-
hold use only.
AA SAFETY DECALS AND INSTRUCTIONS
Safety and instructions decals are easily visible to the operator and are located near any area of
potential danger. Replace any decal that is damaged or lost.
A DANGER
©) | u
ON SHROUD
(Part No. 64—7010)
AVOID INJURY! FROM ROTOR/IMPELLER.
Ue
KEEP HANDS. FEET AND CLOTHING AWAY FROM DISCHARGE AREA.
DO NOT STEP IN FRONT OF MACHINE. OR USE HANDS TO UNCLOG CHUTE. | numbers to the TORO CO. 8111 Lyndale Au. $. Mpls: MN 55420
STOP MOTOR AND UNPLUG CORD BEFORE UNCLOGGING SNOW OR DEBRIS.
DO NOT DIRECT DISCHARGE AT OTHERS. USE FOR SNOW REMOVAL ONLY.
TO PREVENT ELECTRIC SHOCK. REPLACE DAMAGED CORD IMMEDIATELY.
[m] DOUBLE INSULATED — When servicing,
use only identical replacement parts.
Read operator's manual for operating and safety instructions.
Replacement manual available by sending model and serial
TORO 1200 MODEL 38005
115 VAC 60HZ 95AMP
LISTED SNOW
MOVER 546X
ON REAR OF SHROUD
(Part No. 64— 9061)
ASSEMBLY INSTRUCTIONS
4\ CAUTION
POTENTIAL HAZARD
o Internal wiring could be damaged during
shipping or assembly.
WHAT CAN HAPPEN
e Damaged internal wiring COULD CAUSE
SERIOUS ELECTRICAL SHOCK
RESULTING IN PERSONAL INJURY
DURING OPERATION.
HOW TO AVOID THE HAZARD
e Thoroughly inspect the open internal
wiring before assembling snowthrower
(Fig. 1).
e Use care so electrical wiring will not be
damaged during assembly.
o |f wiring is damaged before or during
assembly, do not assemble or plug in
snowthrower. Contact your TORO Service
Dealer or TORO Service Center.
ASSEMBLE UPPER HANDLE
1. Stand snowthrower upright and position upper
handle in inverted position to prepare for handle as-
sembly (Fig. 1). Inspect the open internal wiring for
damage.
2. Remove two locknuts and carriage bolts from
loose parts bag attached to middle handle.
3. Carefully remove shipping tape from handles.
Note: Do not remove bushing from upper handle
tube (Fig. 1).
4. Align upper handle with lower and middle han-
dles. Carefully insert upper handle tubes until holes
in upper handle are aligned with holes in lower and
middle handles.
WARNING: Install carriage bolt through right hand
side of handle with fingers only to avoid damag-
ing the electrical cord in handle and causing pos-
sible injury. If the internal wiring is blocking the
hole, use a blunt object to gently move the wiring
to one side. DO NOT FORCE CARRIAGE BOLTS
THROUGH HANDLE. DO NOT USE TOOLS UNTIL
CARRIAGE BOLTS ARE FULLY INSTALLED IN
HANDLE.
5. Install carriage bolts with heads of bolts to the
outside of the middle handle (Fig. 2). Screw locknuts
onto carriage bolts and tighten assembly. Be sure
carriage bolts are completely inserted through
middle handle before tightening locknuts.
INTERNAL UPPER
WIRING HANDLE
MIDDLE BUSHING
HANDLE
UPPER
HANDLE
A CARRIAGE BOLT
AND LOCKNUT
(IN LOOSE PARTS BAG)
238
Figure 1
Figure 2
OPERATING INSTRUCTIONS
PREPARATION
The proper extension cord is a requirement for safe
and efficient use of your appliance. Use only a UL listed
extension cord recommended for outdoor use. Refer to
Extension Cord Chart below.
1. Tie the extension cord to the switch guard before
connecting to the snowthrower cord. This prevents
separation of the cords during operation (Fig. 4).
EXTENSION CORD CHART
If length of extension cord is 100 ft. 150 ft.
less than or equal to:
Assure wire size gauge 16 14
(A.W.G.) in cord is:
Note: Use of extension cord over 150 feet is not recom-
mended.
POTENTIAL HAZARD
e Contact with water while operating unit
could cause electric shock.
WHAT CAN HAPPEN
e Electric shock can cause injury or death.
HOW TO AVOID THE HAZARD
e Don't handle plug or appliance with wet
hands or while standing in water.
e Use only a UL listed extension cord
recommended for outdoor cold weather
use. Refer to Extension Cord Chart,
page 4.
Your unit has a polarized plug. This means one prong in
the Power Shovel cord is larger than the other (Fig. 3).
When inserting the end of a suitable extension cord into
the Power Shovel cord, be sure to insert the enlarged
prong into the wide slot in the extension cord end.
=
T=
CONTROL
HANDLE
SWITCH
GUARD
239
Figure 4
2. Plug the extension cord into a wall outlet. Insert
key into hole at rear of handle (Fig. 5).
Z—S
1062
1545
Figure 3
1. Enlarged prong
Figure 5
3. Keep the area to be cleared free of stones, toys,
or other foreign objects which may be picked up and
thrown by the rotor blades. Such items could be cov-
ered by snowfall and, therefore, unnoticed until
struck by the rotor blades. Always be sure to keep
children and pets away from area of operation.
STARTING/STOPPING
To start rotor, make sure key is installed, and
squeeze the control handle. To stop, release the con-
trol handle (Fig. 4).
OPERATING INSTRUCTIONS
OPERATING TIPS
1. Squeeze the control handle to start the rotor
(Fig. 4). The depth and weight of the snow governs
the forward speed.
2. Do not tip the snowthrower to self—propel. Push
snowthrower along the scraper.
3. Direct the snow to left, right or straight ahead by
twisting the vane directional control attached to the
middle handle (Fig. 6).
VANE
| DIRECTIONAL
| So CONTROL
we
7. Keep cord clear of obstructions, sharp objects,
and rotor blades. Do not pull sharply on the cord or
abuse it in any manner. Frequently inspect cord for
damage. If damaged, replace it.
8. Remove the key and disconnect the extension
cord when through using the snowthrower. Keep key
in a memorable place so it will not be misplaced. Set
the vanes in a vertical position and hang
snowthrower up by switch guard for convenient stor-
age and to prevent switch damage (Fig. 7). Hang the
extension cord with the snowthrower so it will not be
misplaced or possibly damaged (Fig. 7).
Figure 6
4. For the most efficient snowthrowing, keep vanes
parallel, throw snow downwind, and slightly overlap
each swath.
5. Should you find it necessary to clear snow from
crushed rock or gravel, push down on handle to
raise rotor blades clear of loose material that could
be thrown by the blades.
6. Hold unit by the upper and middle handles and
use a swinging or sweeping motion when clearing
steps or deep drifts.
rin г
aa A
dr A
— = , =
SWITCH
GUARD
-— ————
- ра
236
Figure 7
MAINTENANCE
POTENTIAL HAZARD
e There is the possibility that snowthrower
could be inadvertently started when
electrical cord is plugged into an electrical
socket and key is is handle.
WHAT CAN HAPPEN
e Inadvertent starting could cause personal
injury to operator or bystanders.
HOW TO AVOID THE HAZARD
e Always disconnect extension cord and
remove key from handle before attempting
any maintenance or repairs.
LUBRICATING SNOWTHROWER
The 1200 Power Curve® snowthrower does not have
to be lubricated as all bearings are lubricated for the
life of the product.
PREPARE SNOWTHROWER FOR
STORAGE
1. Examine the snowthrower thoroughly for worn,
loose, or damaged parts. If parts repair or replace-
ment is necessary, contact your local Authorized
TORO Service Dealer for assistance.
2. Examine extension cord thoroughly for signs of
excess wear or damage. Replace if worn or dam-
aged.
3. Disconnect the extension cord from the
snowthrower before storing and remove key from
handle. Store key in a memorable place.
4. Store the snowthrower in a clean, dry place and
cover it to provide protection.
TORO SERVICE SUPPORT
If your unit requires service or maintenance, your nearest TORO Master Service Dealer is the best dealer to as-
sist you. Refer to the "Yellow Pages" of your local telephone directory in the section titled "Lawn Mowers."
TORO Master Service Dealers are listed under the TORO trademark. If you need help locating a TORO Master
Service Dealer near you, call 1-800-421-9684 for assistance.
PRODUCT IDENTIFICATION
A model and serial number decal is located on the lower right hand tubing. Always refer to specific numbers on
the decal in correspondence or when replacement parts are needed.
UPL-64064
The Toro Promise
A One Year Full Residential Use Warranty
The Toro Company warrants this TORO Product for one year against defects in material or work-
manship. To receive a replacement or repair, at Toro's option, just return the complete unit, postage
prepaid, to the seller or any TORO Electric Service Dealer or the TORO Service Center, 5300 Shore-
line Blvd., Mound, MN 55364, along with proof of purchase. This warranty covers product defects
only. It does not cover incidental or consequential damages. Some states do not allow the exclu-
sion or limitation of incidental or consequential damages, so the above limitation may not apply to
you. This warranty gives you specific rights, and you may have other rights which vary from state to
state.
COUNTRIES OTHER THAN THE UNITED STATES OR CANADA
Customers who have purchased TORO products exported from the United States or Canada should con-
tact their TORO Distributor (Dealer) to obtain guarantee policies for your country, province, or state. If for
any reason you are dissatisfied with your Distributor's service or have difficulty obtaining guarantee infor-
mation, contact the TORO importer. If all other remedies fail, you may contact us at The Toro Company.

* Your assessment is very important for improving the work of artificial intelligence, which forms the content of this project