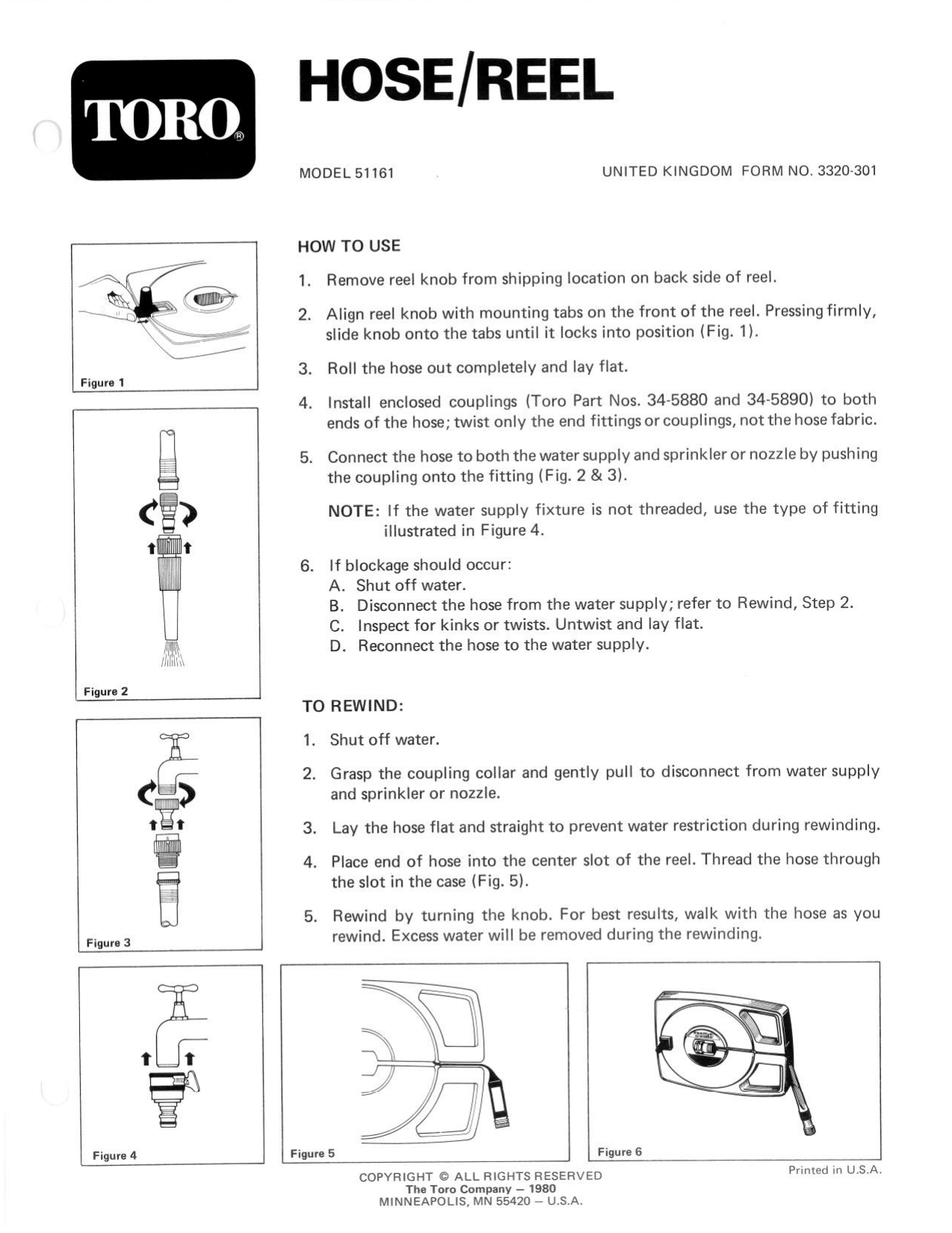 HOSE/REEL
MODEL 51161 | UNITED KINGDOM FORM NO. 3320-301
HOW TO USE
1. Remove reel knob from shipping location on back side of reel.
2. Align reel knob with mounting tabs on the front of the reel. Pressing firmly,
slide knob onto the tabs until it locks into position (Fig. 1).
3. Roll the hose out completely and lay flat.
Figure 1
4. Install enclosed couplings (Toro Part Nos. 34-5880 and 34-5890) to both
ends of the hose: twist only the end fittings or couplings, not the hose fabric.
5. Connect the hose to both the water supply and sprinkler or nozzle by pushing
the coupling onto the fitting (Fig. 2 & 3).
NOTE: If the water supply fixture is not threaded, use the type of fitting
illustrated in Figure 4.
6. If blockage should occur:
A. Shut off water.
B. Disconnect the hose from the water supply; refer to Rewind, Step 2.
C. Inspect for kinks or twists. Untwist and lay flat.
D. Reconnect the hose to the water supply.
Figure 2
TO REWIND:
1. Shut off water.
2. Grasp the coupling collar and gently pull to disconnect from water supply
and sprinkler or nozzle.
3. Lay the hose flat and straight to prevent water restriction during rewinding.
4. Place end of hose into the center slot of the reel. Thread the hose through
the slot in the case (Fig. 5).
5. Rewind by turning the knob. For best results, walk with the hose as you
rewind. Excess water will be removed during the rewinding.
Figure 4 Figure 5 Figure 6
COPYRIGHT © ALL RIGHTS RESERVED Printed in U.S.A.
The Toro Company — 1980
MINNEAPOLIS, MN 55420 — U.S.A.

* Your assessment is very important for improving the work of artificial intelligence, which forms the content of this project