Toro 7" Cordless Trimmer User manual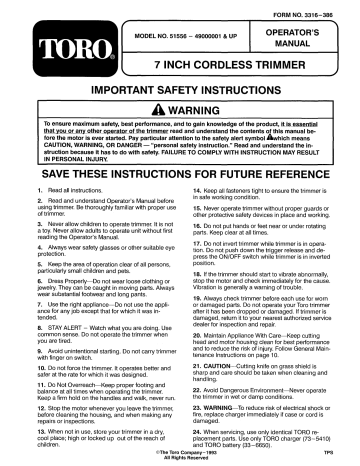 FORM NO. 3316-386
MODEL NO. 51556 — 49000001 8% UP
NN
OPERATOR'S
MANUAL
7 INCH CORDLESS TRIMMER
"
IMPORTANT SAFETY INSTRUCTIONS
A WARNING
IN PERSONAL INJURY.
To ensure maximum safety, best performance, and to gain knowledge of the product, it is essential
that you or any other operator of the trimmer read and understand the contents of this manual be-
fore the motor is ever started. Pay particular attention to the safety alert symbol Awhich means
CAUTION, WARNING, OR DANGER — "personal safety instruction." Read and understand the in-
struction because it has to do with safety. FAILURE TO COMPLY WITH INSTRUCTION MAY RESULT
SAVE THESE INSTRUCTIONS FOR FUTURE REFERENCE
1. Read all instructions.
2. Read and understand Operator's Manual before
using trimmer. Be thoroughly familiar with proper use
of trimmer. |
3. Never allow children to operate trimmer. It is not
a toy. Never allow adults to operate unit without first
reading the Operators Manual.
4. Always wear safety glasses or other suitable eye
protection.
5. Keep the area of operation clear of all persons,
particularly small children and pets.
6. Dress Properly—Do not wear loose clothing or
jewelry. They can be caught in moving parts. Always
wear substantial footwear and long pants.
7. Use the right appliance—Do not use the appli-
ance for any job except that for which it was in-
tended.
8. STAY ALERT — Watch what you are doing. Use
common sense. Do not operate the trimmer when
you are tired.
9. Avoid unintentional starting. Do not carry trimmer
with finger on switch.
10. Do not force the trimmer. It operates better and
safer at the rate for which it was designed.
11. Do Not Overreach—Keep proper footing and
balance at all times when operating the trimmer.
Keep a firm hold on the handles and walk, never run.
12. Stop the motor whenever you leave the trimmer,
before cleaning the housing, and when making any
repairs or inspections.
13. When not in use, store your trimmer in a dry,
cool place; high or locked up out of the reach of
children.
14. Keep all fasteners tight to ensure the trimmer is
in safe working condition.
15. Never operate trimmer without proper guards or
other protective safety devices in place and working.
16. Do not put hands or feet near or under rotating
parts. Keep clear at all times.
17. Do not invert trimmer while trimmer is in opera-
tion. Do not push down the trigger release and de-
press the ON/OFF switch while trimmer is in inverted
position.
18. If the trimmer should start to vibrate abnormally,
stop the motor and check immediately for the cause.
Vibration is generally a warning of trouble.
19. Always check trimmer before each use for worn
or damaged parts. Do not operate your Toro trimmer
after it has been dropped or damaged. If trimmer is
damaged, return it to your nearest authorized service
dealer for inspection and repair.
20. Maintain Appliance With Care—Keep cutting
head and motor housing clean for best performance
and to reduce the risk of injury. Follow General Main-
tenance Instructions on page 10.
21. CAUTION—Cutting knife on grass shield is
sharp and care should be taken when cleaning and
handling.
22. Avoid Dangerous Environment—Never operate
the trimmer in wet or damp conditions.
23. WARNING—To reduce risk of electrical shock or
fire, replace charger immediately if case or cord is
damaged. |
24. When servicing, use only identical TORO re-
placement parts. Use only TORO charger (73-5410)
and TORO battery (33— 6650).
©The Toro Company—1993 TPS
All Rights Reserved
4\ SAFETY DECALS AND INSTRUCTIONS
Safety decals and instructional decals are easily visible to the operator and are located
near any area of potential danger. Replace any decal that is damaged or lost.
BATTERY RECYCLING SYMBOL
9 9
©
5 LÁYS
Q 0 %
RECYCLE
SEALED LEAD ACID BATTERY
DISPOSAL INSTRUCTIONS
In compliance with Federal and State Regulations, we must inform
you that the BATTERY used in this product:
e CONTAINS TOXIC MATERIAL — LEAD ELECTRODES.
e CONTAINS CORROSIVE FLUIDS — SULFURIC ACID.
The BATTERY in your trimmer is sealed. Under normal usage it
will not leak or spill, therefore:
1. DO NOT PUNCTURE, DISASSEMBLE, MUTILATE OR INCINER-
ATE BATTERY.
2. DO NOT USE THIS BATTERY WITH ANY OTHER PRODUCT OR
PRODUCTS EXCEPT THE PRODUCT YOU RECEIVED IT WITH.
FAILURE TO COMPLY COULD CAUSE EXTENSIVE DAMAGE
TO THE PRODUCT AND MAY CAUSE PERSONAL INJURY. ANY
IMPROPER USE OF THIS BATTERY WILL VOID ITS WARRAN-
TY.
3. USE ONLY THE CHARGER SUPPLIED WITH THIS PRODUCT.
USE OF ANY CHARGER OTHER THAN THAT SUPPLIED
COULD CAUSE EXTENSIVE DAMAGE TO THE BATTERY AND/
OR PRODUCT AND MAY CAUSE PERSONAL INJURY. USE OF
ANY OTHER CHARGER WITH THIS BATTERY WILL VOID ITS
WARRANTY.
When the BATTERY is no longer functional, it must be RECYCLED
as stated in instructions on page 10.
ON BATTERY
(Part No. 73-5960)
RECYCLE
DISPOSING OF BATTERY
1. When a battery is no longer
functional, it must be disposed
of AT AN E.P.A. REGISTERED
RECLAMATION FACILITY. Check your
local telephone directory for the
nearest facility.
2. ltis UNLAWFUL to dispose of
the battery in any landfill. DO
NOT dispose of the battery
in any landfill.
HELP US PROTECT
THE ENVIRONMENT!
ON BATTERY
(Part No. 73-9170)
CONTAINS SEALED LEAD ACID BATTERY. MUST
BE RECYCLED OR DISPOSED OF PROPERLY. A
Battery Manufactured by Technacell. © 5
73-9170
4 60
ON BATTERY
Л
SAFETY INSTRUCTIONS
RECHARGEABLE BATTERY
DANGER
ALL BATTERIES CONTAIN CORROSIVE ACIDS AND
PRODUCE EXPLOSIVE GASES DURING RECHARGING
GAS BATTERY
EXPLOSION ACID
CAN CAUSE CAN CAUSE
BLINDNESS OR
SHIELD EYES R INJURY SEVERE BURNS
e Do not make direct contact Between Battery Terminals as
this can cause an explosion or fire.
* Batteries should not be stored discharged.
* Only Adults should recharge batteries.
*« Keep charger away from children.
e Use only the charger provided by TORO
e Do not recharge batteries upside down.
e Charging produces explosive gases. Charge battery in a
well ventilated area away from sparks, flames and smoking.
s Disconnect charger from battery after 48 hours.
INTERNAL
0—
OF EGGS
Q y
WATER
DO NOT INDUCE VOMITING
TAKE
MILK
WHITES
EXTERNAL
+ \ ! . FLUSH
Nur IMMEDIATELY
=
— FOR 15 MINUTES IF
ACID GETS IN EYES
OR ON SKIN
CALL PHYSICIAN IMMEDIATELY
ON TRIMMER HOUSING
(Part No.
73-9160)
MODEL 51556
6 VOLTS D.C.
For best results, trimmer ми
Charging:
charged 24 hours before first use, and
24 hours minimum, immediately after
each use.
Insert charger plug into socket on bot-
tom of poner pack case, then plug
charger into 120 volt wall outlet. To un-
A CAUTION
plug, first remove charger from wall
outlet and then remove plug from trimmer.
Eye protection should be worn by the
operator of this unit. See Operators
Manual for specific safety, charging
and operating instructions.
Remove charger from trimmer during
winter storage and store trimmer in a
cold, dry area. Charge only with Toro
Charger No. 73-5410. For spool replace-
ment use Toro Model 88075.
A WARNING
Keep hands, feet and face clear of
rotating filament fine. When servicing
use only identical replacement parts.
Use only .050" nylon monofilament
cutting line.
LISTED
UY & 8
®
Pb
SEALED LEAD ACID BATTERY. MUST BE
RECYCLED OR DISPOSED OF PROPERLY,
Battery Manufactured by Technacell.
SERIAL NUMBER:
Mfd. under U.S. Patent Nos 4134204 and 4524515.
Other U.S. and Foreign Patents pending.
Xu Toro Co, Minneapolis, MN 55420
1 2 —
TABLE OF CONTENTS
Assembly Instructions
BeforeOperating .............. cco.
Operating Instructions .........................
Tips for Best Trimming Results
Lengthening Cutting Line
Replacing Cutting Line
Page
Battery Disposal and Instructions ............... 10
General Maintenance ............._e.erevereroe 10
Identification and Ordering ................—.—.e—_. 11
Accessories ..........eeserrmorera reses 11
Toro Service Support ..........—._.e_.esxererraa 11
The Toro Promise .................... Back Cover
ASSEMBLY INSTRUCTIONS
LOOSE PARTS
Your trimmer comes in one carton. Check the list
below to be sure you received all component parts.
Registration Card
Battery Housing
Cutter Head And Tube Assembly
Charger
Operators Manual
Accessory Order Form
Loose Parts Bag Includes:
(2) #10 x 1-1/2" long screws
(2) #10 hex nuts
TOOLS NEEDED FOR ASSEMBLY
1 — medium Phillips head screwdriver
ASSEMBLY
1. Trimmer should appear as shown in Figure 1
when fully assembled.
Figure 1
2. If connector plug has retracted into the trimmer
housing, use the hang tag string to pull the connec-
tor out of the housing (Fig. 2).
CONNECTOR PLUG ra
a
800
Figure 2
3. Grasp handle tube firmly with one hand and the
connector plug extending out of housing with the
other (Fig. 3).
Figure 3
4. Connect plug in battery housing with connector
plug extending out of tube (Fig. 4). BE SURE CON-
NECTORS ARE SECURELY CONNECTED TO ONE
ANOTHER BEFORE INSERTING TUBE INTO
HOUSING.
£ ©
= Jl lo
Figure 4
5. After connectors are securely connected, re-
move hang tag from connector plug (Fig. 2).
ASSEMBLY INSTRUCTIONS
6. Grasp handle tube firmly and slide tube into bat-
tery housing. Make sure the cutter shield is in the
proper operating position. Align screw holes in hous-
ing with grooves in tube (Fig. 5).
Figure 5
7. Secure battery housing to tube using the (2)
screws and hex nuts supplied (Fig. 6).
Note: Rear screw installation will be easier if you use
a blunt object such as a pencil eraser to hold the
rear nut in place while installing the screw. |
8. Remove tape from cut—off blade on trimmer
head.
INSERT HEX NUTS
INTO HEX HOLES
IN HOUSING
Figure 6
& CAUTION
e Cutting knife on grass shield is sharp.
e Contact with cutting knife could cause
personal injury.
e Be careful when handling shield. Avoid
contact with knife blade.
BEFORE OPERATING
À CAUTION
e Never use a charger case or cord that is
damaged.
e À damaged charger case or cord could
cause a shock or fire.
e Thoroughly inspect charger before using.
If charger case or cord is damaged, do
not use. Replace charger immediately.
BATTERY CHARGING
Your trimmer arrives with a partially charged battery.
Charge your trimmer battery immediately after un-
packing and reading your operating instructions.
THE BATTERY SHOULD BE CHARGED FOR 24
HOURS BEFORE ITS FIRST USE.
NOTE: Battery may not reach its maximum perform-
ance until approximately five full charge—discharge
cycles.
TIPS FOR MAXIMIZING BATTERY LIFE
AND PERFORMANCE
1. Fully charge your battery immediately after each
use (Fig. 7). Charging time of 24 hours will restore a
discharged battery.
2. Your Toro trimmer is designed with over charge
protection. However, it is recommended that you dis-
connect the charger from the wall outlet and trimmer
after the trimmer is fully charged. Do not store the
trimmer with the charger plugged in.
3. Do not store trimmer with battery in discharged
condition.
4. Store fully charged trimmer in cool, dry location.
Do not store trimmer in direct sunlight or near fur-
nace. Storing trimmer in a warm area will decrease
life of battery. If trimmer must be stored in a warm
area, charge battery for 24 hours every 2—3 months
when not in use.
5. IMPORTANT—Use only the Toro charger
73—5410 supplied. Using a different charger may
damage the battery.
BEFORE OPERATING
BATTERY CHARGING PROCEDURE
ÁN WARNING
4. After battery has been properly charged, remove
charger from wall outlet then remove charge plug
from trimmer receptacle.
e Charging produces explosives gases.
® Explosive gases could cause personal in-
jury or property damage. |
e Charge battery in a well-ventilated area
away from sparks, flames and smoking.
1. Insert charger plug into receptacle located on
the bottom of the power case (Fig. 7).
1306
Figure 7
2. Hang trimmer upright from a solid hook (Fig. 8)
or lay trimmer on its right side on a flat, solid surface
away from combustible liquids, gases or materials.
Position trimmer on side as shown in Figure 9.
3. Plug charger into 120 volt wall outlet. Be sure
outlet is turned on.
NOTE: The charger may become warm to the touch.
This is normal and does not indicate a problem.
1308
Figure 9
CUTTING LINE
NOTE: The cutting line for your trimmer is a special
monofilament line. Your trimmer comes complete
with a 12 foot supply of this line already wound onto
the spool.
1. To avoid line tangle during shipment, the tip of
the monofilament line has been taped to the head
assembly (Fig. 10). The tape must be removed be-
fore operation.
2. After each use, either retaping or looping the line
through the eyelet will prevent unraveling of line on
spool (Fig. 11).
1307
1310
Figure 10
A
>= u
1318
Figure 8
Figure 11
OPERATING INSTRUCTIONS
SAVE THESE INSTRUCTIONS FOR FUTURE REFERENCE
A cAUTION
® Object can be thrown by the trimmer while it
is in operation.
e Thrown objects could cause injury to the op-
erator or bystanders.
e Always wear safety goggles or other suit-
able eye protection, long pants and shoes
while operating trimmer.
e Keep people and pets away from trimming
area.
1. Inspect area to be trimmed for any wire, cord, or
string — like matter which could become entangled in
the rotating line.
2. Trim only when grass and weeds are dry.
3. Balance the trimmer in one hand using the U—
shaped handle. Operate the trigger release and the
switch with the other hand (Fig. 12).
4. To operate the trigger release and switch, press
the trigger release down with the thumb and depress
the switch on the inside of the handle. With the
switch depressed, you may let go of the trigger re-
lease and the trimmer will continue to run. The
switch must be depressed in order for the trimmer to
run.
5. Trimmer will stop seconds after switch is re-
leased.
©)
— [or
TE
/
Figure 12
À CAUTION
e When trimmer is in operation, the cutting
head is rotating.
e Contact with rotating cutting head could
cause personal injury.
e Always be sure cutting head has com-
pletely stopped rotating before inverting
trimmer.
TIPS FOR BEST TRIMMING RESULTS
Your trimmer will cut grass and small weeds in diffi-
cult and hard to reach places. However, you will
most likely experience some line breakage during
your first few uses. As you learn the trimming tech-
niques, you will be able to cut areas around trees,
shrubs, foundation walls, fences, sidewalks, patios,
etc., with minimal line wear or line breakage.
1. Hold the power pack case in a position which
slightly tips cutting head down at an angle to the
grass to be trimmed as shown in Figure 14.
2. DO NOT FORCE THE UNIT. Allow the very tip of
the nylon line to do the cutting (especially along
walls) (Fig. 13). Cutting with more than the tip will
reduce cutting efficiency and overload the motor.
The tip of the cutting line will wear during use and
cause a reduction in the cutting swath. If the line is
not advanced occasionally, it will wear down to the
drum eyelet. When the trimmer is stopped, the line
tends to relax and may retract into the drum. Should
this occur, be sure to replace the cutting line in the
proper position before restarting the trimmer (page
8, step 2D) or the line may tangle around the drum.
height. This can be either a forward—backward or
side—to—side motion (Figs. 14 & 15). Maintain top
speed for best cutting.
6. Trim only when grass and weeds are dry.
7. The life of your cutting line is dependent upon
following the above trimming techniques, as well as
what is being cut, and where the cutting is being
done. For example, line wears faster when trimming
against a foundation wall as opposed to trimming
around a tree. Some line breakage will occur from
moving unit too fast, from entanglement with foreign
matter, from normal line fatigue, and from attempting
to cut thick, stalky weeds in excess of the unit's ca-
pability. As cutting line wears, for best performance,
lengthen as indicated in Lengthening Cutting Line
procedure.
1311
qu
Mf, -
(
| NC, E МОЩИ na
Figure 14
Figure 13
3. Grass over 8 inches tall should be cut by work-
ing from the top to the bottom in small increments to
avoid premature line wear or motor drag.
4. Whenever possible, cut to your left. When cutting
to the left, the unit's cutting efficiency is somewhat
better since the line is contacting the grass as soon
as it leaves the guard, and the clippings are moving
away from the operator.
5. Slowly move the trimmer into and out of the area
being cut, maintaining trimmer at desired cutting
AN
y
VANA AO
1313
Figure 15
TIPS FOR BEST TRIMMING RESULTS
8. Never drag the trimmer spool cap on the
ground while trimming (Fig. 16). This causes un-
necessary battery drain and spool cap wear.
Figure 16
9. After each use, either retape or loop the line
through the eyelet (Fig. 11) to prevent unraveling of
line.
LENGTHENING CUTTING LINE
1. To lengthen line, firmly tap spool on the ground
while the motor continues to run. The line will be fed
from the spool and cut off to the proper length by the
cutting knife attached to the shield (Fig. 17).
1315
Figure 17
Remember to keep the trimmer running while length-
ening the line. Just tap the trimmer on the ground;
do not hold it on the ground. After the tap and line
has fed out, wait until you hear the line being cut to
the proper length before continuing to trim.
Note: To help prevent line tangle, tap once only to
lengthen line. If additional line is required, wait a few
seconds before retapping trimmer head. Do not al-
low line to wear too short. Keep line length at 7" di-
ameter as much as possible.
2. Lengthen line only when line has been short-
ened by wear. Unnecessary lengthening will waste
line.
Note: The spool cap may wear during normal use of
the line advance feature and may require occasional
replacement. Replacement spools are available
through your TORO retailer.
REPLACING CUTTING LINE
AA CAUTION
e Use of improper monofilament line could
result in personal injury.
e Do not use any type of wire or other
string-like substance.
e Use only TORO .050" dia. nylon
monofilament cutting line for best per-
formance.
1/8" Max
REPLACING CUTTING LINE
Replacement line or prewound replacement spools
can be purchased from your local Toro retailer. The
cutting line used by Toro is specially formulated for
use on your trimmer. Other line may not provide the
same high quality performance.
WIND LINE
292
À CAUTION
e When trimmer is in operation, the cutting
head is rotating.
e Contact with rotating cutting head could
cause personal injury.
e Always be sure cutting head has com-
pletely stopped rotating before inverting
trimmer.
e Never activate trimmer when it is in an
inverted position.
Figure 19
Note: Trimmer will not function properly if line
is wound in the wrong direction.
Do not wind more than 12 feet of line onto spool.
Do not use line over .050" diameter.
Keep line tight on spool by securing in groove
(Fig. 20).
323
1. (Fig. 18) To remove empty spool, insert widest
possible blade screwdriver snugly into one of two
window slots on the spool hub. With screwdriver
pressed firmly into window slot, twist screwdriver 1/4
turn. Spool will snap off.
1316
Figure 20
Note: Before assembly, be sure to thoroughly
clean out drum area and visually inspect for any
damaged or worn parts.
. The spool and core are keyed and must be
properly aligned when putting spool back on.
With line still retained in spool groove, thread
end of line through eyelet, place spool onto
keyed spool core, and push spool inward until
you hear it click (Fig. 21 & 22). Pull line to free
line from groove in spool. Unwind no more than
three inches of line from spool.
Figure 18
2. To rewind empty spool, follow the steps below:
A. Hook one end of line into groove on spool, allow-
ing no more than 1/8" to protrude. Wind line in
direction of arrows on spool in level rows be-
tween spool flanges (Fig. 19).
315
Figure 21
REPLACING CUTTING LINE
Y
1317
A\ cAUTION
e À loose spool could fly off the trimmer.
® Contact with a thrown spool could cause
injury to the operator or bystanders.
e Be sure spool is fully secured before oper-
ating the unit. Replace spool if it is dam-
aged or does not securely snap on core.
e Keep bystanders and pets away from trim-
ming area.
Figure 22
3. Ifline should tangle or break at eyelet, refeed
cutting line through eyelet by pushing spool in as far
as it will go and threading line back through eyelet.
Or you may remove spool completely, refeed the line
through the eyelet, and reassemble spool to trimmer.
BATTERY DISPOSAL INSTRUCTIONS
BATTERY REMOVAL
1. Lay unit on a flat table with screw heads in hous-
ing facing upwards.
2. Remove (1) self—tapping screw from U—shaped
handle. Remove (2) screws and nuts and (5) self—
tapping screws from the power pack cover and lift off
cover.
3. Lift the battery out of the power pack and dis-
connect the black and red wires from the battery ter-
minals.
DISPOSING OF BATTERY
DO NOT PLACE USED BATTERIES IN YOUR REG-
ULAR TRASH!
THIS SEALED LEAD (ACID) BATTERY MUST BE
COLLECTED, RECYCLED OR DISPOSED OF IN
AN ENVIRONMENTALLY SOUND MANNER.
The incineration, landfilling or mixing of sealed lead
(acid) batteries with the municipal solid waste stream
is PROHIBITED BY LAW in some areas.
Return this battery to a federal or state approved
sealed lead (acid) battery recycler. This may be
where you purchased the battery.
Contact your local waste management officials for
other information regarding the environmentally
sound collection, recycling and disposal of this bat-
tery.
GENERAL MAINTENANCE
A CAUTION
e When trimmer is in operation, the cutting
head is rotating.
e Contact with rotating cutting head could
cause personal injury.
e Always be sure cutting head has com-
pletely stopped rotating before attempt-
ing any maintenance.
1. To keep the exterior clean, just wipe it off with a
damp cloth. Never hose it down.
10
2. Wipe or scrape clean the drum and spool area
any time there is an accumulation of dirt or cuttings.
3. Make sure battery is fully charged and charger is
unplugged from trimmer before storing.
4. Store trimmer in a cool, dry place. Do not store
trimmer in direct sunlight or near a furnace. Storing
trimmer in a warm area will decrease life of battery. If
trimmer must be stored in a warm area, charge the
battery for 24 hours every 2-3 months.
5. Check and tighten all fasteners. If any part is
damaged, repair or replace it.
6. Any other servicing should be performed by an
authorized Toro Service Dealer.
IDENTIFICATION AND ORDERING
The trimmer has two identification numbers: a model To order replacement parts from an Authorized Toro
number and a serial number. The two numbers are Service Dealer, supply the following information.
stamped on a decal that is located on handle tube. 1. Model and serial numbers of the trimmer
. P ipti antity of part
In any correspondence concerning the trimmer, 2. Part number, description, and quantity of part(s)
. desired.
supply the model and serial numbers to ensure
that correct information and replacement parts Note: Do not order by reference number if a parts
are obtained. catalog is being used; use PART NUMBER.
ACCESSORIES
PART NO. DESCRIPTION
88075 Prewound Spool
34-9870 Empty Spool
88011 30" Coil—.050" Cutting Line
TORO SERVICE SUPPORT
If your unit requires service or maintenance, your nearest TORO Master Service Dealer is the best dealer to as-
sist you. Refer to the "Yellow Pages" of your local telephone directory in the section titled "Lawn Mowers."
TORO Master Service Dealers are listed under the TORO trademark. If you need help locating a TORO Master
Service Dealer near you, call 1-800-421-9684 for assistance.
UPL-59729 11
The Toro Promise
A Full Two Year Residential Use Warranty
The Toro Company warrants this TORO Product for two years against defects in material or work-
manship. To receive a replacement or repair, at Toro's option, just return the complete unit, postage
prepaid, to the seller or any TORO Electric Service Dealer or the TORO Service Center, 5300 Shore-
line Blvd., Mound, MN 55364, along with proof of purchase. This warranty covers product defects
only. It does not cover incidental or consequential damages. Some states do not allow the exclu-
sion or limitation of incidental or consequential damages, so the above limitation may not ap-
ply to you. This warranty gives you specific rights, and you may have other rights which vary from
state to state.
COUNTRIES OTHER THAN THE UNITED STATES OR CANADA
Customers who have purchased TORO products exported from the United States or Canada should con-
tact their TORO Distributor (Dealer) to obtain guarantee policies for your country, province, or state. If for
any reason you are dissatisfied with your Distributor's service or have difficulty obtaining guarantee infor-
mation, contact the TORO importer. If all other remedies fail, you may contact us at The Toro Company.

* Your assessment is very important for improving the work of artificial intelligence, which forms the content of this project