Toro 300 Clean Sweep User manual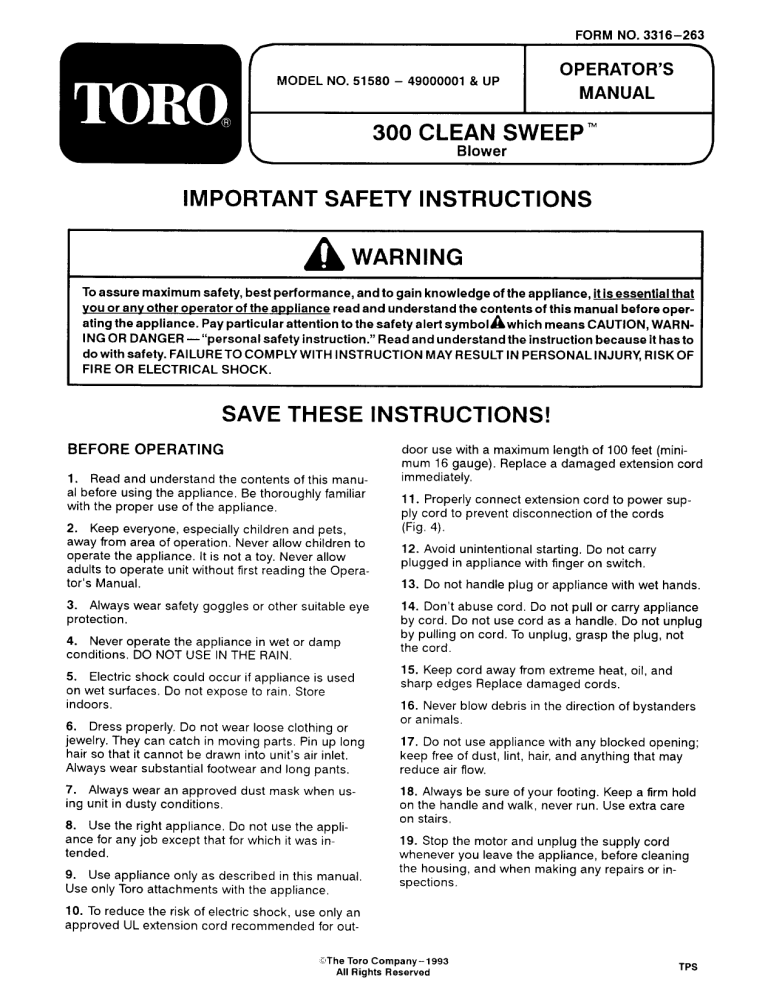 FORM NO. 3316-263
(
MODEL NO. 51580 — 49000001 & UP
OPERATOR'S В
MANUAL
300 CLEAN SWEEP"
Blower
IMPORTANT SAFETY INSTRUCTIONS
A\ WARNING
FIRE OR ELECTRICAL SHOCK.
To assure maximum safety, best performance, and to gain knowledge of the appliance, itis essential that
you or any other operator of the appliance read and understand the contents of this manual before oper-
ating the appliance. Pay particular attention to the safety alert sym bol A which means CAUTION, WARN-
ING OR DANGER — "personal safety instruction." Read and understand the instruction because it has to
do with safety. FAILURE TO COMPLY WITH INSTRUCTION MAY RESULT IN PERSONAL INJURY, RISK OF
SAVE THESE INSTRUCTIONS!
BEFORE OPERATING
1. Read and understand the contents of this manu-
al before using the appliance. Be thoroughly familiar
with the proper use of the appliance.
2. Keep everyone, especially children and pets,
away from area of operation. Never allow children to
operate the appliance. itis not a toy. Never allow
adults to operate unit without first reading the Opera-
tor's Manual.
3. Always wear safety goggles or other suitable eye
protection.
4. Never operate the appliance in wet or damp
conditions. DO NOT USE IN THE RAIN.
5. Electric shock could occur if appliance is used
on wet surfaces. Do not expose to rain. Store
indoors,
6. Dress properly. Do not wear loose clothing or
jewelry. They can catch in moving parts. Pin up long
hair so that it cannot be drawn into unit's air inlet.
Always wear substantial footwear and long pants.
7. Always wear an approved dust mask when us-
ing unit in dusty conditions.
8. Use the right appliance. Do not use the appli-
ance for any job except that for which it was in-
tended.
9. Use appliance only as described in this manual.
Use only Toro attachments with the appliance.
10. To reduce the risk of electric shock, use only an
approved UL extension cord recommended for out-
door use with a maximum length of 100 feet (mini-
mum 16 gauge). Replace a damaged extension cord
immediately.
11. Properly connect extension cord to power sup-
ply cord to prevent disconnection of the cords
(Fig. 4).
12. Avoid unintentional starting. Do not carry
plugged in appliance with finger on switch.
13. Do not handie plug or appliance with wet hands.
14. Don't abuse cord. Do not pull or carry appliance
by cord. Do not use cord as a handle. Do not unplug
by pulling on cord. To unplug, grasp the plug, not
the cord.
15. Keep cord away from extreme heat, oil, and
sharp edges Replace damaged cords.
16. Never blow debris in the direction of bystanders
or animals.
17. Do not use appliance with any blocked opening;
keep free of dust, lint, hair, and anything that may
reduce air flow.
18. Always be sure of your footing. Keep a firm hold
on the handle and walk, never run. Use extra care
on stairs.
19. Stop the motor and unplug the supply cord
whenever you leave the appliance, before cleaning
the housing, and when making any repairs or in-
spections.
©The Toro Company —1993 TPS
All Rights Reserved
ÁN SAFETY INSTRUCTIONS
20. When not in use, store your appliance in a dry
place out of the reach of children.
21. Keep all fasteners tight to be sure the appliance
Is in safe working condition.
22. Never operate without proper guards or other
protective safety devices in place.
23. Do not put hands or feet near rotating parts.
Keep clear at all times.
24. If the appliance should start to vibrate abnor-
mally, stop the motor and check immediately for the
cause. Vibration is generally a warning of trouble.
25. Do not operate your appliance if it is not working
as it should, has been dropped, damaged, left out-
doors, or dropped in water. Return it to your nearest
authorized service dealer for inspection or repair.
26. This appliance is provided with double insula-
tion. Use only identical replacement parts. See page
5 for Servicing of Double Insulation Appliance.
27. When servicing use only identical replacement
parts. Replace or repair damaged cords.
28. This appliance is intended for residential house-
hold use only.
TABLE OF CONTENTS
Page
Assembly Instructions ........ ..... ..... 3
Before Operating ........................... 4
Operating Instructions .................... 4
Maintenance ............................... 5
Page
Product Identification ........... 5
Toro Service Support .......... 5
Maintenance Record .......................... 6
The Toro Promise .................... Back Page
ASSEMBLY INSTRUCTIONS
ATTACH OUTLET TUBE
1. Slide tube onto blower outlet, aligning channel in
tube with locking knob on blower outlet (Fig. 1).
LOCKING
KNOB
CHANNEL
— BLOWER
OUTLET
875
Figure 1
2. Rotate tube clockwise completely until locking
knob snaps into locking detent on tube (Fig. 2).
LOCKING
DETENT
876
Figure 2
3. Be sure tube is fully assembled onto blower. The
nozzle will curve up when blower is held in the nor-
mal operating position (Fig. 3).
N NOZZLE
: CURVING UP
MOTA
871
Figure 3
BEFORE OPERATING
SECURING POWER SUPPLY CORD
Note: The proper extension cord is a requirement for
safe and efficient use of your appliance. Your Toro
blower has been designed for use with cord sizes
recommended in the Extension Cord Chart below.
EXTENSION CORD CHART
If length of extension cord 100 ft. 150 ft.
is less than or equal to:
Assure wire size gauge
(A.W.G.) in cord is: 16 14
Note: Use of extension cord over 150 feet is not rec-
ommended.
ÁN WARNING
e Electric shock can cause injury or death.
e Use only a UL listed extension recom-
mended for outdoor use. Refer to Exten-
sion Cord Chart.
e Don't handle plug or appliance with wet
hands or while standing in water.
1. Secure the power supply cord and a suitable
extension cord as shown in Figure 4.
Note: Do not unplug extension cord by pulling on
cord. To unplug, grasp the plug, not the cord.
704
Figure 4
OPERATING INSTRUCTIONS
BLOWER
Your blower will easily blow debris from patios,
walkways, garages, lawns, bushes, etc. and many
hard to reach places that debris can accumulate.
ÁN CAUTION
e Flying debris can injure operator or by-
standers.
e Always wear safety goggles or other suit-
able eye protection, long pants, and shoes
while operating appliance.
e Never operate unit near bystanders or
pets, etc.
e Use extra care when cleaning debris from
stairs.
To turn blower on, push on/off switch (Fig. 5) to "on"
position. To turn blower off, push on/off switch to
"off" position.
ON/OFF
SWITCH
872
Figure 5
MAINTENANCE
SERVICING DOUBLE -INSULATED knowledge of the system, and should be done only
be qualified service personnel. Replacement parts
APPLIANCE for a double—insulated appliance must be identical
. to the parts they replace. A double—insulated
In a double —insulated appliance, two systems of appliance is marked with the words "DOUBLE INSU-
Insulation are provided instead of grounding. No LATION" or "DOUBLE INSULATED." The symbol
grounding means is provided on a double —insulated
appliance, nor should a means for grounding be
added to the appliance. Servicing a double —
insulated appliance requires extreme care and
(square within a square) [OJ may also be marked on
the appliance.
PRODUCT IDENTIFICATION
A model and a serial number decal is located on the blower housing. Always refer to specific numbers on this
decal in correspondence or when replacement parts are needed.
TORO SERVICE SUPPORT
If your unit requires service or maintenance, your nearest TORO Master Service Dealer is the best dealer to as-
sist you. Refer to the "Yellow Pages" of your local telephone directory in the section titled "Lawn Mowers."
TORO Master Service Dealers are listed under the TORO trademark.
MAINTENANCE RECORD
Date
Hours
Used
The Toro Promise
A Full Two Year Residential Use Warranty
The Toro Company warrants this TORO Product for two years against defects in material or work-
manship. To receive a replacement or repair, at Toro's option, just return the complete unit, postage
prepaid, to the seller or any TORO Electric Service Dealer or the TORO Service Center, 5300 Shore-
line Blvd., Mound, MN 55364, along with proof of purchase. This warranty covers product defects
only. It does not cover incidental or consequential damages. Some states do not allow the
exclusion or limitation of incidental or consequential damages, so the above limitation may
not apply to you. This warranty gives you specific rights, and you may have other rights which
vary from state to state.
COUNTRIES OTHER THAN THE UNITED STATES OR CANADA
Customers who have purchased TORO products exported from the United States or Canada should
contact their TORO Distributor (Dealer) to obtain guarantee policies for your country, province, or state.
If for any reason you are dissatisfied with your Distributor's service or have difficulty obtaining guaran-
tee information, contact the TORO importer. If all other remedies fail, you may contact us at The Toro
Company.

* Your assessment is very important for improving the work of artificial intelligence, which forms the content of this project