Toro 12 Volt Electric Trimmer, Trimmer User manual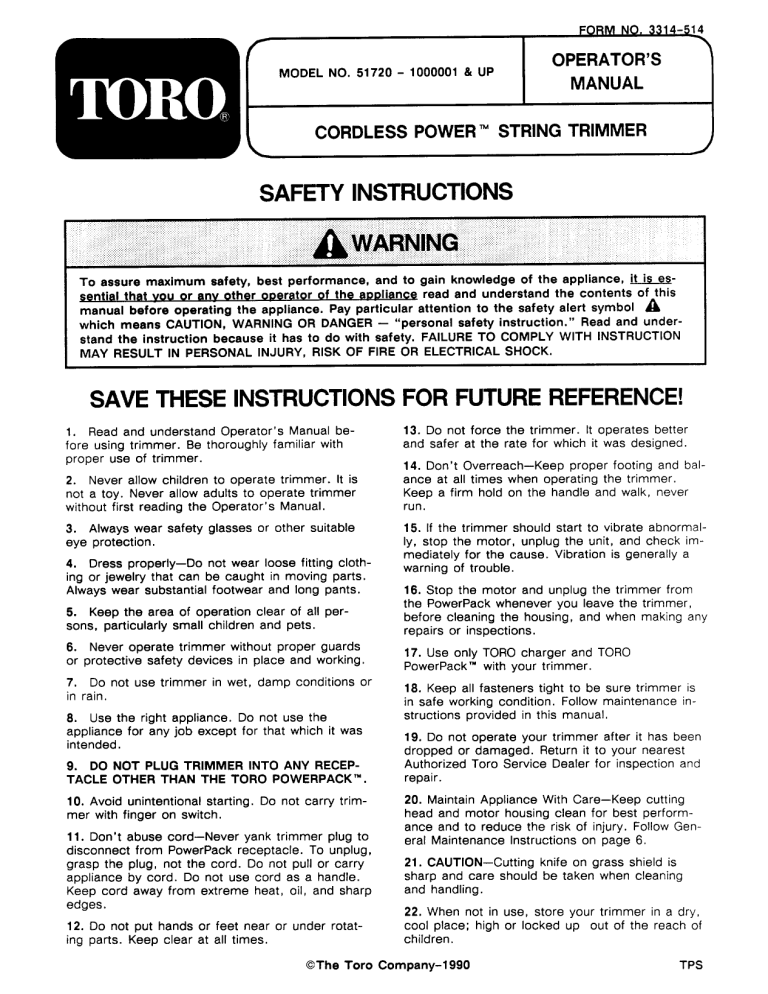 a
MODEL NO. 51720 - 1000001 & UP
FORM NO, 3314-514
OPERATOR'S
MANUAL
N
CORDLESS POWER™ STRING TRIMMER
SAFETY INSTRUCTIONS
To assure maximum safety, best performance, and to gain knowledge of the appliance, it is es-
sential that vou or any other operator of the appliance read and understand the contents of this
manual before operating the appliance. Pay particular attention to the safety alert symbol
which means CAUTION, WARNING OR DANGER — "personal safety instruction." Read and under-
stand the instruction because it has to do with safety. FAILURE TO COMPLY WITH INSTRUCTION
MAY RESULT IN PERSONAL INJURY, RISK OF FIRE OR ELECTRICAL SHOCK.
SAVE THESE INSTRUCTIONS FOR FUTURE REFERENCE!
1. Read and understand Operator's Manual be-
fore using trimmer. Be thoroughly familiar with
proper use of trimmer.
2. Never allow children to operate trimmer. It is
not a toy. Never allow adults to operate trimmer
without first reading the Operator's Manual.
3. Always wear safety glasses or other suitable
eye protection.
4. Dress properly—Do not wear loose fitting cloth-
ing or jewelry that can be caught in moving parts.
Always wear substantial footwear and long pants.
5. Keep the area of operation clear of all per-
sons, particularly small children and pets.
6. Never operate trimmer without proper guards
or protective safety devices in place and working.
7. Do not use trimmer in wet, damp conditions or
in rain,
8. Use the right appliance. Do not use the
appliance for any job except for that which it was
intended.
9. DO NOT PLUG TRIMMER INTO ANY RECEP-
TACLE OTHER THAN THE TORO POWERPACK™.
10. Avoid unintentional starting. Do not carry trim-
mer with finger on switch.
11. Don't abuse cord—Never yank trimmer plug to
disconnect from PowerPack receptacle. To unplug,
grasp the plug, not the cord. Do not pull or carry
appliance by cord. Do not use cord as a handle.
Keep cord away from extreme heat, oil, and sharp
edges.
12. Do not put hands or feet near or under rotat-
ing parts. Keep clear at all times.
13. Do not force the trimmer. It operates better
and safer at the rate for which it was designed.
14. Don't Overreach—Keep proper footing and bal-
ance at all times when operating the trimmer.
Keep a firm hold on the handle and walk, never
run.
15. If the trimmer should start to vibrate abnormal-
ly, stop the motor, unplug the unit, and check im-
mediately for the cause. Vibration is generally a
warning of trouble.
16. Stop the motor and unplug the trimmer from
the PowerPack whenever you leave the trimmer,
before cleaning the housing, and when making any
repairs or inspections.
17. Use only TORO charger and TORO
PowerPack™ with your trimmer.
18. Keep all fasteners tight to be sure trimmer is
in safe working condition. Follow maintenance in-
structions provided in this manual.
19. Do not operate your trimmer after it has been
dropped or damaged. Return it tO your nearest
Authorized Toro Service Dealer for inspection and
repair.
20. Maintain Appliance With Care—Keep cutting
head and motor housing clean for best perform-
ance and to reduce the risk of injury. Follow Gen-
eral Maintenance Instructions on page 6.
21. CAUTION—Cutting knife on grass shield is
sharp and care should be taken when cleaning
and handling.
22. When not in use, store your trimmer in a dry,
cool place; high or locked up out of the reach of
children.
©The Toro Company-1990 TPS
A) SAFETY INSTRUCTIONS
23. WARNING—To reduce risk of electrical shock 25. This appliance is intended for residential
or fire, replace charger immediately if case or household use only.
cord is damaged.
24. Do not attempt to repair trimmer. Have repairs
made by your local Authorized Toro Service Deal-
er. Use only identical TORO replacement parts.
dA SAFETY DECALS
Safety decals and instructions are easily visible to the operator and are located
near any area of potential danger. Replace any decal that is damaged or lost.
(12 VOLTS D.C. USE ONLY WITH TORO BATTERY )
PACK MODEL NUMBER 51710. _ x
= EC
à CAUTION: EYE PROTECTION SHOULD BE 38 uu
WORN BY THE OPERATOR OF THIS UNIT. SEE OPERATORS | > Zo
MANUAL FOR SAFETY AND OPERATING INSTRUCTIONS. 8 SIN
= un —
ÁN WARNING: KEEP HANDS, FEET, AND FACE ED =
CLEAR OF ROTATING FILAMENT LINE. WHEN SERVICING SF O MM
USE ONLY IDENTICAL REPLACEMENT PARTS. a = O
USE ONLY .050" NYLON U LISTED
MONOFILAMENT CUTTING LINE. "L/ 957U
| THE TORO COMPANY, MOUND, MN 55364 U.S.A. 1 2 3 4 |
ON METAL TUBING
CONNECTING TRIMMER TO POWERPACK 1. To avoid tangling line during shipment, the tip
(Fig. 1) of the monofilament line has bean taped to the
head assembly. The tape must be removed before
1. Insert trimmer plug into Toro PowerPack" re- operation (Fig. 2).
Ceptacle. Make sure the plug is all the way in the
receptacle before beginning operation.
— —
RECEPTACLE 7 |
Fi 1
igure MONOFILAMENT TAPE
CUTTING LINE (Figs. 2 & 3)
: Figure 2
NOTE: The cutting line for your trimmer is a spe- au
cial monofilament line. Your trimmer comes com-
plete with a 12 foot supply of this line already 2. After each use, either retape or loop the line
wound onto the spool. through the eyelet to prevent unraveling (Fig. 3).
2
ASSEMBLY INSTRUCTIONS
—
WN
Figure 3
OPERATING INSTRUCTIONS
few minutes. Then reset the circuit breaker by
pushing the button on the side of the PowerPack
and continue. If the circuit breaker opens immedi-
ately, the system should be inspected by an Au-
thorized Toro Electric Service Dealer.
eye protection and long pants while operating
trimmer.
Note: CHARGE POWERPACK IMMEDI-
ATELY AFTER EACH USE.
1. Inspect area to be trimmed for any wire, cord
or string-like matter which could become en-
tangled in the rotating line.
aETITECeNa
qna EEE!
E.
ALAN
2. Hold the assist handle with one hand while op- N'a
erating the on/off switch bar with the other hand.
3. To turn the trimmer on, squeeze the switch
bar on handle (Fig. 4). The switch bar must be
depressed for the trimmer to run.
CIRCUIT
BREAKER
BUTTON
Figure 5
5. To turn the trimmer off, release the switch
bar. The trimmer will stop seconds after switch is
released.
Ш Do not invert trimmer until cutting head has
4. It is possible under extreme use conditions to completely stopped rotating and trimmer has
trip the circuit breaker in the PowerPack" been unplugged from PowerPack.
(Fig. 5). If this occurs, allow the tool to rest for a
OPERATING INSTRUCTIONS
TIPS FOR BEST TRIMMING RESULTS
Your trimmer will cut grass and small weeds in
difficult and hard to reach places. However, you
will experience some line breakages during your
first few uses. As you learn the trimming tech-
niques, you will be able to cut areas around tress,
shrubs, foundation walls, along fences, sidewalks,
patios, etc., with minimal line wear or breakage.
1. Hold the cutting head parallel to the ground,
and the cutting head will be at the correct angle
with the grass to be trimmed.
2. DO NOT FORCE THE UNIT. Allow the very tip of
the nylon line to do the cutting (especially along
walls) (Fig. 6). Cutting with more than the tip will
reduce cutting efficiency and overload the motor.
Figure 6
The tip of the cutting line will wear during use and
cause a reduction in the cutting swath. If the line
is not advanced occasionally, it will wear down to
the drum eyelet. When the trimmer is stopped,
the line tends to relax and may retract into the
drum. Should this occur, unplug the PowerPack
and be sure to replace the cutting line in the prop-
er position before restarting the trimmer or the
line may tangle around the drum.
3. Grass over 8 inches tall should be cut by
working from the top to the bottom in small incre-
ments to avoid premature line wear or motor
drag.
4. Whenever possible, cut to your left. When cut-
ting to the left, the unit's cutting efficiency is
somewhat better since the line is contacting the
grass as soon as it leaves the guard, and the clip-
pings are moving away from the operator.
5. Slowly move the trimmer into and out of the
area being cut, maintaining trimmer at desired
cutting height. This can be either a forward-back-
ward or side-to-side motion (Figs. 7 & 8). Main-
tain top speed for best cutting.
6. Trim only when grass and weeds are dry.
7. The life of your cutting line is dependent upon
following the previously stated trimming tech-
niques, as well as what is being cut, and where
4
the cutting is being done. For example, line will
wear faster when trimming against a foundation
wall as opposed to trimming around a tree. Some
line breakage will occur from moving unit too fast,
from entanglement with foreign matter, from nor-
mal line fatigue, and from attempting to cut thick,
stalky weeds in excess of unit's capability. As cut-
ting line wears, for best performance, lengthen as
indicated in Lengthening Cutting Line procedure.
= =
Mi А ДДТ
Figure 7
Forward-backward cutting motion
%
=
MULTI] IEA YA AY IZAN TA with
Figure 8
Side-to-side cutting motion
8. Never drag the trimmer spool cap on the
ground while trimming. This causes unnecessary
battery drain and spool cap wear (Fig. 9).
Figure 9
OPERATING INSTRUCTIONS
LENGTHENING CUTTING LINE (Fig. 10)
1. To lengthen line, firmly tap spool on the
ground while the motor continues to run. The line
will be fed from the spool and cut off to the prop-
er length by the cutting knife attached to the
shield.
Remember to keep the trimmer running while
lengthening the line. Just tap the trimmer on the
ground; do not hold it on the ground. After the tap
and the line has fed out, wait until you hear the
line being cut to the proper length before continu-
ing to trim.
Figure 10
Note: To help prevent line tangle, tap once only to
lengthen line. If additional line is required, wait a
few seconds before retapping trimmer head. Do
not allow line to wear too short. Keep line length
at 9" diameter as much as possible.
2. Lengthen the line only when line has been
shortened by wear. Unnecessary lengthening will
waste line.
Note: The spoo! cap may wear during normal use
of the line advance feature and may require occa-
sional replacement. Replacements are available
through your local Toro retailer.
For optimum performance, use only TORO
.050" nylon monofilament cutting line. The
trimmer will not perform the way it is de-
signed to if another weight of cutting line
is used.
REPLACING CUTTING LINE
Replacement line or prewound replacement spools
can be purchased from your local Toro retailer.
The cutting line used by TORO is specially formu-
lated for use on your trimmer. Other line may not
provide the same high quality performance.
Always be sure cutting head has completely
stopped rotating and trimmer is unplugged
from PowerPack™ before inverting it.
1. To remove empty spool, insert widest possible
blade screwdriver snugly into one of the two win-
dow slots on the spool hub and twist screwdriver
1/4 turn (Fig. 11). Spool will snap off.
Figure 11
2. To rewind empty spool, follow these steps:
A. Hook one end of line into groove on spool, al-
lowing no more than 1/8" to protrude. Wind
line in direction of arrows on spool in level rows
between spool flanges as shown in Figure 12.
Note: Trimmer will not function properly if line
is wound in the wrong direction.
B. Do not wind more than 12 feet of line onto
spool. Do not use line over .050" diameter.
WIND LINE
Figure 12
C. Keep line tight on spool by making a hook in
the line and secure in groove (Fig. 13).
Note: Before reassembly, be sure to thoroughly
clean out drum area and visually inspect for
any damaged or worn parts.
OPERATING INSTRUCTIONS
Figure 13
D. The spool and the core are keyed. Be sure
they are properly aligned when putting spool
back on (Fig. 14). Thread end of line through
eyelet, place spool on keyed core, and push in
place until you hear it click (Figs. 14 & 15). Pull
line free from groove in spool. Unwind no
more than 3 inches from spool.
3. If line should tangle or break at eyelet, refeed
cutting line through eyelet by pushing spool in as
far as it will go and threading line back through
eyelet. Or you may remove spool completely, re-
feed the line through the eyelet, and reassemble
spool to trimmer.
<>
Figure 14
=
Figure 15
GENERAL MAINTENANCE
Always be sure your trimmer is stopped
and unplugged from PowerPack™ before
attempting any maintenance.
1. To keep the exterior clean, just wipe it off with
a damp cloth—never hose it down.
2. Wipe or scrape clean the drum and spool area
anytime there is an accumulation of dirt or cut-
tings.
3. Check and tighten all fasteners. If any part is
damaged, repair or replace it.
4. Air exhaust vent is located on underside of
shield (Fig. 16). Scrape vent clean regularly.
5. Wipe debris from air intake holes in motor
housing (Fig. 16).
IMPORTANT: Keeping intake and exhaust vents
free of grass and debris prevents motor overheat-
ing and possible failure.
6
7
Air Exhaust
Vent
Air Intake
a Holes
Figure 16
6. Make sure the PowerPack is unplugged from
trimmer before storing.
7. Store trimmer in a cool, dry place. Do not
Store trimmer in direct sunlight or near a furnace.
8. Any other servicing should be performed by an
authorized Toro Electric Service Dealer.
PRODUCT IDENTIFICATION
A model and serial number decal is located on the lower portion of the chrome tube. Always refer to spe-
cific numbers on this decal in correspondence or when replacement parts are needed.
TORO SERVICE SUPPORT
If help—concerning safety, set-up, operation, maintenance, or troubleshooting—is ever needed, contact
the local Authorized Toro Electric Service Dealer or Distributor. Refer to the "Yellow Pages" for assis-
tance. In addition to skilled service technicians, the dealer and distributor have factory approved accesso-
ries and replacement parts. Keep your Toro all TORO. Buy genuine TORO replacement parts and accesso-
ries.
O e
a
==
The Toro Promise
Cordless Power Products
A One Year Full Residential Use Warranty
The Toro Company warrants this TORO product for one year against defects in material or
workmanship. To receive a replacement or repair, at Toro's option, just return the complete
unit, postage prepaid, to the seller or any TORO Electric Service Dealer or the TORO Service
Center, 5300 Shoreline Blvd., Mound, MN 55364, along with proof of purchase. This warranty
covers product defects only. It does not cover incidental or consequential damages. Some
states do not allow the exclusion or limitation of incidental or consequential damages, so
the above limitation may not apply to you. This warranty gives you specific rights, and you
may have other rights which vary from state to state.

* Your assessment is very important for improving the work of artificial intelligence, which forms the content of this project