Toro 3.5 hp Edger User manual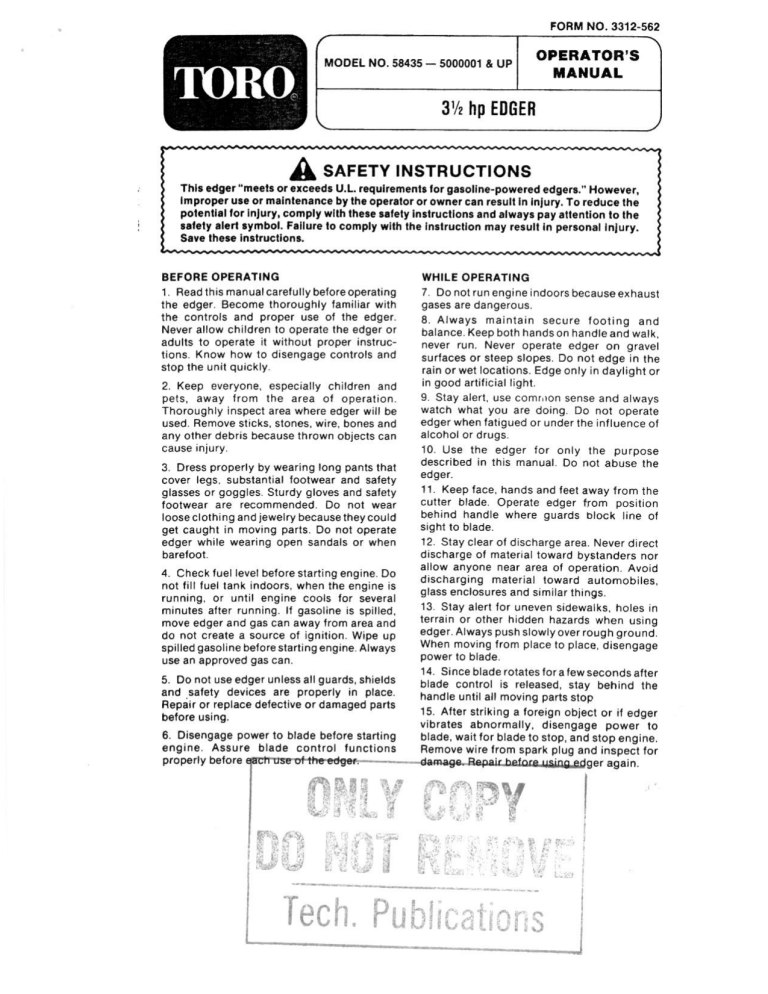 FORM NO. 3312-562
MODEL NO. 58435 — 5000001 & UP
OPERATOR'S X
MANUAL
pag WWE WE Wg wee WE ag ae a
Save these instructions.
de aie 0 0 0 mo ER EE ah SN инь инь, NL инь
BEFORE OPERATING
1. Read this manual carefully before operating
the edger. Become thoroughly familiar with
the controls and proper use of the edger.
Never allow children to operate the edger or
adults to operate it without proper instruc-
tions. Know how to disengage controls and
stop the unit quickly.
2. Keep everyone, especially children and
pets, away from the area of operation.
Thoroughly inspect area where edger will be
used. Remove sticks, stones, wire, bones and
any other debris because thrown objects can
cause injury.
3. Dress properly by wearing long pants that
cover legs, substantial footwear and safety
glasses or goggles. Sturdy gloves and safety
footwear are recommended. Do not wear
loose clothing and jewelry because they could
get caught in moving parts. Do not operate
edger while wearing open sandals or when
barefoot.
4. Check fuel level before starting engine. Do
not fill fuel tank indoors, when the engine is
running, or until engine cools for several
minutes after running. If gasoline is spilled,
move edger and gas can away from area and
do not create a source of ignition. Wipe up
spilled gasoline before starting engine. Always
use an approved gas can.
5. Do not use edger unless all guards, shields
and safety devices are properly in place.
Repair or replace defective or damaged parts
before using.
6. Disengage power to blade before starting
engine. Assure blade control functions
properly before Pe ee mt
E. E
a
1 =
3'2 hp EDGER
A\ SAFETY INSTRUCTIONS
This edger "meets or exceeds U.L. requirements for gasoline-powered edgers." However,
Improper use or maintenance by the operator or owner can result in injury. To reduce the
potential for injury, comply with these safety instructions and always pay attention to the
safety alert symbol. Failure to comply with the instruction may result in personal injury.
WHILE OPERATING
7. Donot run engine indoors because exhaust
gases are dangerous.
8. Always maintain secure footing and
balance. Keep both hands on handle and walk,
never run. Never operate edger on gravel
surfaces or steep slopes. Do not edge in the
rain or wet locations. Edge only in daylight or
in good artificial light.
9. Stay alert, use common sense and always
watch what you are doing. Do not operate
edger when fatigued or under the influence of
alcohol or drugs.
10. Use the edger for only the purpose
described in this manual. Do not abuse the
edger.
11. Keep face, hands and feet away from the
cutter blade. Operate edger from position
behind handle where guards block line of
sight to blade.
12. Stay clear of discharge area. Never direct
discharge of material toward bystanders nor
allow anyone near area of operation. Avoid
discharging material toward automobiles,
glass enclosures and similar things.
13. Stay alert for uneven sidewalks, holes in
terrain or other hidden hazards when using
edger. Always push slowly over rough ground.
When moving from place to place, disengage
power to blade.
14. Since blade rotates for a few seconds after
blade control is released, stay behind the
handle until all moving parts stop
15. After striking a foreign object or if edger
vibrates abnormally, disengage power to
blade, wait for blade to stop, and stop engine.
Remove wire from spark plug and inspect for
-damage.- Repair before using edger again.
SAFETY INSTRUCTIONS
16. Do not try to remove cut material or hold
material to be cut when engine is running or
when blade is rotating. Disengage power to
blade, stop engine and disconnect wire from
spark plug before clearing jammed material
from cutter blade and belt area.
17. Before leaving operator's position, dis-
engage power to blade, wait for blade to stop,
and stop engine. Disconnect wire from spark
plug if edger will be unattended or not used.
18. Do not touch muffler or engine while it is
running or shortly after it is stopped because
muffler and engine may be hot enough to
cause a burn.
19. Perform only those maintenance instruc-
tions described in this manual. If major repairs
are ever needed or if assistance is desired,
contact an Authorized TORO Service Dealer.
MAINTENANCE
20. Before edger is cleaned, inspected,
serviced, adjusted or transported, disengage
power to blade and wait for blade to stop. Stop
engine and disconnect wire from spark plug.
Keep wire away from spark plug to prevent
accidental starting.
21. To assure edger is in safe operating
condition, frequently check and keep all nuts,
bolts and screws tight. Assure blade nut is
tightened to proper specification.
22. Toreduce fire hazard, keep engine free of
excessive grease, grass, leaves and accumu-
lations of dirt.
23. Allow engine to cool before storing edger
in any enclosure. Do not store edger near any
open flame or where gasoline fumes may be
ignited by a spark. Do not store edger in a car
trunk or truck.
24. Do not overspeed the engine by changing
governor settings.
25. When notin use, store edger in a dry place
in an area that can be locked or is otherwise
inaccessible to children.
26. At the time of manufacture the edger
conformed to the safety standards in effect for
edgers. To assure optimum performance and
continued safety certification of the edger,
use genuine TORO replacement parts and
accessories. Replacement parts and acces-
sories made by other manufacturers may
result in non-conformance with the safety
standards, and that could be dangerous.
SAFETY DECALS
Safety decals and instructions are easily visible to the operator and are located
near any area of potential danger. Replace any decal that is damaged.
A WARNING: DIRECTION OF CUTTING MEMBER ROTATION.
A CAUTION: TO REDUCE THE LIKELIHOOD OF CONTACT
WITH CUTTING MEMBER, STAY AWAY FROM THIS OPENING.
ON BLADE GUARD (Part No. 52-0400)
A WARNING
USE EYE PROTECTION. ROTATING CUTTING MEMBER MAY
THROW OBJECTS. READ OPERATOR'S MANUAL BEFORE USE.
KEEP AREA CLEAR OF BYSTANDERS. TO REDUCE THE RISK
OF INJURY. DO NOT OPERATE WITHOUT GUARDS IN PLACE.
ON LOWER HANDLE (Part No. 52-0570)
OPERATING INSTRUCTIONS
TO START: TURN FUEL SHUT-OFF LEVER AND ENGINE
SWITCH TO "ON POSITIONS. ROTATE CHOKE LEVER IK
DIRECTION OF ARROW. PULL RECOIL. RETURN CHOKE LEVER
AFTER STARTING
TO STOP: RETURN ENGINE SWITCH TO "OFF" POSITION.
4A CAUTION cLOSE FUEL SHUT-OFF VALVE WHEN
ENGINE IS NOT IN OPERATION.
ON ENGINE
(Part No. 52-3370)
TABLE OF CONTENTS
Page
Ba-UD INST UCHONE «oss asain 3
Before Operating ........0.000000000 0000000 4
Operating Instructions .................. 5-6
Maintenance ovo wens es wise vm 7-9
Servicing Air Cleaner .........w.e rre... 7
Adjusting Carburetor 1:40 7
Draining Gasoline .......—e-—e—..._.—e.-.. 7
Cleaning Cooling System .............. 7
Replacing Spark Plug ........ dcr a cata В
Page
Chang Os orareanrmea game pan rar "В
Cleaning and Lubricating Pivot Arm .... 8
Lubricating Wheel Bearings ............ 8
Fapiacing Blade === co 9
Cleaning SedimentBowl ............... 9
OO EEE 10
Toro Service Support .............e..e.. 10
Maintenance Interval Chart.............. 10
2 "The Toro Company — 1985
SET-UP INSTRUCTIONS
INSTALL UPPER HANDLE (Fig. 1)
1. Remove upper carriage bolts and lock nuts
from lower handle.
2. Pivot handle upright and install carriage
bolts and lock nuts. Tighten all four nuts to
secure handle in place.
UPPER
HANDLE //
INSTALL BLADE CONTROL ASSEMBLY
1. Screw lock knob and hand grip onto lower
rod until they cannot be turned any further
(Fig. 2).
HAND
GRIP
LOCK
KNOB
LOWER
ROD
Figure 2
2. Screw hand grip and lower rod assembly
about one inch onto upper rod (Fig. 3). Insert
ball joint at end of lower rod through the pivot
lever (Fig. 3 inset), but do not install lock nut.
UPPER
ROD
``
>
SCREW ENTIRE
ASSEMBLY 1" ONTO
UPPER ROD
BALL JOINT w=
THROUGH
PIVOT LEVER
Figure 3
3. CHECK ADJUSTMENT — When blade/
clutch lever is squeezed against handle,
distance between top of wheel frame and
bottom of spring arm must be 1/16" (Fig. 4). If
adjustment is correct, go to step 4. If adjust-
ment is required, remove ball joint from pivot
lever and go to step 3A or 3B.
A. Toincrease space — Screw hand grip and
lower rod assembly off upper rod, one
turn at a time.
B. To decrease space — Screw hand grip
and lower rod assembly onto upper rod,
one turn at a time.
SPRING
ARM
1/16"
TOP
OF FRAME
Figure 4
4. Install ball joint through the pivot lever
(Fig. 3 inset) and install lock nut. Tighten nut
securely.
5. Adjust edging depth: refer to Adjusting
Edging Depth, page 6.
BEFORE OPERATING
ADD OIL
1. Position edger on level surface. Clean
around oil fill plug (Fig. 5) and remove plug
from engine.
A
\ у) OIL
FILL
Figure 5
2. Fill oil sumpto point of overflowing with 25
ounces of oil and install oil fill plug securely.
Recommended SAE Viscosity Oil Grades
OIL RECOMMENDATIONS
|
"F-20 0 20 40 60 80 100
1 | I 1 1 1 1 1
"cao 70 -10 0 10 20 30 40
TEMPERATURE RANGE ANTICIPATED BEFORE |
NEXT OIL CHANGE
Use APM. Classification MS, SC, SD or SE.
Note: Check oil level each time edger is used
or after every 5 operating hours. To check,
remove fill plug, wipe dipstick and insert, but
DO NOT screw into engine (Fig. 6). Pull
dipstick and read level. Initially, change oil
after the first 2 hours of operation; thereafter,
change oil after every 50 hours of operation.
More frequent oil changes are required in
dusty or dirty conditions.
4
FULL
25 OZ (.735 L)
=== ни — O A N BE
—s — ни ¡UL
— E —]— — ¡Ms === Бин:
— a === === скины: вы ¡Mi ==
инь = == си и
— — = —
Figure 6
ADD GAS
The Toro Company strongly recommenas the
use of clean, fresh unleaded regular grade
gasoline in Toro gasoline powered products.
Unleaded gasoline burns cleaner, extends
engine life, and promotes good starting by
reducing the build-up of combustion chamber
deposits. Leaded gasoline can be used if
unleaded is not available.
Retuel outdoors, only when engine is cold. Fill
tank to within 1/2" (13 mm) from its top. This
space is for expansion of fuel. Use funnel or
spout to prevent spilling. Wipe up any spilled
gas.
1. Remove gas cap and fill tank to within 1/2-
inch (13 mm) from the top with fresh unleaded
regular gasoline.
2. Install gas cap and wipe up any spilled
gasoline.
IMPORTANT: Do not mix oil with the gasoline.
Never use methanol, gasoline containing
methanol, gasohol containing more than 10%
ethanol, gasoline additives, premium gaso-
line, or white gas because engine fuel system
damage could result.
RP A ATT a a am a AR re a ow om
EEC NN a Ng Ч TS
A ee
Gasoline is extremely flammable and
explosive under certain conditions. Do
not smoke when handling fuel and keep
fuel far away from open flames and
sparks. Never buy more than a 30 day
supply of gasoline. Store gasoline in an
approved container and keep it out of the
reach of children.
ae ile ile ile alin ail
=P a" Nal Nal gl gl gg i ый
ae am am
O ECOS OCN NP MP a
Sle ie Em RE CE
aie le aie aie. me a am a on
AEE NE Ng Nr ar Ng a
Ac AA lla ña — — e.
NAO De Di ie A NE ge
TE NN a Ч a a N
OPERATING INSTRUCTIONS
STARTING, STOPPING, EDGING
1. CONTROLS — Blade/clutch lever is on
upper handle (Fig. 7), depth adjusting grip is at
center of rod (Fig. 12) and ignition switch is at
side of engine (Fig. 9).
BLADE/CLUTCH
LEVER
Figure 7
2. STARTING — Push wire onto spark plug
and assure blade control is disengaged. Close
choke by moving lever to right (Fig. 8). Awarm
engine will require little or no choking. Rotate
ignition switch and fuel shut-off to ON (Fig. 9).
Place foot on rear wheel and pull recoil starter.
When engine starts, gradually open choke by
moving lever to left.
CHOKE |
OPEN
CLOSE
an | A "E
— Ha
o YU
ce o 11M
=— m1
— В
| CA A
Figure 8
3. EDGING — Squeeze blade/clutch lever
(Fig. 7) against handle to engage blade and
move cutter to preset depth. Release blade/
clutch lever to disengage blade and raise
cutter head.
4. STOPPING — Release blade/clutch lever
(Fig. 7). Rotate ignition switch and fuel shut-
off to OFF (Fig. 9).
IGNITION
SWITCH
FUEL
SHUT-OFF
Figure 9
i i i oi ie me ie i aie ai ge gin ie ie le i i i i ie ii
J
4
,
|
Stay behind handle until blade stops
spinning. Contact with spinning blade
) may cause injury.
PEPE EP PEE PE EP EP
"aa" om a a
Se alin ie aie aie gi ai ale aie aie iN бы ie ge de die aie gine ie ie gi SNe Ne ae EN Ne Gl ER. Ee. ame
El" "a aa a aa EEE E gt Na Ng Na a at a
OPERATING TIPS
The new Toro Edger puts the finishing touch
on a beautiful lawn in minutes. It will edge
along the walk, driveway, curb, flower bed and
similar objects.
TÁ canon]
De not stand in line |
with cutter head.
Stand directly be-
hind the handle.
Peale eri,
Figure 10
For best results adjust blade edging depth
from 1/2to 1-inch deep. Edging too deeply will
put an unnecessary load on the engine and
cause premature blade wear. Not edging
deeply enough allows grass to grow back
sooner than normal. Be sure to adjust edging
depth as blade wears.
5
OPERATING INSTRUCTIONS
OPERATING TIPS (Continued)
Do not force the edger. Move the edger ahead
at moderate speeds. Best edging appearance
will result when grass is dry. Avoid edging wet
grass because the blade may clog and the
lawn may take on an irregular edge.
ADJUSTING EDGING DEPTH
Edging depth is adjustable up to 3%" deep.
1. Position edger on level surface and move
blade to vertical position.
2. CHECK EDGING DEPTH (Fig. 11) —
Squeeze blade/clutch lever against handle.
Space between bottom of tire and ground is
actual blade edging depth. If adjustment is
required, go to step 3.
o
|
(
VERTICAL
BLADE EDGING
DEPTH
Figure 11
3. ADJUSTING DEPTH (Fig. 12) — Grasp
lock knob and grip. Rotate grip counterclock-
wise until lock knob is free. Screw lock knob
down rod so it is out of the way. Then rotate
grip clockwise to increase depth and counter-
clockwise to decrease depth.
INCREASE |
DEPTH
DECREASE
DEPTH
LOCK KNOB
RELEASED FROM
GRIP
Figure 12
4. To lock adjustment in place, screw lock
knob tightly against grip until knob bottoms
out against metal sleeve on inside of grip.
ADJUSTING BLADE TILT (Fig. 13)
From the normal vertical position, blade can
be adjusted to three other positions for taper-
ed (-15°, +15°, and +30°),
1. Release blade/clutch lever and stop engine.
2. Pull back on tilt lever and move it into
desired notch in bracket.
; A TY
= Y VERTICAL
Ci
+15"
TN
Figure 13
ADJUSTING DROP WHEEL (Fig. 14)
The adjustable drop wheel lets you edge along
curbs and similar objects. Simply loosen the
adjusting knob and slide the wheel assembly
up or down until edger is level. Then tighten
knob and start edging.
Figure 14
MAINTENANCE
y euren
Pull wire off spark plug before perform-
ing adjustments or maintenance. After
engine is rum, stay away from muffler
and nearby engine areas because they
could be hot enough to cause burns.
Sle ai Ee. Ee Sie Ne Sm om. am Sam ie oie. me me
"0 НН,
SERVICING AIR CLEANER (Fig. 15)
Normally, clean air cleaner after every 25
operating hours. More frequent cleaning is
required when engine is operated in dusty or
dirty conditions.
1. Stop engine and pull wire off spark plug.
2. Unsnap latch and remove air cleaner cover.
If foam element is dirty, remove it from air
cleaner body and clean thoroughly.
ELEMENT
CY
LATCH
Na
Figure 15
A. Wash element in solution of liquid soap
and warm water. Squeeze to remove
dirt but do not twist because foam may
tear.
B. Dry by wrapping in a clean rag.
Squeeze rag and foam element to dry.
C. Saturate element with 5 teaspoons of
engine oil. Squeeze element to remove
excess oil and to thoroughly distribute
oil. A damp element is desirable.
3. Install foam element and air cleaner cover.
Outer lip of air cleaner element must extend
beyond outer edges of air cleaner body.
4. Install spark plug wire.
IMPORTANT: Do not operate engine without
air cleaner element because extreme engine
wear and damage will likely result.
ADJUSTING CARBURETOR (Fig. 16)
The carburetor is set at the factory and
normally adjustments are not required. How-
ever, if carburetoris serviced and screws must
be adjusted, use the following settings:
Idle Speed Setting — 2% turns open
Idle Mixture Screw Setting —
1% turns open
Figure 16
1. To re-set idle mixture screw, gently turn
screw clockwise until it just closes. Carburetor
may be damaged by turning screw too tightly.
2. Open adjustment screw to prescribed
setting.
3. Repeat steps 1 and 2 for idle speed screw.
DRAINING GASOLINE
1. Stop engine and pull wire off spark plug.
2. Remove cap from gas tank and use pump-
type syphon to drain fuel into clean gas can.
Note: This is the only procedure recommended
for draining fuel.
3. Install spark plug wire.
CLEANING COOLING SYSTEM
Aîter every 75 operating hours (more
frequently when dusty or dirty), clean dirt and
chaff from cylinder, cylinder head fins and
from around carburetor and linkage. Also
remove debris from air intake slots on recoil
housing. This will assure proper cooling and
optimum engine performance.
MAINTENANCE
REPLACING SPARK PLUG (Fig. 17)
Use an NGK BP5HS spark plug or equivalent.
Correct air gap is 0.028" - 0.031" (0.7-0.8mm).
Remove plug after every 25 operating hours
and check its condition.
008
= me = E 0.028" . 0.031"
aa E (0.7 - 0.8 mm)
но S =
Ne se xix
Figure 17
1. Stop engine and pull wire off spark plug.
2. Clean around spark plug and remove plug
from cylinder head.
IMPORTANT: Replace a cracked, fouled or
dirty spark plug. Do not sand blast, scrape or
clean electrodes because engine damage
could result from grit entering cylinder.
3. Set air gap. Install correctly gapped spark
plug and gasket seal. Tighten plug firmly to 15
ft-lb (20.4 N-).
CHANGING OIL (Fig. 18)
Change oil after the first 2 operating hours and
after every 50 hours thereafter. Since warm oil
drains better and carries more contaminants
Figure 18
than cold oil, run engine for a minute or so
before draining oil.
1. Stop engine and pull wire off spark plug.
2. Drain gasoline: refer to Draining Gasoline,
page 7.
3. While holding front of edger up slightly,
remove oil fill and drain plugs (Fig. 1). Slowly
tip forward and empty all oil into drain pan. Tip
up and down several times to ensure oil drains
completely.
4. Install oil drain plug and tighten firmly. Fill
oil sump with proper oil: refer to Add Oil,
page 2.
5. Install spark plug wire.
CLEANING AND LUBRICATING
PIVOT ARM (Fig. 19)
After every 25 operating hours, more often in
dusty or dirty conditions, clean entire pivot
arm assembly and lubricate it with #2 general
purpose grease.
1. Clean grease fittings and surrounding area.
2. Continue to apply grease until noticeable
amount overflows. This helps force dirt out of
pivot assembly.
0
FITTINGS
Figure 19
LUBRICATING WHEEL BEARINGS (Fig. 20)
After every 25 operating hours, more often in
dusty or dirty conditions, lubricate wheel bear-
ings with #2 general purpose grease.
1. Clean grease fitting and surrounding area.
2. Apply two pumps of grease to each wheel
bearing.
MAINTENANCE
GREASE
FITTING
LS
Figure 20
REPLACING BLADE (Fig. 21)
The edger has a 10-inch blade that gradually
wears because of use. Replace blade if it wears
down to 5 inches or less.
WASHER
SQUARED
BEARING \
SHIELD \ NUT
Figure 21
1. Stop engine and pull wire off spark plug.
2. Using 1%-inch wrench, hold squared bear-
ing shield and remove blade nut and washer,
Slide blade and washer off spindle.
3. Install new blade, existing washers and
blade nut in sequence shown. Tighten nut to
40-60 ft-Ib.
CLEANING SEDIMENT BOWL (Fig. 22)
Clean sediment bowl after every 50 operating
hours.
1. Stop engine. Remove wire from spark plug.
Move fuel shut-off lever to OFF.
2. Unscrew sediment bowl and wash in non-
flammable solvent. Air dry and install sedi-
ment bowl on engine.
Г =
i Ls a A Y
— NOA)
рт UT\
FIN
SEDIMENT BOWL--1— 9 |
IEEE 5 A
Figure 22
MAINTENANCE
STORAGE
1. Drain gasoline: refer to Draining Gasoline
page 7. Then run engine until all gas is con-
sumed. If gasoline is not drained, gum-like
varnish deposits will form and cause poor
engine operation, even severe starting
problems. Clean sediment bowl: refer to
Cleaning Sediment Bowl, page 9.
2. Drain oil and refill with fresh oil: refer to
Changing Oil, page 8. After oil is drained, do
not fill crankcase until steps 3-3 are completed.
3. Clean air cleaner: refer to Servicing Air
Cleaner, page 7.
4. Clean dirt and chaff from cylinder, cylinder
head fins and blower housing. Also remove
grass clippings, dirt and grime from external
parts of the engine and shrouding. Clean
entire edger thoroughly.
5. Clean and lubricate pivot arm assembly:
referto Clean and Lubricate Pivot Arm, page 8.
6. Add grease to wheel bearings: refer to
Lubricating Wheel Bearings, page 9.
7. Inspect edger blade for wear or other visible
damage: refer to Replacing Blade, page 8.
8. Tighten all nuts, bolts and screws.
9. Touch up all rusted or chipped paint sur-
faces. Toro Re-Kote paint is available from an
Authorized TORO Service Dealer.
10. Gently pull recoil starter until adrag is felt.
This is done to close the valve.
11. Store edger in a clean, dry place. Cover
edger to keep it clean and protected.
TORO SERVICE SUPPORT
If help — concerning safety, set-up, operation and maintenance or troubleshooting — is ever
needed, contact the local Authorized TORO Service Dealer or Distributor. Refer to the "Yellow
Pages" for assistance. In addition to skilled service technicians, the dealer and distributor have
factory approved accessories and replacement parts. Keep your TORO all TORO. Buy genuine
TORO replacement parts and accessories.
MAINTENANCE INTERVAL CHART
Before After Every Every Every
Service Procedure Each First 2 25 50 75
Use Hours | Hours | Hours | Hours
Check Qil X
Check Blade X
Lubricate Wheel Bearings X
Lubricate Pivot Arm X
Check and Gap Spark Plug X
Service Air Cleaner* X
Clean Sediment Bowl X
Change Oil X X
Clean Cooling System X
"Service more frequently when conditions are dusty or sandy.
10
MAINTENANCE RECORD
Date
Check
Blade
Spark
Plug
Pivot Arm
and Wheel
Bearings
Clean
Air
Cleaner
Change
Oil
Clean
Sediment
Bowl
Cooling
System
V28-592
11
A model number and a serial number decal is located
PRODUCT IDENTIFICATION
numbers on this decal in correspondence or when replacement parts are needed.
AA AA USE
VIA PUPPY OLD NINO es
Che Toro Promise
A Two Year Limited Warranty
On All
Riding Mowers, Premium Rotary Mowers, Tillers. and Gas Edgers.
The Toro Company promises to repair these TORO Products if defective in materials
or workmanship. The following time periods from the date of purchase apply:
Residential Product . . . . . . . . 2 Years
Residential Products Used Commercially . 90 Days
The costs of parts and labor are included. but the customer pays the transportation
costs. Just return any residential product to an Authorized TORO Service Dealer
or TORQ Distributor.
Should you feel your TORO is defective and wish to raly
on The Toro Promise, tha following procedures 1 recom
mended
1. Contact any Authorized TORO Service Cesar, TORO
Master Service Desier, or TORO Distributor (the Yellow
Pages of your telephone directory is e good reference
source)
Z. Ha will either matruct You to return the Product to him
or recommend another Authorized TORO Service Dutiet
which might ba mora convenient.
3. Bring the product along with your origina! sales slip, or
other evidence 0 purchase date, to the service dealer.
4, The servicing dealer will inspect tha unit, sdvise you
whether the product is defective and, If во, maka ail
pair necessary 10 correct the defect without extra
charge to you.
If for any remon you are dissatistied with the dealer's analy
sis of the defect or tha service performed, you may contact
us.
Write:
TORO Customer Service Department
8111 Lyndale Avenue South
Minneapolis, Minnesota 55420
The above remedy of product defects through repair by
an Authorized TORO Service Dealer is the purchaser's sole
remedy for any defect,
THERE 15 NO OTHER EXPRESS WARRANTY, ALL
IMPLIED WARRANTIES OF MERCHANTABILITY AND
E NOOO ИНУ NONE SN
COM ARCE Te MAD-0 ACC OL TC CE At io
CÉATIFIE CONFORT Si Wil olf WEST Bao of ERG, L&E BADD gl TT NSE
FITNESS FOR USE ARE LIMITED TO THE DURATION
OF THE EXPRESS WARRANTY,
Some states do not slow limitation on how long implied
Warranty lestsy so tha above limitation may not apply to
vou,
This Warranty applies only to Paris Of components which
are defective and does not cover réDaifi necesary due to
normal wear, misuse, accidents. or lack of ргорег mente
nance, Megular, routine maintenance of tha unit to keep
IT in proper operating condition is the responsibility of the
cer,
All warranty repairs reimbursable under The Toro Promise
must be performed by sn Authorized TORO Sarvice Dealer
using Toro approved replacement parts,
Repairs or attempted repairs by anyone other than an Awu-
thorized TORO Service Account sre not reimbursable under
The Toro Promise. In addition, thess unauthorized repair
aTtémMpPtt May result in additional maitfunctions, the cor-
reaction of which iq not coverad by warrenty.
The Toro Company is not liable for indirect, incidental
ar conssquantisl demages in connection with the use of the
product including any cost or expanse of providing sub:
sttute equipment or service during periods of malfunction
Or non-uss,
Some states do mot allow the exclusion of incidental ar
consquentisl damages, 10 the above sxclugion may not
apply to you.
This warranty gives you specific legs! rights, and You may
also have other rights which vary from state to state,
on the lower handle. Always refer to specific
|
=
*
Tia
ss NNNNANAVONVWANAANNANNANANN VAGINA iG
Litho in US A.

* Your assessment is very important for improving the work of artificial intelligence, which forms the content of this project