Costa Farms 4KALANPINK4PK, 4KALANYEL4PK, 4KALANRED4PK, 4KALANOR4PK User manual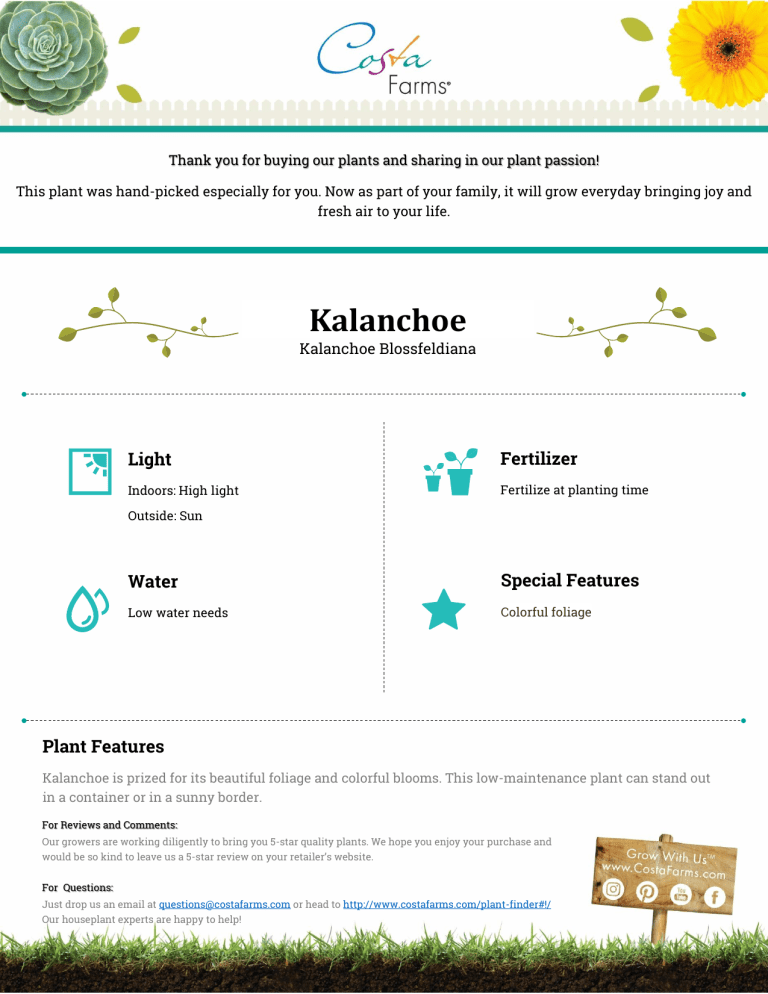 Thank you for buying our plants and sharing in our plant passion!
This plant was hand-picked especially for you. Now as part of your family, it will grow everyday bringing joy and
fresh air to your life.
Kalanchoe
Kalanchoe Blossfeldiana
Light
Fertilizer
Indoors: High light
Fertilize at planting time
Outside: Sun
Water
Special Features
Low water needs
Colorful foliage
Plant Features
Kalanchoe is prized for its beautiful foliage and colorful blooms. This low-maintenance plant can stand out
in a container or in a sunny border.
For Reviews and Comments:
Our growers are working diligently to bring you 5-star quality plants. We hope you enjoy your purchase and
would be so kind to leave us a 5-star review on your retailer's website.
For Questions:
Just drop us an email at [email protected] or head to http://www.costafarms.com/plant-finder#!/
Our houseplant experts are happy to help!

* Your assessment is very important for improving the work of artificial intelligence, which forms the content of this project