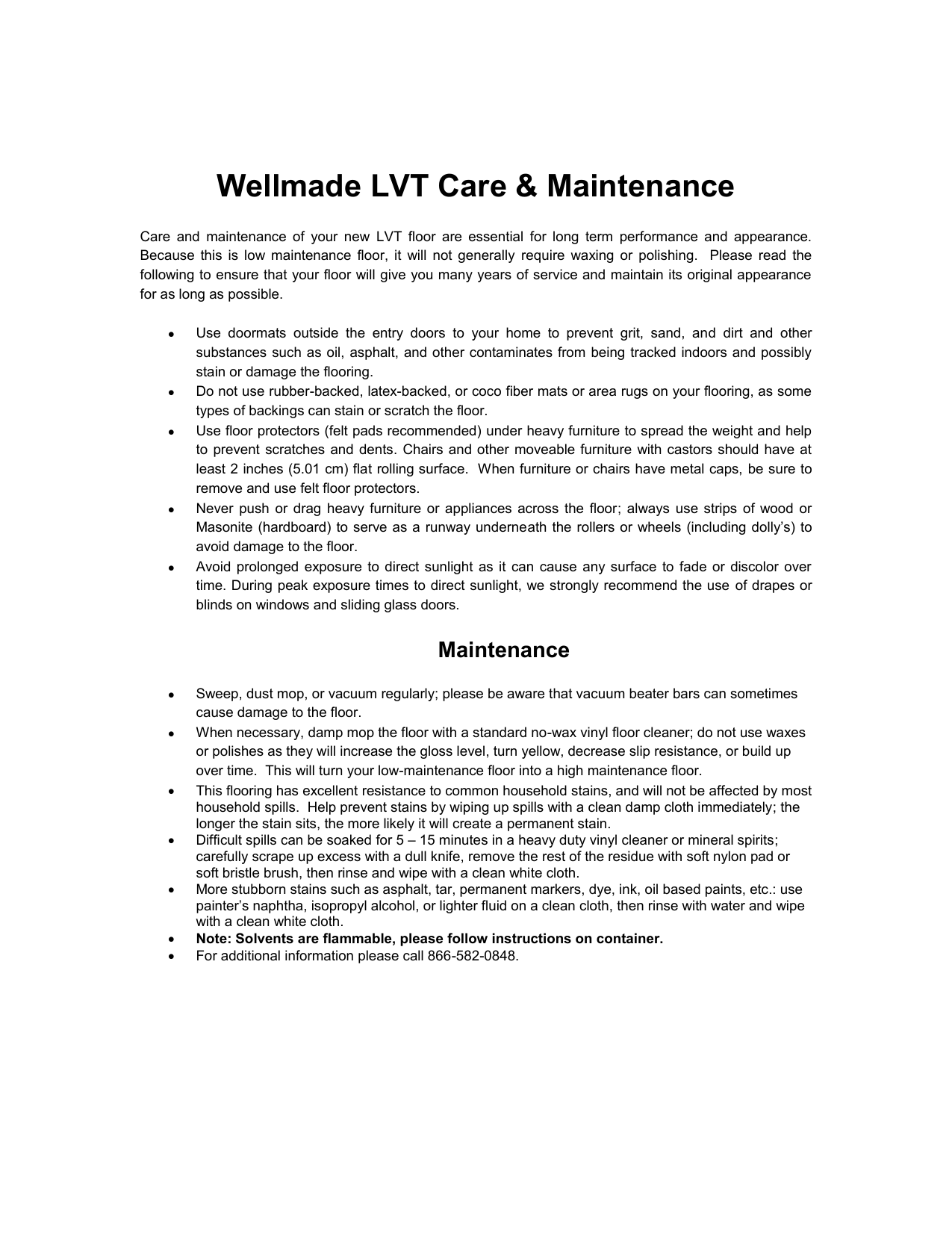 Wellmade LVT Care & Maintenance
Care and maintenance of your new LVT floor are essential for long term performance and appearance.
Because this is low maintenance floor, it will not generally require waxing or polishing. Please read the
following to ensure that your floor will give you many years of service and maintain its original appearance
for as long as possible.





Use doormats outside the entry doors to your home to prevent grit, sand, and dirt and other
substances such as oil, asphalt, and other contaminates from being tracked indoors and possibly
stain or damage the flooring.
Do not use rubber-backed, latex-backed, or coco fiber mats or area rugs on your flooring, as some
types of backings can stain or scratch the floor.
Use floor protectors (felt pads recommended) under heavy furniture to spread the weight and help
to prevent scratches and dents. Chairs and other moveable furniture with castors should have at
least 2 inches (5.01 cm) flat rolling surface. When furniture or chairs have metal caps, be sure to
remove and use felt floor protectors.
Never push or drag heavy furniture or appliances across the floor; always use strips of wood or
Masonite (hardboard) to serve as a runway underneath the rollers or wheels (including dolly's) to
avoid damage to the floor.
Avoid prolonged exposure to direct sunlight as it can cause any surface to fade or discolor over
time. During peak exposure times to direct sunlight, we strongly recommend the use of drapes or
blinds on windows and sliding glass doors.
Maintenance







Sweep, dust mop, or vacuum regularly; please be aware that vacuum beater bars can sometimes
cause damage to the floor.
When necessary, damp mop the floor with a standard no-wax vinyl floor cleaner; do not use waxes
or polishes as they will increase the gloss level, turn yellow, decrease slip resistance, or build up
over time. This will turn your low-maintenance floor into a high maintenance floor.
This flooring has excellent resistance to common household stains, and will not be affected by most
household spills. Help prevent stains by wiping up spills with a clean damp cloth immediately; the
longer the stain sits, the more likely it will create a permanent stain.
Difficult spills can be soaked for 5 – 15 minutes in a heavy duty vinyl cleaner or mineral spirits;
carefully scrape up excess with a dull knife, remove the rest of the residue with soft nylon pad or
soft bristle brush, then rinse and wipe with a clean white cloth.
More stubborn stains such as asphalt, tar, permanent markers, dye, ink, oil based paints, etc.: use
painter's naphtha, isopropyl alcohol, or lighter fluid on a clean cloth, then rinse with water and wipe
with a clean white cloth.
Note: Solvents are flammable, please follow instructions on container.
For additional information please call 866-582-0848.

* Your assessment is very important for improving the work of artificial intelligence, which forms the content of this project