AKDY TF0019, TF0039, TF0031, TF0045, TF0047, TF0027, TF0023, TF0017, TF0029, TF0037 Installation guide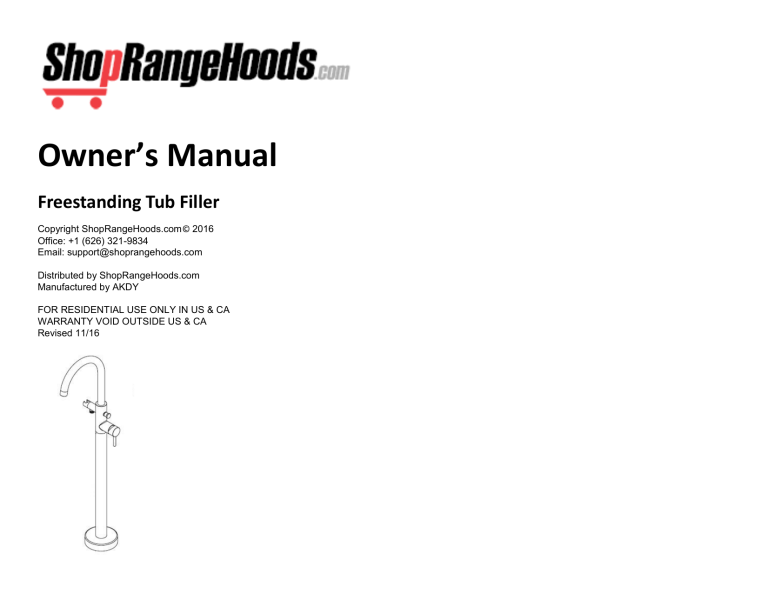 Owner's Manual
Freestanding Tub Filler
Copyright ShopRangeHoods.com© 2016
Office: +1 (626) 321-9834
Email: [email protected]
Distributed by ShopRangeHoods.com
Manufactured by AKDY
FOR RESIDENTIAL USE ONLY IN US & CA
WARRANTY VOID OUTSIDE US & CA
Revised 11/16
Tools Required & Parts List
Tools Required
Tub Filler Parts List
The following tools are recommended for installation:

Screwdriver

Adjustable wrench

Teflon tape

Drill

Hole saw
Your tub filler comes preassembled ready for installation. A
parts list is given if you require
replacement parts:
1. Spout
2. Faucet
3. Cartridge
4. Handle
5. Post
6. Floor cap
7. Screws
8. Mounting bracket
9. Water supply lines
10. Flexible hose
11. Handheld shower
(Picture shown may vary from
the product.)
Tub Filler Installation
General Installation
Sub Floor Installation
Steps given are for general installation only. If you require assistance, please contact a plumber.
1. Take the included mounting bracket and mark the location of
the screw holes.
2. Use a drill to prepare the floor for mounting.
3. Secure the mounting bracket to the floor with the included
screws.
4. Use Teflon tape for the hot and cold water lines
5. Connect your water lines.
6. Check for leaks.
Depending on your home, subfloor installation is possible. Installation is the same as the steps given in the general installation. The
mounting bracket will be secured directly to the subfloor.
RETURNS & WARRANTY
RETURNS, DAMAGES, MISSING PARTS
We thank you for your purchase. If you are not satisfied with your
purchase or have an issue with our product, please kindly let us
know. Our full returns policy is outlined below. Carefully read over
our terms before contacting us. If you have questions, our customer service team can be reached at: +1 (626) 321-9834 or
[email protected]
Ground Shipments – Range Hoods, Shower
Heads/Wands, Sinks, Tub Fillers
For 1-3 years from the date of purchase, when this major appliance is operated and maintained according to instructions attached to or furnished with the product, ShopRangeHoods.com
will pay for Factory Specified Parts. This limited warranty is valid
only in the United States or Canada and applies only when the
major appliance is used in the country in which it was purchased.
Outside the United States and Canada, this limited warranty is
null and void Proof of original purchase date is required to obtain
service under this limited warranty.
DISCLAIMER OF IMPLIED WARRANTIES: LIMITATION OF REMEDIES
CUSTOMER'S SOLE AND EXCLUSIVE REMEDY UNDER THIS
LIMITED WARRANTY SHALL BE PRODUCT REPAIR AS PROVIDED HEREIN. IMPLIED WARRANTIES, INCLUDING WARRANTIES OF MERCHANTABILITY OR FITNESS FOR A PARTICULAR PURPOSE, ARE LIMITED TO ONE YEAR OR THE
SHORTEST PERIOD ALLOWED BY LAW. SHOPRANGEHOODS.COM SHALL NOT BE LIABLE FOR INCIDENTAL OR
CONSEQUENTIAL DAMAGES. SOME STATES AND PROVINCES DO NOT ALLOW THE EXCLU-SION OR LIMITATION OF
INCIDENTAL OR CONSEQUENTIAL DAMAGES, OR LIMITATIONS ON THE DURATION OF IMPLIED WARRANTIES OF
MERCHANTABILITY OR FITNESS, SO THESE EXCLUSIONS
OR LIMITATIONS MAY NOT APPLY TO YOU. THIS WARRANTY GIVES YOU SPECIFIC LEGAL RIGHTS, AND YOU MAY
ALSO HAVE OTHER RIGHTS WHICH VARY FROM STATE TO
STATE OR PROVINCE TO PROVINCE.
MANUFACTURER'S WARRANTY
ShopRangeHoods.com provides a 3-year limited parts warranty
for all range hoods, and a 1-year limited parts warranty for all
bathtubs, tub fillers, kitchen sinks, shower heads, shower wands,
and shower panels. Under this warranty, you (the customer), is
entitled to replacement parts at no cost to repair and restore functionality if any part of the product were to fail. No labor is provided. Certain consumables that are not covered under this warranty
include:
 Lights (halogen and LEDs)
 Carbon Filters
 Mesh or Baffle Filters
 Ducting
The above parts are guaranteed to last one year beginning from
the date of purchase. If they fail prematurely or are defective within 1 year of purchase, ShopRangeHoods.com will replace them at
no charge.
If a main unit or complete replacement has to be sent,
ShopRangeHoods.com will require that the customer pay for
shipping. Shipping for parts are free under the warranty period.
We accept all returns within 30 days with return shipping to be
paid by the customer if the item was:
replacement and take back the damaged item, or send parts to
repair the item depending on the severity of the damage. A full
replacement will be issued only under our discretion. Under certain authorized venders who carry our products, shipping damages that require a full replacement will require contacting the seller
and not ShopRangeHoods.com .
Resolution Process for Damages or Missing
Items (Ground Shipments)
All shipping damages must be reported within 30 days of delivery.
Missing or lost items must be reported within 7 days of delivery.
The customer must also notify the local authorities to obtain a
police report if the tracking information shows the item as being
delivered, but not received. A replacement part or unit will be
shipped out only if these rules are met. After the 30-day window
for damaged items or 7 days for lost and missing packages,
ShopRangeHoods.com reserves the right to not ship replacement
parts or complete units. No exceptions will be made and we will
not be held responsible.
1a. Customer provides images of damage (mandatory)
WARRANTY EXCLUSIONS
1b. Customer notifies us (ShopRangeHoods.com) for missing
parts or items
The included warranty is null/void and does not cover the following conditions:
2a. We send a replacement unit (discretionary)
1.





deemed unsuitable
the wrong size
purchased but not used
an accidental purchase
buyer's remorse
2b. We send replacement parts
3. Customer is provided a new tracking number for the replacement or parts shipped via Ground shipping or Parcel
Freight Shipments – Bathtubs, Oversized Range
Hoods
All bathtubs will ship via freight. Due to the large size and weight,
please allow approximately 2 weeks for the item to arrive. If you
have received a freight shipment, please kindly:
 inspect for damages (ex: cracks, chips, etc.)
 inspect for missing parts or items part of a bundle
Resolution Process for Damages or Missing
Items (Freight Shipments)
1a. Customer provides images of damage (mandatory)
1b. Customer notifies us (ShopRangeHoods.com) for missing
parts or items
2a. We send a replacement unit (discretionary)
2b. We send replacement parts
3. Customer is provided a new tracking number via our 3rd party
LTL carrier for the replacement or parts
If the customer contacts us after the 30-day window for a return,
ShopRangeHoods.com will require a 15-40% restocking fee to be
applied to the return depending on the condition of the item and
the number of days passed the standard 30-day window.
If shipping damage is noticeable upon arrival, please immediately
reject the package, take pictures of the damages, and contact
customer support for assistance.
If the item is delivered and arrived damaged, we will either send a
Service calls to correct the installation of your major appliance, to instruct you on how to use your major appliance, to
replace or repair house fuses, or to correct house wiring or
plumbing.
2. Service calls to repair or replace appliance light bulbs, air
filters or water filters. Consumable parts are excluded from
warranty coverage.
3. Repairs when your major appliance is used for other than
normal, single-family household use or when it is used in a
manner that is contrary to published user or operator instructions and/or installation instructions.
4. Damage resulting from accident, alteration, misuse, abuse,
fire, flood, acts of God, improper installation, installation not
in accordance with electrical or plumbing codes, or use of
consumables or cleaning products not approved by us.
5. Cosmetic damage, including scratches, dents, chips or other
damage to the finish of your major appliance, unless such
damage results from defects in materials or workmanship
and is reported to us within 30 days from the date of purchase.
6. Any food loss due to refrigerator or freezer product failures.
7. Costs associated with the removal from your home of your
major appliance for repairs. This major appliance is designed
to be repaired in the home and only in-home service is covered by this warranty.
8. Repairs to parts or systems resulting from unauthorized
modifications made to the appliance.
9. The removal and reinstallation of your major appliance if it is
installed in an inaccessible location or is not installed in accordance with published installation instructions.
10. Major appliances with original model/serial numbers that
have been removed, altered or cannot be easily determined.
This warranty is void if the factory applied serial number has
been altered or removed from your major appliance. The
cost of repair or replacement under these excluded circumstances shall be borne by the customer.

* Your assessment is very important for improving the work of artificial intelligence, which forms the content of this project