Beyond Paint BP15, BP36, BP35, BP31, BP34, BP18, BP28, BP03, BP24, BP30 Operating instructions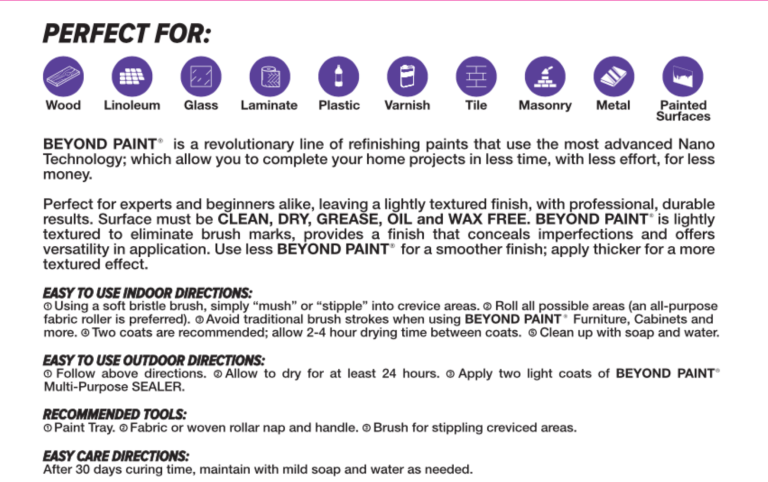 PERFECT FOR:
C00060O660O0
Wood Linoleum Glass Laminate Plastic Varnish Tile Masonry Metal анте
Surfaces
BEYOND PAINT" is a revolutionary line of refinishing paints that use the most advanced Nano
Technology; which allow you to complete your home projects in less time, with less effort, for less
money.
Perfect for experts and beginners alike, leaving a lightly textured finish, with professional, durable
results. Surface must be CLEAN, DRY, GREASE, OIL and WAX FREE. BEYOND PAINT" is lightly
textured to eliminate brush marks, provides a finish that conceals imperfections and offers
versatility in application. Use less BEYOND PAINT" for a smoother finish; apply thicker for a more
textured effect.
EASY TO USE INDOOR DIRECTIONS:
© Using a soft bristle brush, simply "mush" or "stipple" into crevice areas. @ Roll all possible areas (an all-purpose
fabric roller is preferred). @ Avoid traditional brush strokes when using BEYOND PAINT * Furniture, Cabinets and
more. @ Two coats are recommended; allow 2-4 hour drying time between coats. © Clean up with soap and water.
EASY TO USE OUTDOOR DIRECTIONS:
O Follow above directions. O Allow to dry for at least 24 hours. @ Apply two light coats of BEYOND PAINT"
Multi-Purpose SEALER.
RECOMMENDED TOOLS:
@ Paint Tray. @ Fabric or woven rollar nap and handle. ® Brush for stippling creviced areas.
EASY CARE DIRECTIONS:
After 30 days curing time, maintain with mild soap and water as needed.

* Your assessment is very important for improving the work of artificial intelligence, which forms the content of this project