Velux VCS 4646 2004CS01, VCM 3434 2005, VCS 2222 2006, VCM 2234 2004CS00X, VCS 2222 2004FS01, VCS 4646 2004, FCM 2246 2005FS00X, FCM 2246 2005CH00, VCS 4622 2004FS00, FCM 2234 0005 FAQ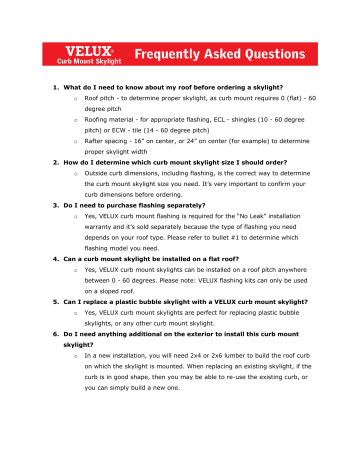 1. What do I need to know about my roof before ordering a skylight?
o
Roof pitch - to determine proper skylight, as curb mount requires 0 (flat) - 60
degree pitch
o
Roofing material - for appropriate flashing, ECL - shingles (10 - 60 degree
pitch) or ECW - tile (14 - 60 degree pitch)
o
Rafter spacing - 16" on center, or 24" on center (for example) to determine
proper skylight width
2. How do I determine which curb mount skylight size I should order?
o
Outside curb dimensions, including flashing, is the correct way to determine
the curb mount skylight size you need. It's very important to confirm your
curb dimensions before ordering.
3. Do I need to purchase flashing separately?
o
Yes, VELUX curb mount flashing is required for the "No Leak" installation
warranty and it's sold separately because the type of flashing you need
depends on your roof type. Please refer to bullet #1 to determine which
flashing model you need.
4. Can a curb mount skylight be installed on a flat roof?
o
Yes, VELUX curb mount skylights can be installed on a roof pitch anywhere
between 0 - 60 degrees. Please note: VELUX flashing kits can only be used
on a sloped roof.
5. Can I replace a plastic bubble skylight with a VELUX curb mount skylight?
o
Yes, VELUX curb mount skylights are perfect for replacing plastic bubble
skylights, or any other curb mount skylight.
6. Do I need anything additional on the exterior to install this curb mount
skylight?
o
In a new installation, you will need 2x4 or 2x6 lumber to build the roof curb
on which the skylight is mounted. When replacing an existing skylight, if the
curb is in good shape, then you may be able to re-use the existing curb, or
you can simply build a new one.

* Your assessment is very important for improving the work of artificial intelligence, which forms the content of this project