Ideal Pet RWSLWK, 23SWDCF, EBC, 75PATXLM, 80PATCFEM, DDMW, RWMWK, 27SWDS, 80PATSLM, RWWM FAQ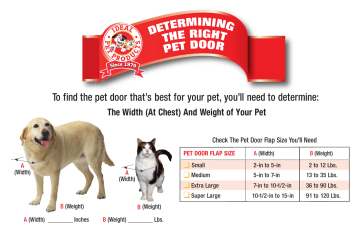 ERMINING
T
E
D
THE RIGHT
P E T D OO R
To find the pet door that's best for your pet, you'll need to determine:
The Width (At Chest) And Weight of Your Pet
Check The Pet Door Flap Size You'll Need
A
(Width)
A
(Width)
B (Weight)
A (Width) _________ Inches
B (Weight)
B (Weight) _________ Lbs.
PET DOOR FLAP SIZE
A (Width)
B (Weight)
❑ Small
❑ Medium
❑ Extra Large
❑ Super Large
2-in to 5-in
2 to 12 Lbs.
5-in to 7-in
13 to 35 Lbs.
7-in to 10-1/2-in
36 to 90 Lbs.
10-1/2-in to 15-in
91 to 120 Lbs.

* Your assessment is very important for improving the work of artificial intelligence, which forms the content of this project