Home Decorators Collection 9415500860, NB023WB, 9528800270, 9415000910, NB-063WB, 1514100950, NB-063AW, 9904800410, NB-053AW, 7761500950 User guide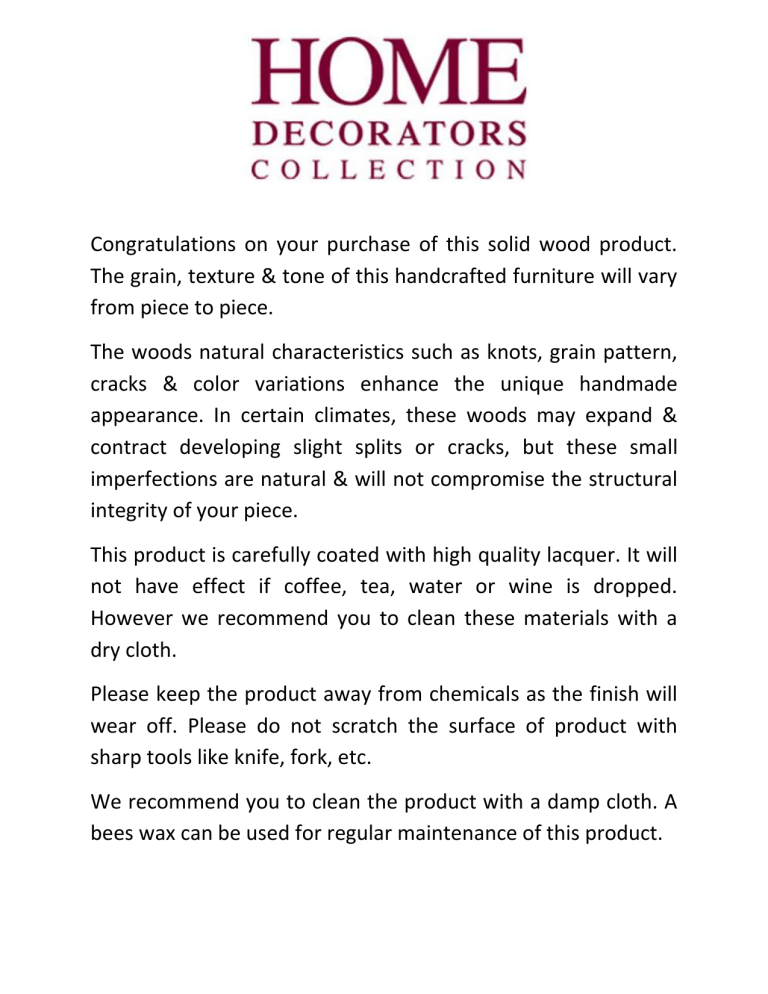 Congratulations on your purchase of this solid wood product.
The grain, texture & tone of this handcrafted furniture will vary
from piece to piece.
The woods natural characteristics such as knots, grain pattern,
cracks & color variations enhance the unique handmade
appearance. In certain climates, these woods may expand &
contract developing slight splits or cracks, but these small
imperfections are natural & will not compromise the structural
integrity of your piece.
This product is carefully coated with high quality lacquer. It will
not have effect if coffee, tea, water or wine is dropped.
However we recommend you to clean these materials with a
dry cloth.
Please keep the product away from chemicals as the finish will
wear off. Please do not scratch the surface of product with
sharp tools like knife, fork, etc.
We recommend you to clean the product with a damp cloth. A
bees wax can be used for regular maintenance of this product.

* Your assessment is very important for improving the work of artificial intelligence, which forms the content of this project