Harris 31201, 31211, 31109, 31107, 31104, 25101, 25102, 31203, 31110, 31209 User manual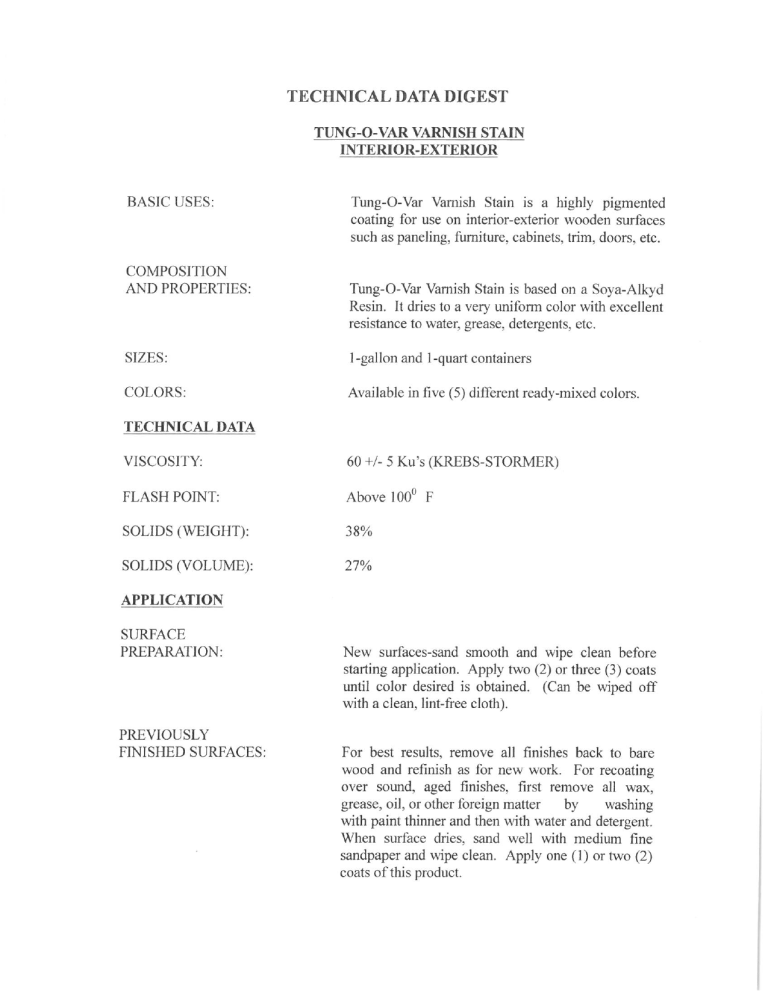 TECHNICAL DATA DIGEST
TUNG-0O-VAR VARNISH STAIN
INTERIOR-EXTERIOR
BASIC USES: Tung-O-Var Varnish Stain is a highly pigmented
coating for use on interior-exterior wooden surfaces
such as paneling, furniture, cabinets, trim, doors, etc.
COMPOSITION
AND PROPERTIES: Tung-O-Var Varnish Stain is based on a Soya-Alkyd
Resin. It dries to a very uniform color with excellent
resistance to water, grease, detergents, etc.
SIZES: 1-gallon and 1-quart containers
COLORS: Available in five (5) different ready-mixed colors.
TECHNICAL DATA
VISCOSITY: 60 +/- 5 Ku's (KREBS-STORMER)
FLASH POINT: Above 100° F
SOLIDS (WEIGHT): 38%
SOLIDS (VOLUME): 27%
APPLICATION
SURFACE
PREPARATION: New surfaces-sand smooth and wipe clean before
starting application. Apply two (2) or three (3) coats
until color desired is obtained. (Can be wiped off
with a clean, lint-free cloth).
PREVIOUSLY
FINISHED SURFACES: For best results, remove all finishes back to bare
wood and refinish as for new work. For recoating
over sound, aged finishes, first remove all wax,
grease, oil, or other foreign matter by washing
with paint thinner and then with water and detergent.
When surface dries, sand well with medium fine
sandpaper and wipe clean. Apply one (1) or two (2)
coats of this product.
TECHNICAL DATA DIGEST
TUNG-O-VAR VARNISH STAIN
METHOD OF
APPLICATION:
THINNING:
COVERAGE:
DRY:
CLEANUP:
PRECAUTIONS:
Brush, spray or roller. (Apply in uniform coats).
Normally no thinning is required. If required, use up
to 1/2 pint of mineral spirits per gallon.
Approximately 500 sq. ft. per gallon, depending on
surface porosity.
To touch in two (2) hours; [one (1) hour when
wiped]; hard in six (6) hours.
Clean up drips, spatters and equipment with mineral
spirits.
CAUTION! Combustible. Keep away from heat
and open flame. Avoid prolonged contact with skin
and breathing of vapor or spray mist. Close
container after each use. Use with adequate
ventilation. KEEP OUT OF THE REACH OF
CHILDREN.

* Your assessment is very important for improving the work of artificial intelligence, which forms the content of this project