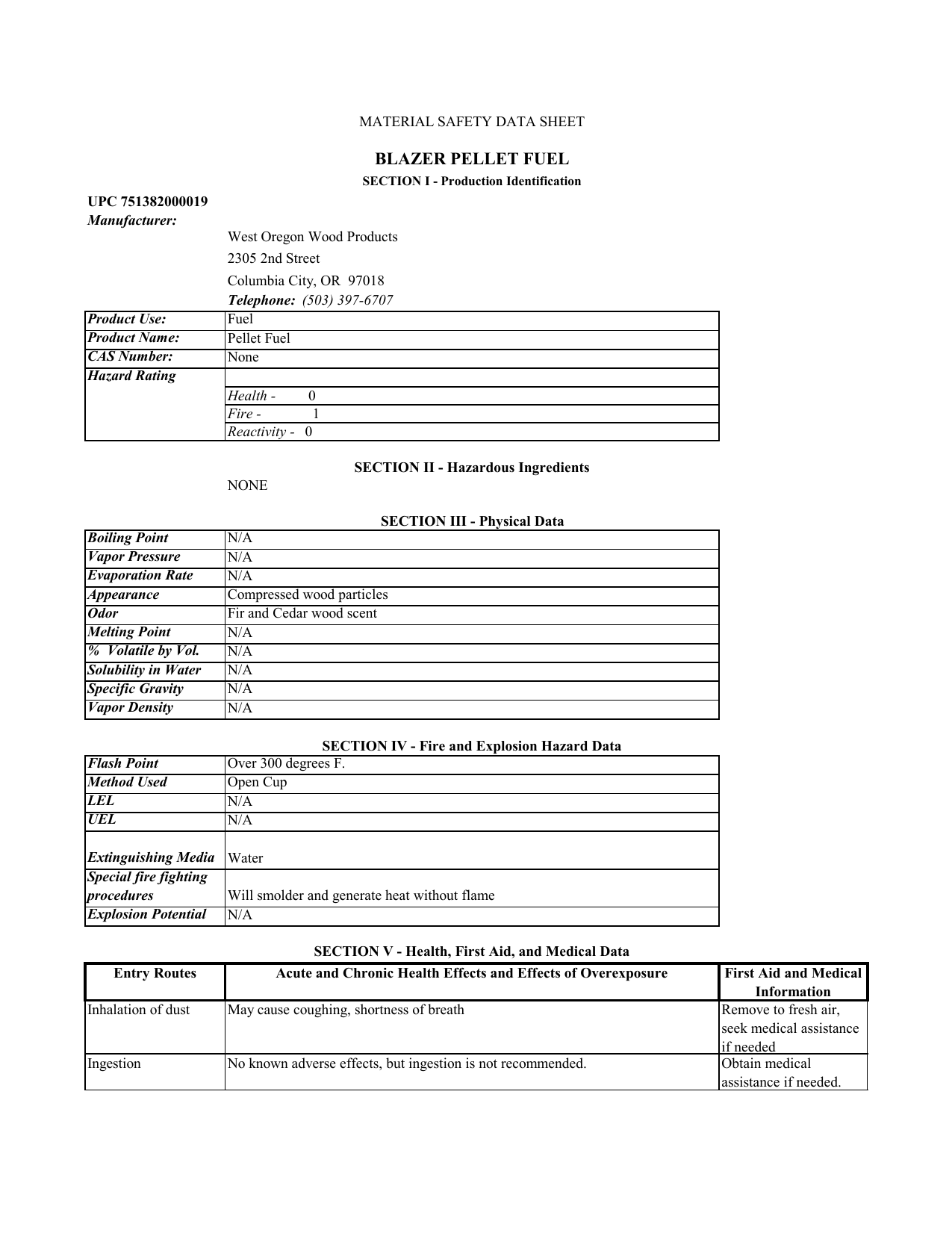 MATERIAL SAFETY DATA SHEET
BLAZER PELLET FUEL
SECTION I - Production Identification
UPC 751382000019
Manufacturer:
West Oregon Wood Products
2305 2nd Street
Product Use:
Product Name:
CAS Number:
Hazard Rating
Columbia City, OR 97018
Telephone: (503) 397-6707
Fuel
Pellet Fuel
None
Health 0
Fire 1
Reactivity - 0
SECTION II - Hazardous Ingredients
NONE
Boiling Point
Vapor Pressure
Evaporation Rate
Appearance
Odor
Melting Point
% Volatile by Vol.
Solubility in Water
Specific Gravity
Vapor Density
SECTION III - Physical Data
N/A
N/A
N/A
Compressed wood particles
Fir and Cedar wood scent
N/A
N/A
N/A
N/A
N/A
Flash Point
Method Used
LEL
UEL
SECTION IV - Fire and Explosion Hazard Data
Over 300 degrees F.
Open Cup
N/A
N/A
Extinguishing Media Water
Special fire fighting
procedures
Will smolder and generate heat without flame
Explosion Potential N/A
Entry Routes
SECTION V - Health, First Aid, and Medical Data
Acute and Chronic Health Effects and Effects of Overexposure
Inhalation of dust
May cause coughing, shortness of breath
Ingestion
No known adverse effects, but ingestion is not recommended.
First Aid and Medical
Information
Remove to fresh air,
seek medical assistance
if needed
Obtain medical
assistance if needed.
Skin-contact and
absorption
Eye
Not absorbed through the skin; rubbing may cause skin irritation.
Dust may irritate eyes
Other potential health Some individuals may exhibit allergy-like symptoms
risks
SECTION VI - Corrosivity and Reactivity Data
Stable
Decomposition
Products
Polymerization
Conditions to avoid
yes
none
will not occur
none
SECTION VII - Storage, Handling, and Use Procedures
Normal Storage and
Handling
Normal Use
Steps to be Taken in
Case of Leaks/Spills
Waste Disposal
Methods
Respiratory
Protective Gloves
Eye protection
Do not store near high heat sources
No special procedures
Normal clean-up methods.
Standard landfill methods consistent with applicable Federal, State, and Local
Laws
SECTION VIII - Personal Protective Equipment
As needed, dust mask or respirator
Recommended as needed.
Recommended as needed.
SECTION IX - Special Precautions
None
The information and recommendations set forth herein are taken from sources
believed to be accurate as of the date hereof; however, West Oregon Wood
Products makes no warranty with respect to the accuracy of the information or
suitability of the recommendations, and assumes no liability to any user thereof.
PREPARED 05-13-03
Obtain medical
assistance if needed.
Wash with copious
amounts of potable
water. See medical
assistance if needed.
Obtain medical
assistance if needed.

* Your assessment is very important for improving the work of artificial intelligence, which forms the content of this project