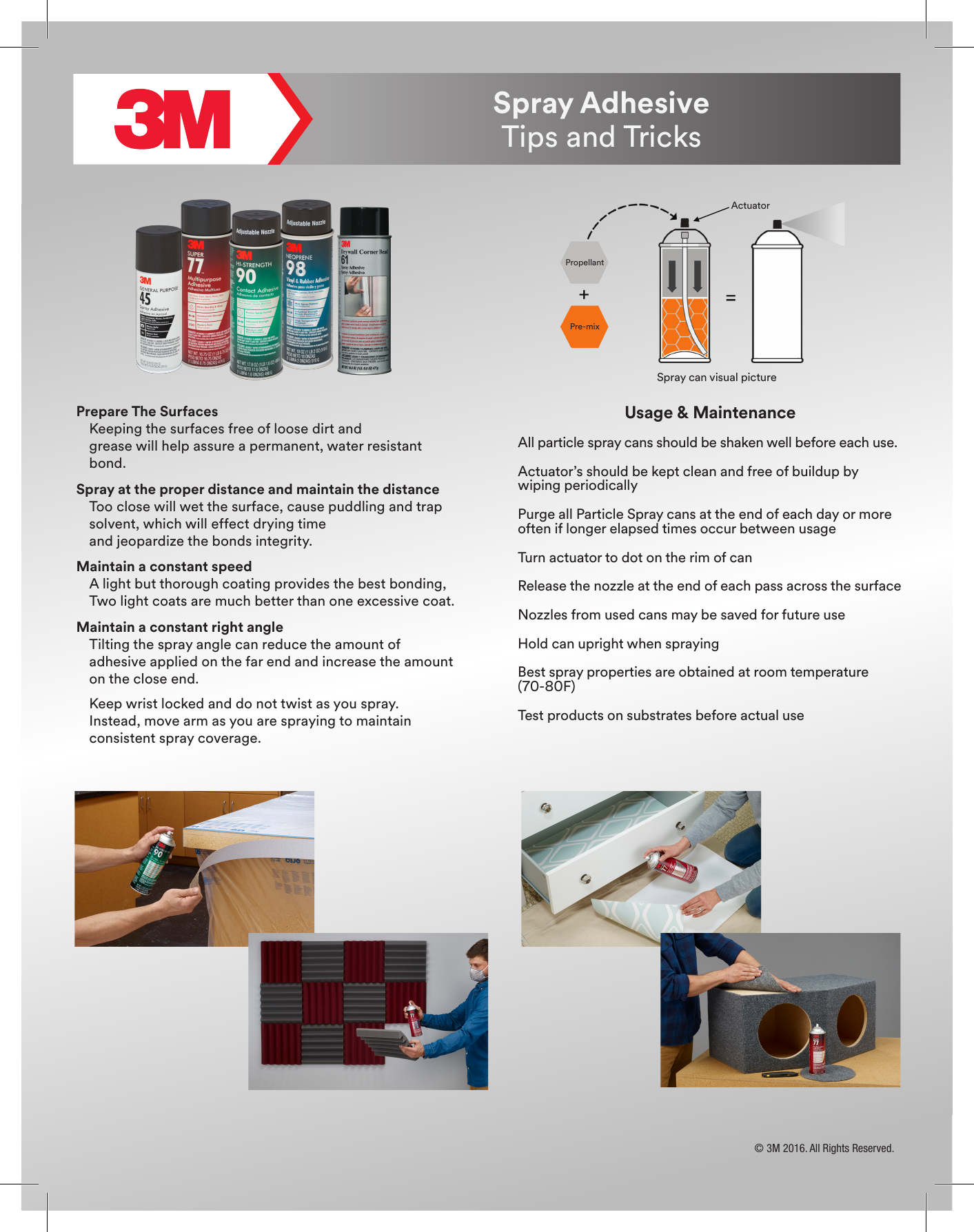 Spray Adhesive
Tips and Tricks
Actuator
Propellant
Pre-mix
Spray can visual picture
Usage & Maintenance
Prepare The Surfaces
Keeping the surfaces free of loose dirt and
grease will help assure a permanent, water resistant
bond.
All particle spray cans should be shaken well before each use.
Spray at the proper distance and maintain the distance
Too close will wet the surface, cause puddling and trap
solvent, which will effect drying time
and jeopardize the bonds integrity.
Purge all Particle Spray cans at the end of each day or more
often if longer elapsed times occur between usage
Maintain a constant speed
A light but thorough coating provides the best bonding,
Two light coats are much better than one excessive coat.
Maintain a constant right angle
Tilting the spray angle can reduce the amount of
adhesive applied on the far end and increase the amount
on the close end.
Keep wrist locked and do not twist as you spray.
Instead, move arm as you are spraying to maintain
consistent spray coverage.
Actuator's should be kept clean and free of buildup by
wiping periodically
Turn actuator to dot on the rim of can
Release the nozzle at the end of each pass across the surface
Nozzles from used cans may be saved for future use
Hold can upright when spraying
Best spray properties are obtained at room temperature
(70-80F)
Test products on substrates before actual use
© 3M 2016. All Rights Reserved.

* Your assessment is very important for improving the work of artificial intelligence, which forms the content of this project