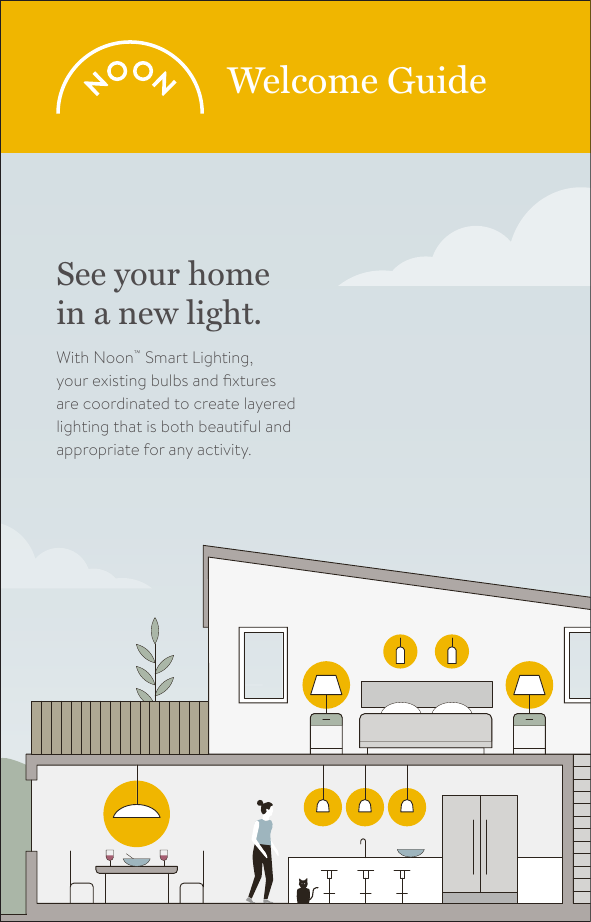 Welcome Guide
See your home
in a new light.
With Noon™ Smart Lighting,
your existing bulbs and fixtures
are coordinated to create layered
lighting that is both beautiful and
appropriate for any activity.
Know your Noon™ switches.
Room Director
Extension Switch*
Wirelessly controls Extension
Switches to coordinate room
lights and deliver beautiful
layered lighting.
Communicates with the
Room Director to coordinate
lighting. Dims and controls
an individual set of lights.
Creating
scenes.
Room Director
Click to turn on
and off room lights
Swipe up or down
to change scenes
*Extension Switch sold separately
Extension Switch
Click to turn on and
off individual light
Press and hold to
brighten or dim
Noon™ automatically creates lighting that's appropriate for
what you're doing—entertaining, working, watching a movie,
etc. Noon lets you pre-set lighting for each of these activities—
we call them scenes.
During setup, the Noon App will create three core scenes with
beautiful layered lighting. You can pick an icon and name for each.
Then Noon will provide professional lighting designer tips to help
you customize.
You can control the scenes on your Room Director or
your smartphone.
Additional Noon™ features.
Vacation Mode
Noon learns to mimic your typical behavior. It appears as if
you're home, even when you're not. Enable Vacation Mode in
the Noon App.
Night Light
The Room Director turns on ultra-low lighting, when motion is
detected, to help guide you in the dark. Enable Night Light in the
Noon App and set the active time in Settings.
App and voice control
Use the Noon App to control your lights from anywhere.
Control your lighting with your voice using popular intelligent
personal assistants together with Noon. For compatible third-party
devices, see noonhome.com.
Learn about designing lighting for specific rooms,
activities, and moods at noonhome.com/design.

* Your assessment is very important for improving the work of artificial intelligence, which forms the content of this project