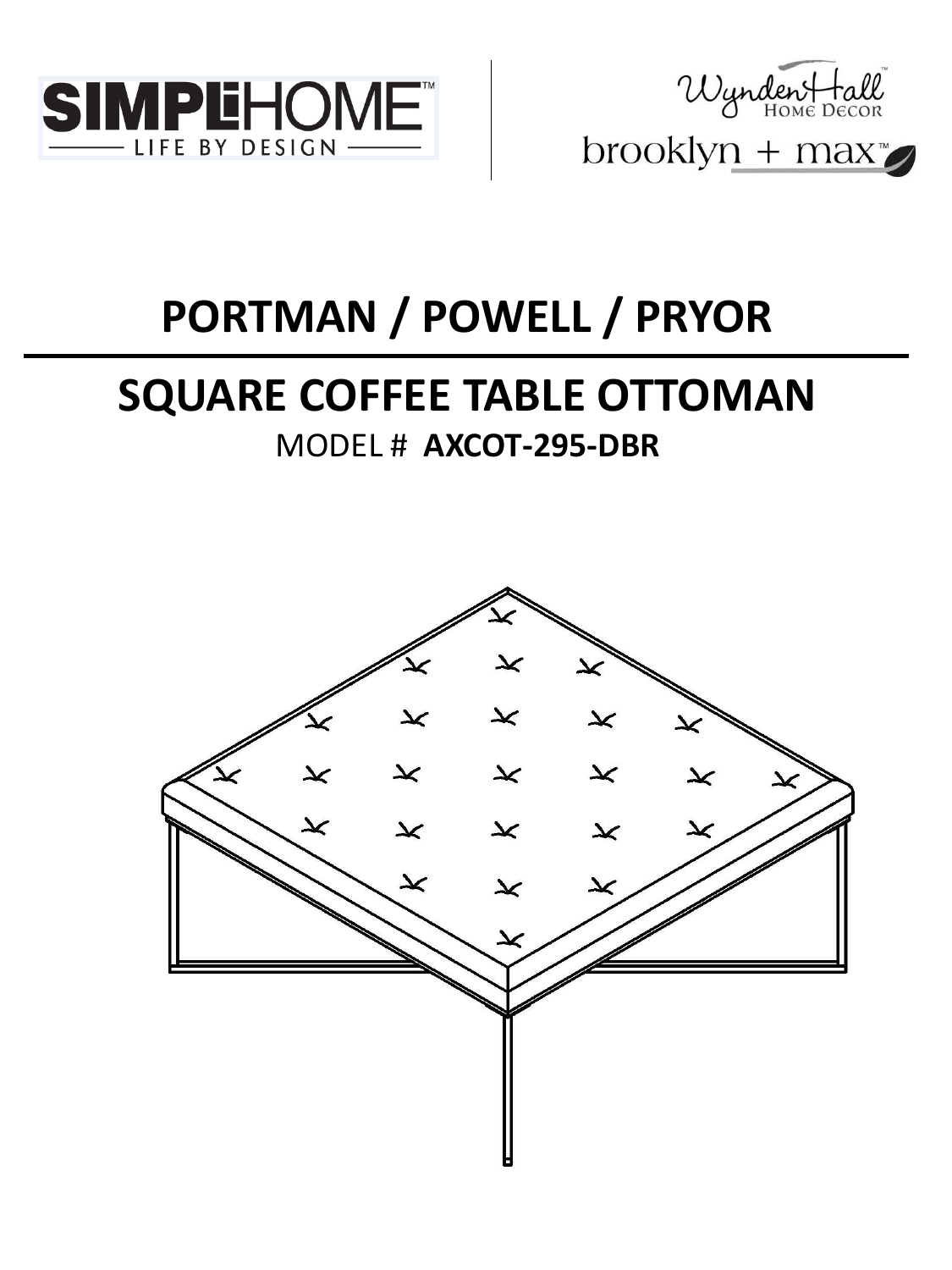 PORTMAN / POWELL / PRYOR
SQUARE COFFEE TABLE OTTOMAN
MODEL # AXCOT-295-DBR
Questions, problems, assembly help, missing parts?
No need to return the product, we will gladly help and ship your
replacement parts free of charge
Please call Customer Service at 1-866-518-0120 ext. 262
Monday to Friday between 9 am – 4 pm EST
or go to
www.simpli-home.com/parts request
In order to assist you in a timely manner, please have the following information ready:
Model #
Part Number or Letter
Purchased at
Date of Purchase
If you wish to return the product, please contact the retailer where the product
was purchased.
IMPORTANT: Keep this manual for future reference.
CARE and MAINTENANCE
Wipe regularly with clean water and a damp, clean, soft white cloth.
General cleaning can be done as needed with a mild detergent and water
solution. Always rinse with clean water and dry.
For heavy soiling, dampen a soft white cloth or soft bristle brush.
Use care as scrubbing can damage the surface.
More difficult stains can be treated, but this should be occasional, not daily
cleaning.
ANY cleaning solution used must be removed with clean water and a clean
white cloth. Cleaning residue left on the material can cause it to dry out and
crack, or affect the color.
DO NOT use any cleaners with corrosive ingredients (lye, acids or ammonia).
WARRANTY
Thank you for purchasing a Simpli Home – Wyndenhall – Brooklyn + Max
product. These products have been made to demanding, high-quality
standards and are guaranteed for domestic use against manufacturing
faults for a period of 12 months from the date of purchase. This warranty
does not affect your statutory rights.
In case of any malfunction of your product (failure, missing parts, etc.)
please contact us at our toll free service line at 1-866-518-0120 ext. 262
from 9 am to 4 pm, Monday to Friday, Eastern Standard Time or by email at
[email protected]
We reserve the right to repair or replace the defective product, at its
discretion.
This product is guaranteed for 12 months if used for normal purposes. Any
warranty is invalid if the product has been overloaded or subject to neglect,
improper use or an attempted repair by other than an authorized agent.
Heavy-duty or daily professional/commercial usage are not guaranteed.
Due to continuous product improvement, we reserve the right to change
the product specifications without prior notice.

* Your assessment is very important for improving the work of artificial intelligence, which forms the content of this project