Everbilt 15705, 15061 Instructions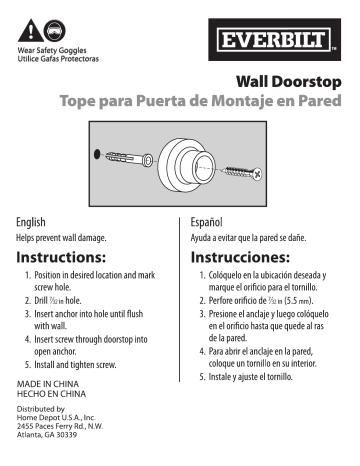 AO
Wear Safety Goggles
Utilice Gafas Protectoras
EVERBILI |,
Wall Doorstop
Tope para Puerta de Montaje en Pared
English
Helps prevent wall damage.
Instructions:
1. Position in desired location and mark
screw hole.
2. Drill 752 in hole.
3. Insert anchor into hole until flush
with wall.
4. Insert screw through doorstop into
open anchor.
5. Install and tighten screw.
MADE IN CHINA
HECHO EN CHINA
Distributed by
Home Depot U.S.A. Inc.
2455 Paces Ferry Rd., N.W.
Atlanta, GA 30339
Español
Ayuda a evitar que la pared se dañe.
Instrucciones:
1.
Coloquelo en la ubicacion deseada y
marque el orificio para el tornillo.
Perfore orificio de 752 in (5.5 mm).
. Presione el anclaje y luego colôquelo
en el orificio hasta que quede al ras
de la pared.
Para abrir el anclaje en la pared,
coloque un tornillo en su interior.
. Instale y ajuste el tornillo.

* Your assessment is very important for improving the work of artificial intelligence, which forms the content of this project