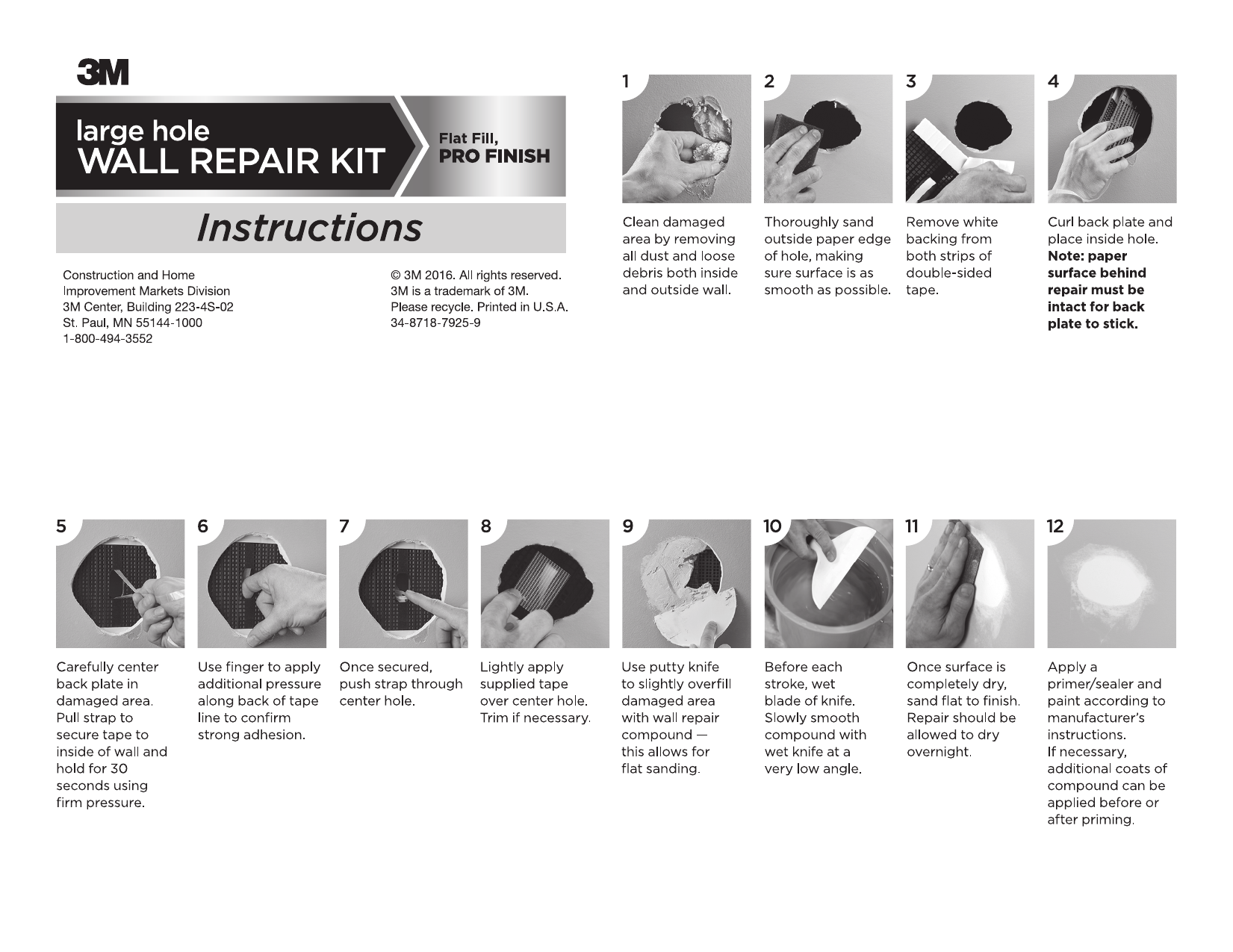 large hole
WALL REPAIR KIT
Construction and Home
Improvement Markets Division
3M Center, Building 223-4S-02
St. Paul, MN 55144-1000
1-800-494-3552
Instructions
t Fill,
O FINIS
© 3M 2016. All rights reserved.
3M is a trademark of 3M.
Please recycle. Printed in U.S.A.
34-8718-7925-9
Clean damaged
area by removing
all dust and loose
debris both inside
and outside wall.
Thoroughly sand
outside paper edge
of hole, making
sure surface is as
smooth as possible.
Remove white
backing from
both strips of
double-sided
tape.
SEE re
Curl back plate and
place inside hole.
Note: paper
surface behind
repair must be
intact for back
plate to stick.
Carefully center
back plate in
damaged area.
Pull strap to
secure tape to
inside of wall and
hold for 30
seconds using
firm pressure.
Use finger to apply
additional pressure
along back of tape
line to confirm
strong adhesion.
Once secured,
push strap through
center hole.
Lightly apply
supplied tape
over center hole.
Trim if necessary.
Use putty knife
to slightly overfill
damaged area
with wall repair
compound —
this allows for
flat sanding.
Before each
stroke, wet
blade of knife.
Slowly smooth
compound with
wet knife at a
very low angle.
Once surface is
completely dry,
sand flat to finish.
Repair should be
allowed to dry
overnight.
Apply a
primer/sealer and
paint according to
manufacturer's
instructions.
If necessary,
additional coats of
compound can be
applied before or
after priming.

* Your assessment is very important for improving the work of artificial intelligence, which forms the content of this project