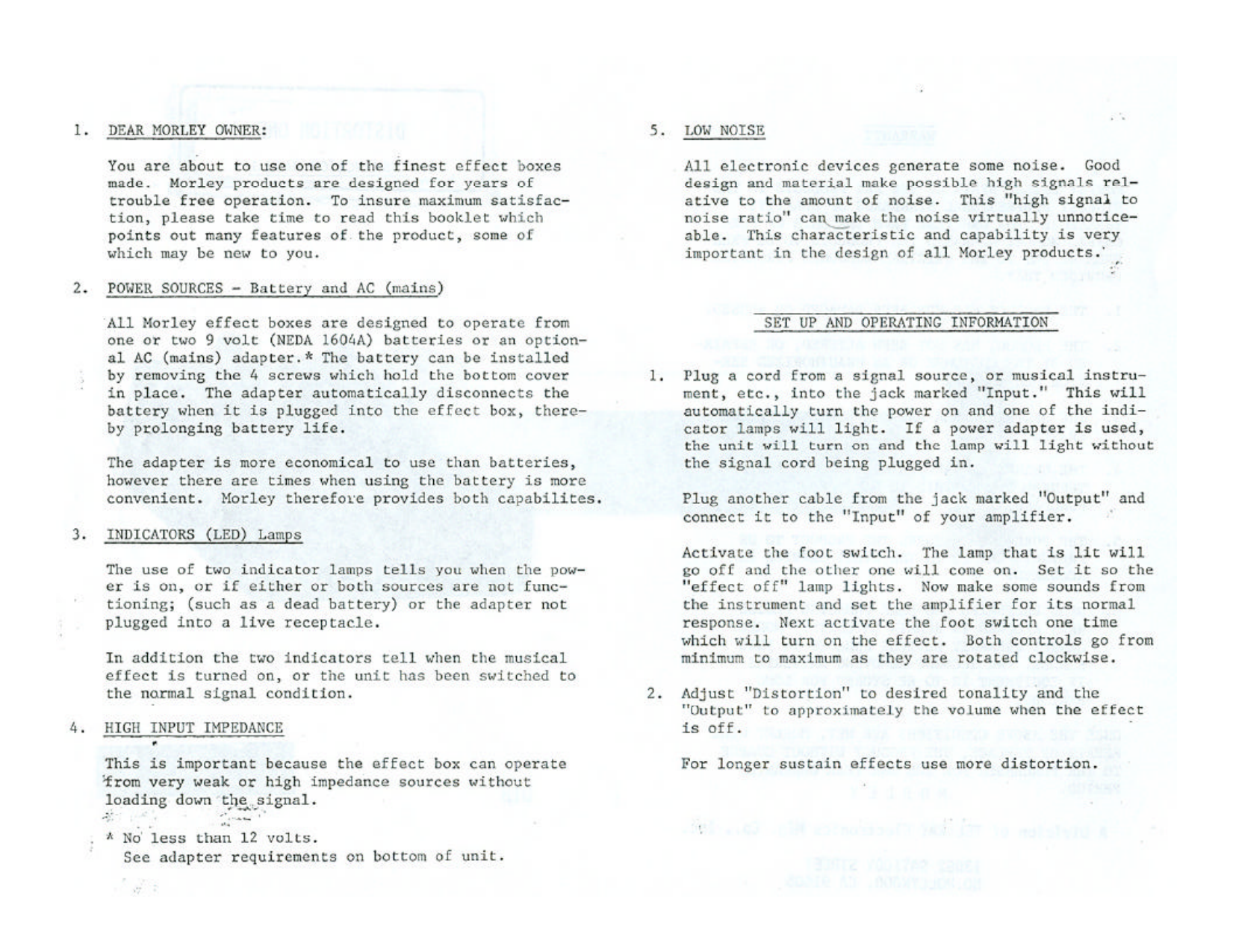 DEAR MORLEY OWNER: 3.
You are about to use one of the finest effect boxes
made. Morley products are designed for years of
trouble free cperation. To insure maximum satisfac-
tion, please take time to read this booklet which
points out many features of the product, some of
which may be new to you.
POWER SOURCES — Battery and AC (mains)
All Morley effect boxes are designed to operate from
one or two 9 volt (NEDA 1604A) batteries or an option-
al AC (mains) adapter.* The battery can be installed
by removing the &§ screws which hold the bottom cover Ti
in place. The adapter automatically disconnects the
battery when it is plugged into the effect box, there-
by prolonging battery life.
The adapter is more economical to use than batteries,
however there are times when using the battery is more
convenient. Morley therefore provides both capabilites.
INDICATORS (LED) Lamps
The use of two indicator lamps tells you when the pow-
er is on, or if either or both sources are not func-
tioning; (such as a dead battery) or the adapter not
plugged into a live receptacle.
In addition the two indicators tell when the musical
effect 15 turned on, or the unit has been switched to
the normal signal condition. da
HIGH INPUT IMPEDANCE
This is important bécause the effect box can operate
from very weak or high impedance sources without
loading down the signal.
E == So
, % No less than 12 volts.
See adapter requirements on bottom of unit.
LOW NOTSE
All electronic devices generate some noise. Good
design and material make possible high signals rel-
ative to the amount of noise. This "high signal to
noise ratio" can make the noise virtually unnotice-
able. This characteristic and capability is very
important in the design of all Morley products.'
F
"SET UP AND OPERATING INFORMATION
Plug a cord from a signal source, or musical instru-
ment, etc., into the jack marked "Input." This will
automatically turn the power on and one of the indi-
cator lamps will light. If a power adapter is used,
the unit will turn on and the lamp will light without
the signal cord being plugged in.
Plug another cable from the jack marked "Output" and
connect it to the "Input" of your amplifier.
Activate the foot switch. The lamp that is lit will
go Df and the other one will come on. Set it so the
"effect off" lamp lights. Now make some sounds from
the instrument and set the amplifier for its normal
response. Next activate the foot switch one time
which will turn on the effect. Both controls go from
minimum to maximum as they are rotated clockwise.
Adjust "Distortion" to desired tonality and the
"Qutput" to approximately the volume when the effect
is off. :
For longer sustain effects use more distortion.

* Your assessment is very important for improving the work of artificial intelligence, which forms the content of this project