Everbilt HFWCC-07-12, HFWCC-07-15, HFWC-07-24, HFWCC-07S-12, HFWCC-07S-18, EBBC-07-15a, HFWC-07-12, HFWC-07-18EKIT, EBBC-7807-18a, EBWCB-07-18EKIT User manual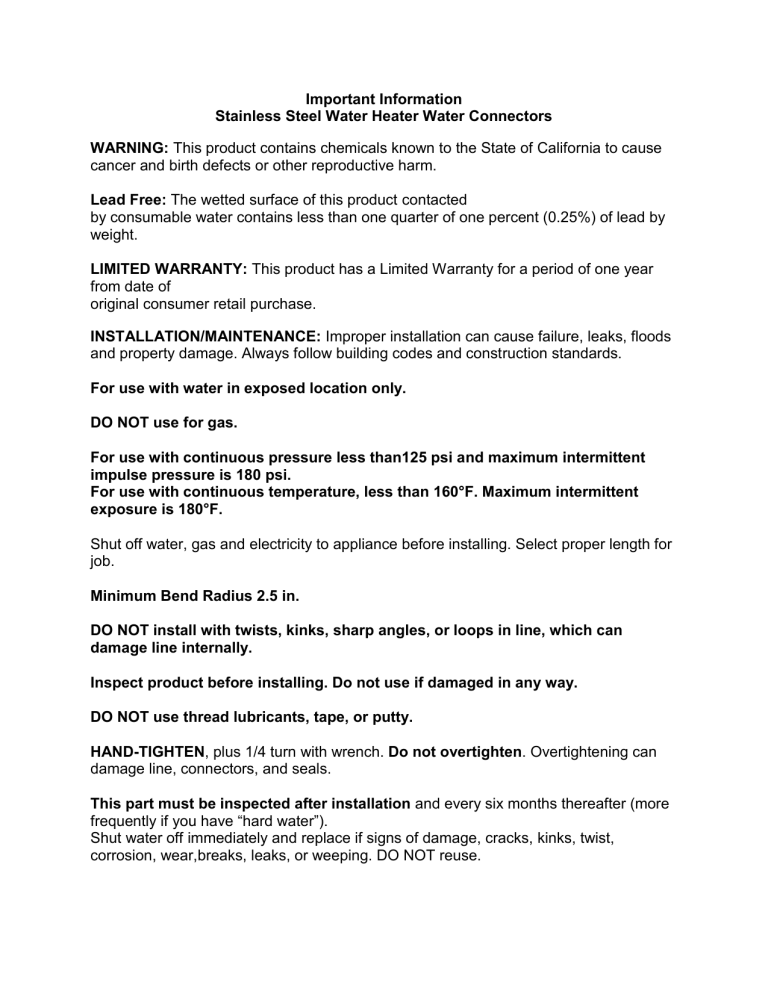 Important Information
Stainless Steel Water Heater Water Connectors
WARNING: This product contains chemicals known to the State of California to cause
cancer and birth defects or other reproductive harm.
Lead Free: The wetted surface of this product contacted
by consumable water contains less than one quarter of one percent (0.25%) of lead by
weight.
LIMITED WARRANTY: This product has a Limited Warranty for a period of one year
from date of
original consumer retail purchase.
INSTALLATION/MAINTENANCE: Improper installation can cause failure, leaks, floods
and property damage. Always follow building codes and construction standards.
For use with water in exposed location only.
DO NOT use for gas.
For use with continuous pressure less than125 psi and maximum intermittent
impulse pressure is 180 psi.
For use with continuous temperature, less than 160°F. Maximum intermittent
exposure is 180°F.
Shut off water, gas and electricity to appliance before installing. Select proper length for
job.
Minimum Bend Radius 2.5 in.
DO NOT install with twists, kinks, sharp angles, or loops in line, which can
damage line internally.
Inspect product before installing. Do not use if damaged in any way.
DO NOT use thread lubricants, tape, or putty.
HAND-TIGHTEN, plus 1/4 turn with wrench. Do not overtighten. Overtightening can
damage line, connectors, and seals.
This part must be inspected after installation and every six months thereafter (more
frequently if you have "hard water").
Shut water off immediately and replace if signs of damage, cracks, kinks, twist,
corrosion, wear,breaks, leaks, or weeping. DO NOT reuse.

* Your assessment is very important for improving the work of artificial intelligence, which forms the content of this project