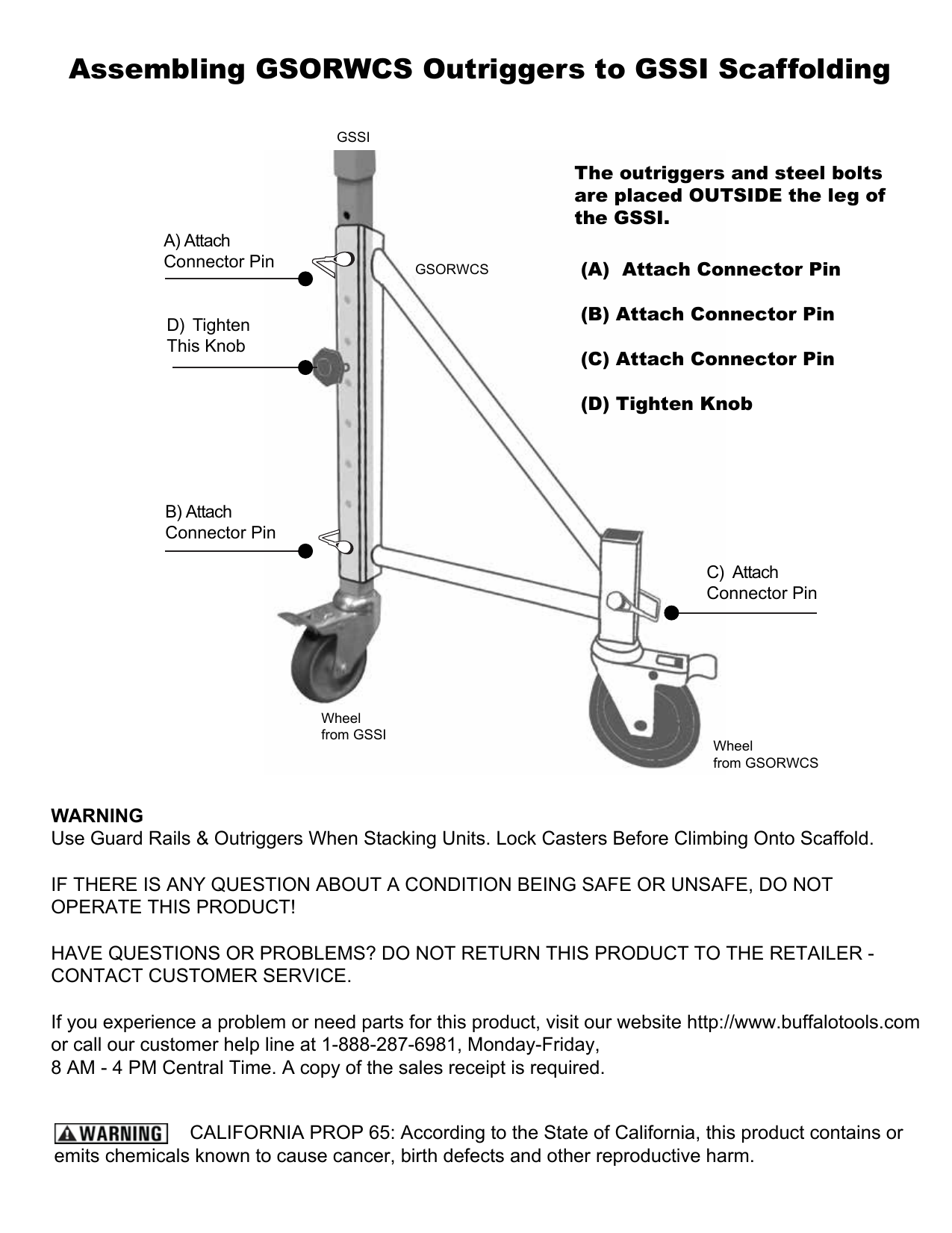 Assembling GSORWCS Outriggers to GSSI Scaffolding
GSSI
The outriggers and steel bolts
are placed OUTSIDE the leg of
the GSSI.
A) Attach
Connector Pin
GSORWCS
(A) Attach Connector Pin
(B) Attach Connector Pin
D) Tighten
This Knob
(C) Attach Connector Pin
(D) Tighten Knob
B) Attach
Connector Pin
C) Attach
Connector Pin
Wheel
from GSSI
Wheel
from GSORWCS
WARNING
Use Guard Rails & Outriggers When Stacking Units. Lock Casters Before Climbing Onto Scaffold.
IF THERE IS ANY QUESTION ABOUT A CONDITION BEING SAFE OR UNSAFE, DO NOT
OPERATE THIS PRODUCT!
HAVE QUESTIONS OR PROBLEMS? DO NOT RETURN THIS PRODUCT TO THE RETAILER CONTACT CUSTOMER SERVICE.
If you experience a problem or need parts for this product, visit our website http://www.buffalotools.com
or call our customer help line at 1-888-287-6981, Monday-Friday,
8 AM - 4 PM Central Time. A copy of the sales receipt is required.
CALIFORNIA PROP 65: According to the State of California, this product contains or
emits chemicals known to cause cancer, birth defects and other reproductive harm.

* Your assessment is very important for improving the work of artificial intelligence, which forms the content of this project