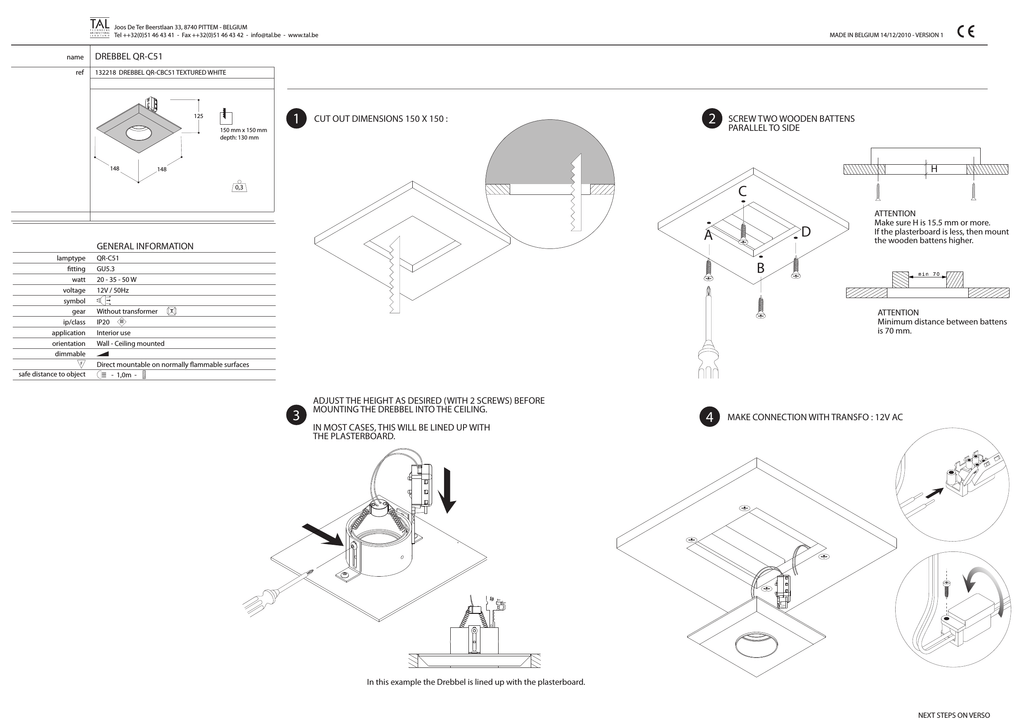 Joos De Ter Beerstlaan 33, 8740 PITTEM - BELGIUM
Tel ++32(0)51 46 43 41 - Fax ++32(0)51 46 43 42 - info@tal.be - www.tal.be
name
ref
MADE IN BELGIUM 14/12/2010 - VERSION 1
DREBBEL QR-C51
132218 DREBBEL QR-CBC51 TEXTURED WHITE
125
150 mm x 150 mm
depth: 130 mm
148
1
CUT OUT DIMENSIONS 150 X 150 :
2
H
148
C
0,3
safe distance to object
D
A
GENERAL INFORMATION
lamptype
fitting
watt
voltage
symbol
gear
ip/class
application
orientation
dimmable
SCREW TWO WOODEN BATTENS
PARALLEL TO SIDE
QR-C51
GU5.3
20 - 35 - 50 W
12V / 50Hz
ATTENTION
Make sure H is 15.5 mm or more.
If the plasterboard is less, then mount
the wooden battens higher.
B
Without transformer
IP20 III
Interior use
Wall - Ceiling mounted
ATTENTION
Minimum distance between battens
is 70 mm.
Direct mountable on normally flammable surfaces
- 1,0m -
3
ADJUST THE HEIGHT AS DESIRED (WITH 2 SCREWS) BEFORE
MOUNTING THE DREBBEL INTO THE CEILING.
IN MOST CASES, THIS WILL BE LINED UP WITH
THE PLASTERBOARD.
4
MAKE CONNECTION WITH TRANSFO : 12V AC
In this example the Drebbel is lined up with the plasterboard.
NEXT STEPS ON VERSO
5
6
SCREW THE DREBBEL TO THE WOODEN BATTENS.
7
FILL THE GAP AND SCREWHOLES AND RUB DOWN
WITH SANDPAPER.
THE CEILING IS NOW READY TO PAINT.
FIT THE LAMPS INTO THE LAMPHOLDERS.
QR-C51
NL
GB
INSTALLATIE- EN ONDERHOUDSRICHTLIJNEN m.b.t. FABRIEKSGARANTIE.
1. DE VERBINDINGEN EN HET UITTESTEN VAN DEZE TOESTELLEN DIENEN ALTIJD TE GEBEUREN DOOR EEN ERKEND ELECTRO-INSTALLATEUR.
2. DEZE VERLICHTINGSTOESTELLEN MOETEN GEINSTALLEERD, VERBONDEN EN GETEST WORDEN VOLGENS DE NATIONAAL GELDENDE REGLEMENTEN OP DE ELECTRISCHE INSTALLATIES (BELGIE, A.R.E.I., DUITSLAND: DIN VDE 0100 TEIL 559 A2, ...;
DEZE OPSOMMING IS LOUTER INFORMATIEF)
3. DE TECHNISCHE BIJSLUITER MOET GEZIEN WORDEN ALS ONDERDEEL VAN DE ALGEMENE VERKOOPSVOORWAARDEN VAN TAL N.V.
4. DE ELECTRO-INSTALLATEUR IS VERANTWOORDELIJK VOOR HET GEBRUIKEN VAN VOORSCHAKELAPPARATUUR DIE VOLDOET AAN DE GELDENDE CE EN EMC NORMEN.
5. VERVANG DE LAMP (-EN) ALTIJD MET DE GROOTSTE ZORG, ZE IS (ZIJN) UITERST BREEKBAAR. / 6. OPGEPAST: PLAATS NOOIT DE LAMP MET BLOTE HANDEN,
GEBRUIK ALTIJD EEN DOEK !
INSTALLATION AND MAINTENANCE INSTRUCTIONS IN VIEW OF THE MANUFACTURER'S GUARANTEE.
1. THE CONNECTION AND TESTING OF THE DEVICES SHOULD ALWAYS BE PERFORMED BY A RECOGNIZED ELECTRICIAN.
2. THESE LIGHTING DEVICES NEED TO BE INSTALLED, CONNECTED AND TESTED FOLLOWING THE OFFICIAL NATIONAL INSTRUCTION GUIDE FOR ELECTRICAL INSTALLATIONS (BELGIUM, A.R.E.I., GERMANY: DIN VDE 0100 TEIL 559 A2, ...;
THIS ENUMERATION IS JUST AN INDICATION)
3. THIS TECHNICAL ENCLOSURE NEEDS TO BE ADDED TO THE GENERAL SALES CONDITION OF THE TAL N.V.
4. THE ELECTRO TECHNICIAN IS RESPONSABLE TO USE BALLASTS, TRANSFORMERS,...WHICH MEET THE VALID CE AND EMC RULES.
5. ALWAYS REPLACE THE LAMP (-S) WITH UTMOST CAUTIOUSNESS, THE LAMP (-S) IS (ARE) VERY FRAGILE. / 6. ATTENTION: NEVER REPLACE THE LAMP WITH BARE HANDS, ALWAYS USE A CLOTH !
FR
D
INSTRUCTIONS D'INSTALLATION ET D'ENTRETIEN A RESPECTER VIS-A-VIS DE LA GARANTIE.
1. LE PLACEMENT, LE RACCORDEMENT ET L'ESSAI DE CET APPAREIL DOIVENT TOUJOURS ETRE EFFECTUES PAR UN INSTALLATEUR ELECTRICIEN AGREE.
2. LES LUMINAIRES DOIVENT ETRE INSTALLEZ, BRANCHEZ ET TESTEZ SUIVANT LE REGLEMENT NATIONAL SUR LES INSTALLATIONS ELECTRIQUES EN VIGUEUR. (BELGIQUE, A.R.E.I., ALLEMAGNE: DIN VDE 0100 TEIL 559 A2, ...;
CETTE ENUMERATION EST INDICATIVE)
3. CE MANUEL D'INSTALLATION TECHNIQUE REPRESENTE UNE PARTIE DES CONDITIONS GENERALES DE VENTE DE TAL N.V.
4. L'ELECTRO-INSTALLATEUR EST RESPONSABLE POUR L'USAGE DE BALLASTS, TRANSFO'S,...CONFORMES AUX NORMES CE ET EMC EN VIGUEUR.
5. REMPLACEZ TOUJOURS L'AMPOULE (LES AMPOULES) AVEC PRUDENCE; ELLE(-S) EST (SONT) TRES FRAGILE (-S). / 6. ATTENTION: NE JAMAIS REMPLACER L'AMPOULE AUX MAINS NUES, UTILISEZ TOUJOURS UN CHIFFON !
MONTAGE- UN UNTERHALT INSTRUCTIONEN ZU BEACHTEN MIT BEZUG AUF DER GARANTIE.
1. DIE MONTAGE , DER ANSCHLUSS UND DAS AUSTESTEN DER LEUCHTEN SOLL IMMER VON EINEM ERKANTEN ELECTRO-INSTALLATEUR AUSGEFUHRT WERDEN.
2. DIESE LEUCHTEN MUSSEN INSTALLIERT, ANGESCHLOSSEN UND GETESTET WERDEN NACH DER ALLGEMEINEN NAZIONALEN REGLEMENTATION UBER DIE
ELEKTRISCHE INSTALLATIONEN (BELGIEN, A.R.E.I., DEUTSCHLAND: DIN VDE 0100 TEIL 559 A2, ...; DIESE AUFSTELLUNG GESCHICHT DURCH EXEMPLATIVEN TITEL
UND KANN NICHT ALS LIMITATIV ODER EXHAUTIV BETRACHTET WERDEN).
3. DIESE TECHNISCHE GEBRAUCHSANWEISUNG GEHORT ZU DEN ALLGEMEINEN VERKAUFSBEDINGUNGEN VON TAL N.V.
4. DER ELEKTRO-INSTALLATEUR IST VERANTWORTLICH FUR DAS VERWENDEN VON CE UND EMC GEPRUFTE VORSCHALTGER€TE.
5. DIE LAMPE(-N) SOLL(-EN) IMMER SERH VORSICHTIG ERS€TZT WERDEN. / 6. VORSICHT: MAN DARF NIE DIE LAMPE MIT DEN NACKTEN H€NDE BERUHREN, MAN SOL IMMER EINEN TUCH BENUTZEN !

* Your assessment is very important for improving the work of artificial intelligence, which forms the content of this project