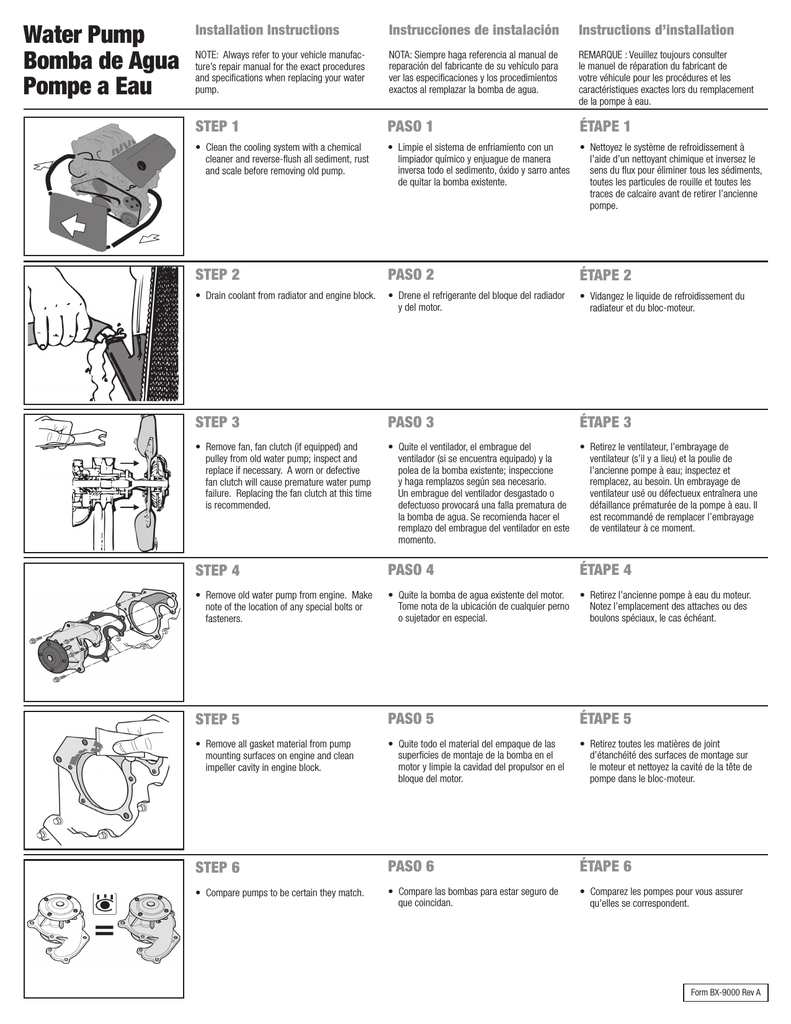 Water Pump
Bomba de Agua
Pompe a Eau
Installation Instructions
Instrucciones de instalación
Instructions d'installation
NOTE: Always refer to your vehicle manufacture's repair manual for the exact procedures
and specifications when replacing your water
pump.
NOTA: Siempre haga referencia al manual de
reparación del fabricante de su vehículo para
ver las especificaciones y los procedimientos
exactos al remplazar la bomba de agua.
REMARQUE : Veuillez toujours consulter
le manuel de réparation du fabricant de
votre véhicule pour les procédures et les
caractéristiques exactes lors du remplacement
de la pompe à eau.
STEP 1
PASO 1
ÉTAPE 1
• Clean the cooling system with a chemical
cleaner and reverse-flush all sediment, rust
and scale before removing old pump.
• Nettoyez le système de refroidissement à
• Limpie el sistema de enfriamiento con un
l'aide d'un nettoyant chimique et inversez le
limpiador químico y enjuague de manera
sens du flux pour éliminer tous les sédiments,
inversa todo el sedimento, óxido y sarro antes
toutes les particules de rouille et toutes les
de quitar la bomba existente.
traces de calcaire avant de retirer l'ancienne
pompe.
STEP 2
PASO 2
ÉTAPE 2
• Drain coolant from radiator and engine block.
• Drene el refrigerante del bloque del radiador
y del motor.
• Vidangez le liquide de refroidissement du
radiateur et du bloc-moteur.
STEP 3
PASO 3
ÉTAPE 3
• Remove fan, fan clutch (if equipped) and
pulley from old water pump; inspect and
replace if necessary. A worn or defective
fan clutch will cause premature water pump
failure. Replacing the fan clutch at this time
is recommended.
• Quite el ventilador, el embrague del
• Retirez le ventilateur, l'embrayage de
ventilador (si se encuentra equipado) y la
ventilateur (s'il y a lieu) et la poulie de
polea de la bomba existente; inspeccione
l'ancienne pompe à eau; inspectez et
y haga remplazos según sea necesario.
remplacez, au besoin. Un embrayage de
Un embrague del ventilador desgastado o
ventilateur usé ou défectueux entraînera une
defectuoso provocará una falla prematura de
défaillance prématurée de la pompe à eau. Il
la bomba de agua. Se recomienda hacer el
est recommandé de remplacer l'embrayage
remplazo del embrague del ventilador en este
de ventilateur à ce moment.
momento.
STEP 4
PASO 4
ÉTAPE 4
• Remove old water pump from engine. Make
note of the location of any special bolts or
fasteners.
• Quite la bomba de agua existente del motor.
Tome nota de la ubicación de cualquier perno
o sujetador en especial.
• Retirez l'ancienne pompe à eau du moteur.
Notez l'emplacement des attaches ou des
boulons spéciaux, le cas échéant.
STEP 5
PASO 5
ÉTAPE 5
• Remove all gasket material from pump
mounting surfaces on engine and clean
impeller cavity in engine block.
• Quite todo el material del empaque de las
superficies de montaje de la bomba en el
motor y limpie la cavidad del propulsor en el
bloque del motor.
• Retirez toutes les matières de joint
d'étanchéité des surfaces de montage sur
le moteur et nettoyez la cavité de la tête de
pompe dans le bloc-moteur.
STEP 6
PASO 6
ÉTAPE 6
• Compare pumps to be certain they match.
• Compare las bombas para estar seguro de
que coincidan.
• Comparez les pompes pour vous assurer
qu'elles se correspondent.
Form BX-9000 Rev A
STEP 7
PASO 7
• Tighten mounting bolts gradually and evenly
in a staggered sequence. Tighten bolts to
vehicle manufacturer's torque specification.
• Ajuste los pernos de montaje gradual y
• Serrez les boulons de montage
uniformemente en una secuencia escalonada.
progressivement en séquence échelonnée.
Apriete los pernos de acuerdo con la
Serrez les boulons au couple désigné dans
especificación de torsión del fabricante.
les consignes du fabricant du véhicule.
STEP 8
PASO 8
ÉTAPE 8
• Turn pump shaft by hand to make sure it
rotates freely.
• Gire el eje de la bomba a mano para
asegurarse de que gire libremente.
• Faites tourner l'arbre de pompe à la main
pour vous assurer que rien ne l'entrave.
STEP 9
PASO 9
ÉTAPE 9
• Tighten fan belts to factory recommended
tension. Improper belt tension can cause
premature failure!
• Apriete las bandas del ventilador de acuerdo
con la tensión recomendada por la fábrica.
¡Una tensión inadecuada puede provocar una
falla prematura!
• Serrez les courroies à la tension
recommandée par l'usine. Une tension
de courroie incorrecte peut entraîner une
défaillance prématurée!
STEP 10
PASO 10
ÉTAPE 10
• Fill radiator and coolant recovery bottle with
a proper mixture of fresh coolant and distilled
water and check for leaks. Do not use tap
water.
• Llene la botella del radiador y del refrigerante • Remplissez le radiateur et le réservoir de
con la mezcla adecuada de refrigerante
récupération de liquide de refroidissement
fresco y agua destilada; revise que no existan
d'un mélange approprié de liquide de
fugas.No utilice agua de la llave.
refroidissement frais et d'eau distillée et
vérifiez la présence de fuites. N'utilisez pas
l'eau du robinet.
STEP 11
PASO 11
ÉTAPE 11
• Purge system of air as required.
• Purgue el sistema de aire conforme se
requiera.
• Purgez l'air du système, au besoin.
STEP 12
PASO 12
ÉTAPE 12
ÉTAPE 7
• Install radiator cap and run engine until nor• Coloque la tapa del radiador y haga funcionar • Installez le bouchon de radiateur et laissez
mal operating temperature is reached. Check
el motor hasta que se llegue a la temperatura
tourner le moteur jusqu'à ce qu'une
to be certain there are no leaks and coolant is
normal de operación. Revise para estar
température de fonctionnement normale soit
circulating properly.
seguro de que no existan fugas y que el
atteinte. Assurez-vous qu'il n'existe aucune
refrigerante esté circulando adecuadamente.
fuite et que le liquide de refroidissement
circule correctement.
STEP 13
PASO 13
ÉTAPE 13
• Shut off engine, allow to cool, remove radiator • Apague el motor, permita que se enfríe, quite • Coupez le moteur, laissez refroidir, retirez
la tapa del radiador y llene hasta el borde con
le bouchon de radiateur et remplissez le
cap and top off radiator with additional coolla mezcla adicional del refrigerante.
radiateur avec un mélange de liquide de
ant mixture.
refroidissement supplémentaire.

* Your assessment is very important for improving the work of artificial intelligence, which forms the content of this project