Panasonic CR123A User manual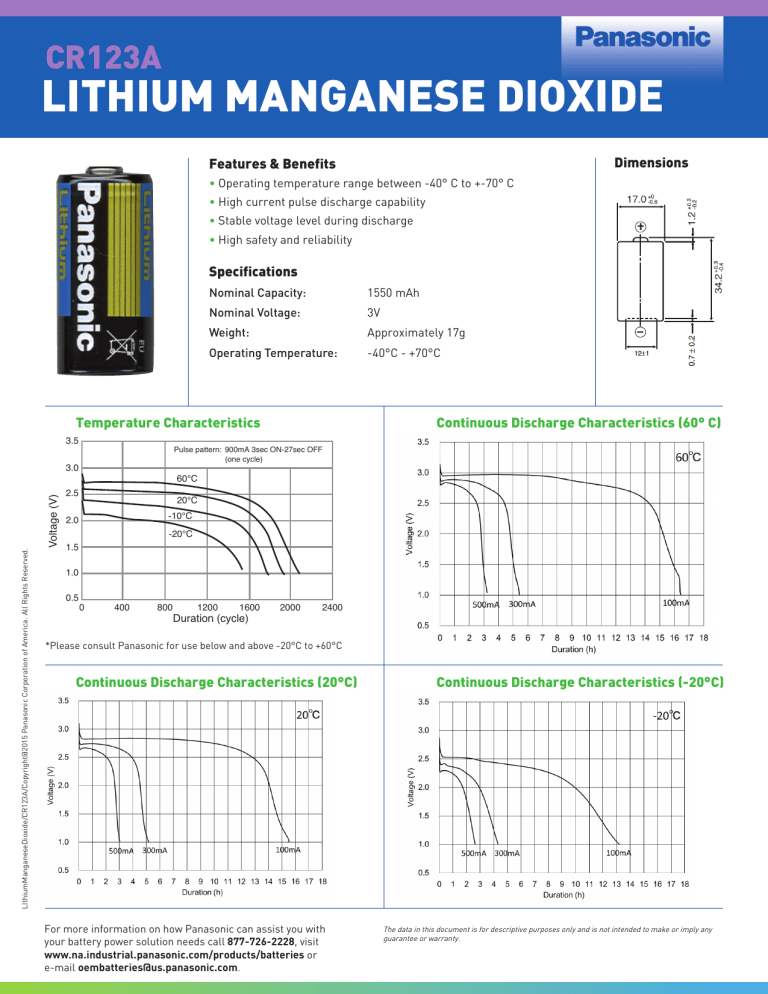 CR123A
LITHIUM MANGANESE DIOXIDE
Dimensions
Features & Benefits
• Operating temperature range between -40° C to +-70° C
• High current pulse discharge capability
• Stable voltage level during discharge
• High safety and reliability
Specifications
Nominal Capacity:
1550 mAh
Nominal Voltage:
3V
Weight:
Approximately 17g
Operating Temperature:
-40°C - +70°C
Temperature Characteristics
3.5
Pulse pattern: 900mA 3sec ON-27sec OFF
(one cycle)
Voltage (V)
3.0
LIthiumManganeseDioxide/CR123A/[email protected] Panasonic Corporation of America. All Rights Reserved.
Continuous Discharge Characteristics (60° C)
60°C
2.5
20°C
-10°C
2.0
-20°C
1.5
1.0
0.5
0
400
800
1200
1600
Duration (cycle)
2000
2400
*Please consult Panasonic for use below and above -20°C to +60°C
Continuous Discharge Characteristics (20°C)
For more information on how Panasonic can assist you with
your battery power solution needs call 877-726-2228, visit
www.na.industrial.panasonic.com/products/batteries or
e-mail [email protected]
Continuous Discharge Characteristics (-20°C)
The data in this document is for descriptive purposes only and is not intended to make or imply any
guarantee or warranty.

* Your assessment is very important for improving the work of artificial intelligence, which forms the content of this project