Panasonic DMP-BDT220 Specification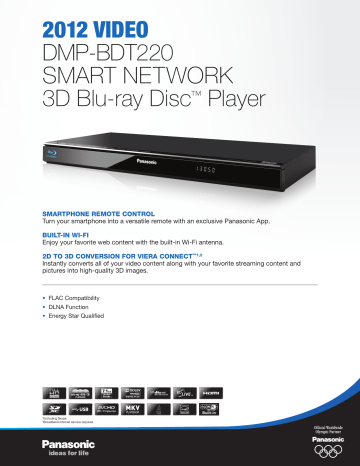 2012 videO
DMP-BDT220
Smart Network
3D Blu-ray Disc™ Player
Smartphone Remote Control
Turn your smartphone into a versatile remote with an exclusive Panasonic App.
Built-in Wi-Fi
Enjoy your favorite web content with the built-in Wi-Fi antenna.
2D to 3D Conversion for VIERA Connect™1,2
Instantly converts all of your video content along with your favorite streaming content and
pictures into high-quality 3D images.
• FLAC Compatibility
• DLNA Function
• Energy Star Qualified
Built-in
1
2
Excluding Skype.
Broadband Internet service required.
2012 videO
DMP-BDT220 Smart Network 3D Blu-ray Disc™ Player
Playable Discs
High Quality Sound
FULL HD 3D
•
TWIN HDMI
BD-Video
•
Pure Audio on HDMI
•
BD-RE / BD-RE DL
(Ver.3)
JPEG
•
High Clarity Sound Plus
—
MPO
•
Digital Tube Sound
BD-R / BD-R DL (Ver.2)
MKV
•
Audio D/A Converter
192kHz/32bit
BD-ROM
DVD
+R*1 / +R DL*1 /
+RW*1
CD, CD-R / -RW*
3
DVD-Video
•
Analog 7.1ch Output
—
•
96kHz Surround Remaster*7
•
DVD Video Recording
•
Easy to Use
•
Touch Pad Remote
• (DVD-R / DVD-R DL)
Smartphone Remote Control*8
•
MP3*2
• (DVD-R / DVD-R DL)
Smart Sensor for Eco Quick Start
—
MKV
• (DVD-R / DVD-R DL)
Multi-User Mode / Stylish GUI / Wallpaper
•
JPEG
• (DVD-R / DVD-R DL)
VIERA Link™ (HDAVI Control 5)
•
MPO
• (DVD-R / DVD-R DL)
Networking
Video
•
VIERA Connect™*9
AVCHD
•
Wireless LAN System
CD-DA
•
DLNA (DMP&DMR) Function
•
FLAC
•
Network Drive Access
•
MP3*2
•
BD-Live™*10
•
MKV
•
Terminal
JPEG
•
HDMI Output
•
MPO
•
Video Output
•
•
—
• Decode and Bitstream Output*4
Coaxial Output
DTS™-HD Master Audio Essential /
DTS™-HD High Resolution Audio
• Decode and Bitstream Output*4
Analog Audio Output
SD Memory Card
2ch
• (for DLNA, BD-Live™*10,
VIERA Connect™*9
and Firmware Update)
LAN (Ethernet) Terminal
Slot
•
Compatible Media
SD / SDHC / SDXC
Others
JPEG
•
Video System
NTSC
MPO
•
Audio S/N
100dB
MPEG2 / AVCHD
•
Dynamic Range
100dB
Power Supply
USB
• (2)
Front
For Playback
Rear
For Communication
Camera only
USB Standard
Playback
•
• (Built-in)
Optical Output
Dolby® Digital Plus / Dolby® TrueHD
Slot
—
FLAC
Audio System
Playback
—
DVD-Video
AVCHD
DVD-R*1 / DVD-R DL*1 /
DVD-RW*1
—
USB 2.0 High Speed
FLAC
•
MP3*2
•
MKV / ts / m2ts / MP4
•
JPEG
•
MPO
•
High Quality Picture
Adaptive Chroma Processing
•
2D-3D Conversion
• (BD / DVD / SD
Memory Card / VOD)
3D Effect Controller
• (BD / DVD / SD
Memory Card / VOD)
Full HD Up Sampling (New P4HD)
•
1080/24p Playback*5
•
Deep Color
•
x.v.Color*6
•
02/12 Specifications subject to change without notice.
Power Consumption
[Approx.]
AC 120V, 60Hz
Normal Use
Standby
8.9W
Quick Start Off
0.1W
Quick Start On
3.2W
Dimensions, Weight
Main Unit [Approx.]
Dimensions (W x H x D) *11 [Approx.]
Weight
16-15/16 x 1-1/2 x 7-1/16 inch
3.3 lbs.
*1 Discs recorded and finalized on recording devices.
*2 For contents recorded disc media from CDs for your personal use.
*3 Playability may vary depending on the contents, discs and quality of the recording.
*4 HDMI connection required.
*5 For BD-ROM /BD-R and DVD-Video via HDMI.
*6 This function is effective only when reproducing AVCHD data recorded with x.v.Color technology.
The function cannot be used with BD-ROM or DVD-ROM discs. HDMI connection is required .x.v.Color
is a registered trademark.
*7 CD sampling is done at 88.2 kHz. MP3 data can be remastered only on CD.
*8 Requires the device with the App installed and the player to be connected to the same home network.
*9 Requires broadband Internet service.
*10 To enjoy content, you will need to insert an SD card in BBT01, BDT500, BDT320 and BDT220 or
USB flash drive in BD87 and BD77 (1GB or more of free space/ sold separately). Requires broadband
Internet service.
*11 Excluding the projecting parts.

* Your assessment is very important for improving the work of artificial intelligence, which forms the content of this project