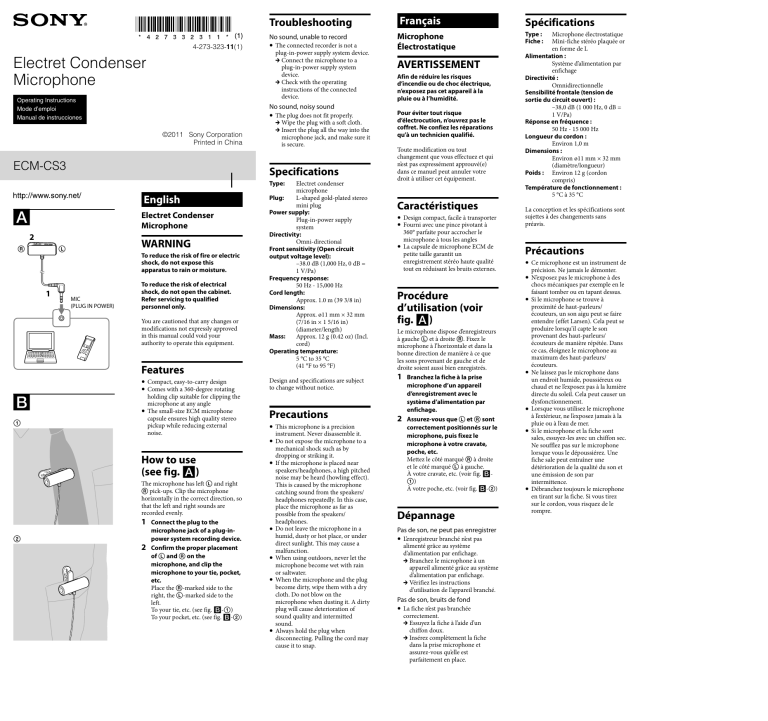 Troubleshooting
No sound, unable to record
4-273-323-11(1)
Electret Condenser
Microphone
Operating Instructions
Mode d'emploi
Manual de instrucciones
 The connected recorder is not a
plug-in-power supply system device.
 Connect the microphone to a
plug-in-power supply system
device.
 Check with the operating
instructions of the connected
device.
No sound, noisy sound
©2011 Sony Corporation
Printed in China
ECM-CS3
 The plug does not fit properly.
 Wipe the plug with a soft cloth.
 Insert the plug all the way into the
microphone jack, and make sure it
is secure.
Specifications
Type:
English

Electret Condenser
Microphone
2

WARNING

1
To reduce the risk of fire or electric
shock, do not expose this
apparatus to rain or moisture.
MIC
(PLUG IN POWER)
To reduce the risk of electrical
shock, do not open the cabinet.
Refer servicing to qualified
personnel only.
You are cautioned that any changes or
modifications not expressly approved
in this manual could void your
authority to operate this equipment.
Features


 Compact, easy-to-carry design
 Comes with a 360-degree rotating
holding clip suitable for clipping the
microphone at any angle
 The small-size ECM microphone
capsule ensures high quality stereo
pickup while reducing external
noise.
How to use
(see fig. )

The microphone has left  and right
 pick-ups. Clip the microphone
horizontally in the correct direction, so
that the left and right sounds are
recorded evenly.
1 Connect the plug to the
microphone jack of a plug-inpower system recording device.
2 Confirm the proper placement
of  and  on the
microphone, and clip the
microphone to your tie, pocket,
etc.
Place the -marked side to the
right, the -marked side to the
left.
To your tie, etc. (see fig. -)
To your pocket, etc. (see fig. -)
Electret condenser
microphone
Plug:
L-shaped gold-plated stereo
mini plug
Power supply:
Plug-in-power supply
system
Directivity:
Omni-directional
Front sensitivity (Open circuit
output voltage level):
–38.0 dB (1,000 Hz, 0 dB =
1 V/Pa)
Frequency response:
50 Hz - 15,000 Hz
Cord length:
Approx. 1.0 m (39 3/8 in)
Dimensions:
Approx. ø11 mm × 32 mm
(7/16 in × 1 5/16 in)
(diameter/length)
Mass:
Approx. 12 g (0.42 oz) (Incl.
cord)
Operating temperature:
5 °C to 35 °C
(41 °F to 95 °F)
Design and specifications are subject
to change without notice.
Precautions
 This microphone is a precision
instrument. Never disassemble it.
 Do not expose the microphone to a
mechanical shock such as by
dropping or striking it.
 If the microphone is placed near
speakers/headphones, a high pitched
noise may be heard (howling effect).
This is caused by the microphone
catching sound from the speakers/
headphones repeatedly. In this case,
place the microphone as far as
possible from the speakers/
headphones.
 Do not leave the microphone in a
humid, dusty or hot place, or under
direct sunlight. This may cause a
malfunction.
 When using outdoors, never let the
microphone become wet with rain
or saltwater.
 When the microphone and the plug
become dirty, wipe them with a dry
cloth. Do not blow on the
microphone when dusting it. A dirty
plug will cause deterioration of
sound quality and intermitted
sound.
 Always hold the plug when
disconnecting. Pulling the cord may
cause it to snap.
Français
Microphone
Électrostatique
AVERTISSEMENT
Afin de réduire les risques
d'incendie ou de choc électrique,
n'exposez pas cet appareil à la
pluie ou à l'humidité.
Pour éviter tout risque
d'électrocution, n'ouvrez pas le
coffret. Ne confiez les réparations
qu'à un technicien qualifié.
Toute modification ou tout
changement que vous effectuez et qui
n'est pas expressément approuvé(e)
dans ce manuel peut annuler votre
droit à utiliser cet équipement.
Caractéristiques
 Design compact, facile à transporter
 Fourni avec une pince pivotant à
360° parfaite pour accrocher le
microphone à tous les angles
 La capsule de microphone ECM de
petite taille garantit un
enregistrement stéréo haute qualité
tout en réduisant les bruits externes.
Procédure
d'utilisation (voir
fig. )
Le microphone dispose d'enregistreurs
à gauche  et à droite . Fixez le
microphone à l'horizontale et dans la
bonne direction de manière à ce que
les sons provenant de gauche et de
droite soient aussi bien enregistrés.
1 Branchez la fiche à la prise
microphone d'un appareil
d'enregistrement avec le
système d'alimentation par
enfichage.
2 Assurez-vous que  et  sont
correctement positionnés sur le
microphone, puis fixez le
microphone à votre cravate,
poche, etc.
Mettez le côté marqué  à droite
et le côté marqué  à gauche.
À votre cravate, etc. (voir fig. )
À votre poche, etc. (voir fig. -)
Dépannage
Pas de son, ne peut pas enregistrer
 L'enregistreur branché n'est pas
alimenté grâce au système
d'alimentation par enfichage.
 Branchez le microphone à un
appareil alimenté grâce au système
d'alimentation par enfichage.
 Vérifiez les instructions
d'utilisation de l'appareil branché.
Pas de son, bruits de fond
 La fiche n'est pas branchée
correctement.
 Essuyez la fiche à l'aide d'un
chiffon doux.
 Insérez complètement la fiche
dans la prise microphone et
assurez-vous qu'elle est
parfaitement en place.
Spécifications
Type :
Fiche :
Microphone électrostatique
Mini-fiche stéréo plaquée or
en forme de L
Alimentation :
Système d'alimentation par
enfichage
Directivité :
Omnidirectionnelle
Sensibilité frontale (tension de
sortie du circuit ouvert) :
–38,0 dB (1 000 Hz, 0 dB =
1 V/Pa)
Réponse en fréquence :
50 Hz - 15 000 Hz
Longueur du cordon :
Environ 1,0 m
Dimensions :
Environ ø11 mm × 32 mm
(diamètre/longueur)
Poids : Environ 12 g (cordon
compris)
Température de fonctionnement :
5 °C à 35 °C
La conception et les spécifications sont
sujettes à des changements sans
préavis.
Précautions
 Ce microphone est un instrument de
précision. Ne jamais le démonter.
 N'exposez pas le microphone à des
chocs mécaniques par exemple en le
faisant tomber ou en tapant dessus.
 Si le microphone se trouve à
proximité de haut-parleurs/
écouteurs, un son aigu peut se faire
entendre (effet Larsen). Cela peut se
produire lorsqu'il capte le son
provenant des haut-parleurs/
écouteurs de manière répétée. Dans
ce cas, éloignez le microphone au
maximum des haut-parleurs/
écouteurs.
 Ne laissez pas le microphone dans
un endroit humide, poussiéreux ou
chaud et ne l'exposez pas à la lumière
directe du soleil. Cela peut causer un
dysfonctionnement.
 Lorsque vous utilisez le microphone
à l'extérieur, ne l'exposez jamais à la
pluie ou à l'eau de mer.
 Si le microphone et la fiche sont
sales, essuyez-les avec un chiffon sec.
Ne soufflez pas sur le microphone
lorsque vous le dépoussiérez. Une
fiche sale peut entraîner une
détérioration de la qualité du son et
une émission de son par
intermittence.
 Débranchez toujours le microphone
en tirant sur la fiche. Si vous tirez
sur le cordon, vous risquez de le
rompre.

Español
Micrófono Electrostático
de Electreto
2


ADVERTENCIA
1
Para reducir el riesgo de incendios
o electrocución, no exponga el
aparato a la lluvia ni a la humedad.
MIC
(PLUG IN POWER)
Para evitar descargas eléctricas, no
abra la unidad. En caso de avería,
solicite los servicios de personal
cualificado.
Se advierte que cualquier cambio o
modificación que no se apruebe de
modo explícito en este manual podría
anular su autorización para utilizar este
equipo.


Características
 Diseño compacto y transportable
 Incluye un clip de sujeción con giro
de 360 grados para prender el
micrófono en cualquier ángulo
 La pequeña cápsula del micrófono
ECM garantiza la captura de sonido
estéreo de alta calidad con un menor
ruido externo.
Utilización (consulte
la figura )

El micrófono cuenta con puntos de
captura de sonido a la izquierda  y a
la derecha . Prenda el micrófono
horizontalmente en la dirección
correcta para que los sonidos de los
lados izquierdo y derecho se graben
uniformemente.
1 Conecte la clavija a la toma de
micrófono de un dispositivo de
grabación con sistema de
alimentación mediante clavija.
2 Confirme la ubicación correcta
de  y  en el micrófono y
prenda el micrófono en la
corbata, bolsillo, etc.
Coloque el lado con la marca  a
la derecha y el lado con la marca
 a la izquierda.
En la corbata, etc. (consulte la
figura -)
En el bolsillo, etc. (consulte la figura
-)
Solución de
problemas
No hay sonido, no se puede grabar
 La grabadora conectada no es un
dispositivo con sistema de
alimentación mediante clavija.
 Conecte el micrófono a un
dispositivo con sistema de
alimentación mediante clavija.
 Consulte el manual de
instrucciones del dispositivo
conectado.
No hay sonido, sonido con ruido
 La clavija no está bien insertada.
 Limpie la clavija con un paño
suave.
 Inserte la clavija hasta el fondo en
la toma de micrófono y asegúrese
de que queda bien fijada.
Especificaciones
Tipo:
Micrófono electrostático de
electreto
Clavija: Miniclavija estéreo dorada
en forma de L
Fuente de alimentación:
Sistema de alimentación
mediante clavija
Directividad:
Omnidireccional
Sensibilidad frontal (nivel de
tensión de salida en circuito
abierto):
–38,0 dB (1 000 Hz 0 dB =
1 V/Pa)
Respuesta de frecuencia:
50 Hz - 15 000 Hz
Longitud del cable:
Aprox. 1,0 m
Dimensiones:
Aprox. ø11 mm × 32 mm
(diámetro/longitud)
Masa:
Aprox. 12 g (cable incluido)
Temperaturas de funcionamiento:
5 °C a 35 °C
El diseño y las especificaciones están
sujetos a cambio sin previo aviso.
Precauciones
 Este micrófono es un instrumento
de precisión. No lo desmonte nunca.
 No exponga el micrófono a impactos
mecánicos como, por ejemplo,
caídas o golpes.
 Si coloca el micrófono cerca de
altavoces/auriculares, es posible que
se oiga un ruido agudo (efecto de
zumbido). Esto es debido a que el
micrófono capta sonido de los
altavoces/auriculares de forma
repetida. Si eso ocurre, aleje el
micrófono de los altavoces/
auriculares tanto como sea posible.
 No deje el micrófono en lugares
húmedos, cálidos o llenos de polvo,
ni bajo la luz solar directa. Podría
averiarse.
 Cuando lo utilice en el exterior, no
deje nunca que el micrófono se moje
con agua de lluvia o salada.
 Cuando el micrófono y la clavija se
ensucien, límpielos con un paño
seco. No sople en el micrófono para
quitarle el polvo. Una clavija sucia
puede deteriorar la calidad del
sonido y producir sonido
intermitente.
 Para desconectar el micrófono tire
siempre de la clavija. Si tirase del
cable, podría romperlo.

* Your assessment is very important for improving the work of artificial intelligence, which forms the content of this project