Vantec NST-536S3-BK User manual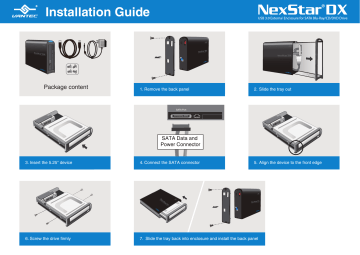 Installation Guide
Package content
1. Remove the back panel
2. Slide the tray out
SATA Port
SATA Data and
Power Connector
3. Insert the 5.25" device
4. Connect the SATA connector
6. Screw the drive firmly
7. Slide the tray back into enclosure and install the back panel
5. Align the device to the front edge
8
Power Cable
11. The computer will automatically detect the device
External
9
losure
l Drive Enc
5.25" Optica ernal Interface
Ext
USB 3.0
USB 3.0 Cable
10
PowerSwitch
8. Connect power cable
9. Connect USB cable
10. Turn on the power
Information in this document is subject to change without notice.
Reproduction of these materials in any manner whatsoever without written permission is strictly forbidden.
Printed in China
Printed on Recycled Paper.
12. Ready to use
Model: NST-536S3-BK
Copyright © 2016 Vantec Thermal Technologies. All Right Reserved. All Registered Trademarks Belong To Their Respective Companies.

* Your assessment is very important for improving the work of artificial intelligence, which forms the content of this project