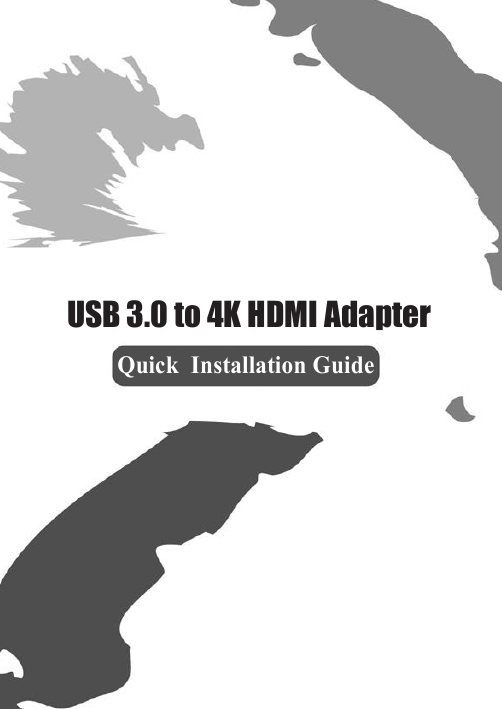 USB 3.0 to 4K HDMI Adapter
Quick Installation Guide
DisplayLink 4K Plug-and-Display Certified
When you connect this DisplayLink 4K Plug-and-Display certified
adapter to a web-enabled Windows® 7, Windows® 8 or Windows® 10
computer, it automatically downloads and installs the most up-to-date
drivers for you, so you won't have to.
Enable 4K video output from your computer system to an HDMI
television. The USB 3.0 to HDMI 4K adapter allows your system to
output 4K video even if your system is not capable of outputting Ultra
HD resolution.
Now you can add an additional 4K monitor, by simply plugging the
USB30-4K-HDMI into a USB 3.0 port
Get up and running faster, with automatic software & driver
installation on computers running Windows 10, 8, or 7 with an active
Internet connection
NOTE:
In case your operating system is older than above, please check our
website's PRODUCT PAGE and download driver for installtation.
(Website: www.nekteck.com)
Connecting the Adapter
Make sure the device (Desktop, Laptop…) is HDMI embedded or
bundled any adapter/connector with HDMI.
Changing the Display Mode
An extra HDMI monitor can be connected through the adapter directly.
Once the extra monitor is connected, it can be configured to use either
"mirror mode", "extended mode" or set to be the primary display.
Position the mouse anywhere on the Windows Desktop, right-click and
select Screen Resolution.
Alternatively, click utility icon
in the Windows System Tray, and
then select DisplayLink Manager or Video Setup.
Warranty
We provide all our customer 18 months warranty from the
date of its original purchase. if the device fails due to
manufacture defects, please contact us by email at
[email protected] to launch a warranty claim, we will
instruct you on how to return the product or
repair/replacement.

* Your assessment is very important for improving the work of artificial intelligence, which forms the content of this project