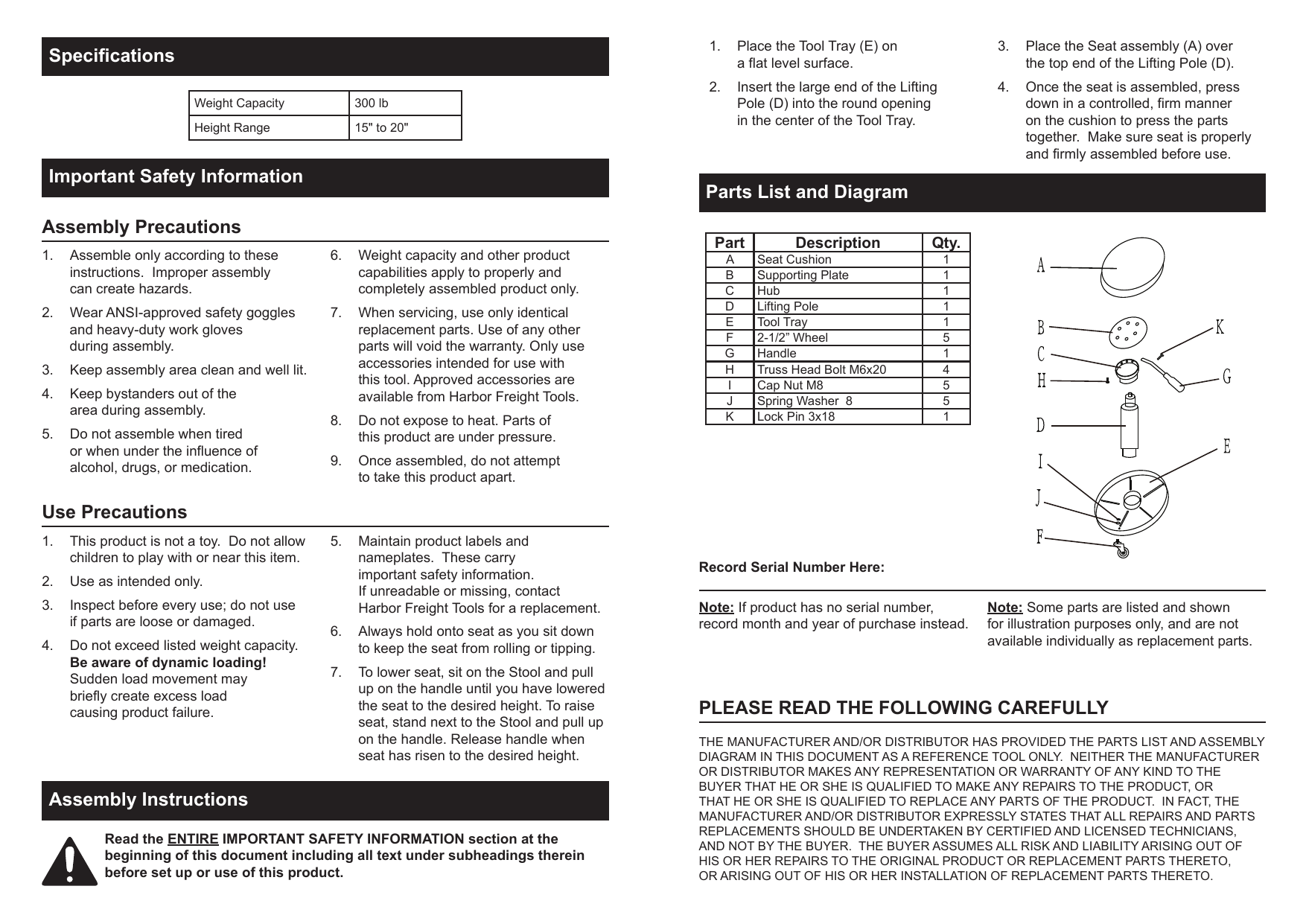 Specifications
Weight Capacity
300 lb
Height Range
15" to 20"
Important Safety Information
1.
Place the Tool Tray (E) on
a flat level surface.
3.
Place the Seat assembly (A) over
the top end of the Lifting Pole (D).
2.
Insert the large end of the Lifting
Pole (D) into the round opening
in the center of the Tool Tray.
4.
Once the seat is assembled, press
down in a controlled, firm manner
on the cushion to press the parts
together. Make sure seat is properly
and firmly assembled before use.
Parts List and Diagram
Assembly Precautions
1.
Assemble only according to these
instructions. Improper assembly
can create hazards.
6.
Weight capacity and other product
capabilities apply to properly and
completely assembled product only.
2.
Wear ANSI-approved safety goggles
and heavy-duty work gloves
during assembly.
7.
3.
Keep assembly area clean and well lit.
4.
Keep bystanders out of the
area during assembly.
When servicing, use only identical
replacement parts. Use of any other
parts will void the warranty. Only use
accessories intended for use with
this tool. Approved accessories are
available from Harbor Freight Tools.
5.
Do not assemble when tired
or when under the influence of
alcohol, drugs, or medication.
8.
Do not expose to heat. Parts of
this product are under pressure.
9.
Once assembled, do not attempt
to take this product apart.
5.
Maintain product labels and
nameplates. These carry
important safety information.
If unreadable or missing, contact
Harbor Freight Tools for a replacement.
Part
A
B
C
D
E
F
G
H
I
J
K
Description
Seat Cushion
Supporting Plate
Hub
Lifting Pole
Tool Tray
2-1/2" Wheel
Handle
Truss Head Bolt M6x20
Cap Nut M8
Spring Washer 8
Lock Pin 3x18
Qty.
1
1
1
1
1
5
1
4
5
5
1
Use Precautions
1.
This product is not a toy. Do not allow
children to play with or near this item.
2.
Use as intended only.
3.
Inspect before every use; do not use
if parts are loose or damaged.
4.
Do not exceed listed weight capacity.
Be aware of dynamic loading!
Sudden load movement may
briefly create excess load
causing product failure.
6.
Always hold onto seat as you sit down
to keep the seat from rolling or tipping.
7.
To lower seat, sit on the Stool and pull
up on the handle until you have lowered
the seat to the desired height. To raise
seat, stand next to the Stool and pull up
on the handle. Release handle when
seat has risen to the desired height.
Assembly Instructions
Read the ENTIRE IMPORTANT SAFETY INFORMATION section at the
beginning of this document including all text under subheadings therein
before set up or use of this product.
Record Serial Number Here:
Note: If product has no serial number,
record month and year of purchase instead.
Note: Some parts are listed and shown
for illustration purposes only, and are not
available individually as replacement parts.
PLEASE READ THE FOLLOWING CAREFULLY
THE MANUFACTURER AND/OR DISTRIBUTOR HAS PROVIDED THE PARTS LIST AND ASSEMBLY
DIAGRAM IN THIS DOCUMENT AS A REFERENCE TOOL ONLY. NEITHER THE MANUFACTURER
OR DISTRIBUTOR MAKES ANY REPRESENTATION OR WARRANTY OF ANY KIND TO THE
BUYER THAT HE OR SHE IS QUALIFIED TO MAKE ANY REPAIRS TO THE PRODUCT, OR
THAT HE OR SHE IS QUALIFIED TO REPLACE ANY PARTS OF THE PRODUCT. IN FACT, THE
MANUFACTURER AND/OR DISTRIBUTOR EXPRESSLY STATES THAT ALL REPAIRS AND PARTS
REPLACEMENTS SHOULD BE UNDERTAKEN BY CERTIFIED AND LICENSED TECHNICIANS,
AND NOT BY THE BUYER. THE BUYER ASSUMES ALL RISK AND LIABILITY ARISING OUT OF
HIS OR HER REPAIRS TO THE ORIGINAL PRODUCT OR REPLACEMENT PARTS THERETO,
OR ARISING OUT OF HIS OR HER INSTALLATION OF REPLACEMENT PARTS THERETO.

* Your assessment is very important for improving the work of artificial intelligence, which forms the content of this project